What is creamy and rich, sophisticated, but easy going, indulgent, but rich in antioxidants, plant based and gluten-free?⁠ This Chocolate Ganache Cake! It features a crumbly base and a rich, coconut based chocolate ganache, infused with a touch of cayenne and sea salt. All finished off with ruby red raspberries which add a refreshing note to the overall flavour. I do enjoy the chocolate-raspberry combo very much. This one, if kept in the fridge, will stay fresh for longer, so your weekday's dessert quest is solved in one go.⁠ It's a no-brainer. A quality dessert, to put it simply. Raise your hands, chocolate lovers. ⁠
What's great about this cake
Gluten and dairy-free
Indulgent
Easy to make
Rich and filling – lasts longer (perfect for meal prep)
Can be shaped into square bars instead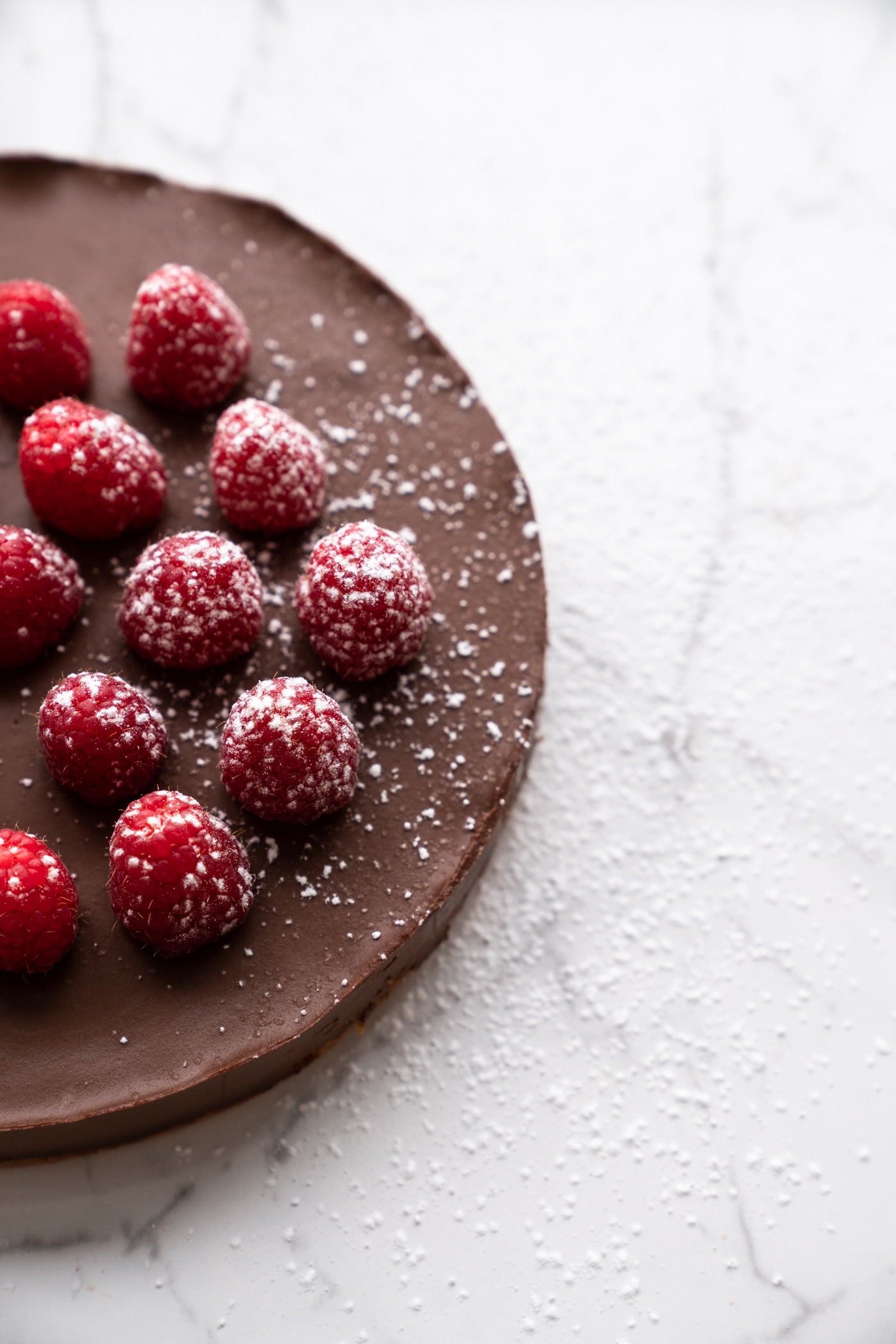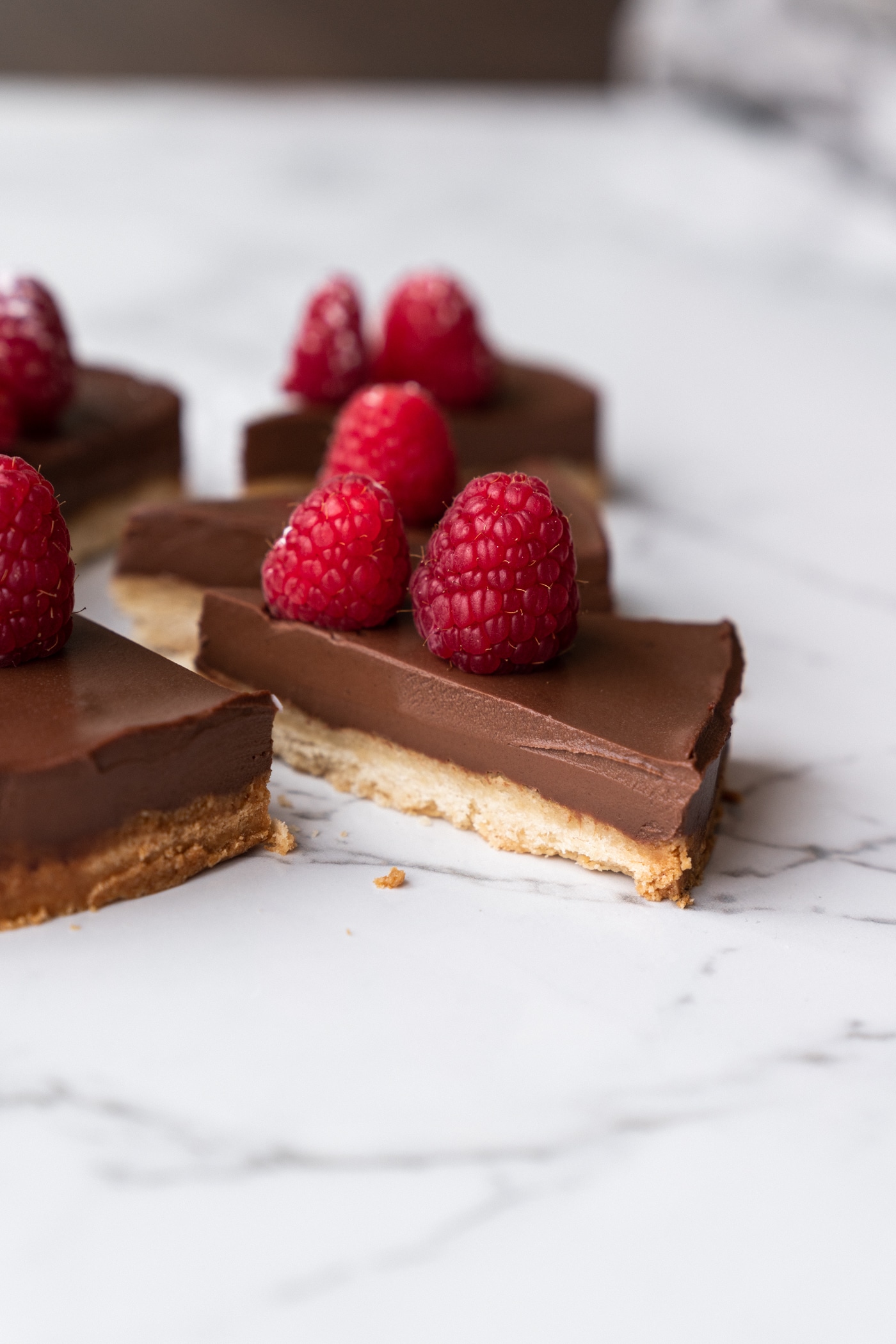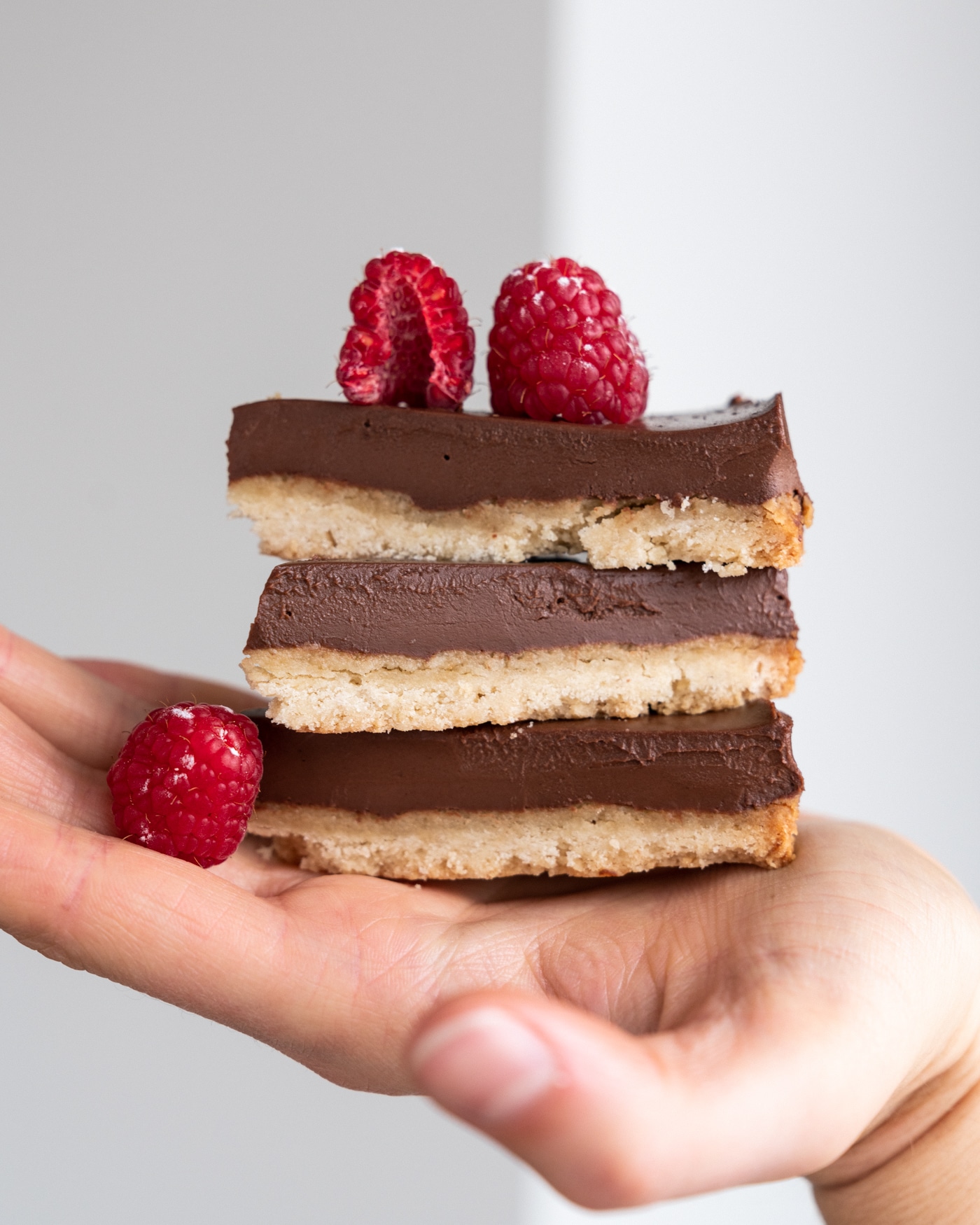 Instructions
Firstly, preheat your oven to 160°C fan (180°C no fan). Line your baking tin with baking paper or rub it with coconut oil.
Mix all of the crust ingredients and press them down on the base of your cake tin in an even layer. Pierce with a fork. Bake for 20 minutes then remove and set aside to cool.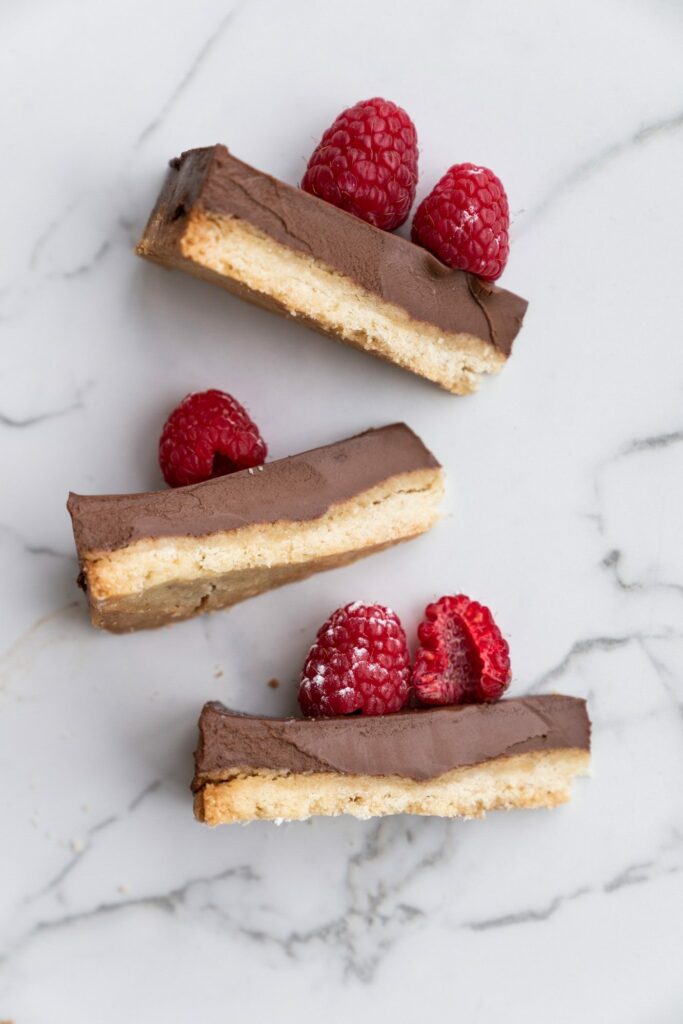 In a steam bath, melt coconut cream with the rest of the chocolate ganache ingredients until smooth, constantly stirring. Pour on top of the cake base.
Julie's Tip
Try using the chocolate ganache from this recipe to make homemade truffles. Simply shape it into one bite sized balls and roll each of them in dark cacao powder. Store airtight in the fridge.
Punch the baking tin down on the worktop to break air bubbles if any. Leave at room temperature until it cools down then transfer to the fridge. Chill for at least 3 hours or overnight. If the chocolate ganache is not fully set after 3 hours, leave it in for longer.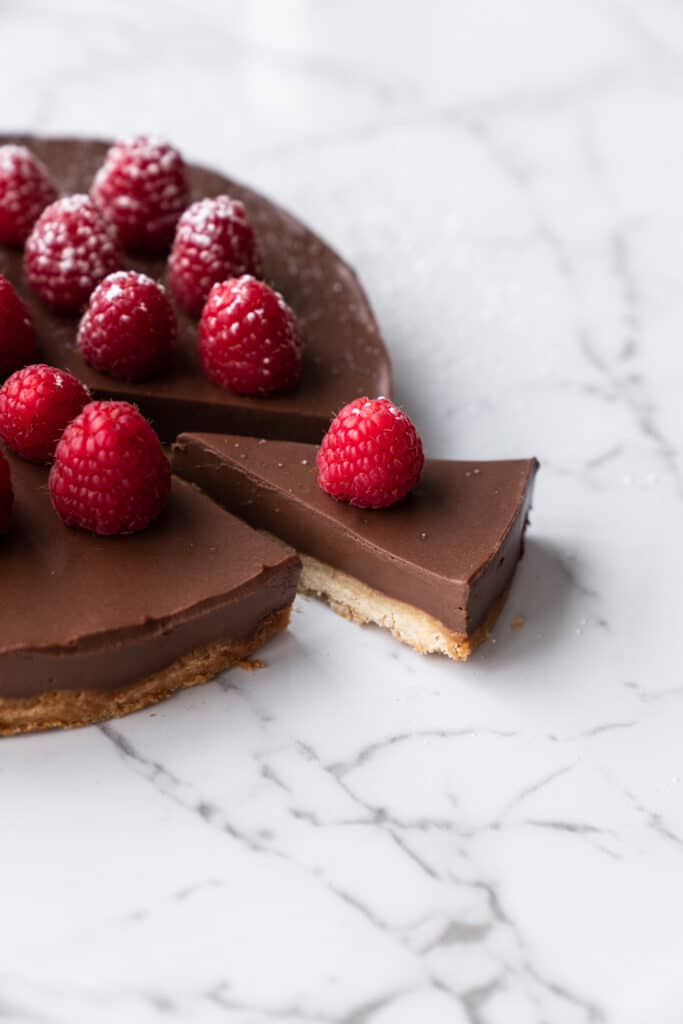 Use a thin knife to release the cake from the tin then carefully transfer it to a serving plate. Garnish with fresh raspberries.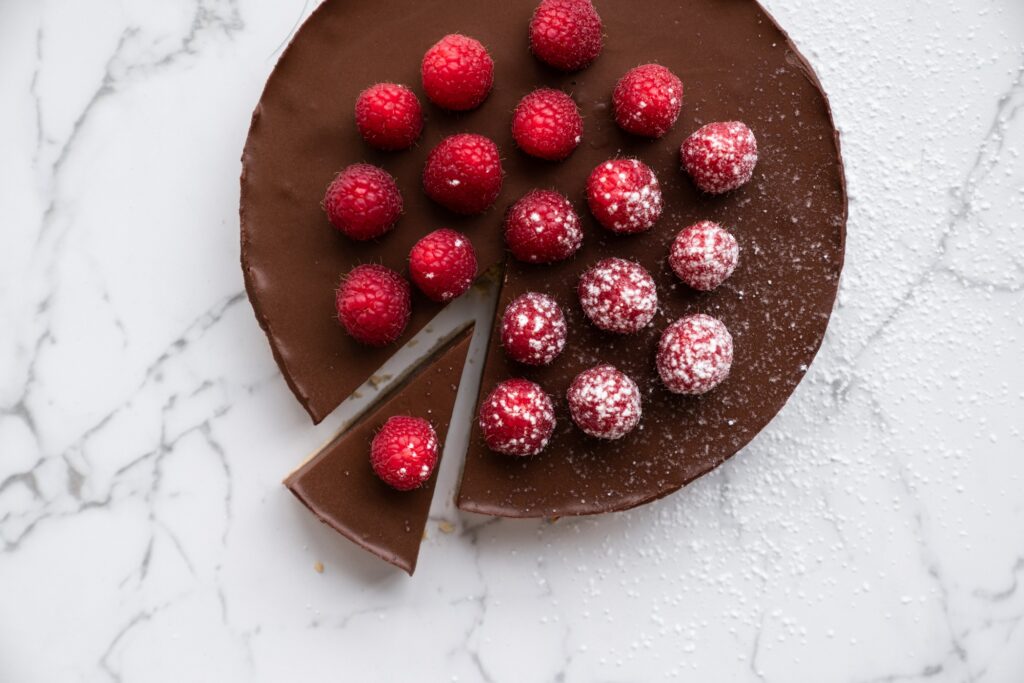 Ingredients
For the crust
50 g of ground almonds or other nuts
70 g of GF all-purpose flour mix (or substitute with spelt or wheat flour)
3 tbsp of maple syrup or dark agave syrup or honey
1 tbsp (20 g) of unrefined coconut oil
few pinches of sea salt
For the chocolate ganache layer
120 g of bittersweet chocolate (55-70% cacao solids)
240 g of coconut cream (or use 2 cans of full-fat coconut milk, refrigerate overnight and use the solidified part at the top)
pinch of cayenne
2 teaspoons of vanilla, almond or hazelnut extract
3 tbsp of maple syrup or dark agave syrup or unrefined sugar
few pinches of sea salt
To garnish
fresh raspberries or blackberries