Easy Lunch Bowl
I made this as a nutritious lunch for myself and Rokas (my better half), but it turned out too good to not share the recipe with you on the blog. So here it is. Great for lunch, but just as good for dinner or as a first meal of your intermittent fasting day (so you can definitely call it breakfast, "break"-"fast"?).
French lentils, basmati and sweet potatoes were my choice of carbs, they were delicious in this combination. You can, of course, use brown or red rice instead of basmati. That way you will get a higher protein intake as well as extra fibre.
Tzatziki and homemade kimchi were like cherries on top – don't skip this part if you do eat dairy or make a dairy-free alternative using coconut yoghurt. If you don't have kimchi in your fridge, choose a fermented or any of your favourite hot sauces.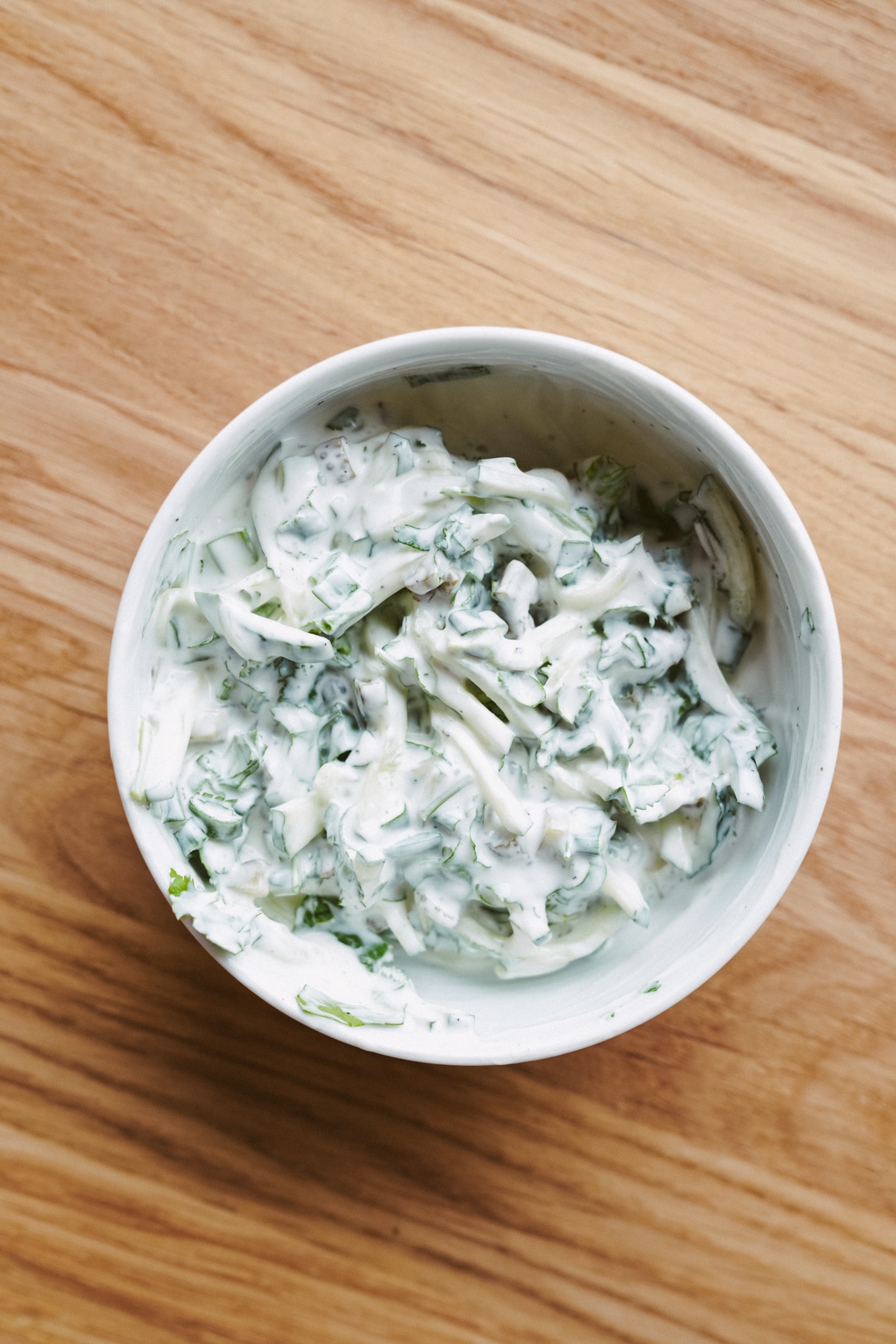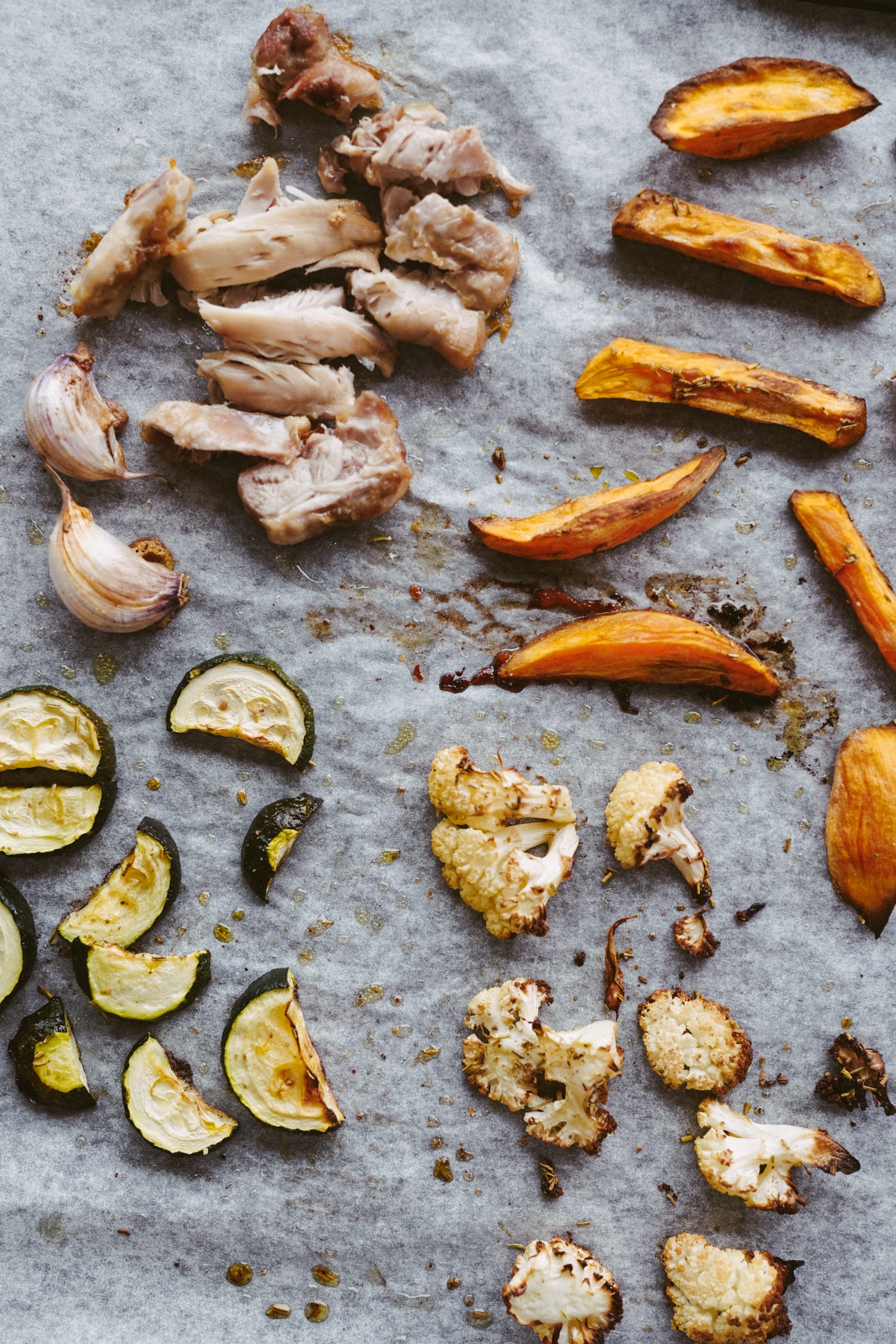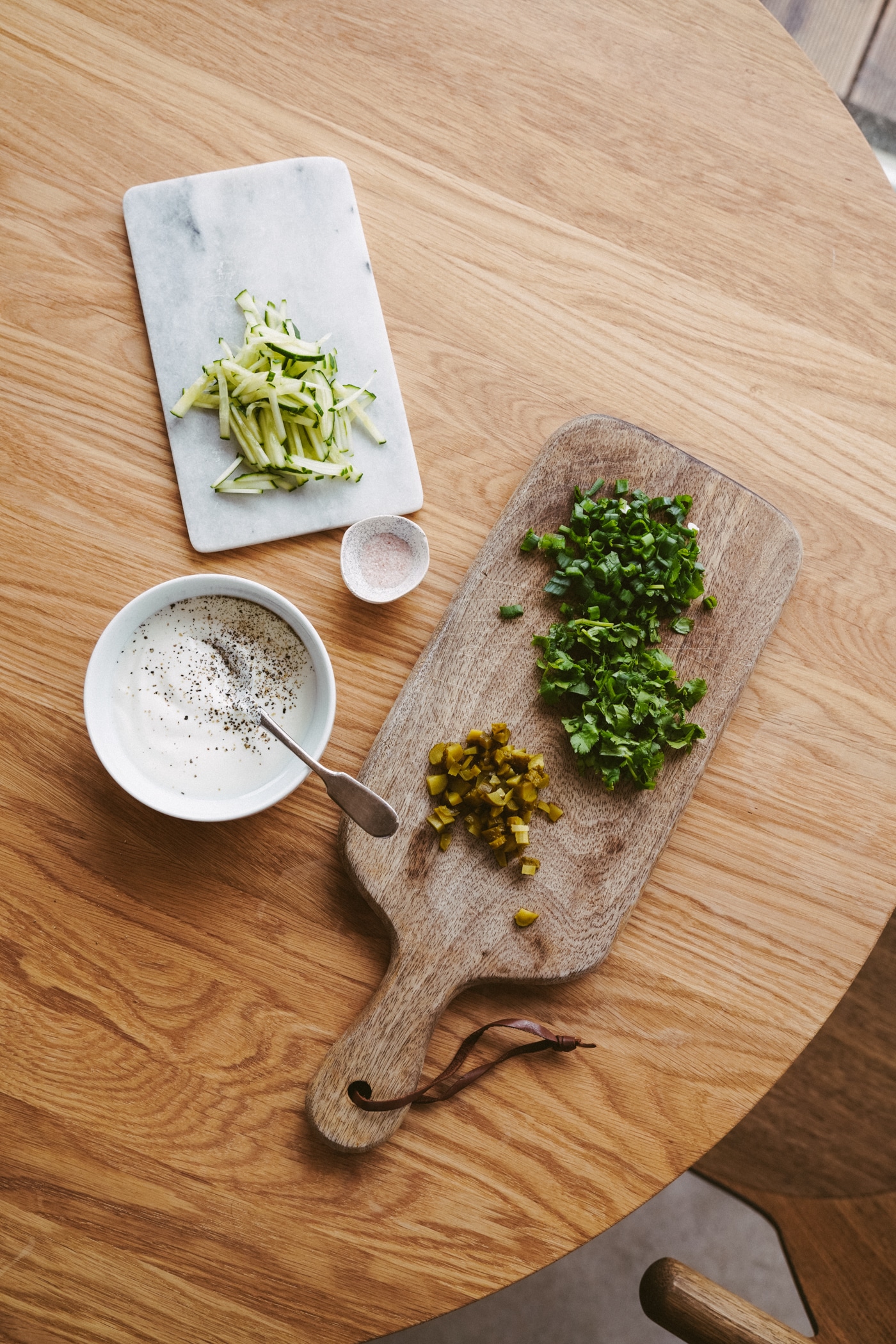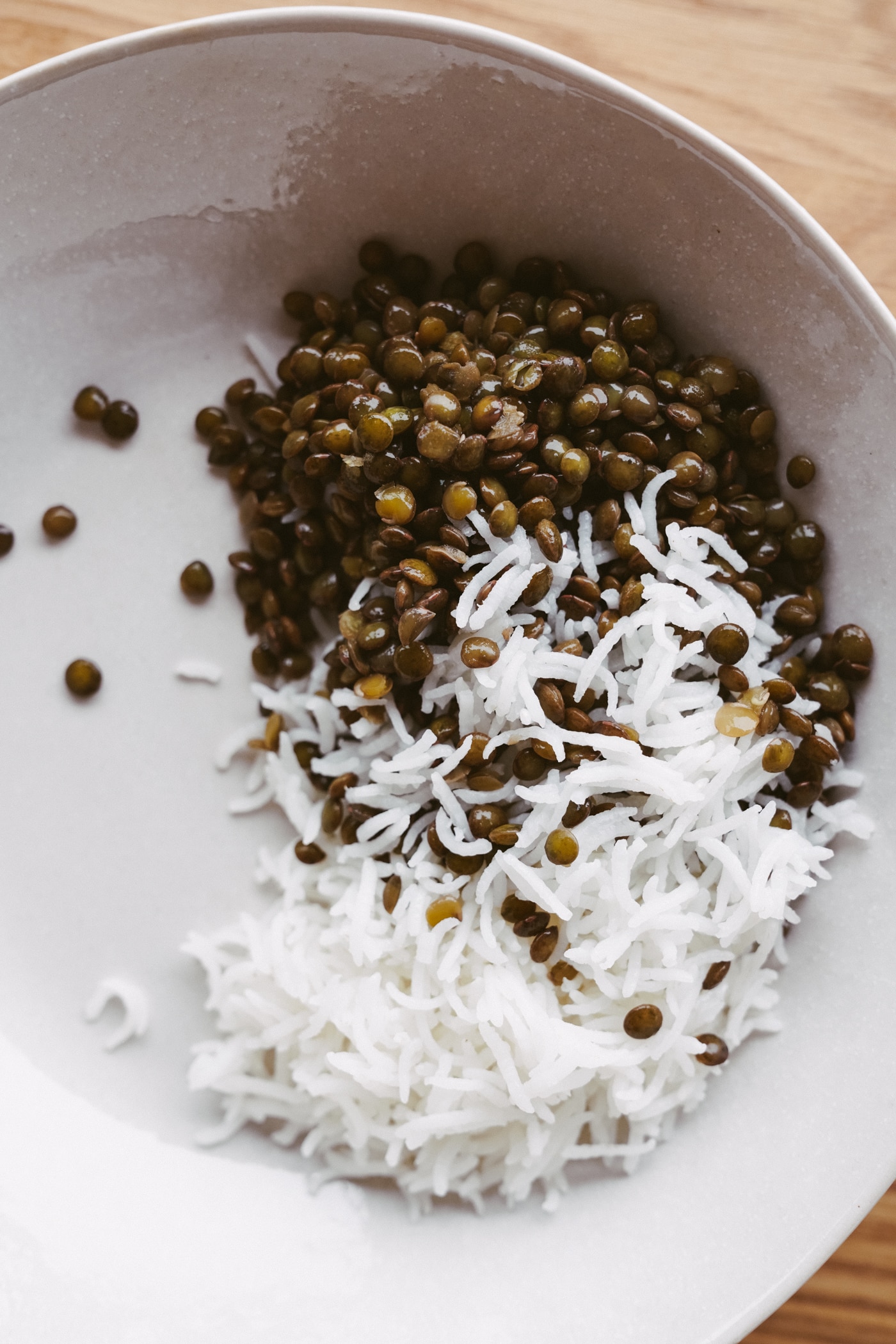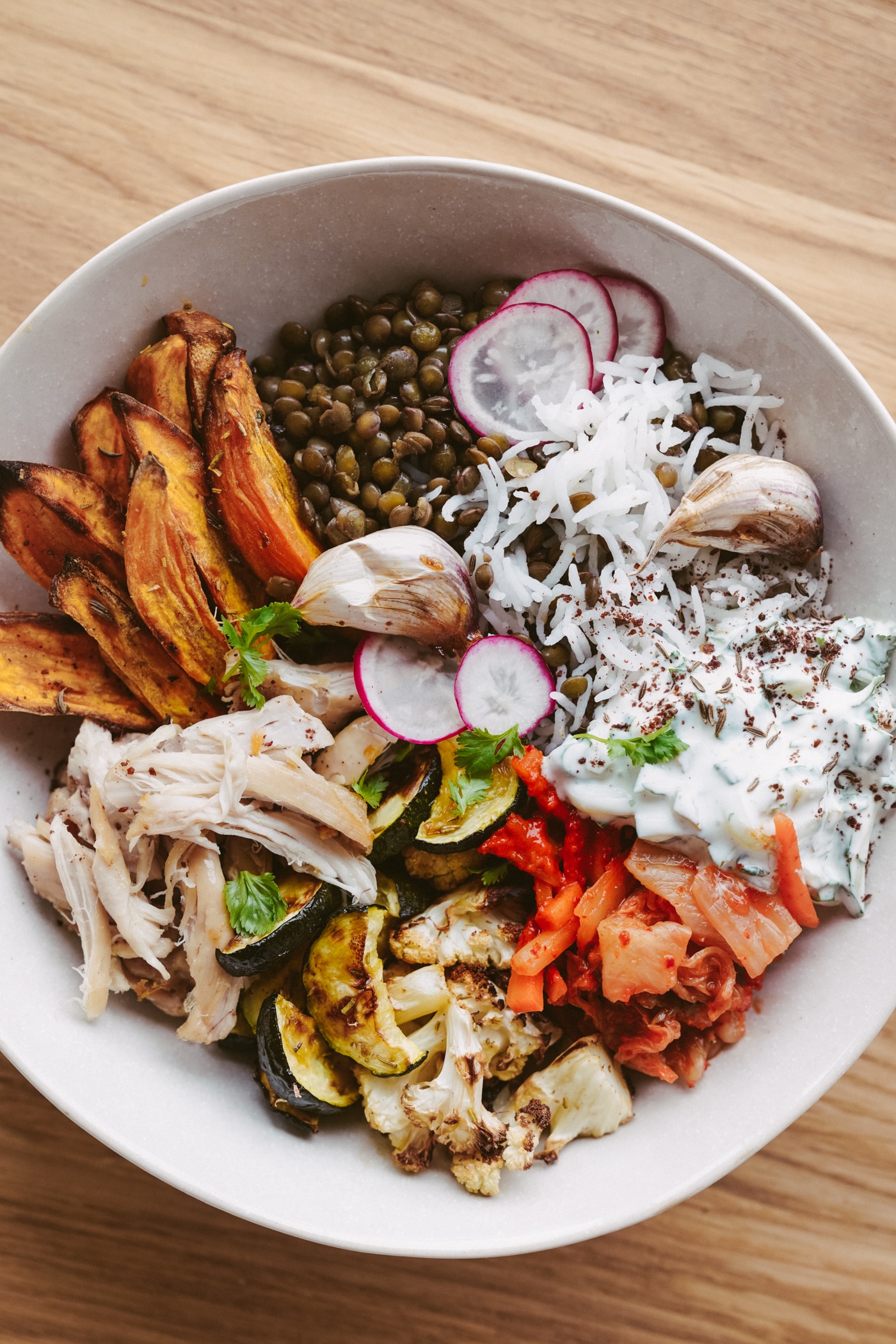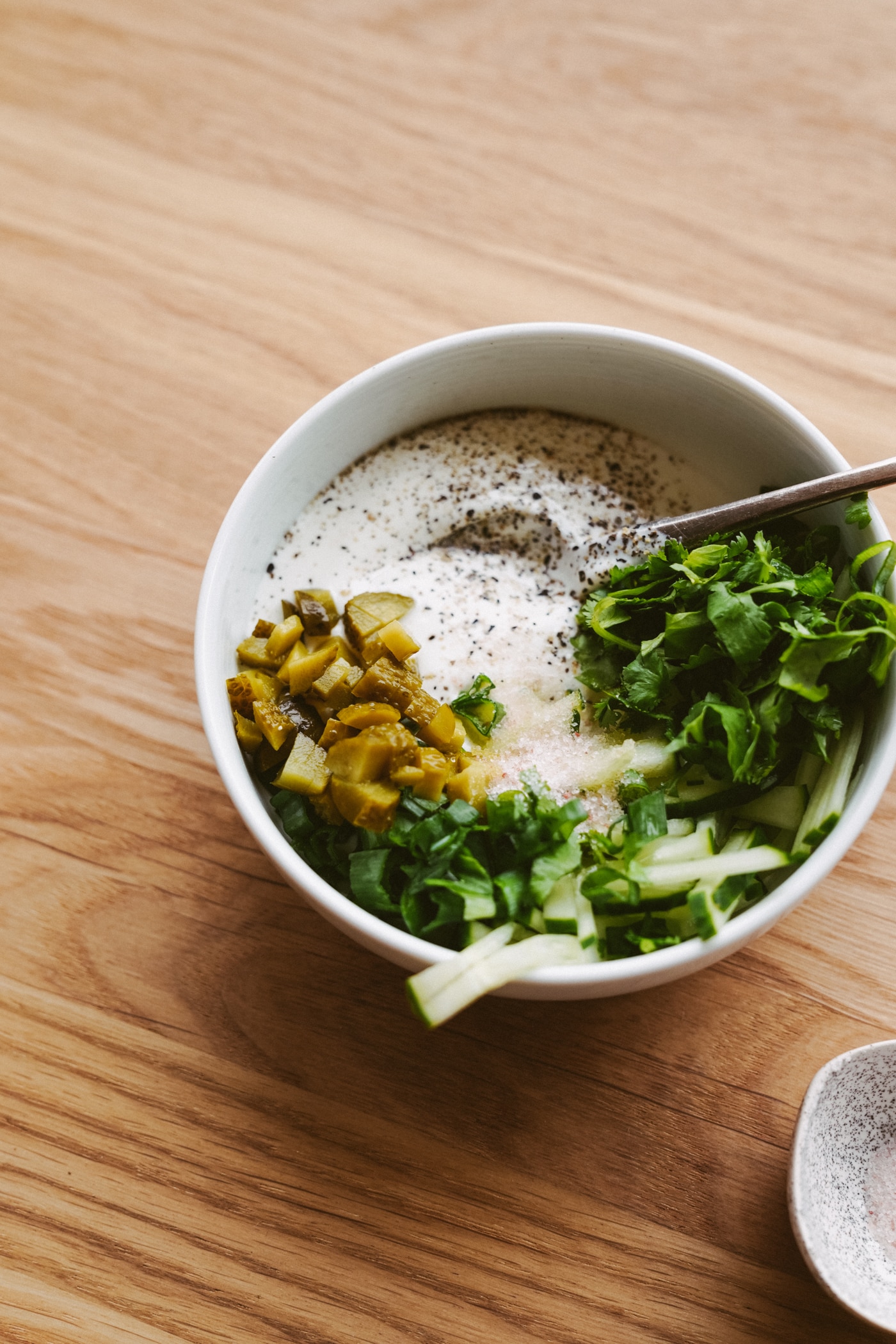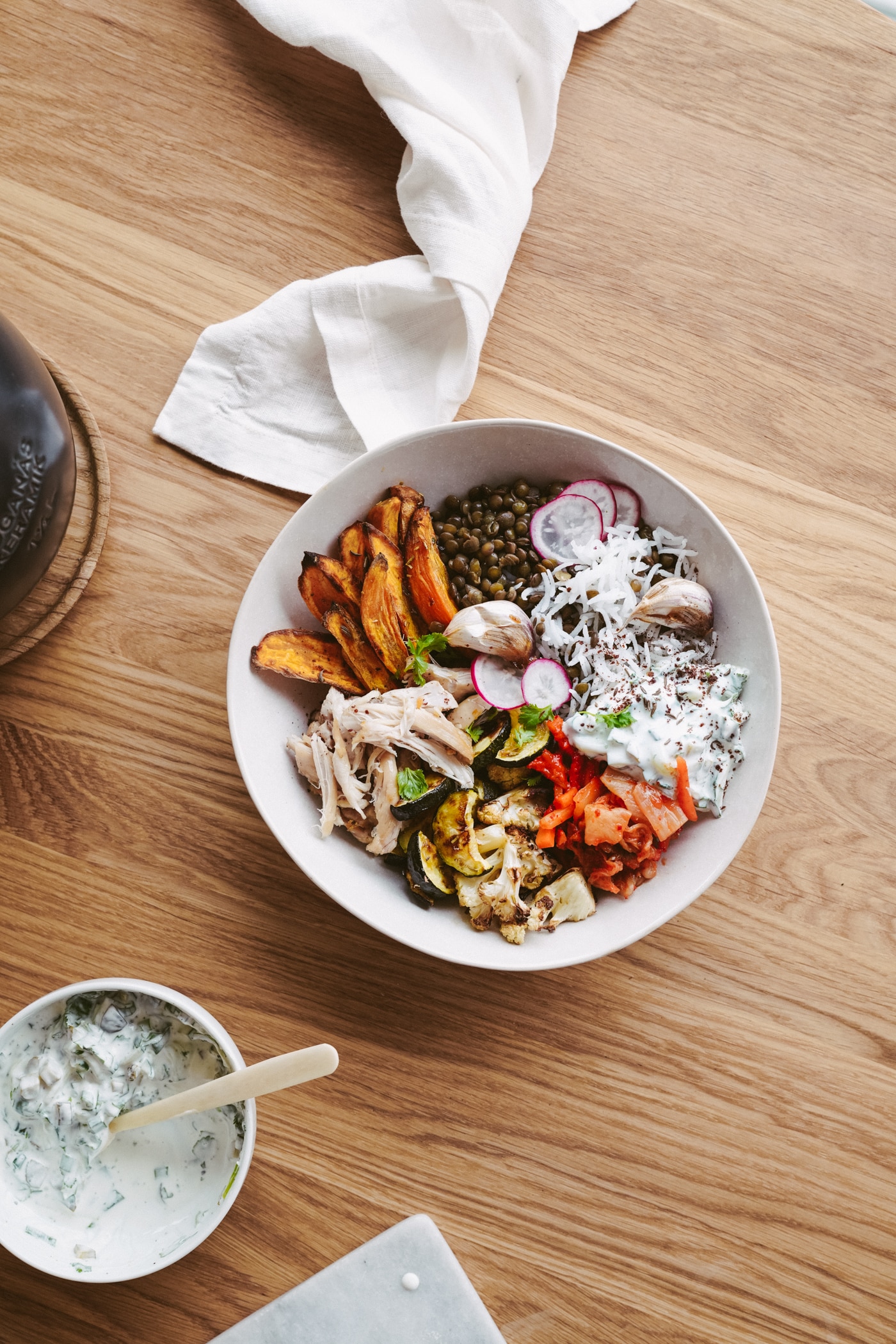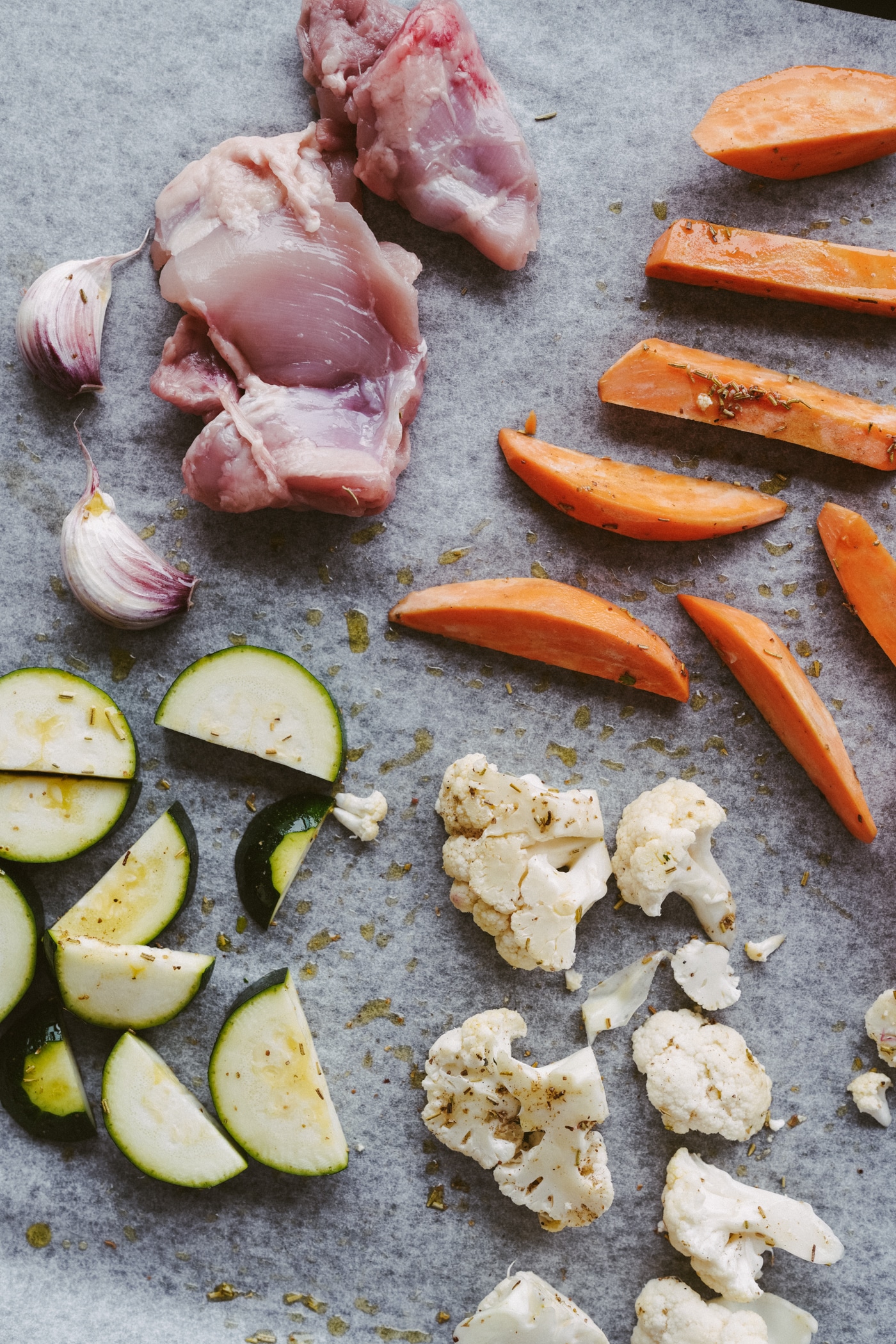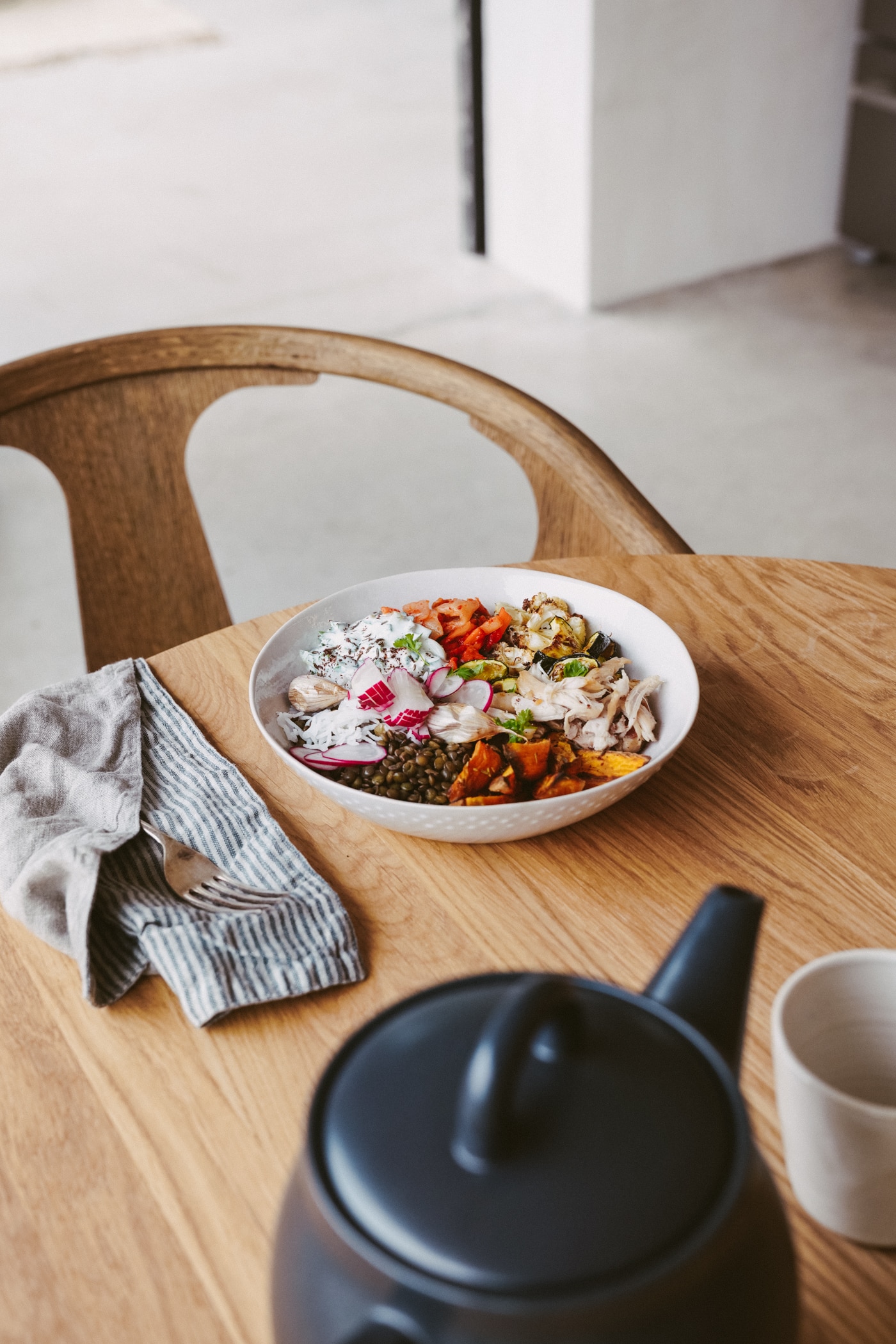 Instructions
Firstly, preheat your oven to 200 °C (180 °C if using a fan setting).
Line a shallow baking tray with baking paper. Peel the sweet potato. Cut zucchini, sweet potato and cauliflower into medium sized pieces and place them on a tray. Place chicken and garlic next to the vegetables, do not peel the garlic. Drizzle garlic and vegetables with some olive oil, sprinkle a bit of salt and rosemary and put the tray into the oven for 30 minutes.
In the meantime, bring lentils to a boil in a small pot, reduce heat and let simmer until softened, but still firm, about 20 minutes. Wash basmati, soak for 10 minutes, then bring to a boil in a small pot and let it simmer until softened, but firm, 5-10 minutes. Drain once they're both cooked.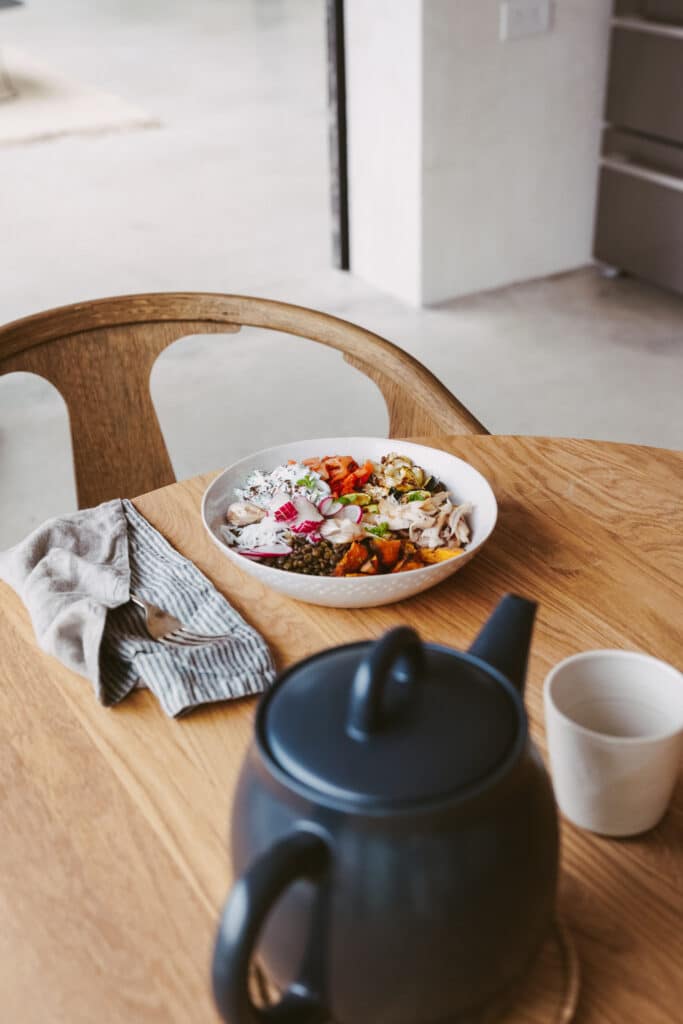 Prepare the tzatziki sauce: cut cucumber into thin strips, chop up the cornishons, coriander and spring onions, mix everything with yogurt and a splash of olive oil. Mix in a pinch of salt and freshly ground black pepper. Set aside.
Assemble your lunch bowl: add some rice and some lentils into a deep plate. Top with roasted veggies and garlic, shredded chicken (shred using your hands or forks), tzatziki, kimchi, sliced radish and some herbs. Sprinkle generously with sumac. You can also drizzle some balsamic glaze for a touch of sweetness.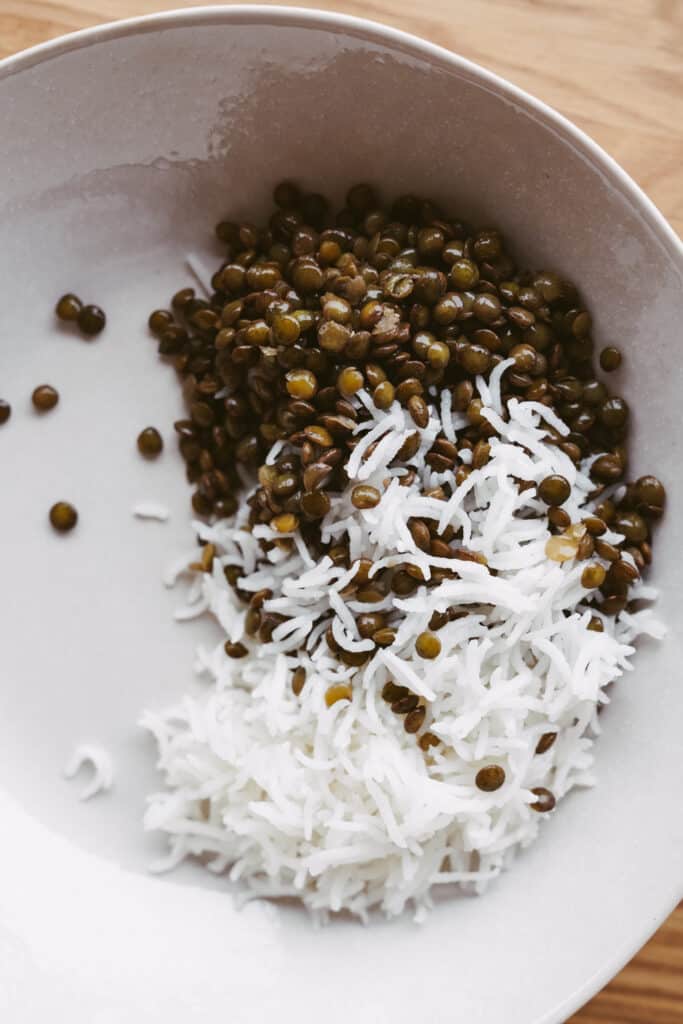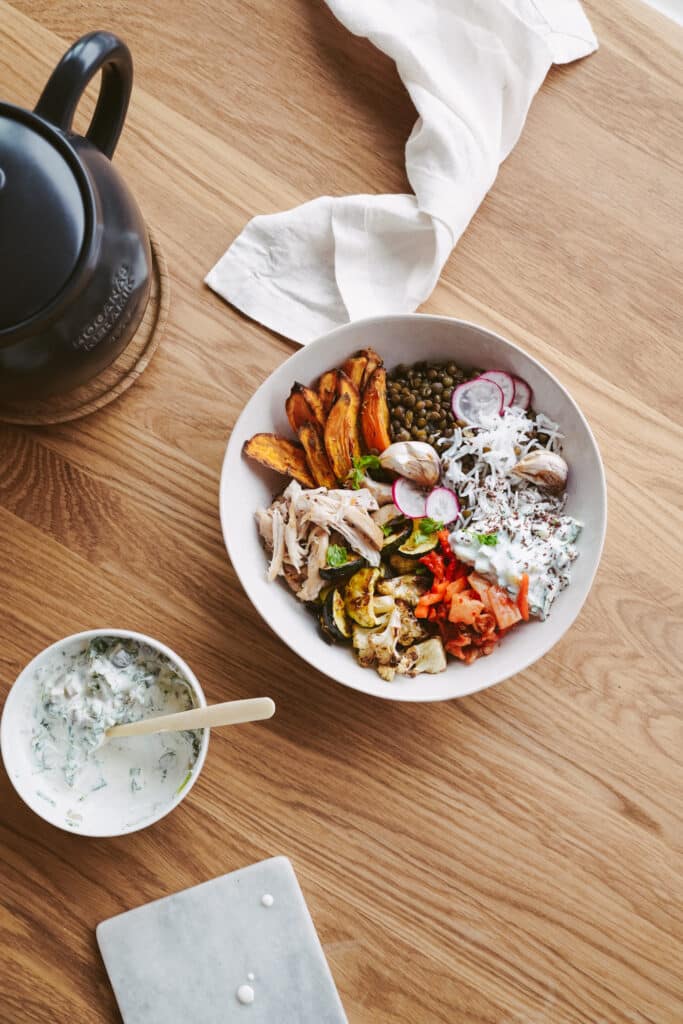 Ingredients
boneless chicken thigh meat (2 pieces)
1/4 cup of basmati or brown rice, dry
1/4 cup of french lentils, dry
a piece of baby zucchini
a handful of cauliflower or broccoli florets
3 garlic cloves
1 medium sweet potato
rosemary
kimchi or your favourite hot sauce
a couple of fresh radishes
fresh herbs of your choice to garnish
extra virgin olive oil
sea salt
sumac
For the tzatziki
3 tablespoons of greek yoghurt
a splash of extra virgin olive oil
a handful of fresh coriander
a handful of spring onions
a small piece of cucumber
2-3 cornishons (tiny pickled cucumbers)
pinch of salt
freshly ground black pepper