Tomato, Butter Bean And Quinoa Stew
In the pictures you can see a vegetarian version of the stew, but if you want to make it vegan, all you need to do is give up feta cheese and sour cream – these are only used as a topping. You can also crumble or grate some vegan cheese on top or use nutritional yeast. Nutritional yeast is popular among vegans because it is a great source of B vitamins, folic acid, zinc and vitamin D. You can usually find it in health or specialty stores for plant based products.
To make this butter bean and quinoa stew you will only need one pot. You will start and finish off this stew in the same pot, which means little mess and saving time. If you don't have butter beans, cannellini or red kidney beans will do. You can use kale instead of spinach, but in that case you should add it at the very beginning of cooking as it needs more time to soften. Don't be afraid to get creative. Try it out and let me know what you think. I do feel you're going to love this one.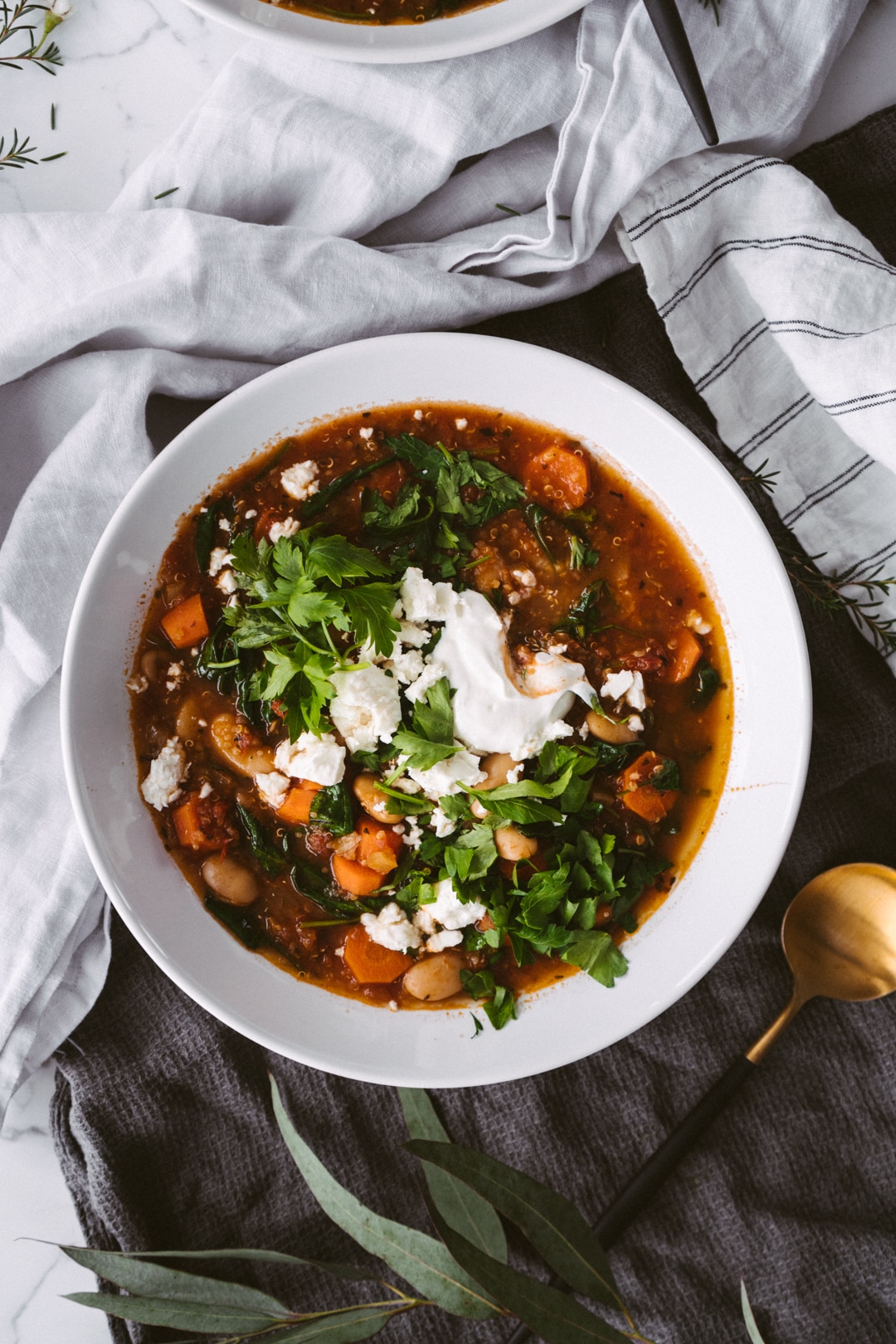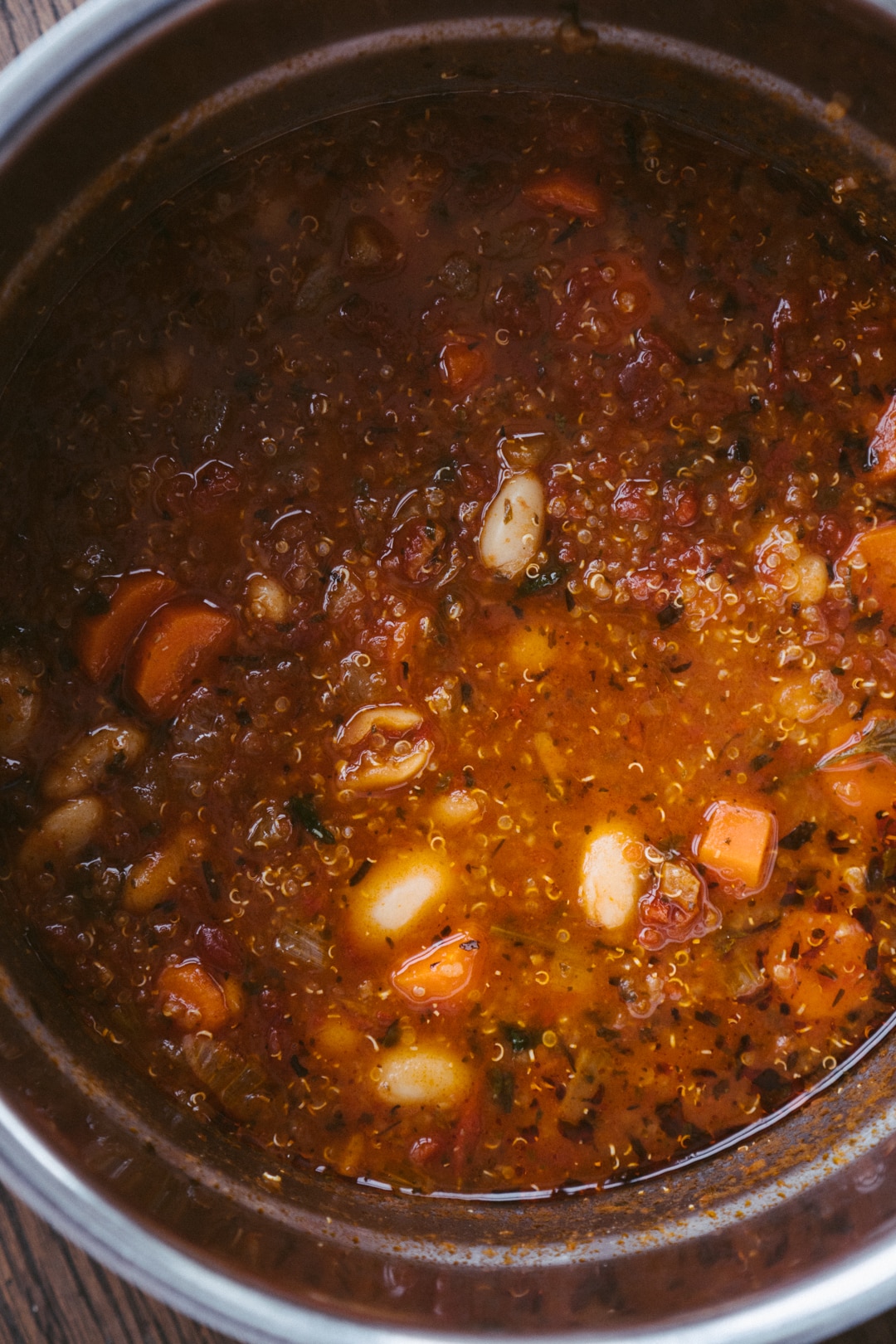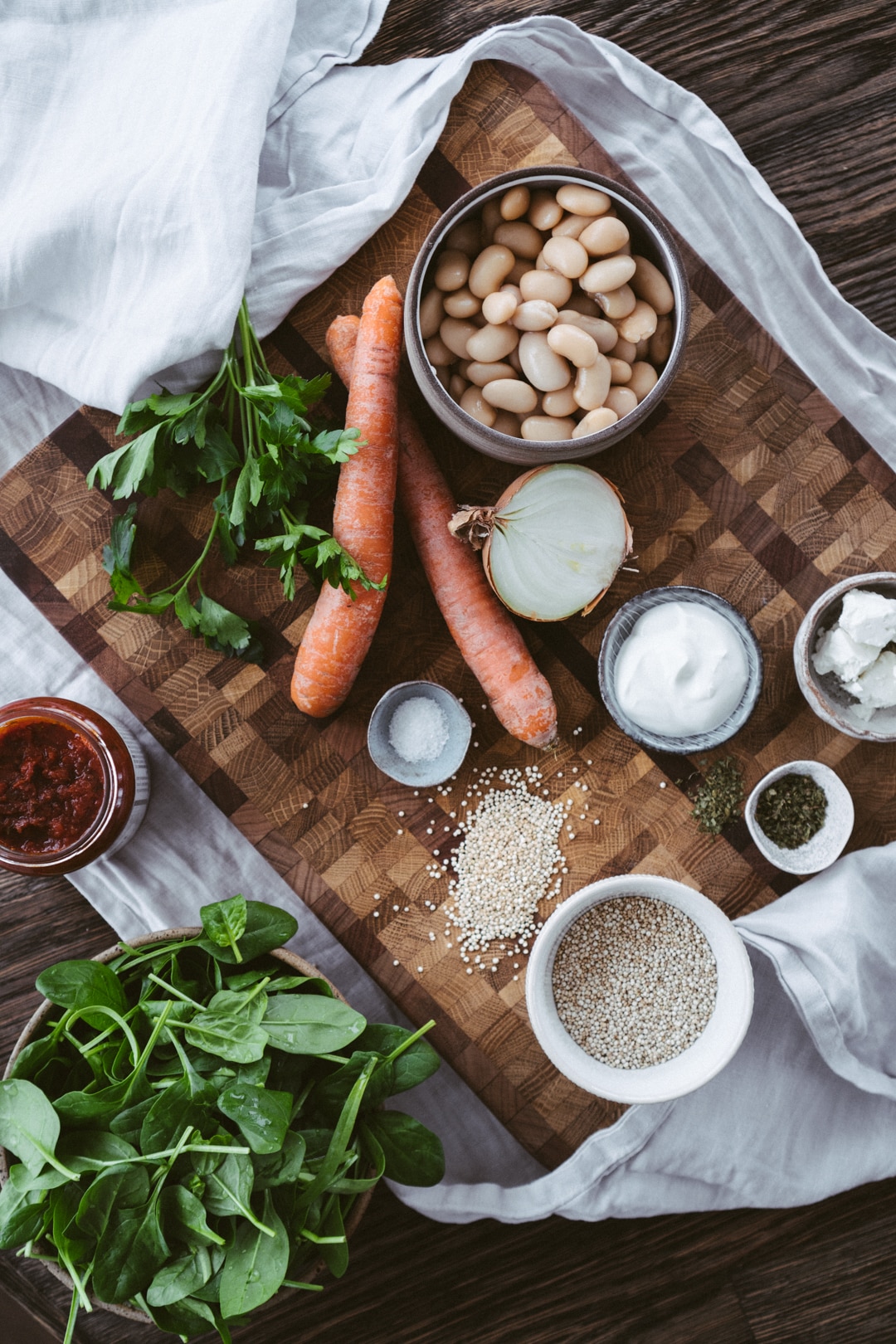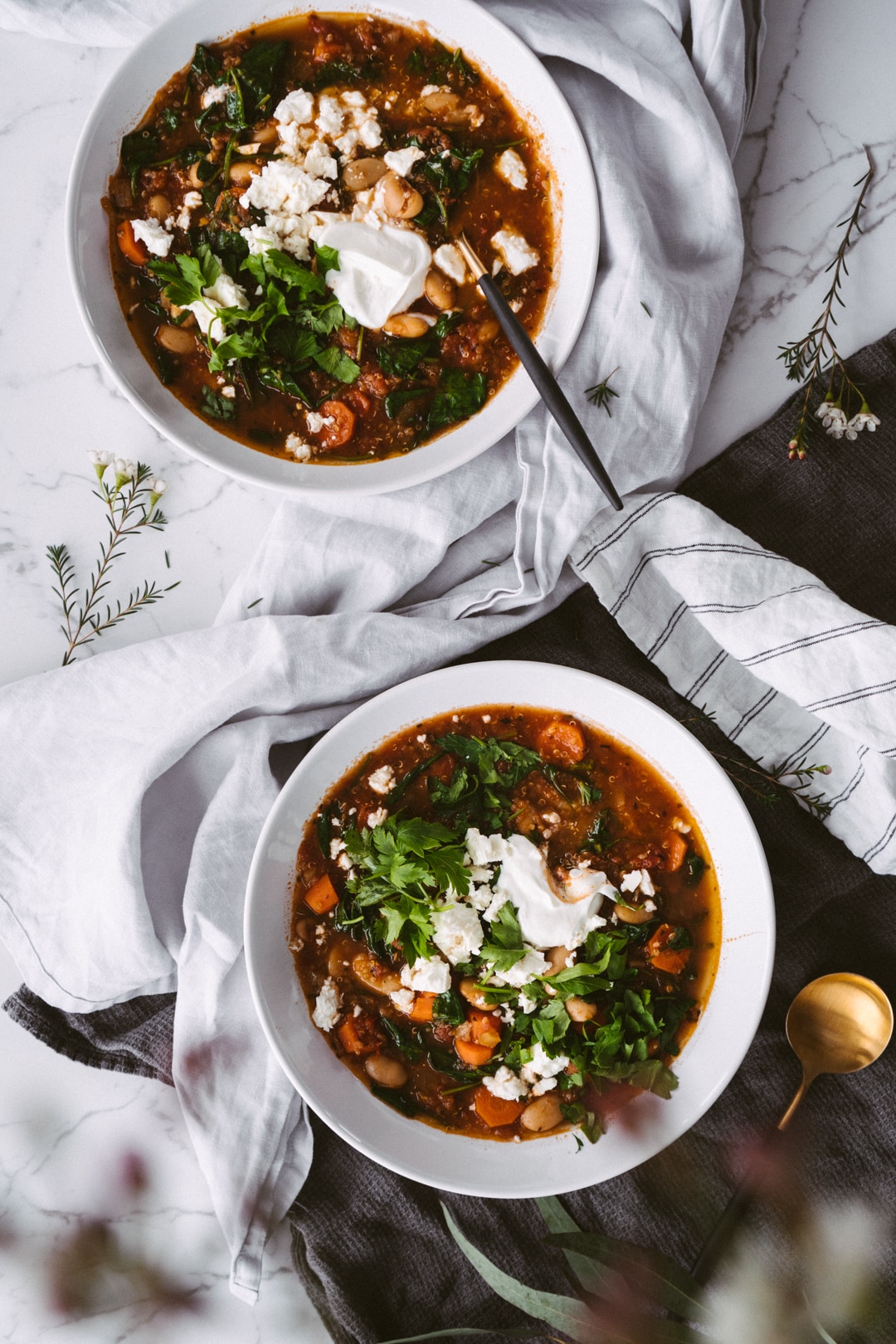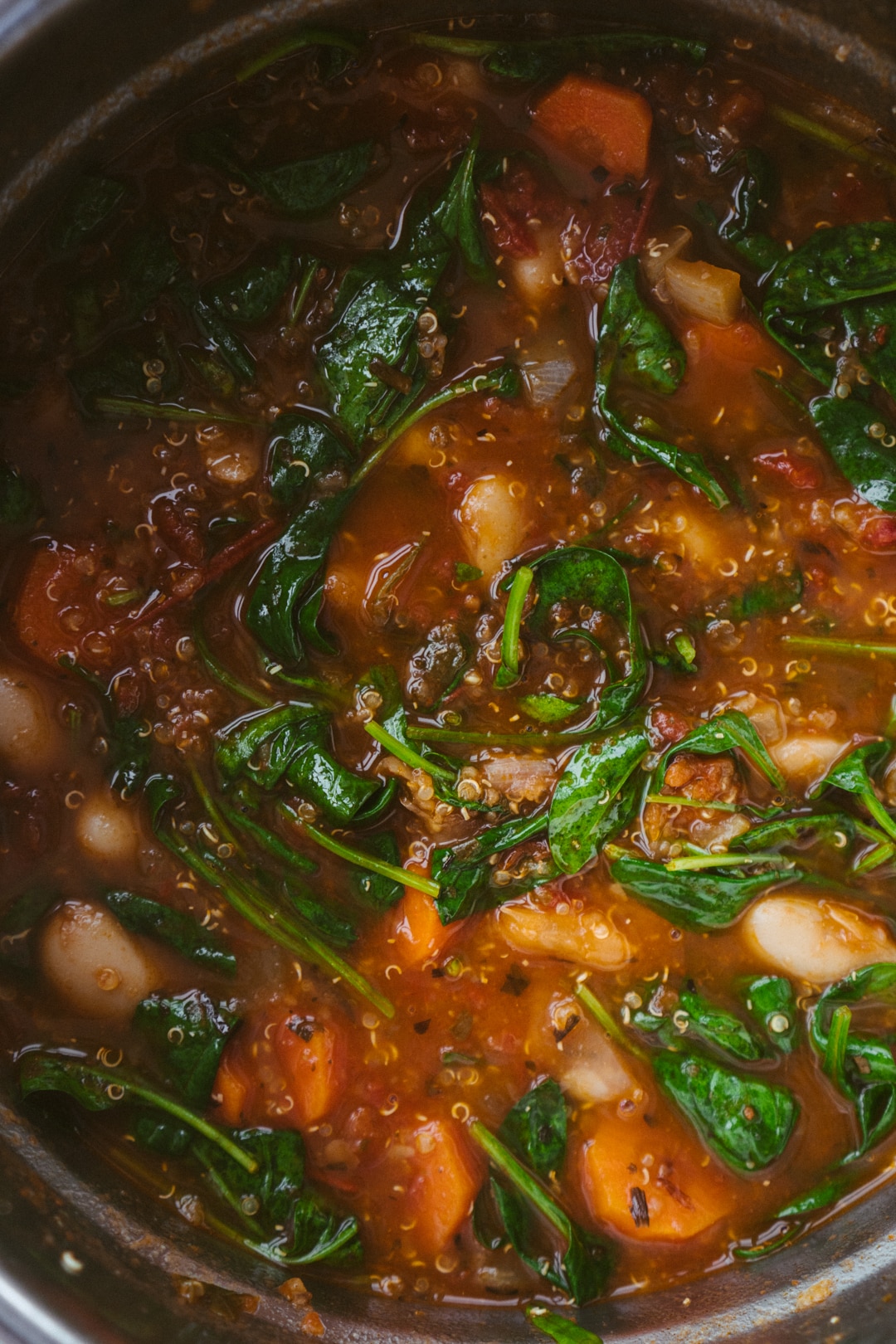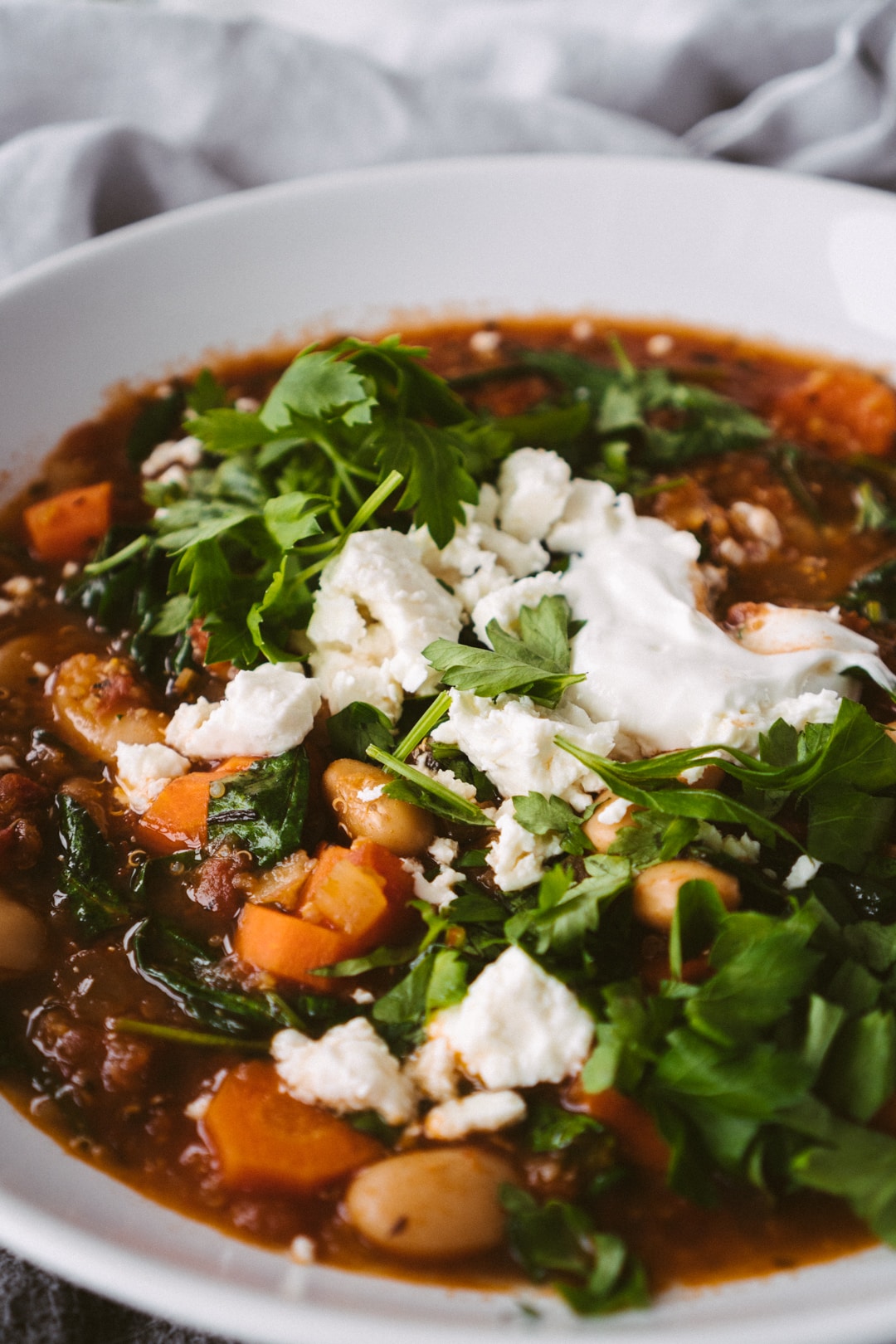 Instructions
Heat a large pot, add olive oil and cook finely chopped onion with sliced carrots in it until translucent and caramelised.
Add dried herbs, beans, quinoa, pasta sauce and 2 – 3 cups of water. Cook with a lid slightly ajar, stirring occasionally for 25 minutes.
Add some chopped parsley and all of the spinach. Stir and cook for 2 minutes more. Add more water if the stew has become too thick. Add salt to taste if needed, but you probably won't need a lot, because the pasta sauce is usually salty enough. Have in mind that feta cheese will also add saltiness, so don't go overboard.
Julie's Tip
If you use whole peeled tomatoes instead of the sundried tomato pasta sauce, you will need to add more salt and probably some sweetness to counteract the acidity of tomatoes (most of the pasta sauces are already pre-sweetened). I suggest using maple syrup or simply unrefined brown sugar. Not much, about 1-2 tbsp.
Top with some fresh parsley, feta and sour cream or a vegan cheese alternative.
Serve the stew immediately or reheat it later on.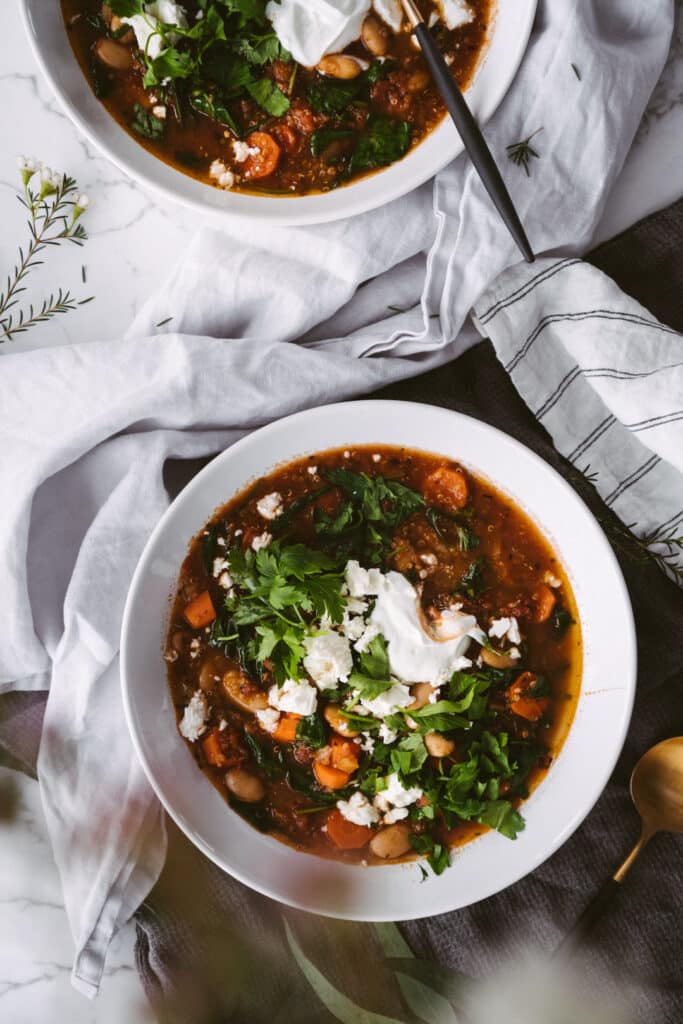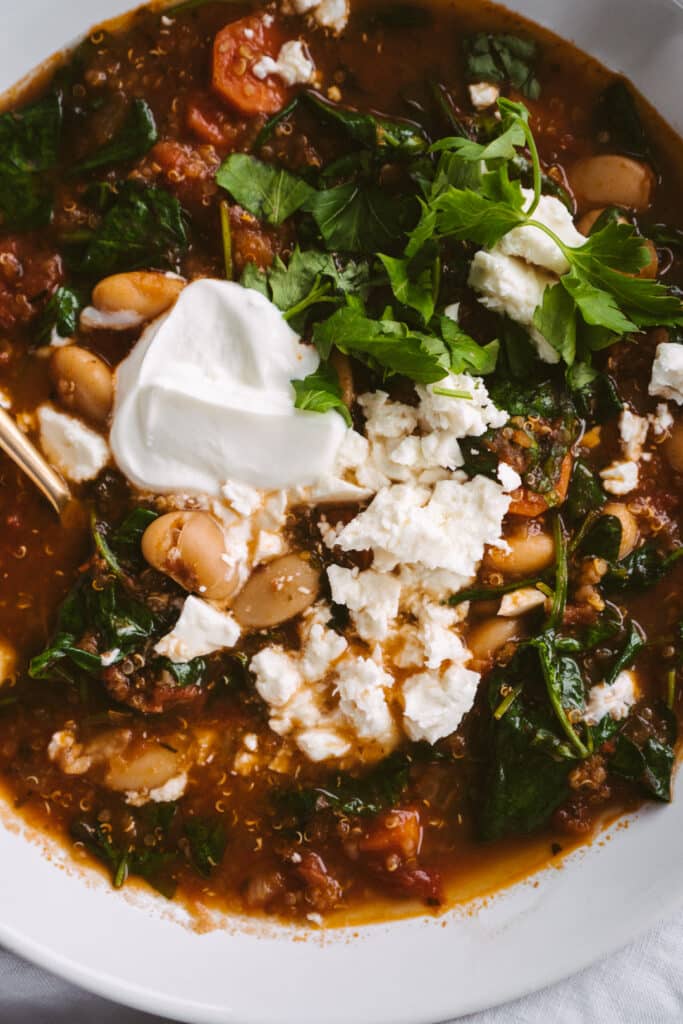 Ingredients
45g (1/4 cup) of quinoa
1 can (or 240g cooked) of butter beans, drained
350g of sundried tomato pasta sauce (or basil pasta sauce, or whole peeled tomatoes)
2 carrots
1/2 onion
100 g of spinach
a handful of fresh parsley
some dried herbs (basil, oregano, marjoram or anything you like)
sea salt
2 tbsp of olive oil, for cooking
feta cheese
sour cream or yogurt