Pumpkin And Mushroom Lasagna
I usually use pumpkin for soups and stews as well as side dishes or as pasta sauce. My favourite pumpkins are the sweet kind: butternut squash, muscat pumpkin. Sweetness works well when pairing pumpkin with cheese, therefore I recommend using sweeter pumpkins for pasta meals, including lasagnas. I used butternut squash this time which has a rich and creamy in texture, but don't worry if you are planning to use a more watery kind of pumpkin. We need enough moisture for the lasagna sheets to properly soften thus it will do the job nicely.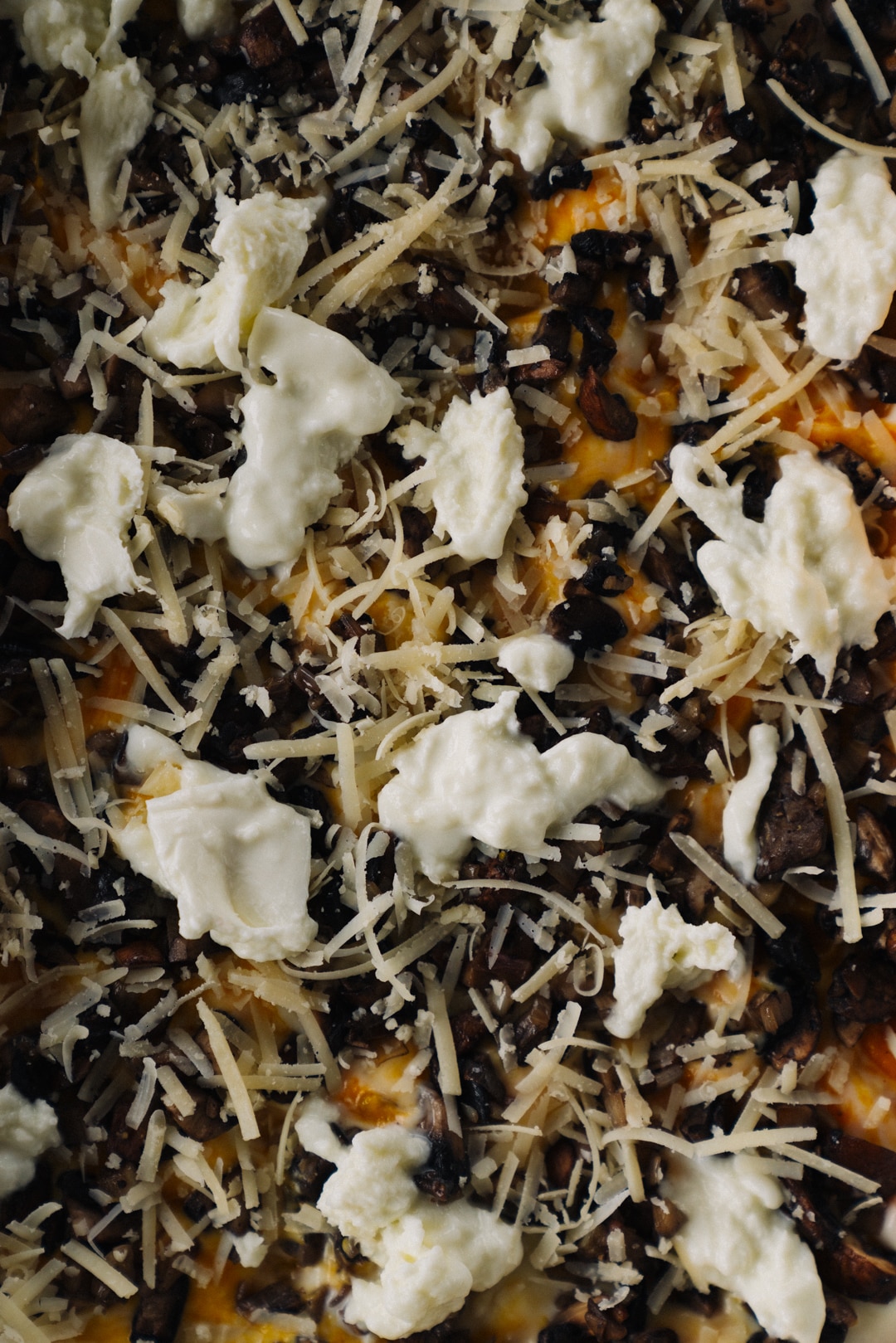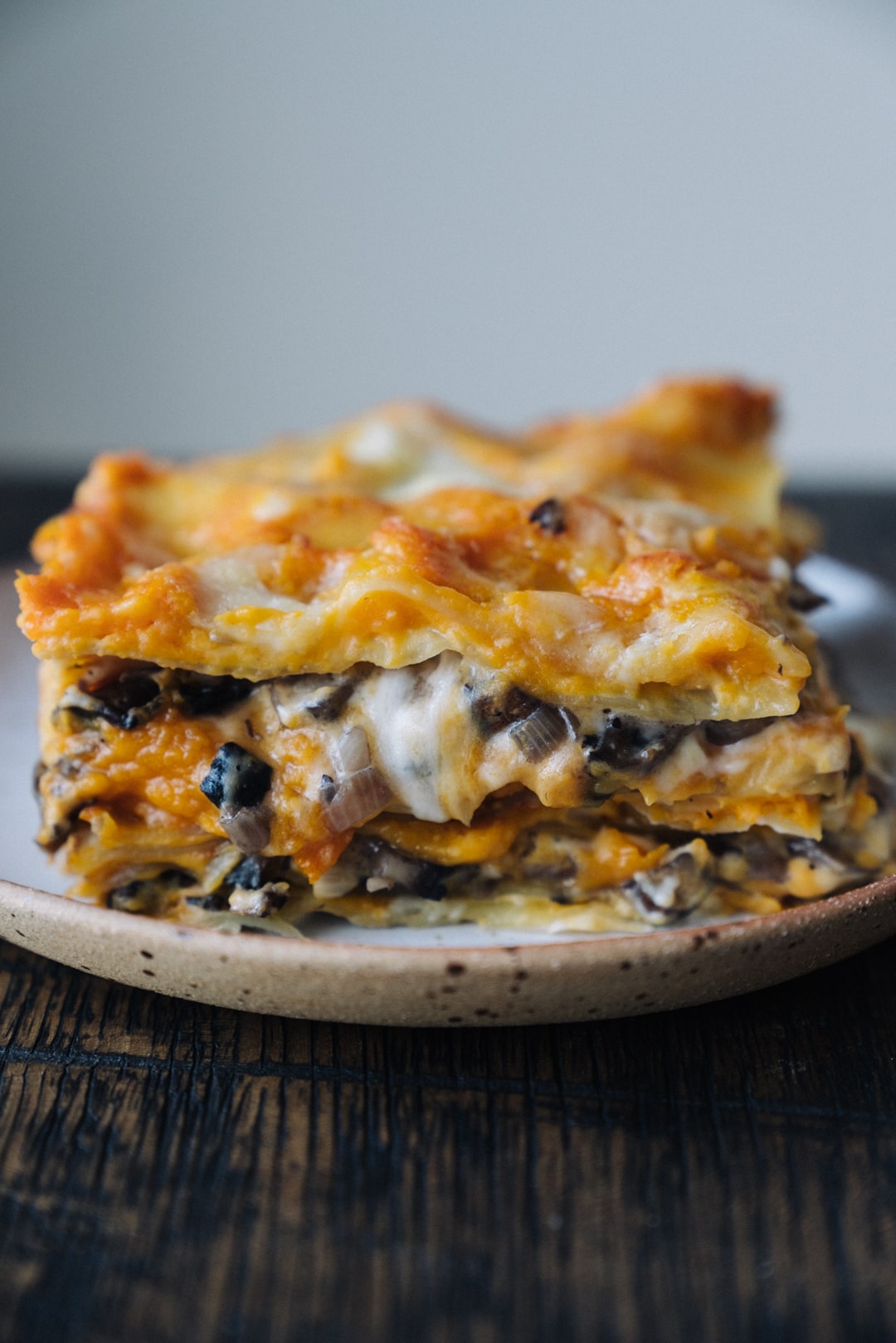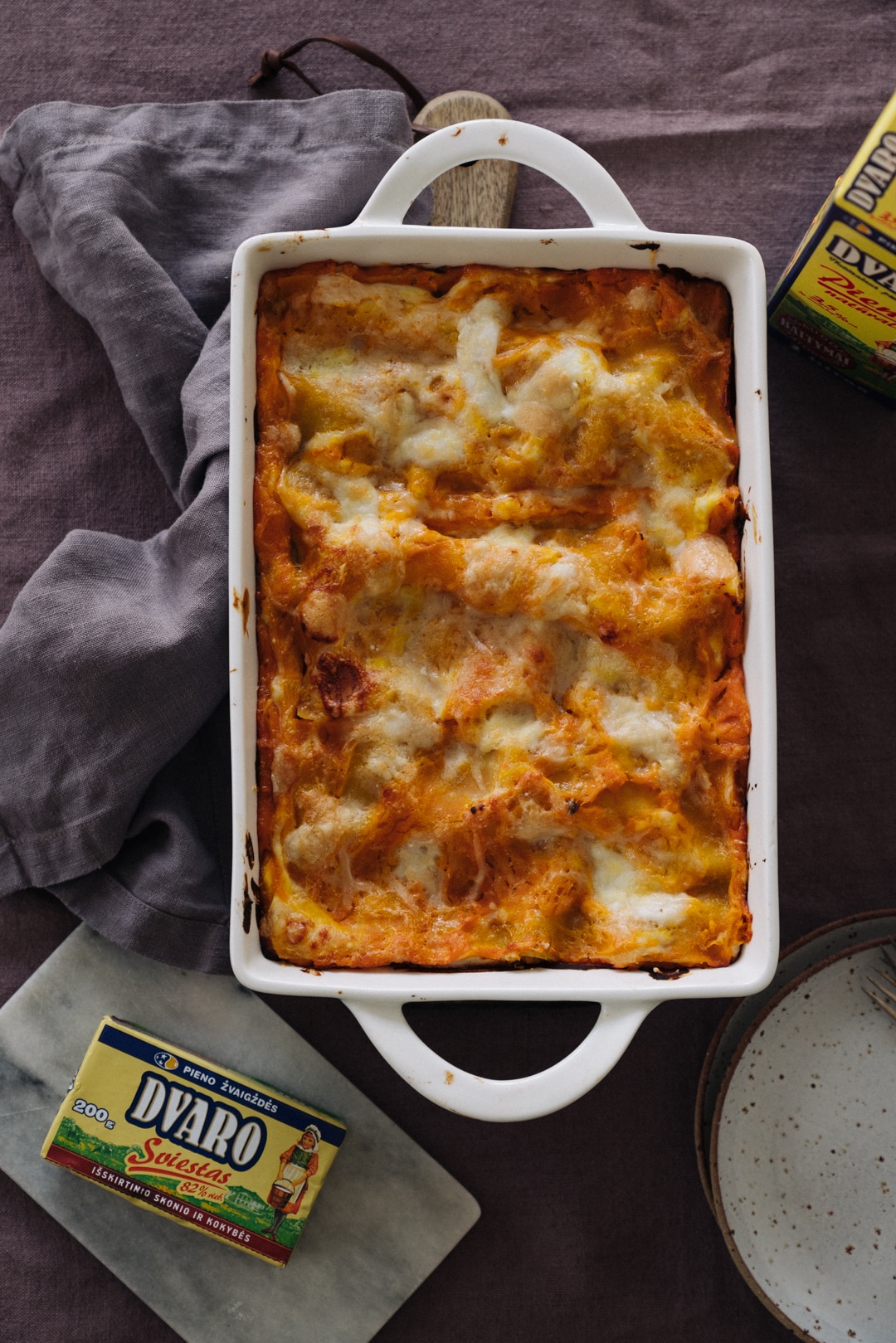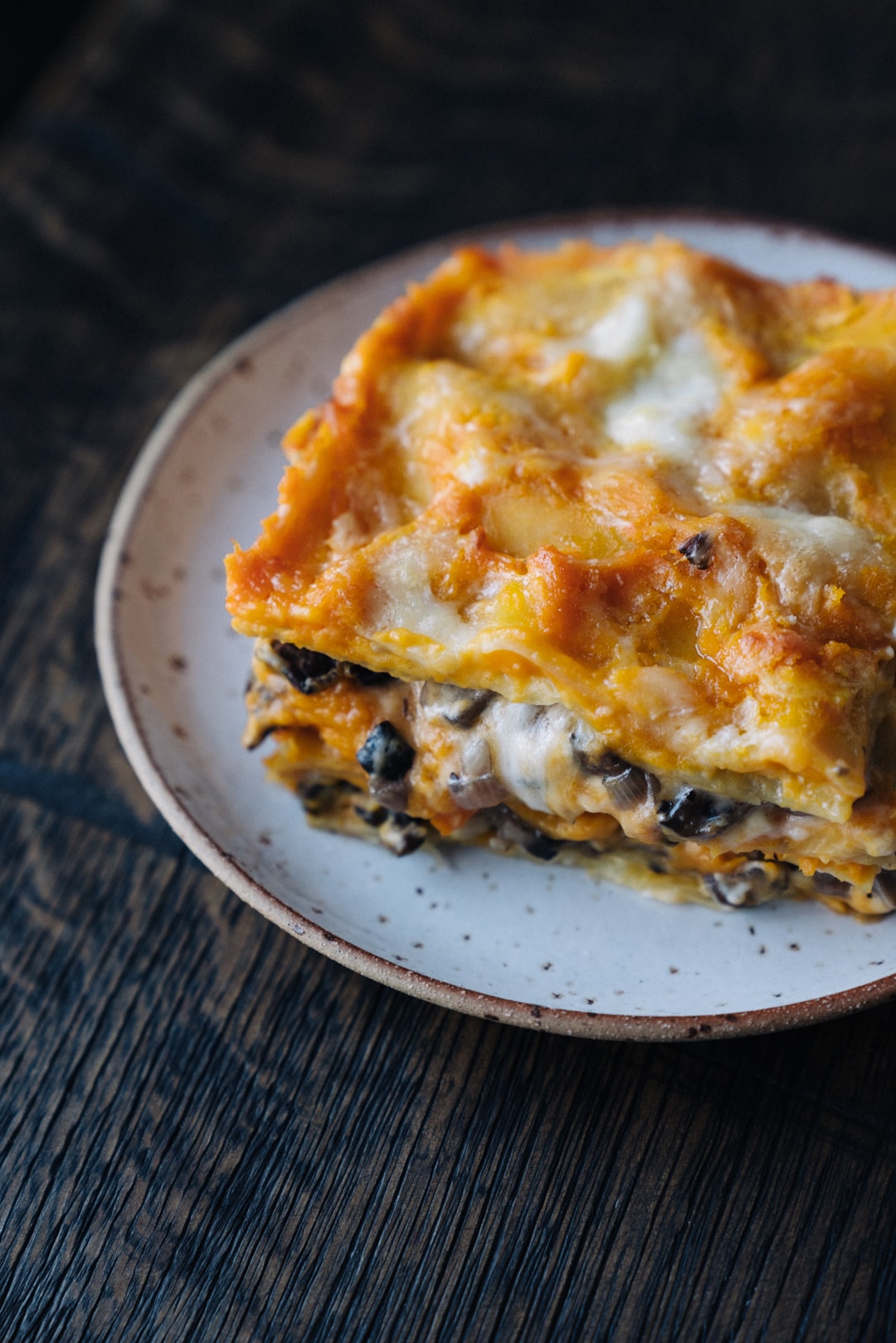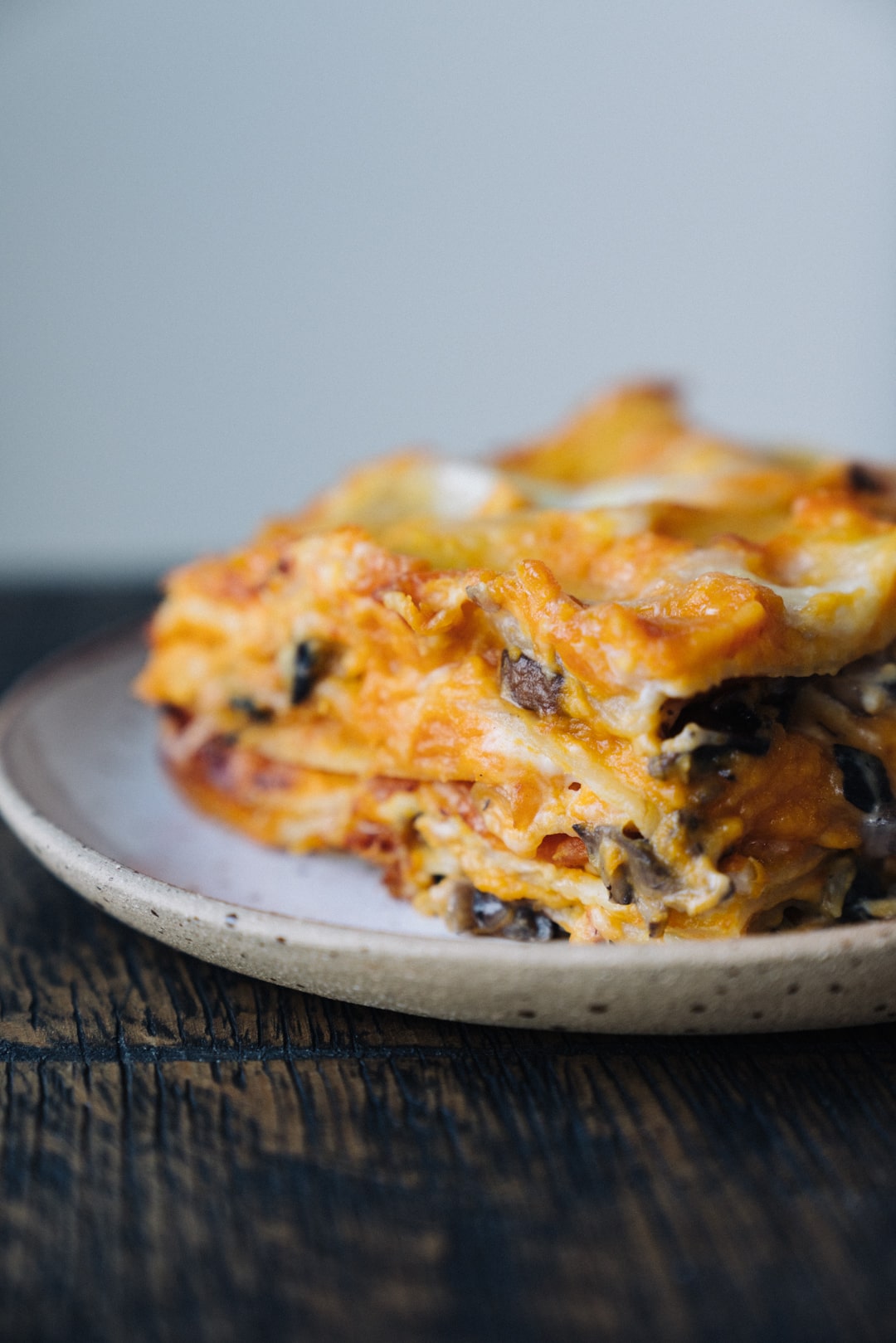 Instructions
Preheat your oven to 180°C (fan). Line a large baking tray with baking paper. Peel butternut squash and remove its seeds. Cut into thin slices, rub with a touch of oil and sea salt and place onto a prepared baking tray. Roast for 20 minutes or until soft and slightly caramelised.
In the meantime, chop mushrooms, garlic and onions. Add into a large frying pan with two tablespoons of oil and sauté until most of the liquid evaporates. Salt and pepper to taste.
Melt butter in a medium saucepan. Reduce heat. Carefully pour in the flour, constantly whisking as you go. Let the flour heat for a minute then start pouring in the milk in a steady stream, constantly whisking as you go. Heat on medium stirring until it thickens. Remove from heat once it reaches the consistency similar to sour cream and stir in some salt.
Blend the cooked pumpkin into purée.
Layer: start with some Béchamel sauce and a layer of lasagne sheets (the sheets should not cover one another). Spread 1/4 of the pumpkin purée, top with 1/3 of Béchamel sauce and 1/3 of mushrooms. Sprinkle some parmesan. Add the second layer of lasagna sheets and repeat with the layering. Add the third layer of lasagna sheets, but this time also add 1/2 of the mozzarella cheese torn into pieces on top. Cover with the final layer of lasagna sheets, spread the remaining pumpkin purée on top, sprinkle with parmesan and finish off with mozzarella.
Bake in a 160°C convection oven (fan) for about 35 minutes.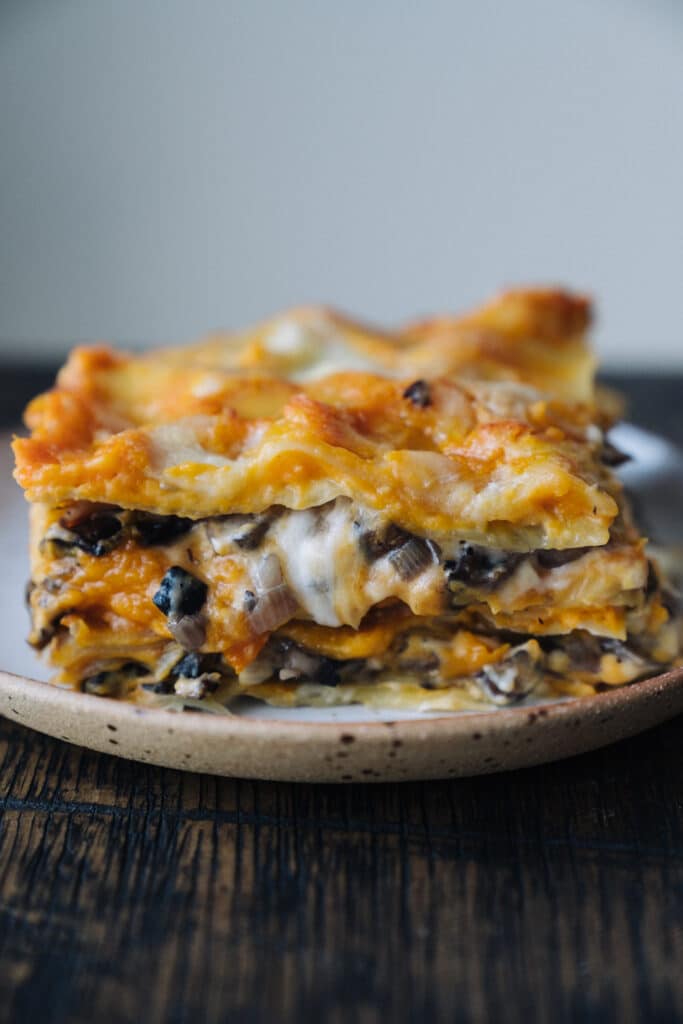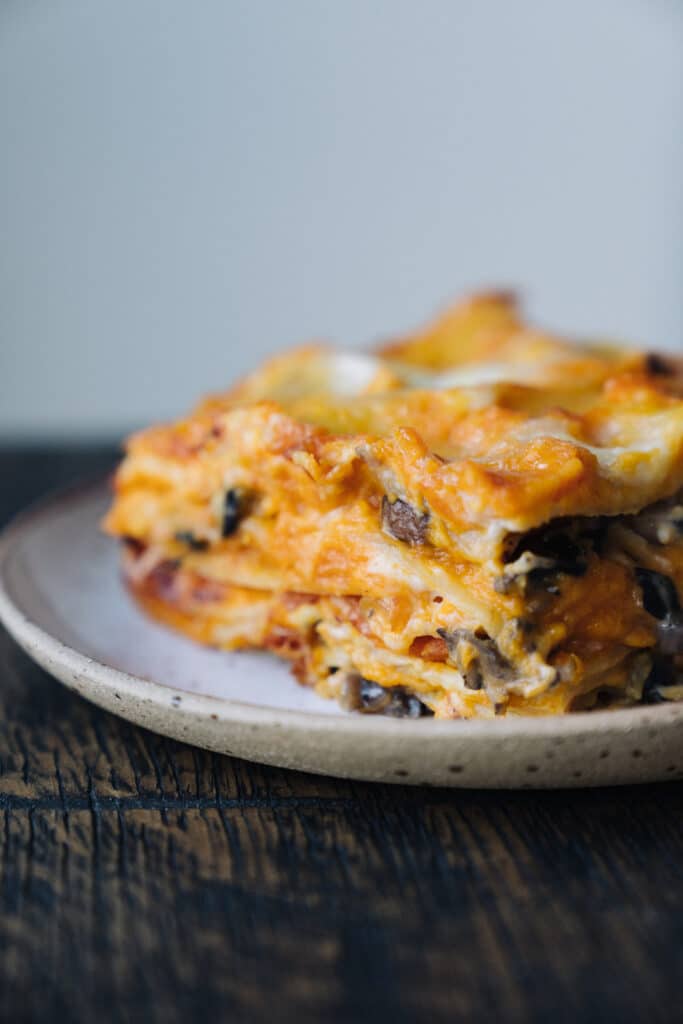 Ingredients
For the lasagna
lasagna sheets (about 16 pcs.)
1 larger butternut squash (about 900g – seeds and peel removed)
350 g of brown button mushrooms
a couple of shallots or one larger onion
4 medium garlic cloves
150 g of mozzarella cheese
60 g of parmesan, grated
extra virgin olive oil
sea salt to taste
freshly ground blask peppers
For the Béchamel sauce
600 ml of milk (or substitute with plant based milk, e.g. oat)
50 g of butter
50g of wheat or spelt flour
few pinches of sea salt