Summer and the scent of sweet tomatoes. I remember the first time I tried making gazpacho some years back. Although I had tasted it a couple of times before my very first attempt, I thought that if it's a cold pureed soup I can simply throw all of the ingredients in a blender and I'll make myself a gazpacho. Well, I ended up with a slurpy meal full of vegetable chunks, it was far from anything smooth. Now I always remember this story when making gazpacho to myself or friends and family.
There are numerous gazpacho variations. Some people include stale bread in their recipe (it makes the soup extra creamy), jalapeño peppers, some even add melon balls. Over time, you'll discover what suits you best, but I believe this version is a good starting point. It's not too garlicky, not too acidic and creamy enough to my liking.
I don't add peppers to my gazpacho and I prefer a cold summertime soup to be light so I don't use any bread. You can serve gazpacho with some toasted Spanish or Italian style bread instead or simply have the soup on its own. The most important ingredient here are the tomatoes so be sure to use farm grown or organic tomatoes (grandma's garden?). Use different types to add even more flavour. Although gazpacho is all about those perfectly ripe tomatoes, this doesn't mean you should give up on cucumbers, onions, garlic or olive oil – always choose the best you can.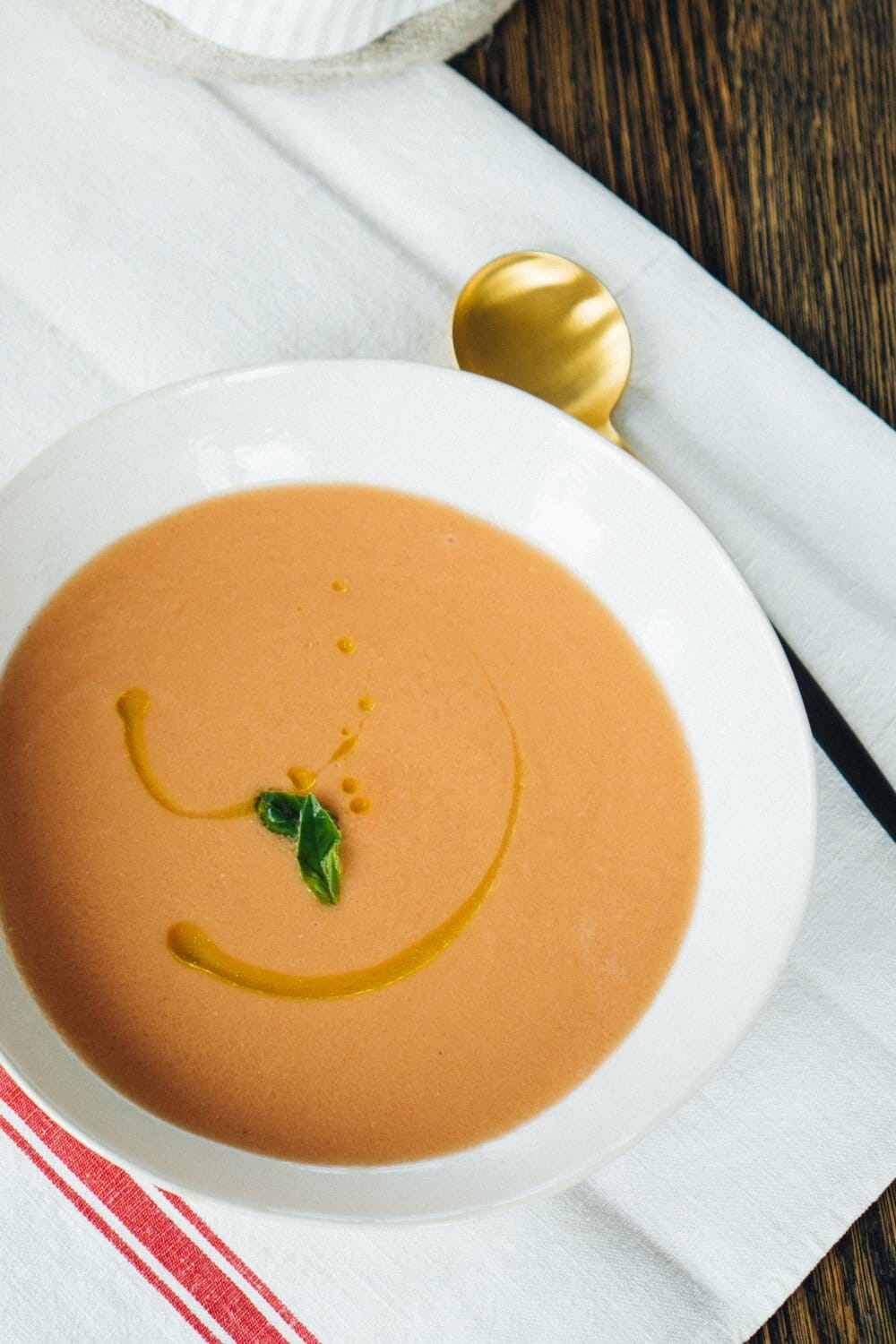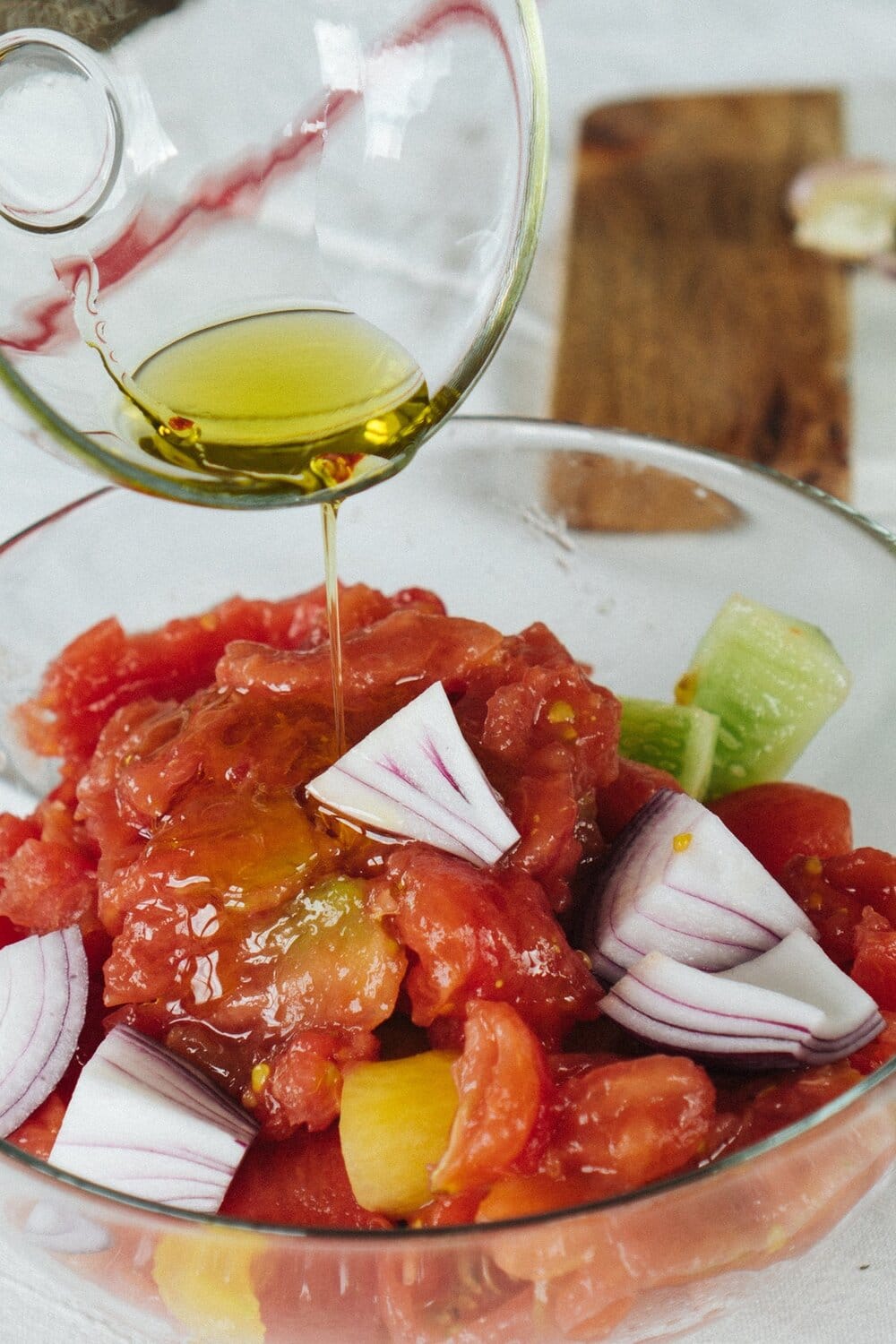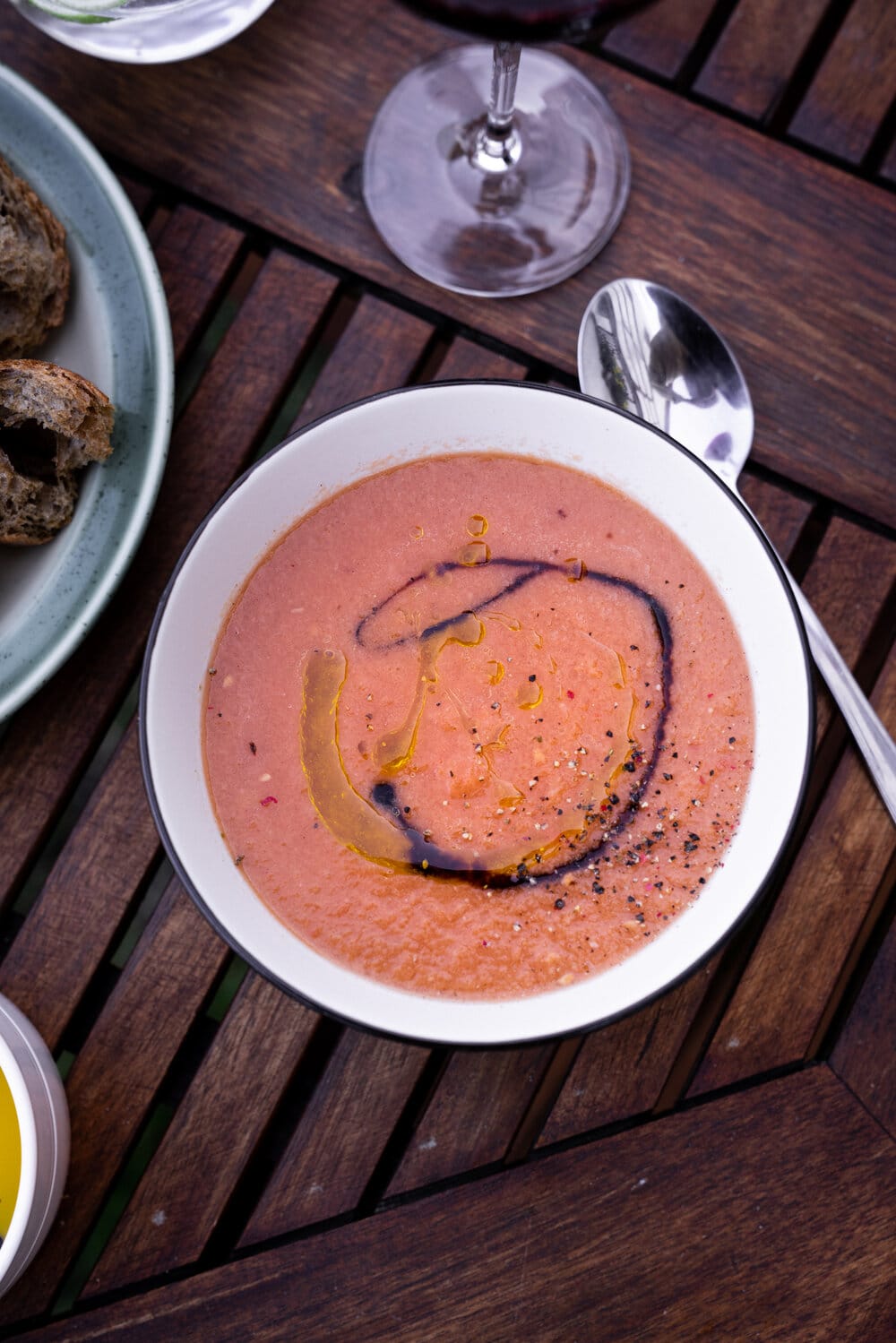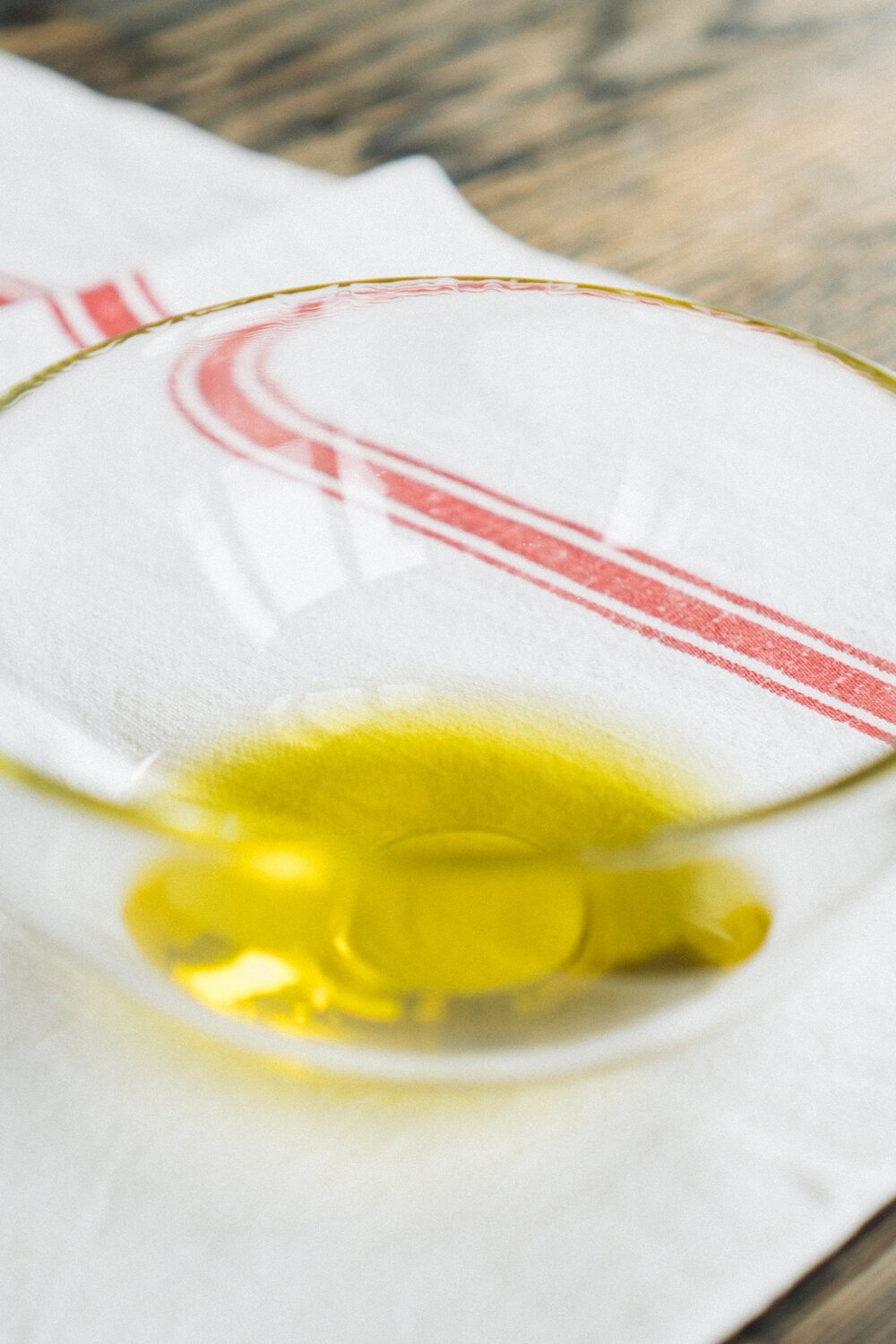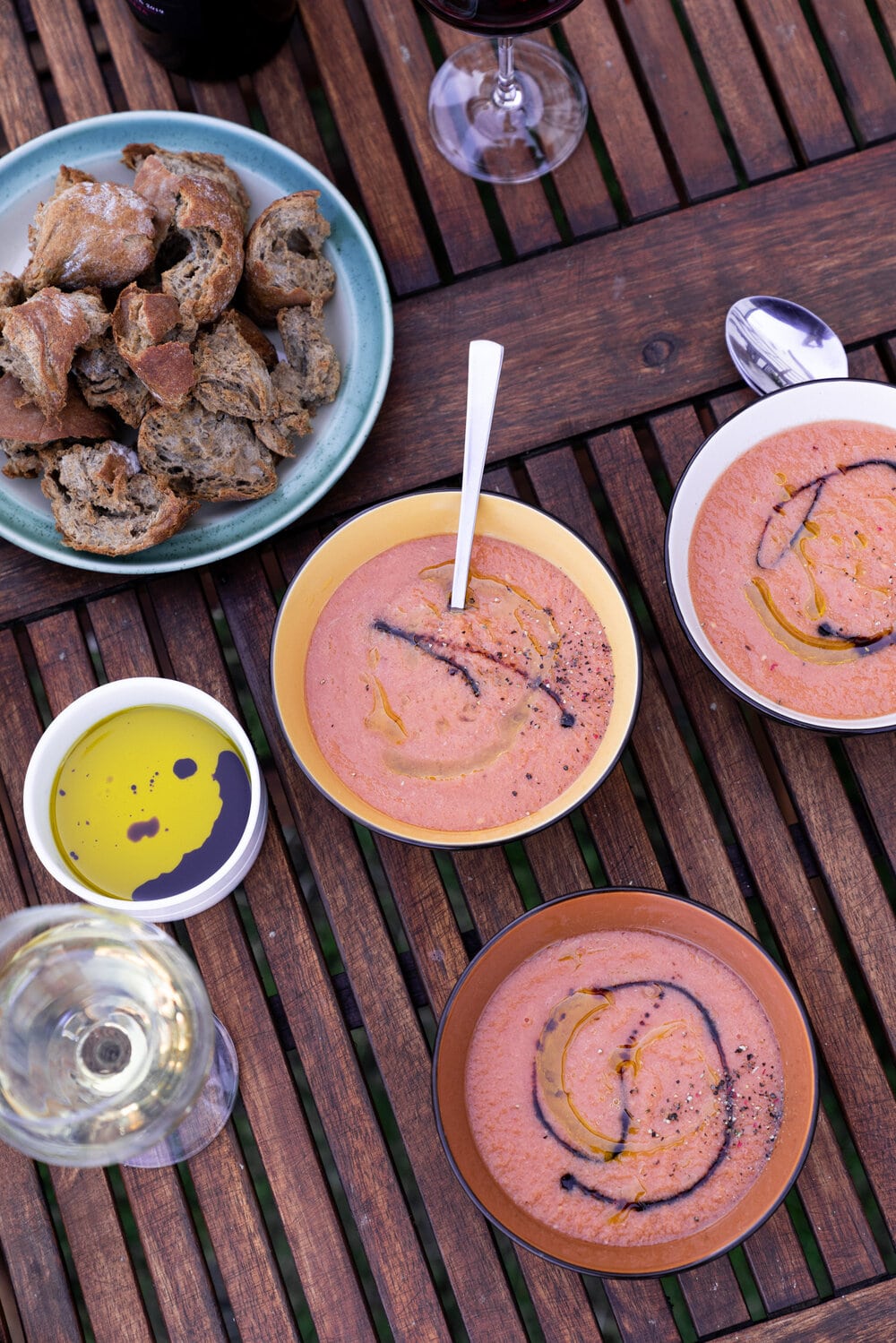 Instructions
Place tomatoes in a large heatproof bowl and fill it with boiling water so that all tomatoes are covered. Let stand for 2-3 minutes or until tomato peel releases from the pulp – you should feel that the peel is slightly loose when you touch it.
Julie's Tip
Add salt to the prepped and cut vegetables prior to blending them and let stand for 20 minutes. This step allows vegetables to develop a brighter, more complex flavour due to a reaction called osmosis.
Remove tomatoes from the hot bowl, wash under cold water and peel them. Remove and set aside seeds but do not discard of them. Remove and discard stems. Peel cucumbers. Remove the round and slightly greenish middle part of each garlic clove – it will have less intense odour.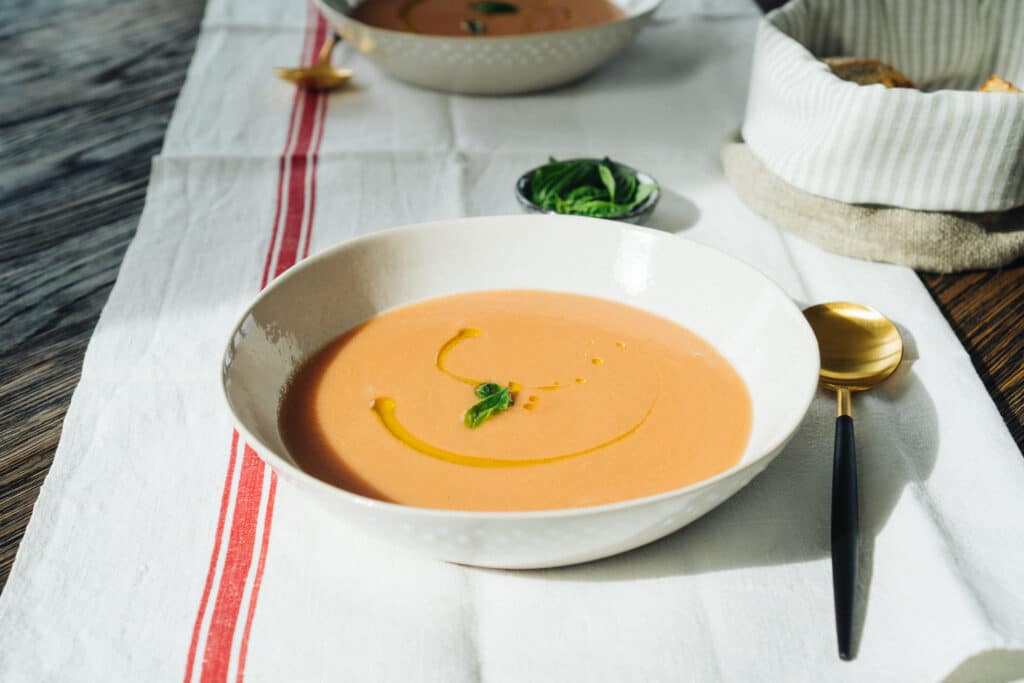 Now transfer the tomato pulp to a blender. Add the cucumber, onion, garlic and salt. Let stand for 20 minutes. During this time vegetables will develop a brighter flavour due to osmosis, the reaction with salt.
In the meantime, strain the reserved tomato seeds through a fine sieve into a blender with vegetables. When the seeds become quite dry, you can discard of them.
Julie's Tip
Reserve the delicious juice that's left around the tomato seeds: simply drain them through a mesh sieve into the blender before blending your gazpacho. You can also strain the soup through a fine mesh sieve for smoother consistency.
Once the 20 minutes have passed, add the remaining ingredients and blend everything until smooth. Chill well in the fridge prior to serving.
Serve with a drizzle of olive oil on each soup bowl as well as some toasted bread and a small plate with EVOO and balsamic for dipping the bread in. For making extra crunchy toasted bread, tear it into large chunks, drizzle with olive oil and bake in a 200°C oven for 15 minutes.
Julie's Tip
Serve gazpacho as you would any other soup or in small glasses as an appetiser. I suggest choosing the latter for house parties and family gatherings.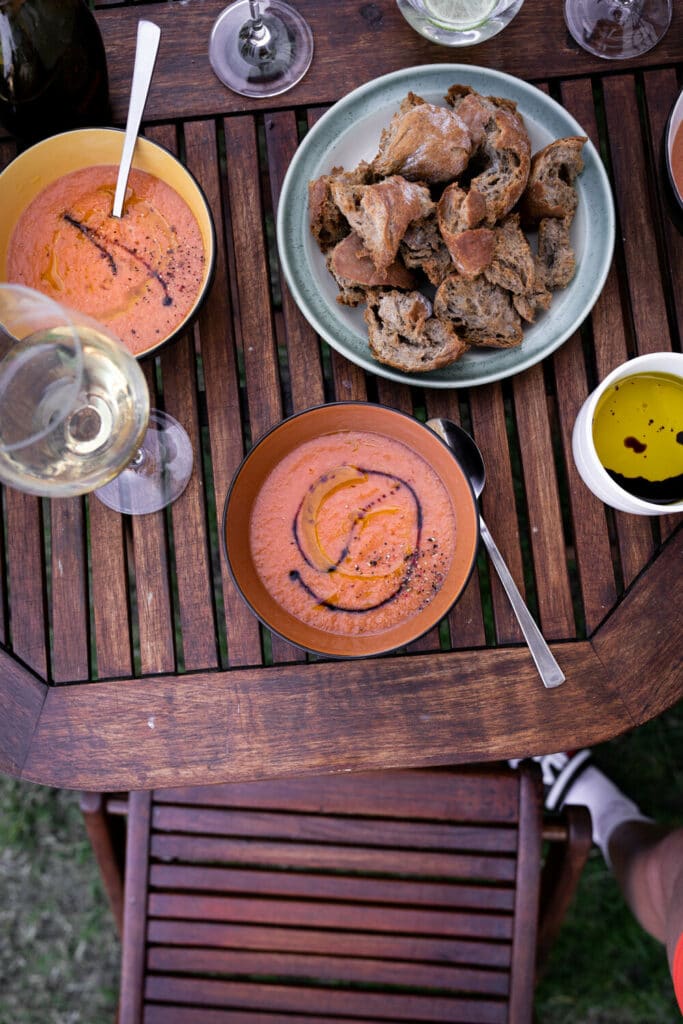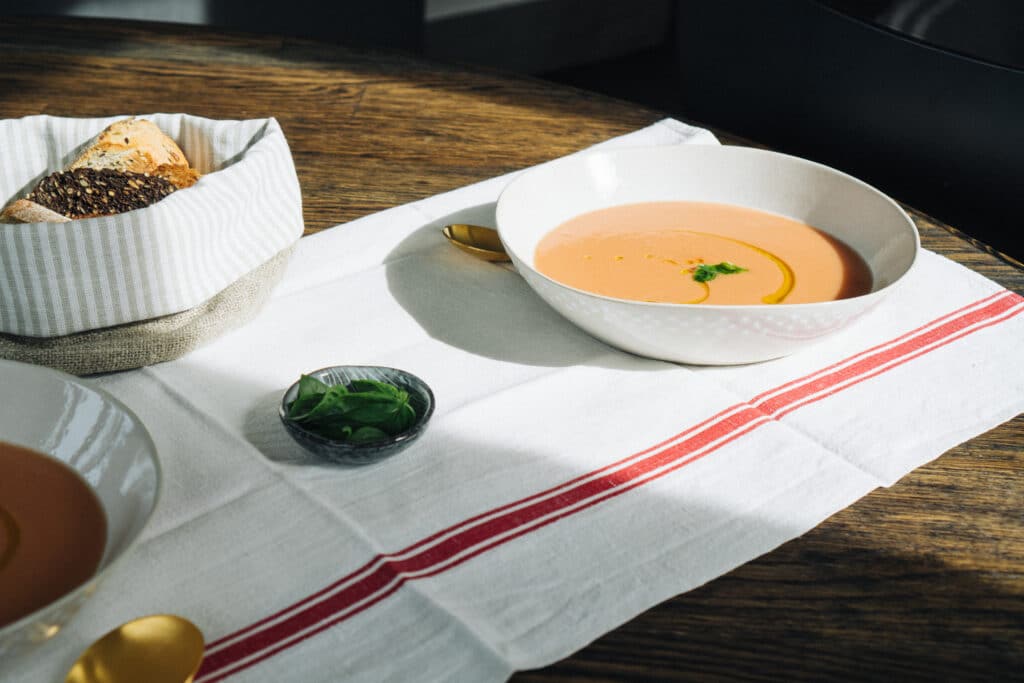 Ingredients
For the soup
750 g of tomatoes (about 470 g peeled; seeds removed)
300 g of cucumber (about 250 g peeled)
1/4 of a red onion
2 smaller garlic cloves
2 tbsp of olive oil + more to garnish
2 teaspoons of sherry or apple cider vinegar
To garnish and serve with bread
extra virgin olive oil
balsamic glaze
ciabatta or other Italian style bread