The Everything Sandwich
If you're new to KitchenJulie, you probably don't know much about my relationship with bread. Well, we're way past the "getting to know each other" and "fresh steps" phases. It's no longer complicated, in fact, bread is one of the products you'll usually find in my kitchen. It used to be, however, one of the things among other carbs I obsessively avoided. I can describe the past two-three years as my path towards a healthy/-ier relationship with food and that's when bread reestablished its noble position in my daily diet. Now that doesn't mean I stuff my face with whatever bread products I can lay my hands on, but I can make myself a toast or a sandwich on quality bread knowing I won't feel guilty about it. Bread can be a sensible choice as a base for a nutritious meal.
This multi-coloured sandwich was created to honour Lithuanian Independence Day that is February 16th. The three main colours I used (yellow, green and red) symbolise our flag. Happy birthday, dear Motherland, I'm lucky to have been born and raised here.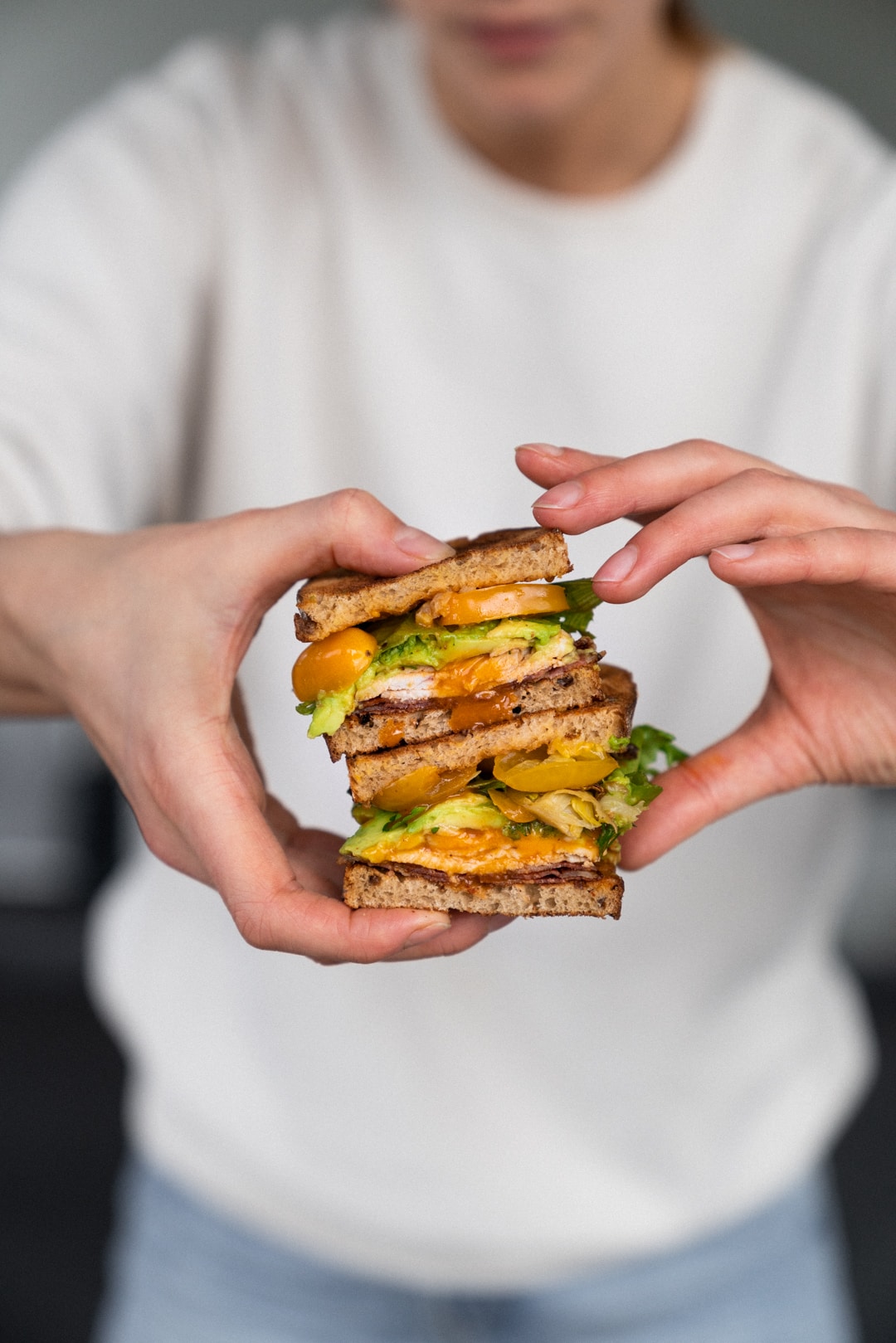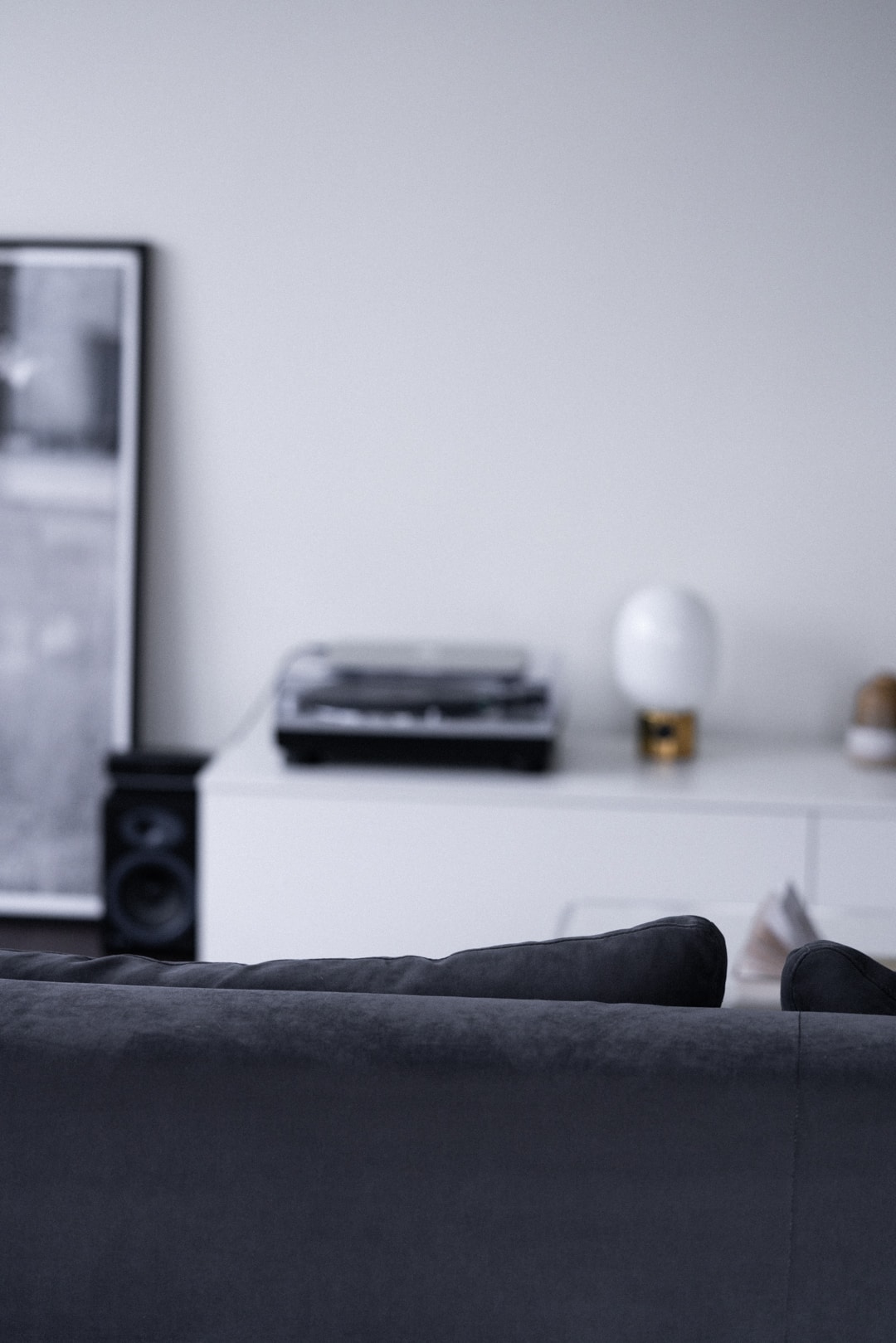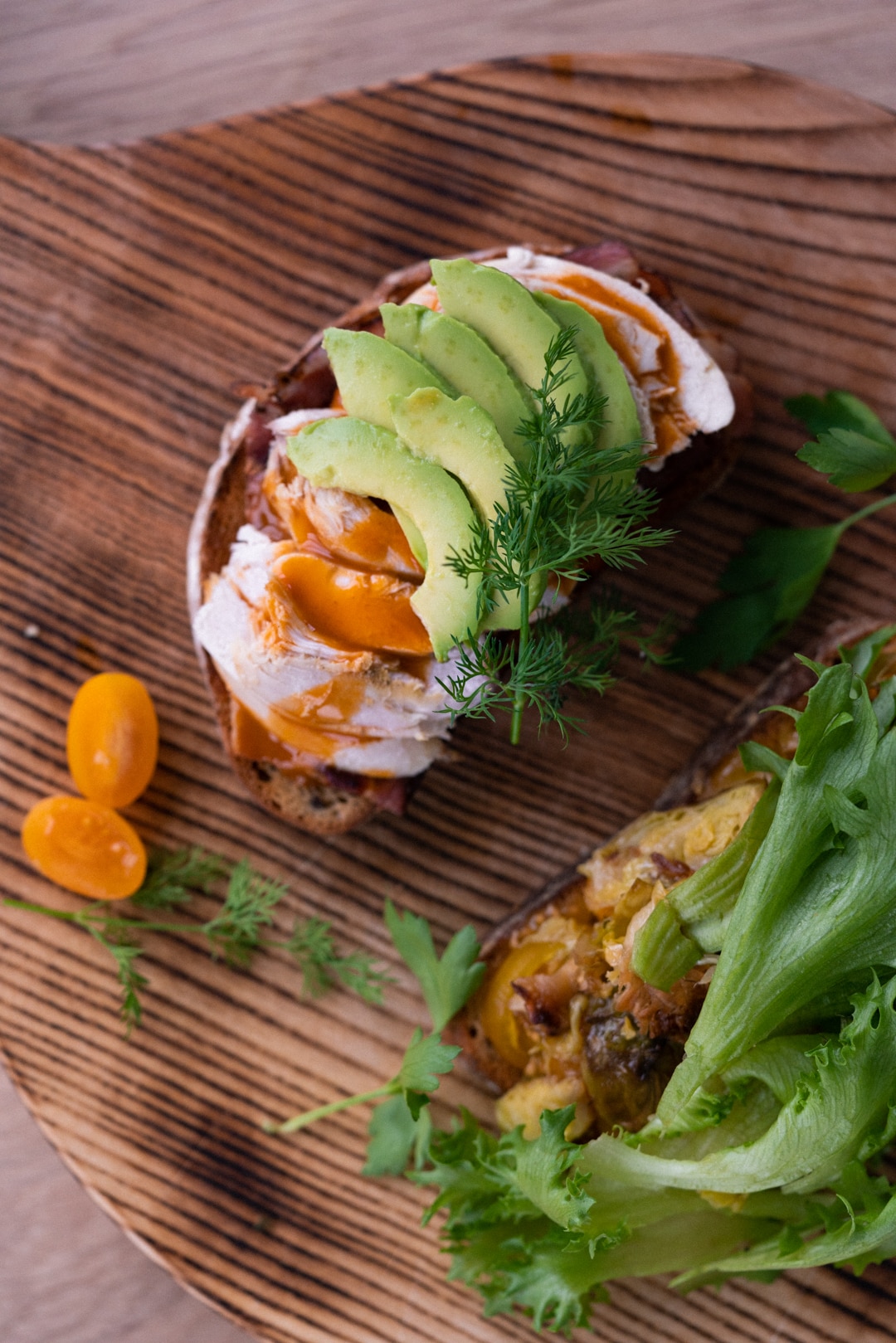 Instructions
Firstly, prep all of the ingredients. Preheat oven to 180 °C (fan setting). Line a baking sheet with baking paper.
Wash Brussels sprouts thoroughly, trim their ends then cut in half. Drizzle with olive oil, maple syrup and sprinkle with a pinch of sea salt. Rub to make sure they're evenly coated then transfer onto a baking tray and roast for 20-25 minutes or until soft in the middle and caramelised outside.
In the meantime, cook bacon on a dry pan until crispy, pat dry with a paper towel to remove excess fat. Slice the avocado, cut cherry tomatoes in half.
If you have cooked chicken leftovers (e.g. from a roast chicken), prepare thin slices for layering into the sandwich. Otherwise, cook half of a chicken breast on a frying pan with a touch of olive oil and a pinch of sea salt. Cut into thin slices.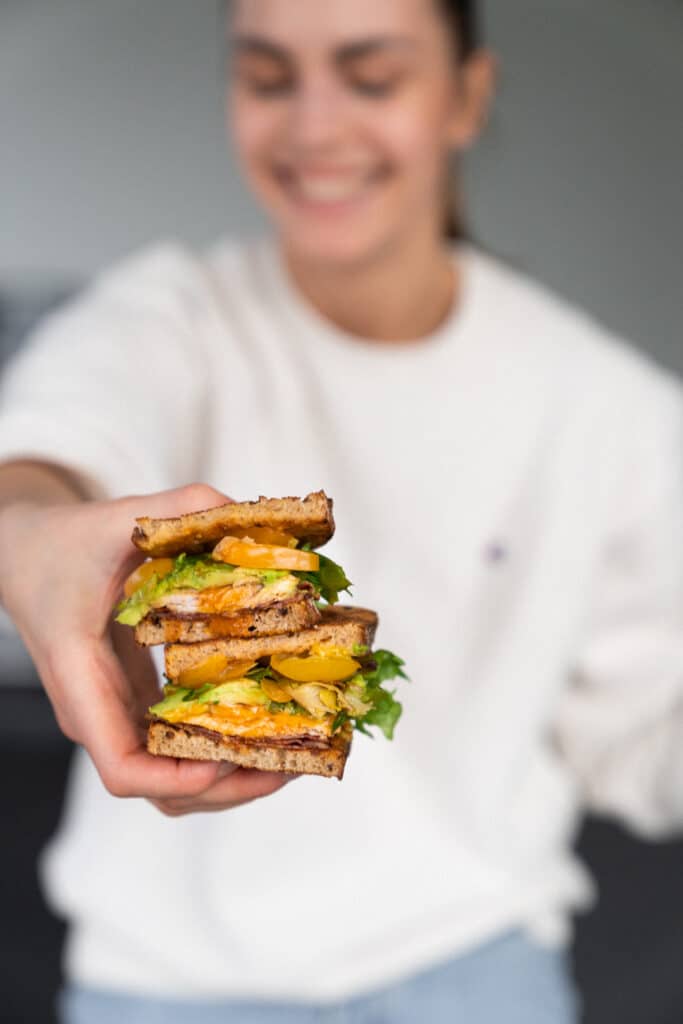 Julie's Tip
Useful tip to have in mind while roasting Brussels sprouts – roast more than you need. This way you will have a delicious and nutritious addition for salads, lunch bowls, etc. prepped in your fridge.
Toast bread and layer the sandwich: start with crispy bacon and drizzle with a bit of hot sauce then add a few slices of chicken and drizzle more hot sauce, finally add the remaining chicken and finish off with some more hot sauce. Arrange avocado on top, lettuce, Brussels sprouts and tomatoes. Top with another slice of toasted bread, squeeze gently to make sure everything sticks together (it can get messy when eating).
Cut in half to reveal beautiful layers and enjoy.
Ingredients
2 slices of your preferred bread
avocado half
4 yellow cherry tomatoes or one medium tomato
a couple of lettuce leaves (crunchy lettuce or spinach or watercress)
3 strips of bacon
half of a chicken breast or roast chicken leftovers
80 g of Brussels sprouts
2 teaspoons of maple syrup
1 tablespoon of olive oil
a pinch of sea salt
1 tablespoon of hot sauce of your choice