Tuna Poke Bowl
Otherwise known as the perfect raw fish meal. This is a super easy and quick make-ahead recipe which is great for light dinner or lunches. Take it with you in a lunch box or prep all ingredients beforehand and assemble a pretty looking bowl within 5 minutes.
Poke Bowl Pros
Versatility: Serve all of the toppings over a different kind of rice (black, brown, red) or over a different kind of base altogether, for example quinoa. You can also make a tuna tartar instead, then mix in a bit of teriyaki into the raw fish along with soy sauce and toasted sesame seed oil.
Can be made ahead: Boil the rice or other base ingredient of your choice, let it cool and place it in an airtight container (you can place it in the fridge, but bring back to room temperature at least 1h before serving. Prep all of the veggies/fruit by slicing them into thin strips. Mix mayo with wasabi paste to make a wasabi mayo. Cut tuna into small cubes. Place everything in separate airtight containers and store in the fridge until you need to use them.
Quality is key. Always choose the best quality fish, especially when consuming it raw. Visiting a specialty seafood store is usually the best option.
Salicornia (used in this recipe) is a sea vegetable which grows on shorelines. Crunchy and very salty, can be eaten raw or fried with a bit of butter and garlic – somewhat like asparagus or green beans.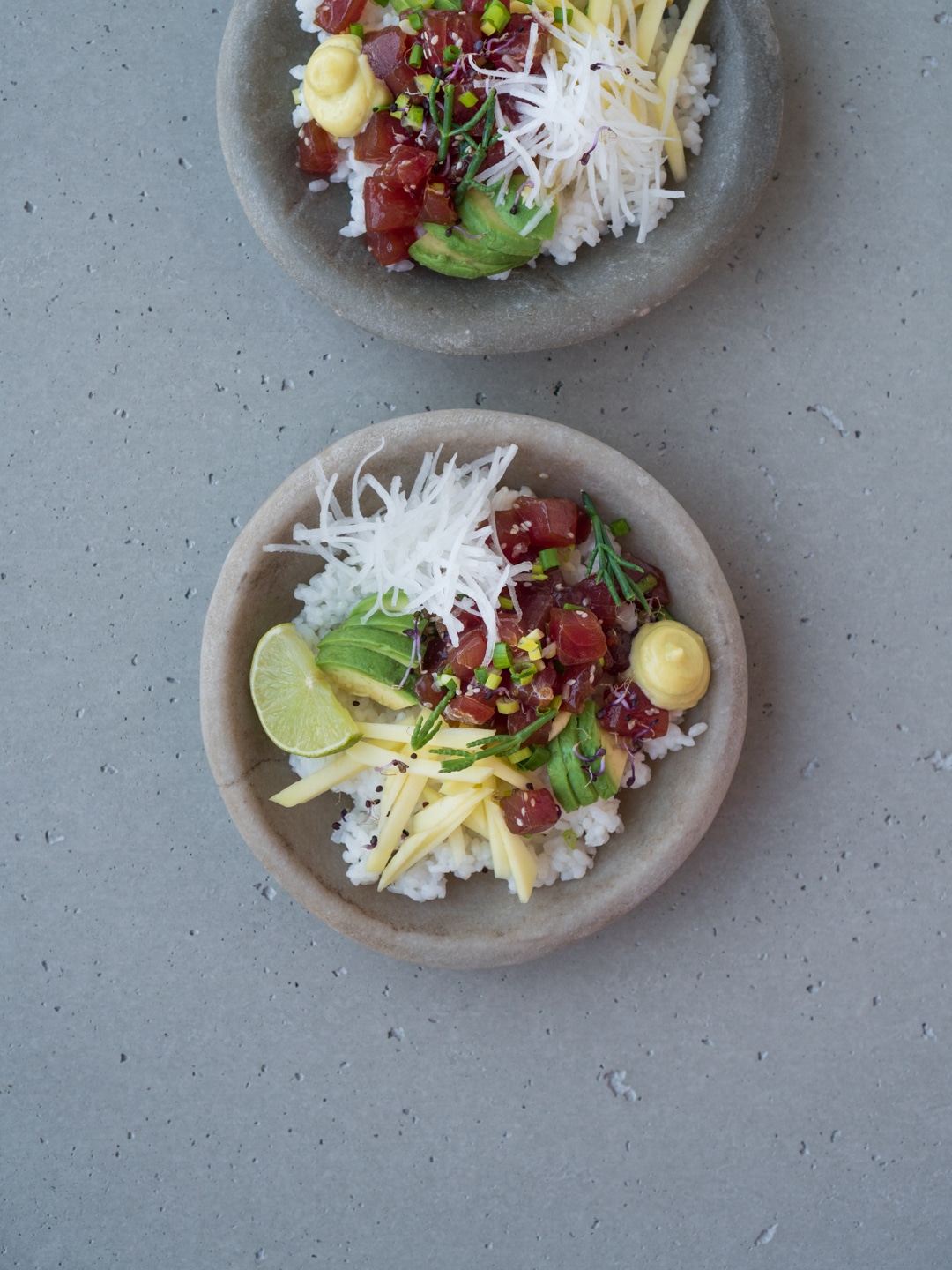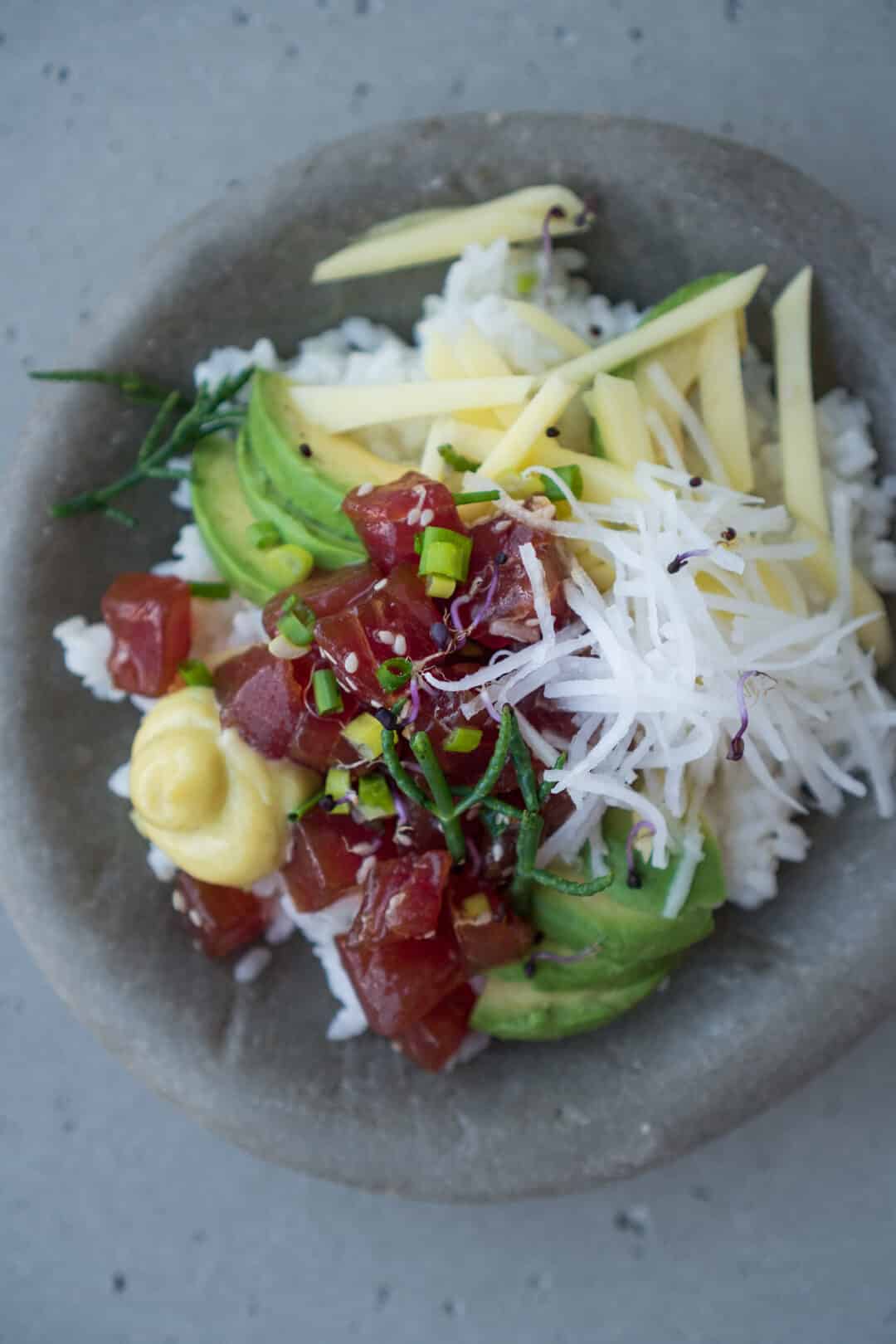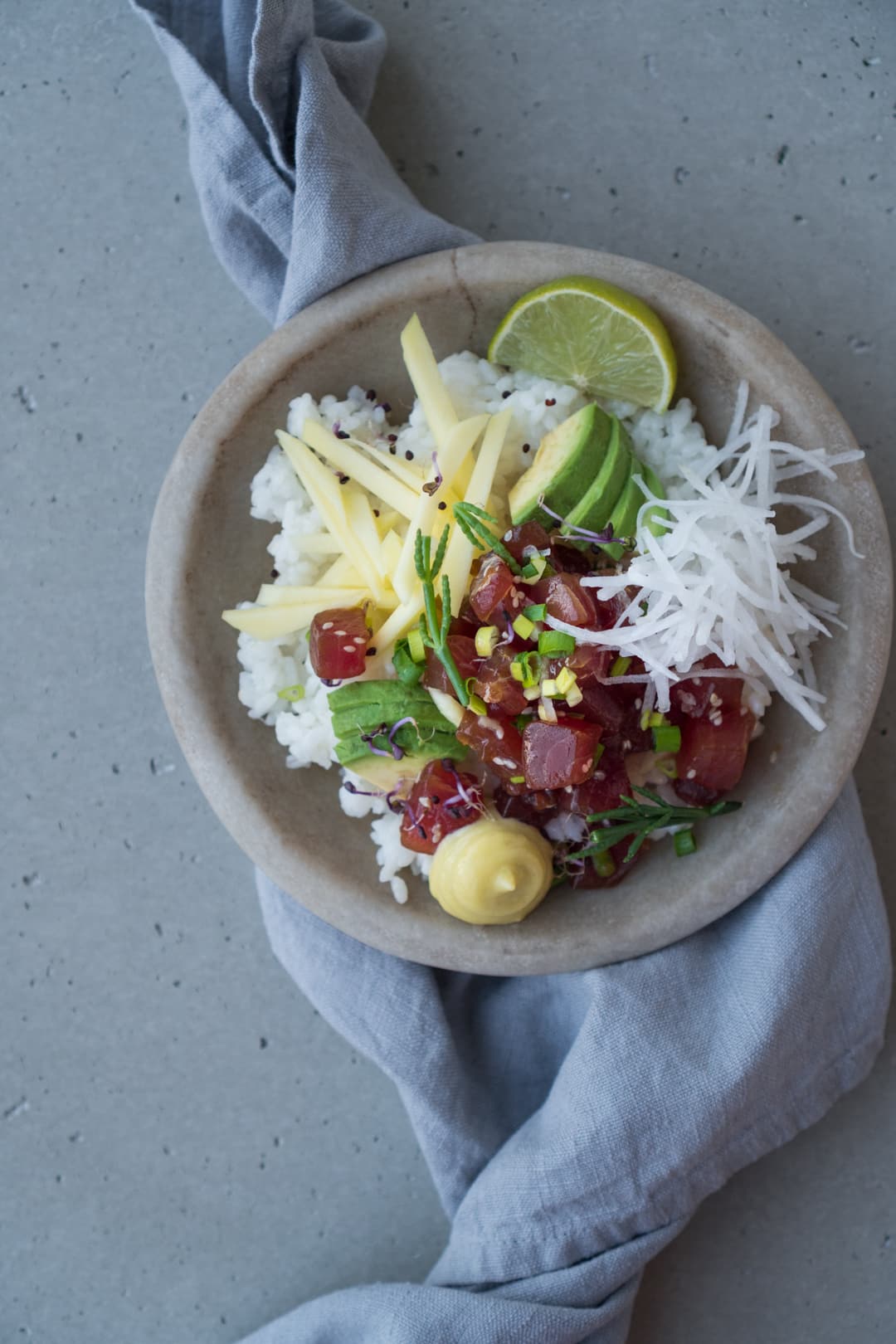 Instructions
Boil the rice, then set aside and let it cool.
In the meantime, slice mango and white radish into thin strips, slice avocado. Mix wasabi paste with mayo to make wasabi mayo.
Cut tuna into small cubes using a very sharp knife and mix with soy sauce, sesame seeds and toasted sesame seed oil to marinate. Chop spring onions.
Divide rice between two bowls. Pour a tablespoon of teriyaki sauce per portion over the rice. Top with all of the ingredients, squeeze some wasabi mayo on the side using a piping bag or just spoon it. Sprinkle spring onions on top, squeeze a bit of lime juice. You can also add fresh coriander, tobiko caviar and/or salicornia.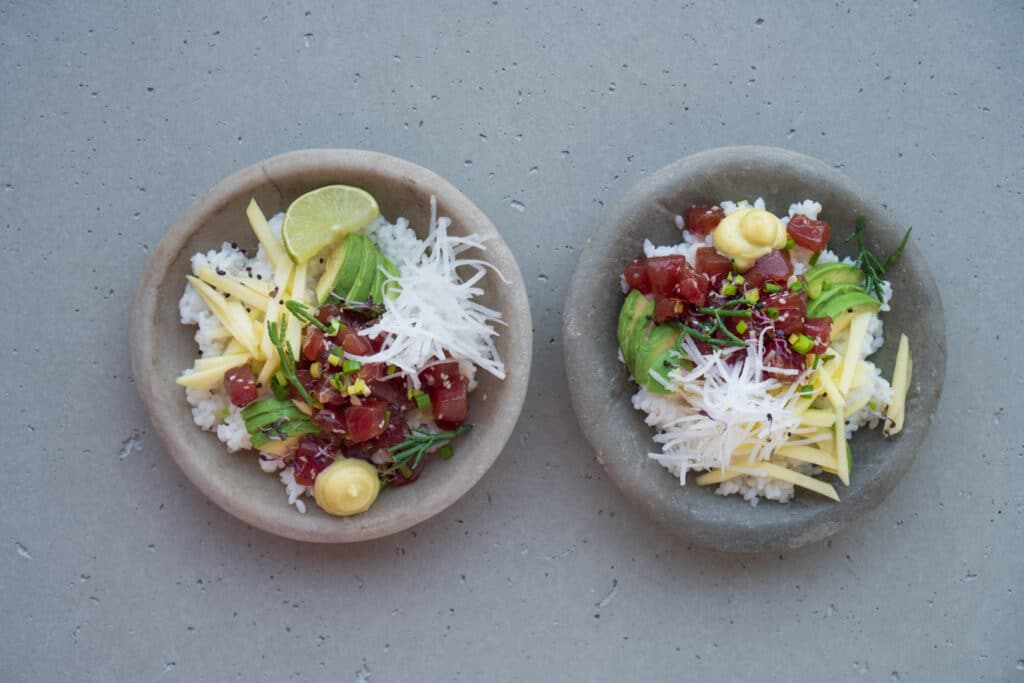 Ingredients
For the bowl
200g of fresh sashimi grade tuna
2 tsp of toasted sesame seed oil
1 tbsp of soy sauce
a handful of sesame seeds
a handful of spring onions or scallions
1 tbsp of teriyaki sauce
1/2 cup (90g) of dry sushi or other rice
white radish
1/2 of a medium sized avocado
1/2 of a medium size unripe crunchy mango
1/2 of lime
a few pieces of salicornia (cooked or fresh, optional)
For the wasabi mayo
2 tbsp of mayo
1 tsp of wasabi paste