Almond Tart With Rhubarb And Apricots
This rhubarb and apricot tart idea came to my mind immediately when I started thinking about seasonal recipes. I was also really missing rich pastry, so this one's loaded with almonds in the crust as well as the filling. This is a true bad boy. Rich, filling, with a subtle hint of tanginess.
This is a very versatile tart as you can choose whatever fruit/berries you want. I'd suggest mixing sweet with sour, so let's say peaches and sour cherries or plums. This tart is on the heavier side, but a small piece leaves your sweet cravings satisfied.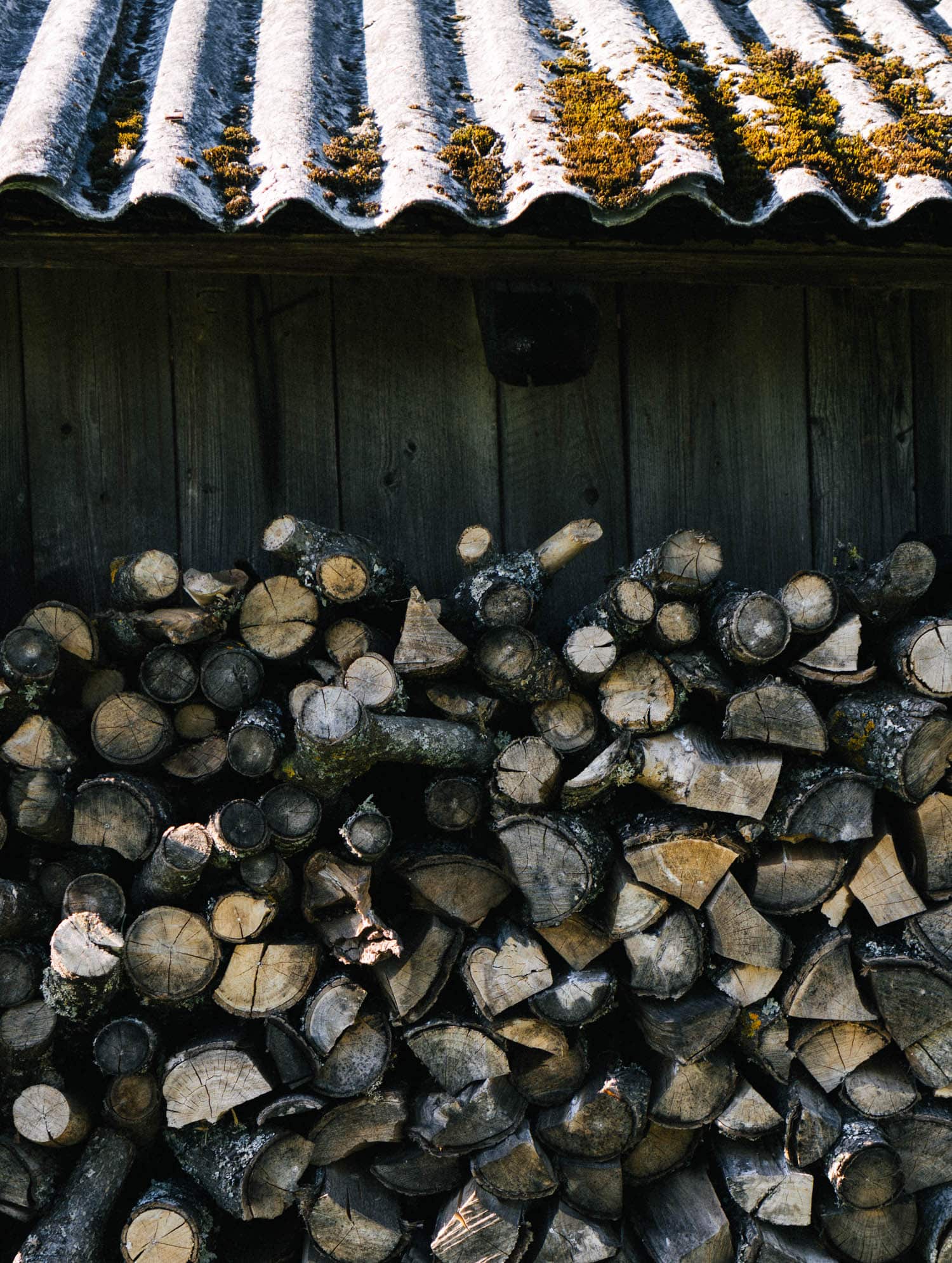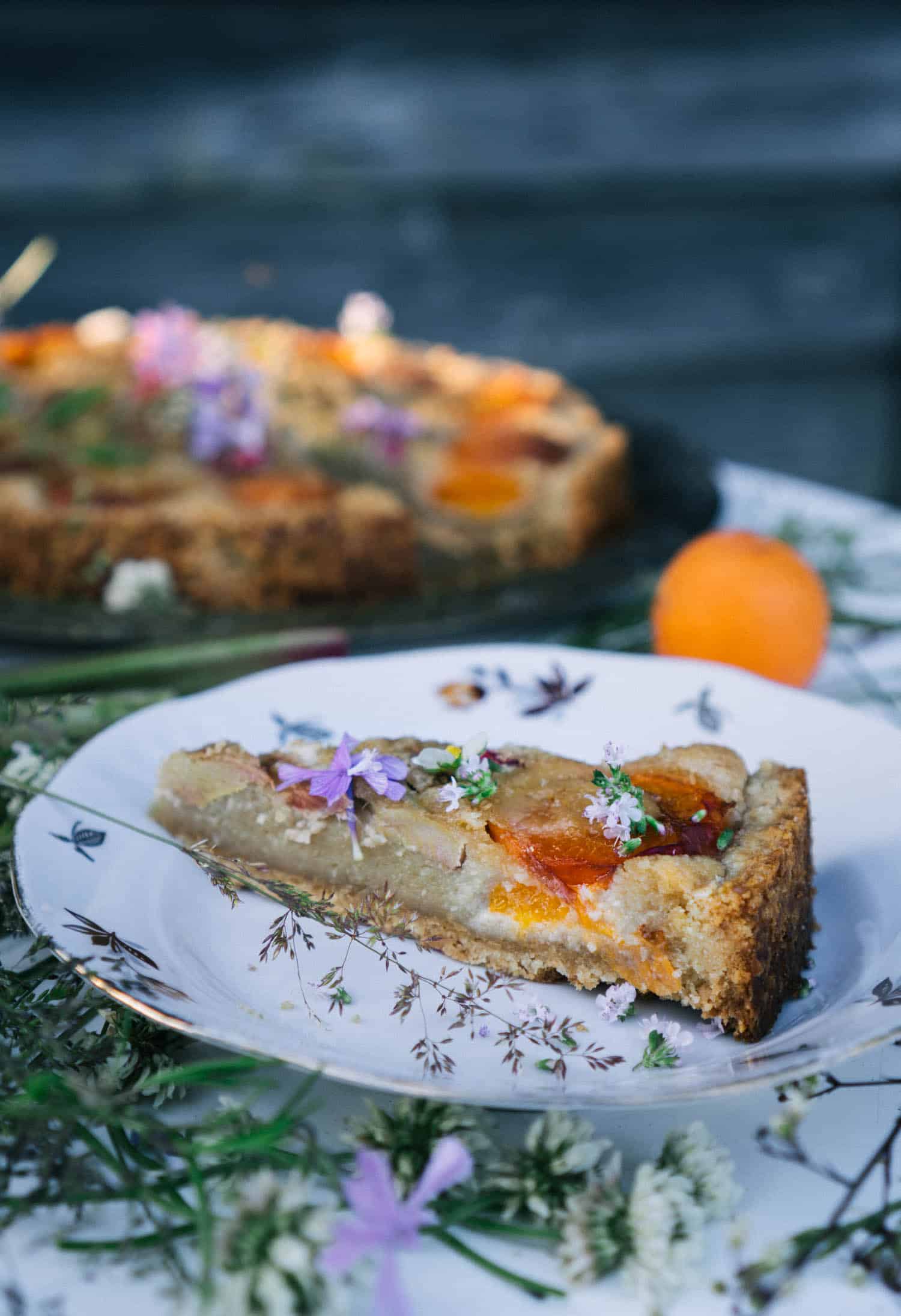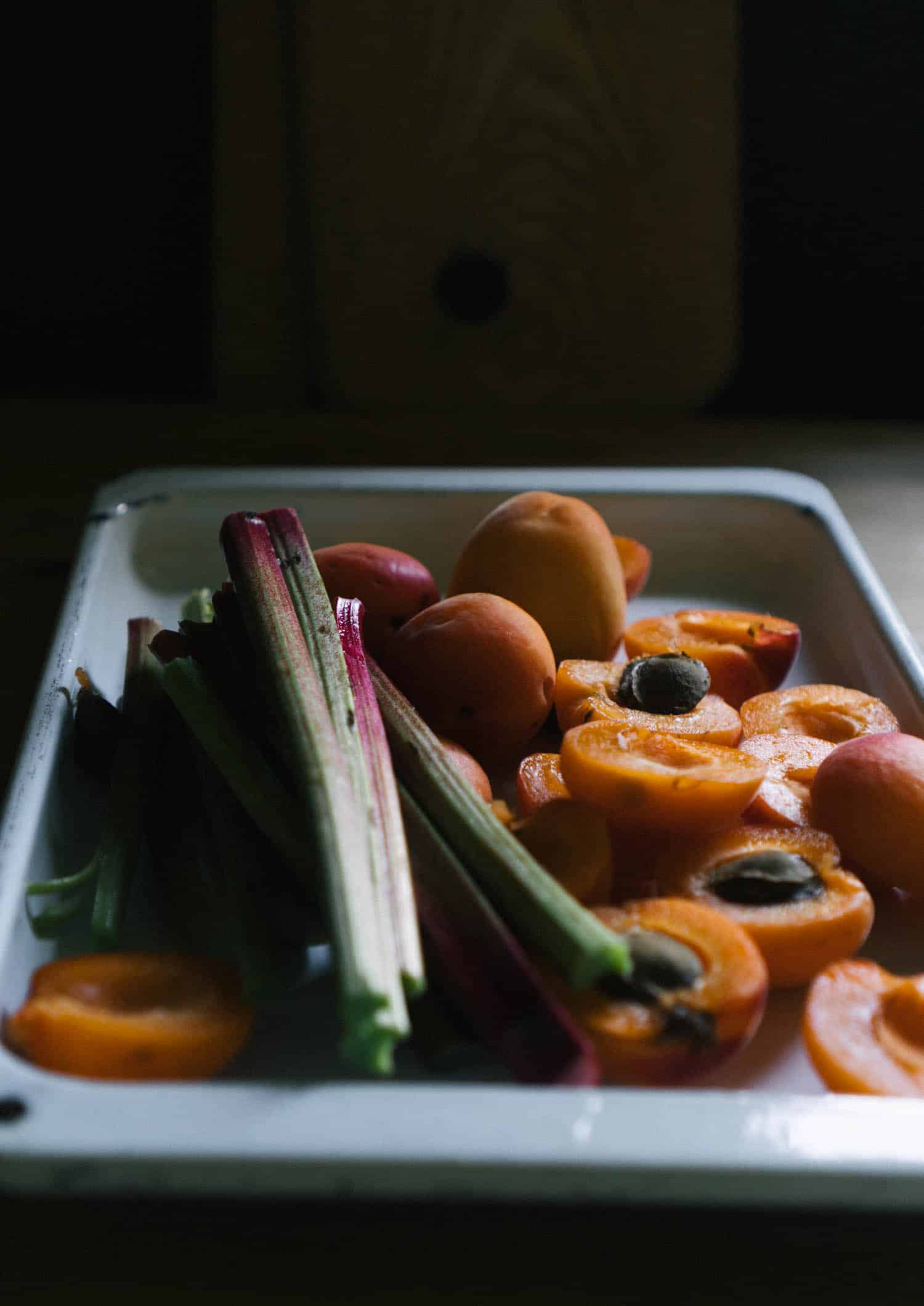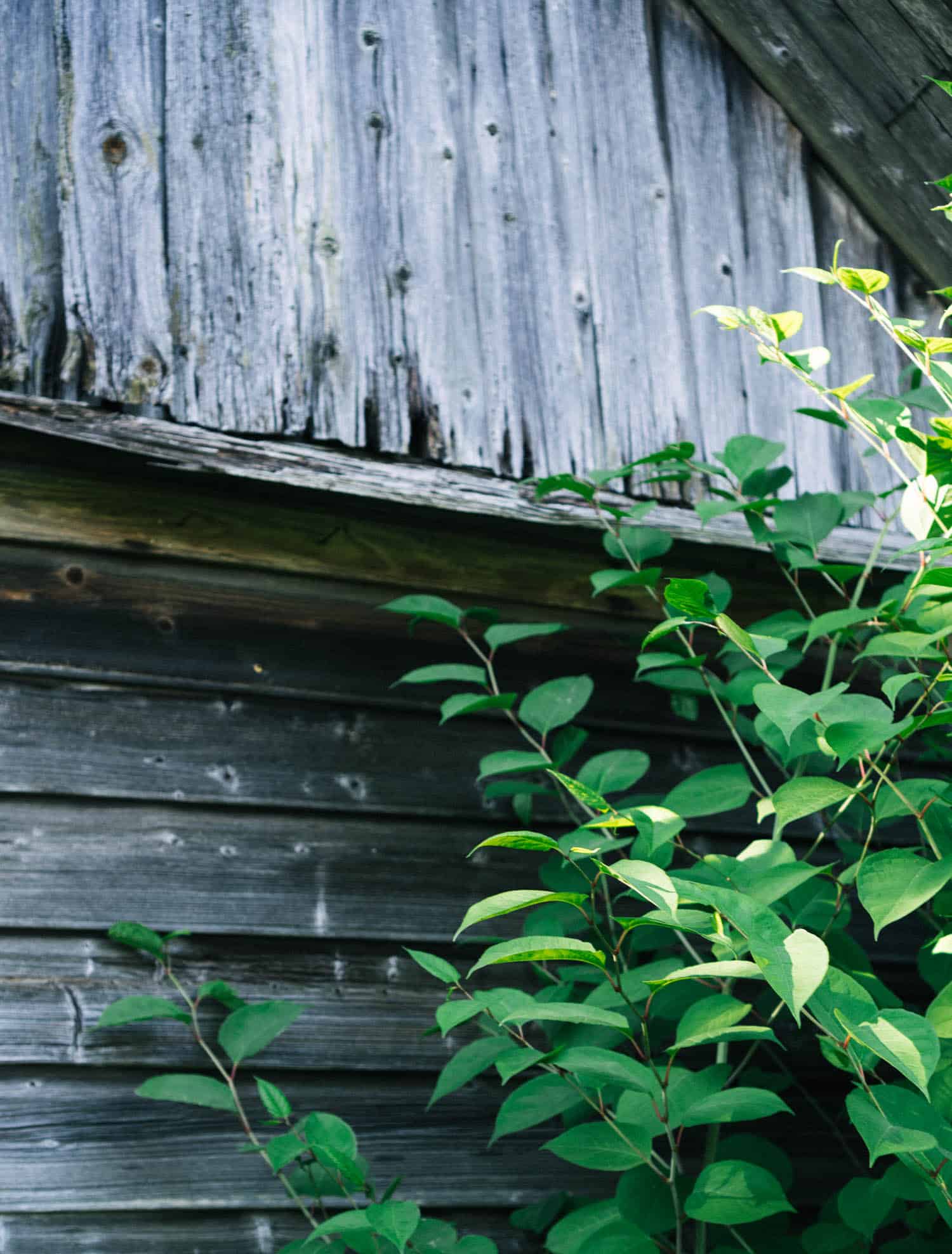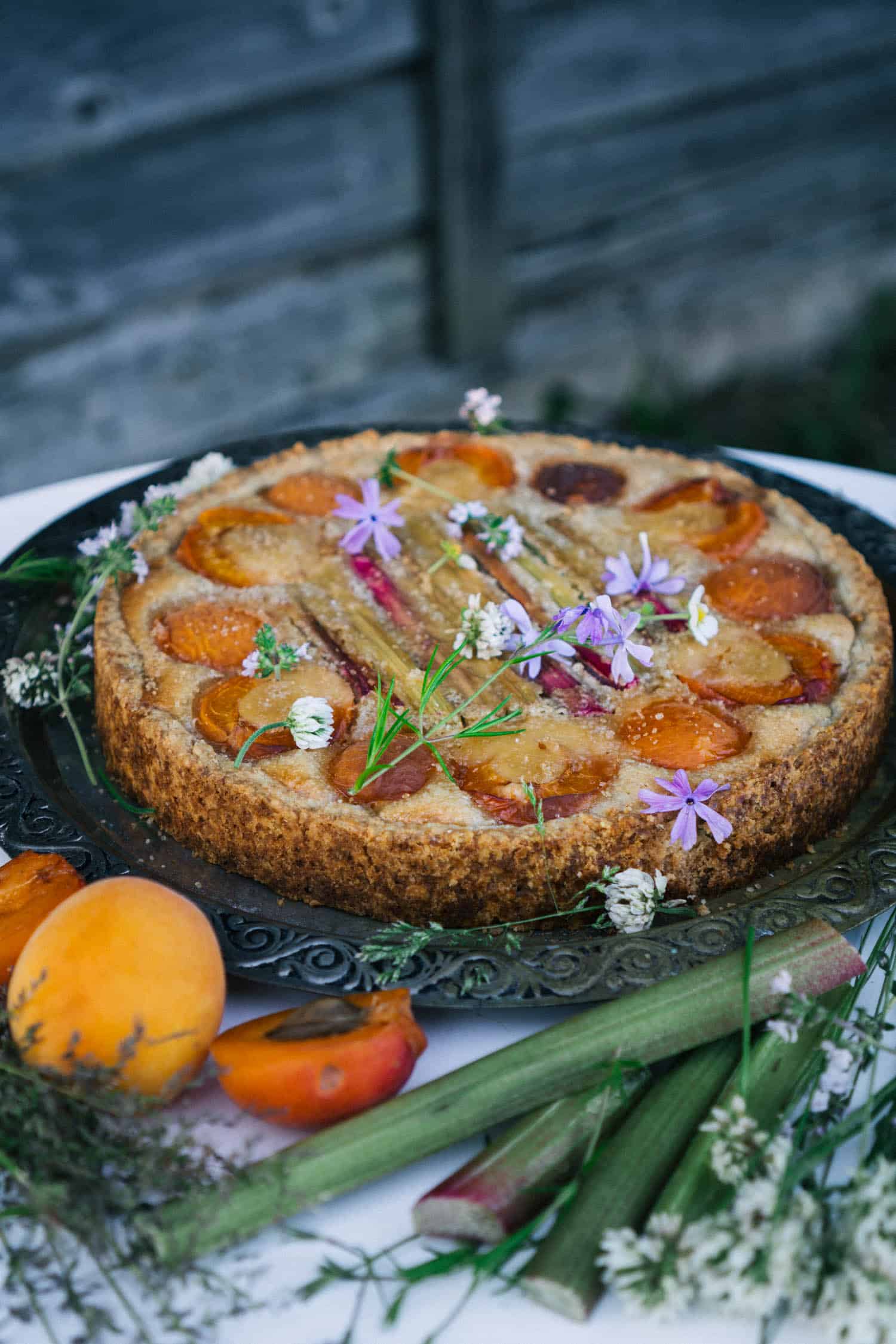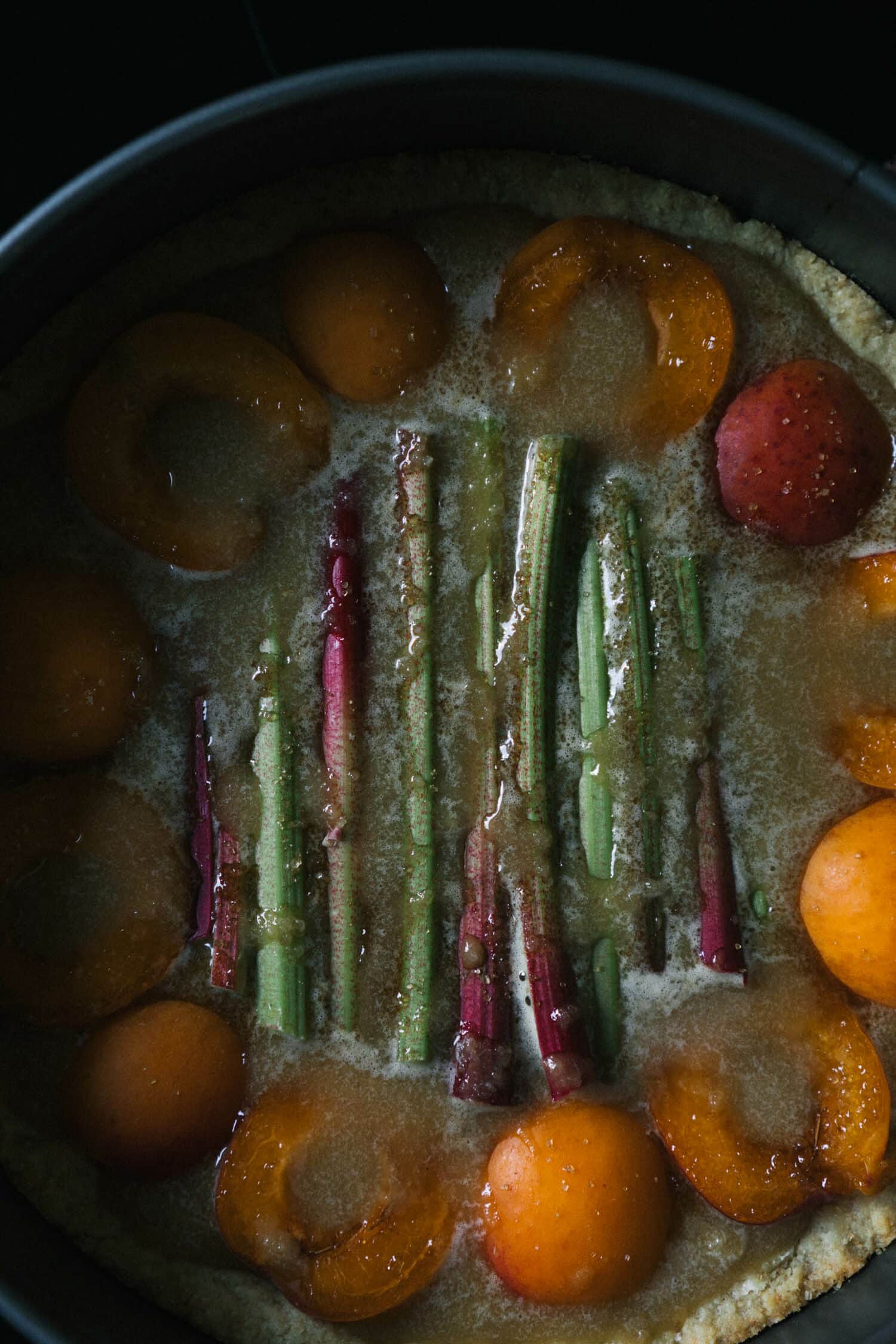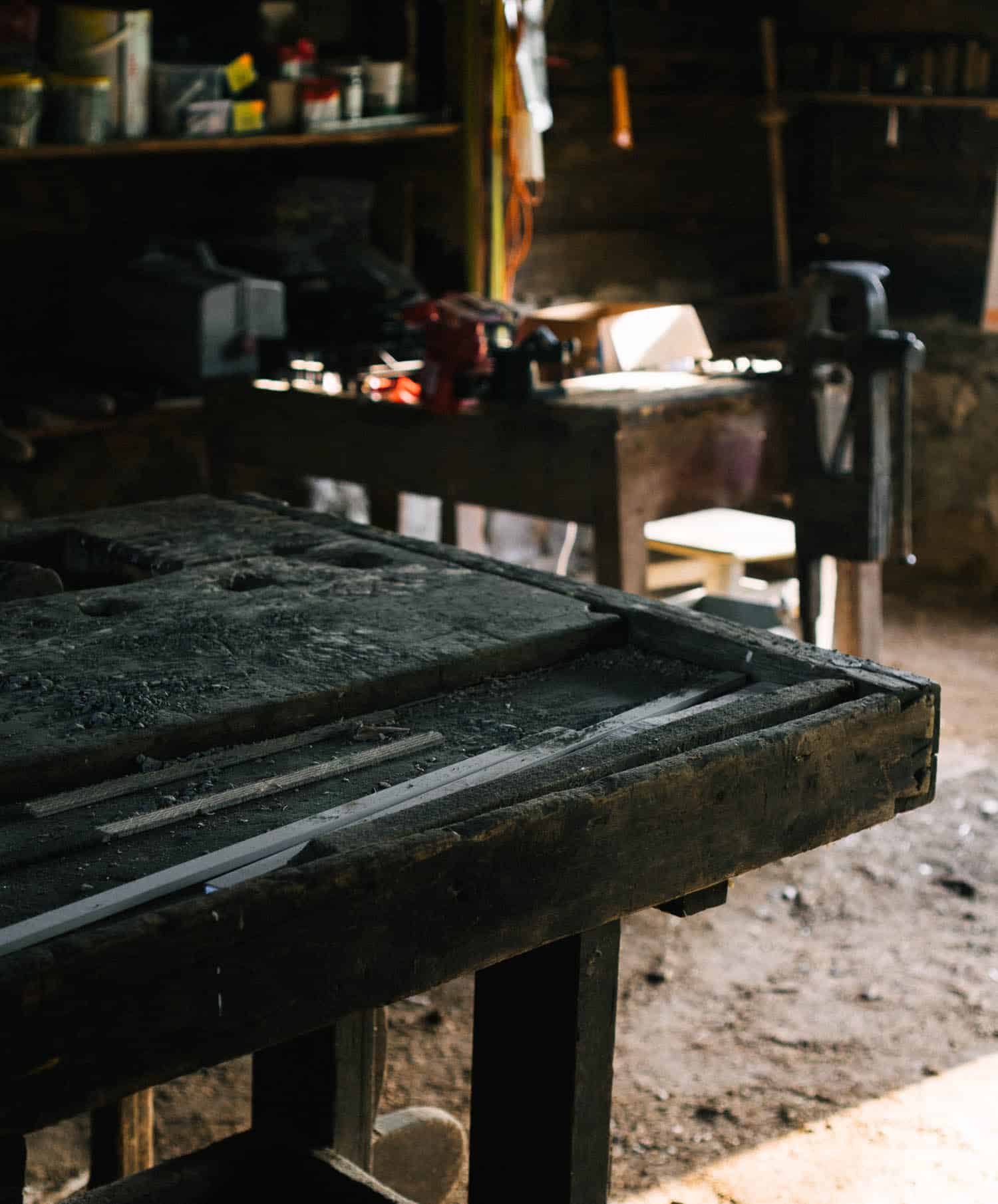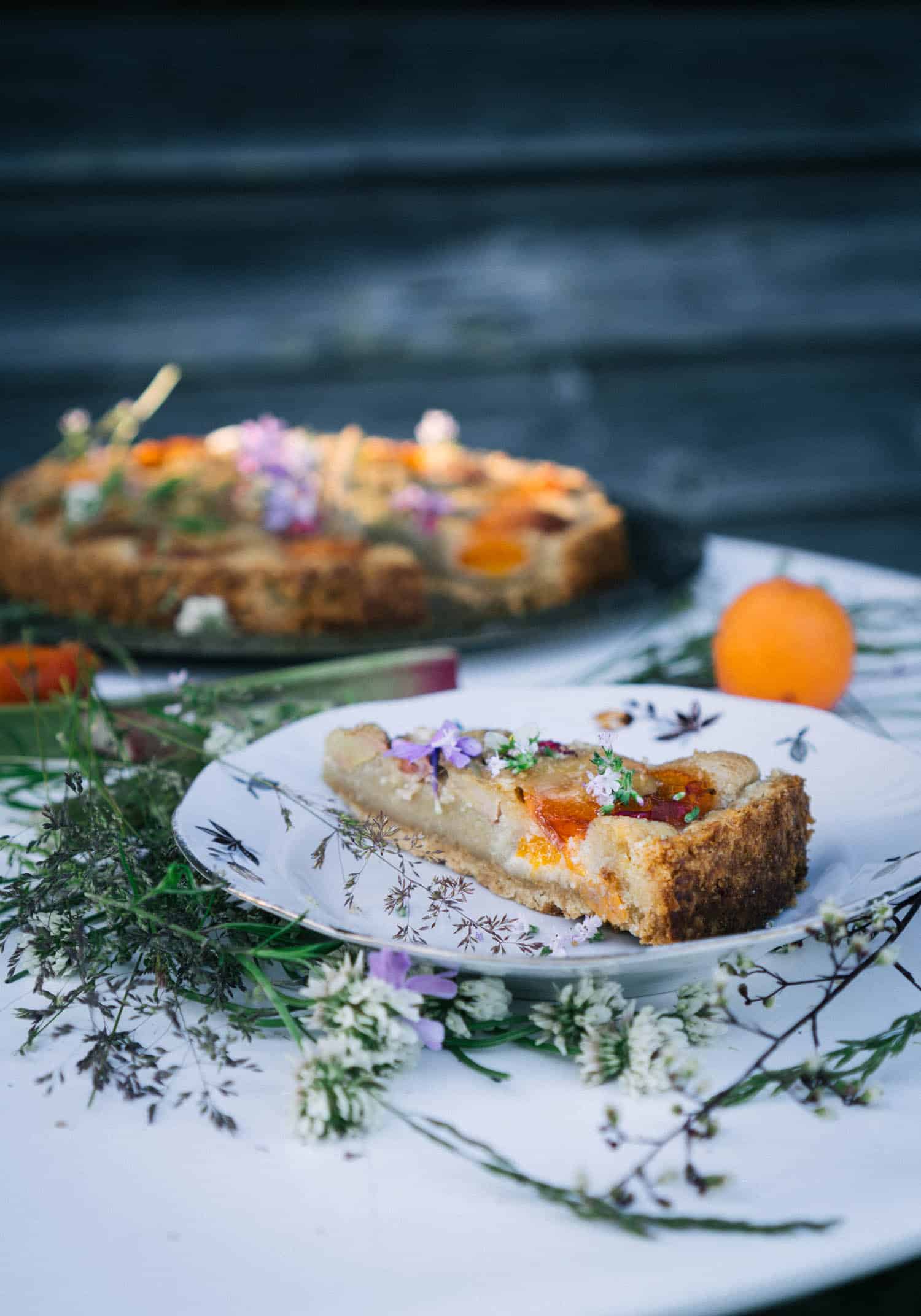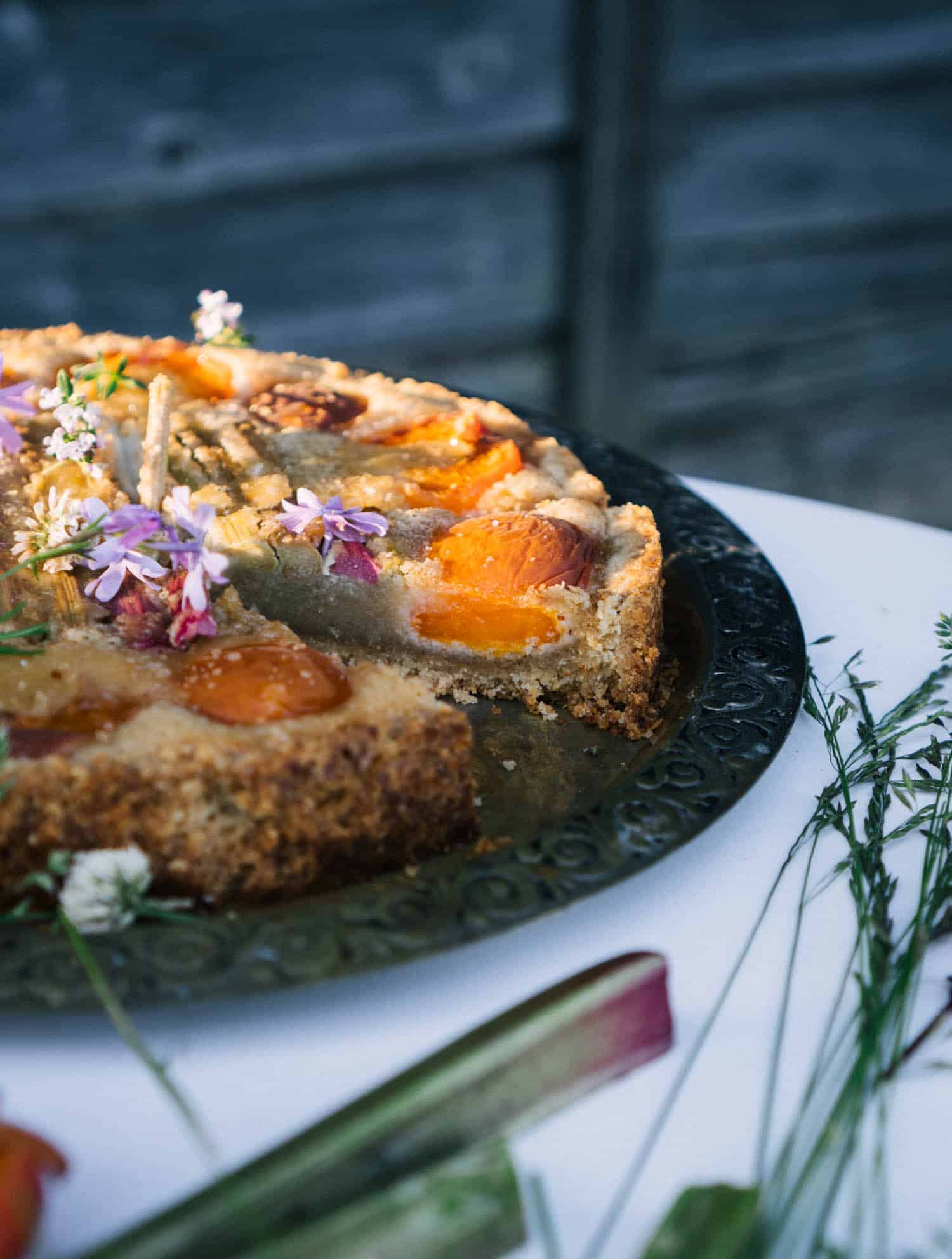 Instructions
Prepare the almond pastry. In a bowl mix together ground almond flour with plain flour, sugar and salt. Place all the dry ingredients in a food processor, add cold butter cut into pieces and process until you see fine crumbs. Transfer to a bowl, add egg yolk and water and knead the dough into a smooth bowl.
Wrap in cling film and place in the fridge to cool for 20 mins. If you don't have a food processor, you can mix butter with the dry ingredients to make crumbs using your hands.
Prep the filling. Whisk eggs with sugar using a balloon whisk. Stir in the cream and ground almonds. Set aside.
Remove the dough from the fridge and line a 24cm baking tin with the dough evenly. Make sure you have about 4 cm of dough on the sides of the tin. Prick the bottom of your tart with a fork and place in the freezer for 15 minutes.
In the meantime, preheat your oven to 160°C (fan) or 180°C (no fan). Once the oven is hot, bake your tart shell for 15 minutes, remove and let cool slightly before pouring in the filling.
Arrange apricot halves around the edges of the tart shell and rhubarb stalks in the middle. Pour in the filling, sprinkle with a bit of brown sugar and place in the oven (same temperature) for 30-35 minutes or until the filling is set. Let cool before transferring to a cake plate or stand.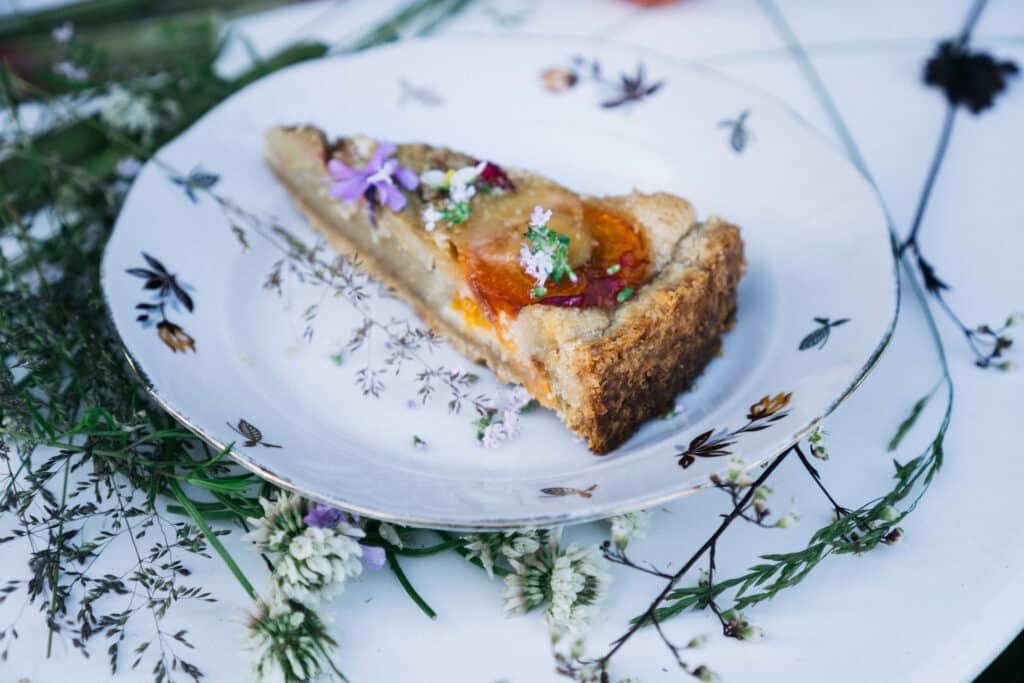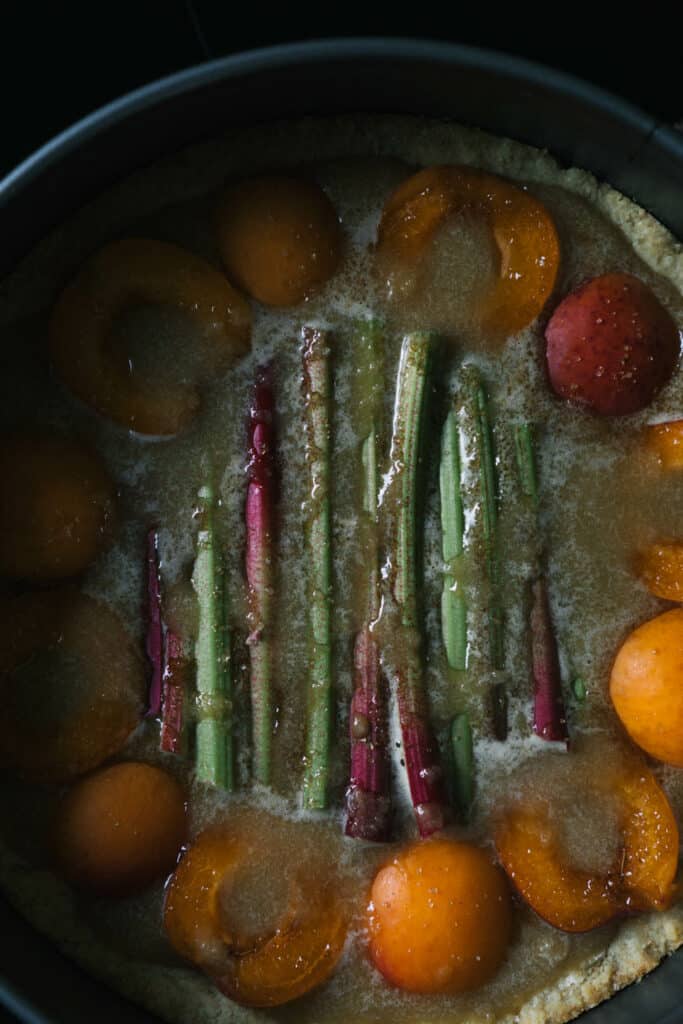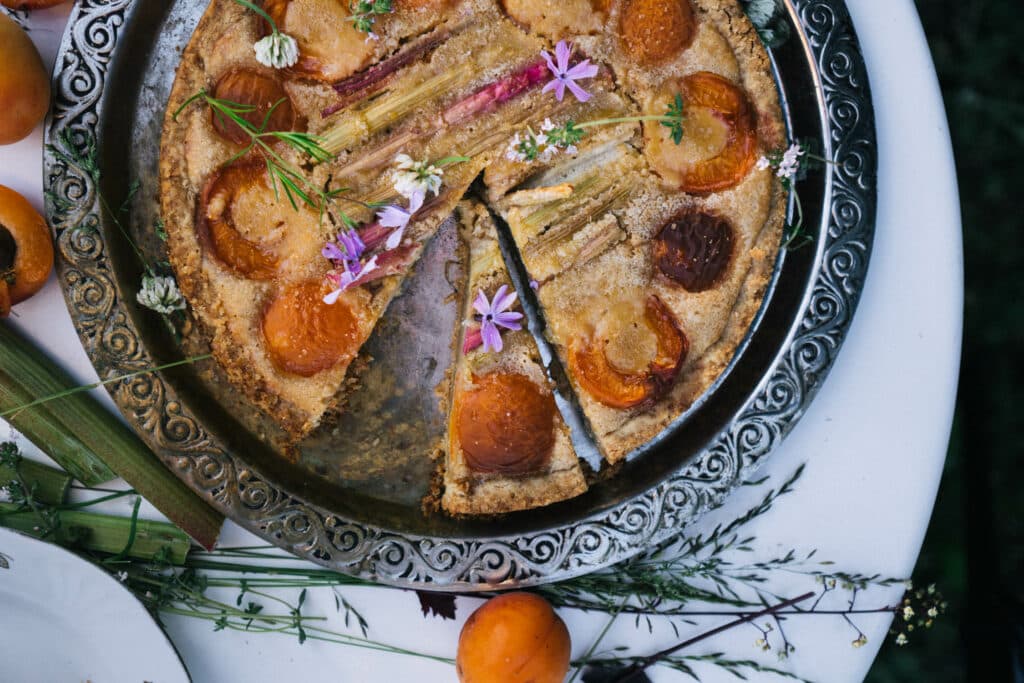 Ingredients
For the almond pastry
100g of ground almonds
120g of plain flour
100g of unsalted butter
80g of unrefined brown sugar
1 egg yolk
1 tbsp of cold water
a generous pinch of salt
For the rhubarb apricot filling
100g of fresh rhubarb
7 medium apricots
120g of unrefined brown sugar
3 eggs
50g of cream
120g of ground almonds