Aromatic seafood stew that very much resembles the famous French Bouillabaisse. Think of this as the quicker cheat version. Prawns, mussels and fish simmer into a wonderful bold-flavoured warming meal. It's not too difficult to make even if you're not used to cooking seafood at home and I promise it will help you learn quite a bit about the prep of prawns and mussels which means that cooking techniques used here will come in handy for you in the future.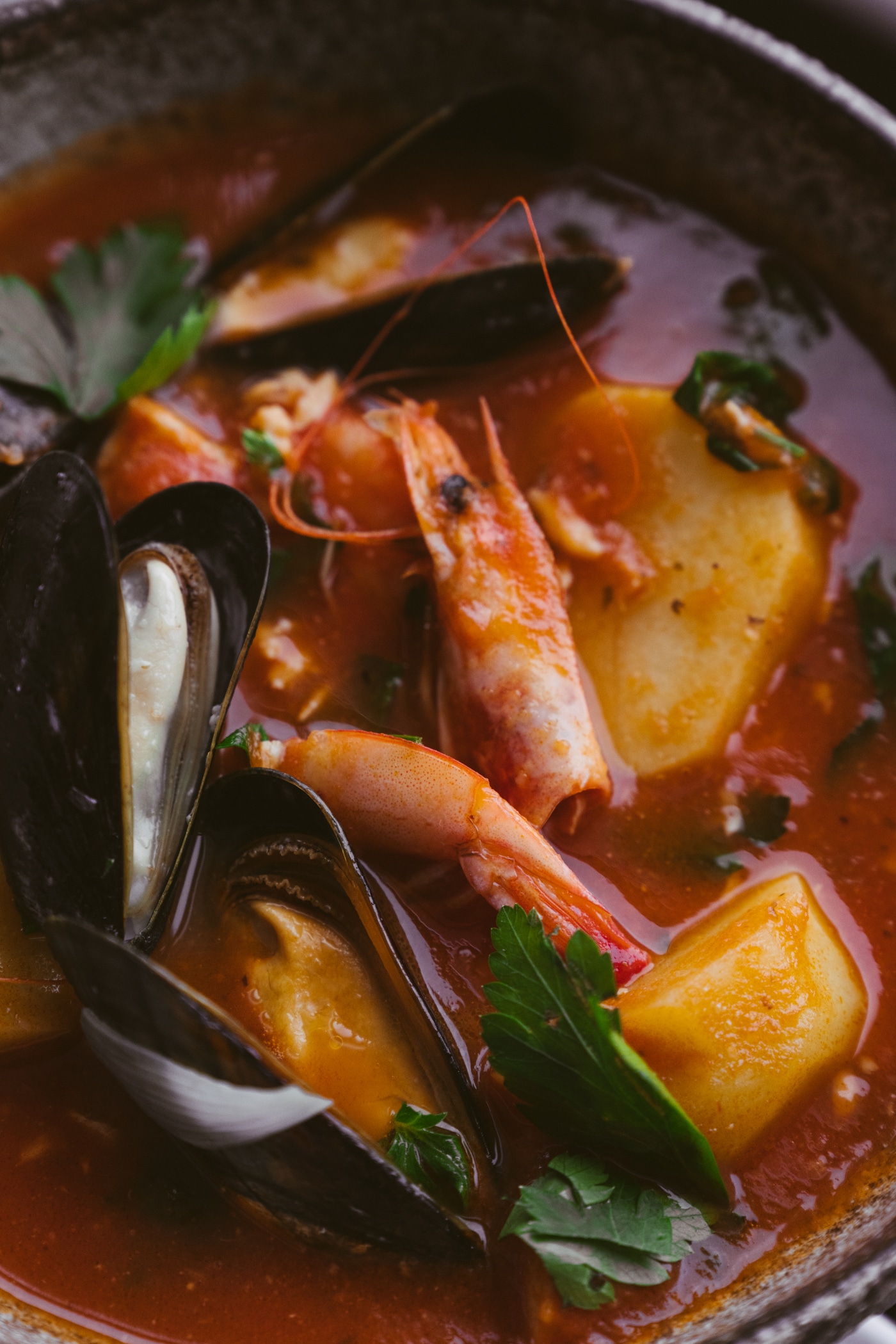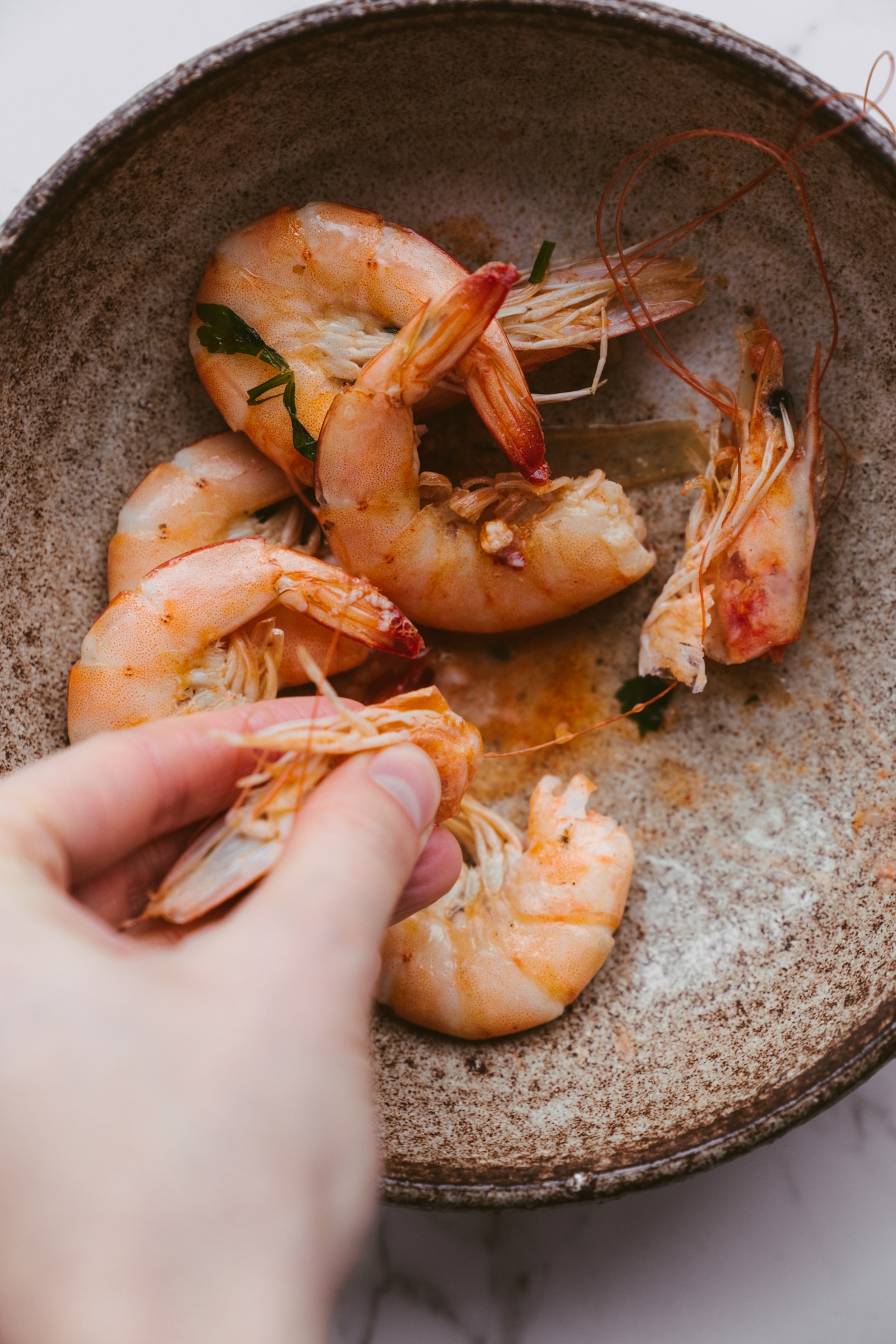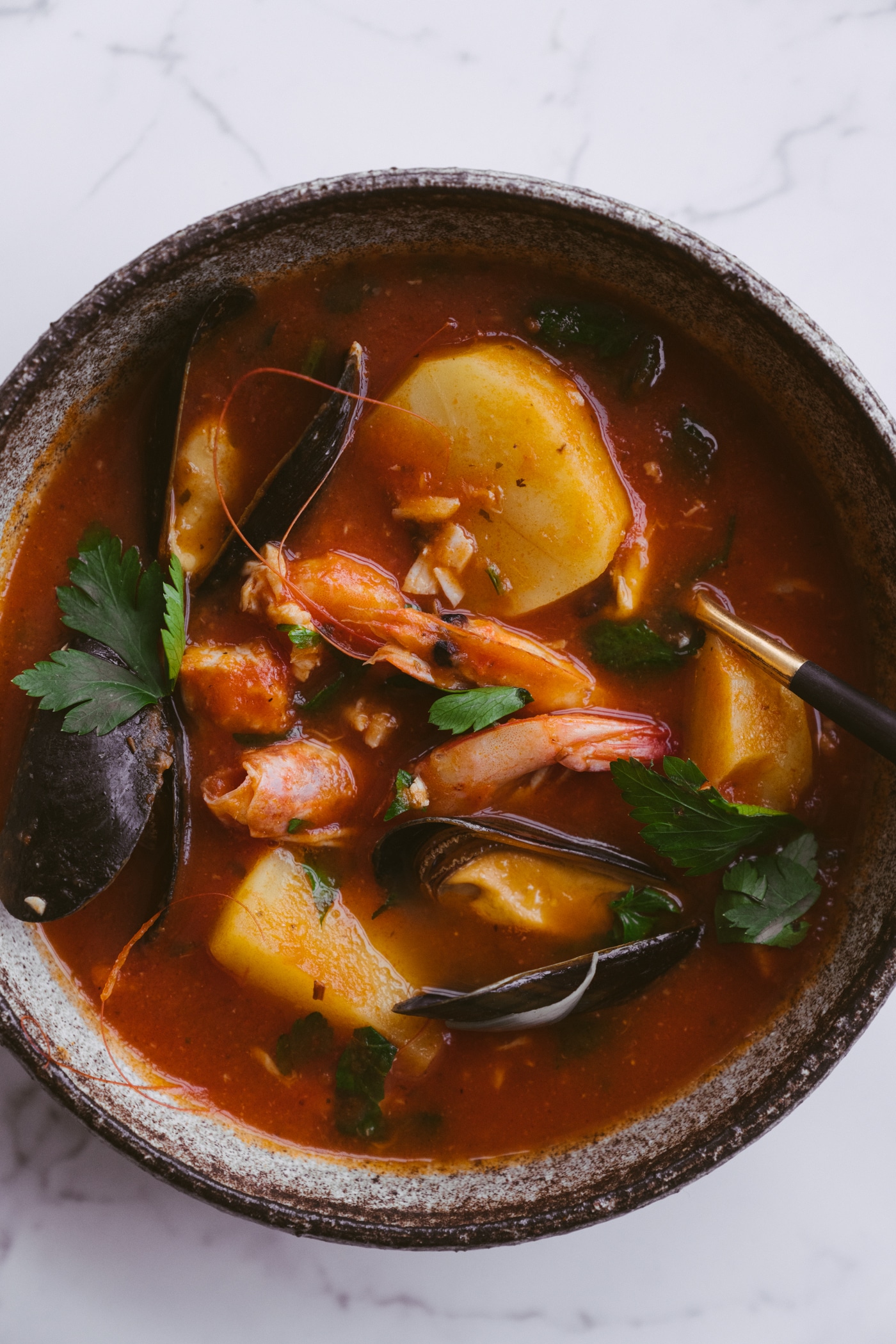 Instructions
Firstly, prepare the seafood. Fillet the fish if it hasn't been done for you, reserve its head and bones in this case. Cut fish into medium sized pieces. Clean mussels by scrubbing any dirt residue off of their surface then wash under running water.
Cut prawn shells down the middle of their backside to reveal the dirt vein (this is their digestive system) and remove it with a toothpick or simply pull it out with your fingers. Do not remove prawn heads just yet.
Chop shallots and garlic, peel potatoes and cut them in quarters. Chop fresh parsley.
Heat a heavy bottomed pot, add oil then shallots with garlic and sauté until slightly browned. Add mussels with prawns and cook for two minutes then pour in the wine. Reduce heat to a simmer and cook just a few minutes more until mussels open up.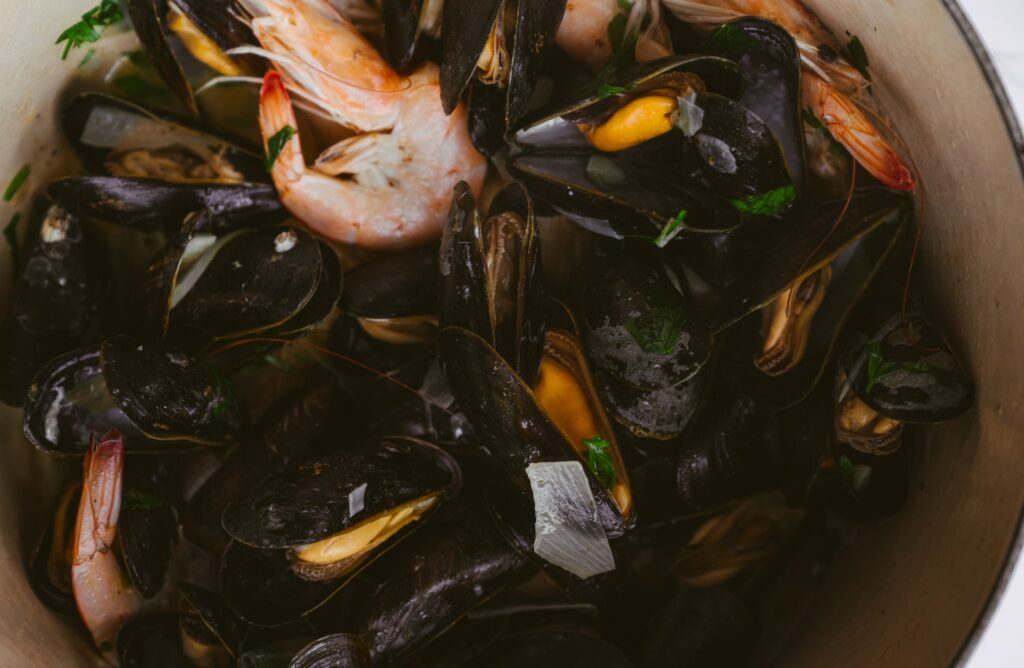 Scoop out mussels and prawns into a bowl. Remove half of the mussels from their shells and put back into the bowl, but discard of their shells. Carefully twist off prawn heads, making sure you squeeze out the liquid that comes out of them into the soup pot.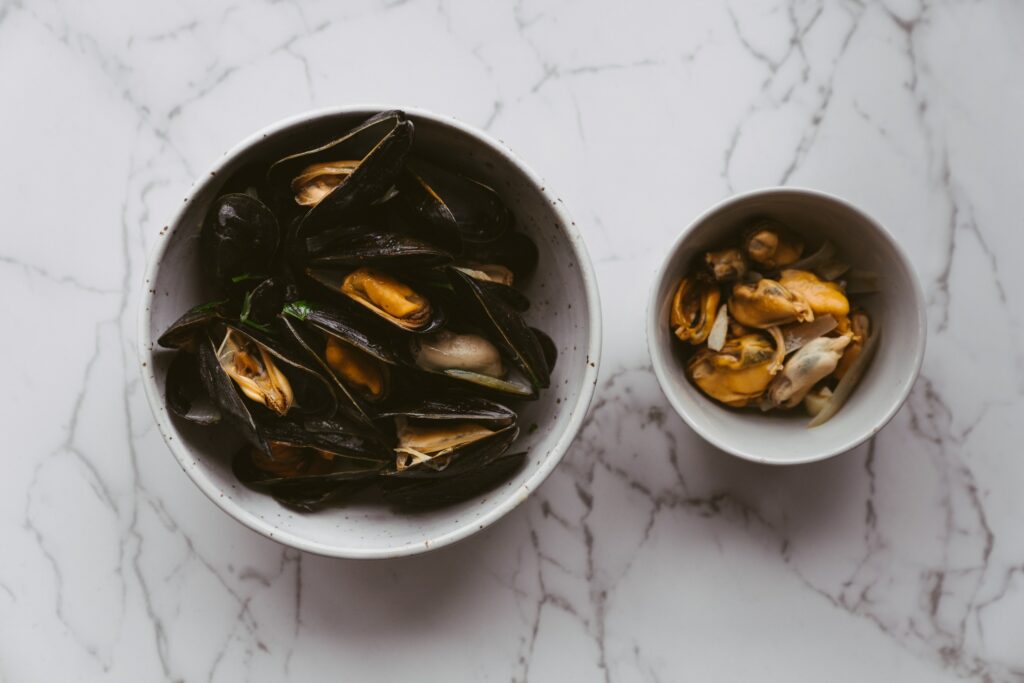 Put potatoes, prawn heads and fish bones/heads, if any, into the soup pot. Pour broth on top. Add bay leaves, allspice and dried herbs. Simmer covered for 20 minutes then scoop out and discard bones, bay leaves and allspice.
Julie's Tip
Makes this stew rustic by using a rough textured tomato purée or pasta sauce. Or turn it into a classy version by blending tomato purée and the seafood broth into smooth consistency.
For a rustic style stew, pour in the tomato passata then add all of the seafood into the pot: cooked mussels and prawns as well as the raw fish. Or do it the classy way: remove potatoes and set them aside, pour the tomato passata into the fish broth and blend it into a silky tomato broth. Finally, mix in the seafood and put the potatoes back in. Mix in half of the chopped parsley. Simmer on low heat for 15 more minutes.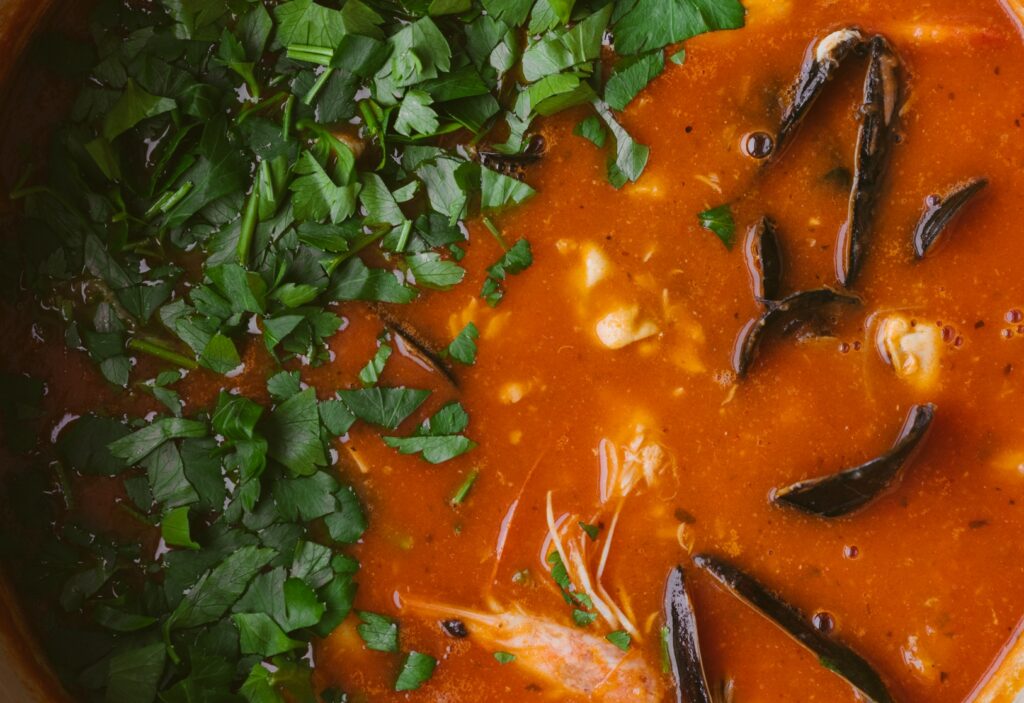 Serve in soup bowls and garnish with the remaining fresh parsley.
Ingredients
For the stew
8 tiger or other large prawns
500 g of mussels (shells on)
400 g of white fish, e.g. cod, sea bream, sea bass etc. (save the head and bones if you can)
1/2 cup of dry white wine
500 ml of vegetable broth (water can also be used, but the broth will add more flavour)
2 shallots
4 garlic cloves
500 g of tomato purée or pasta sauce
4 medium potatoes
1/2 teaspoon of dried herbs (I used a mixture of marjoram, thyme and tarragon)
handful of bay leaves
handful of allspice
3 tbsp of extra virgin olive oil
handful of fresh parsley
sea salt, to taste