Kimchi
The first time I tried kimchi was during my first modeling trip to New York back in 2009. As I was still a minor, my father accompanied me on that trip and so we both were invited to join my agent for dinner at a Korean restaurant in Soho. I was overwhelmed by the city, overwhelmed by the unfamiliar cuisine and all the events that took place around that time. And here we were, discussing future plans with a side of fiery kimchi.
Crazy how much life has changed, crazy to think I'm now running a full-time food blog, writing cookbooks and making kimchi at the comfort of my own home. Life is everything but predictable.
I love fermented foods in general and I absolutely love kimchi. I tried making kimchi in a few different ways (using slightly different spices and flavourings) and today I'm sharing the one which uses a sticky rice flour mixture along with hot pepper flakes, ginger, garlic and fish sauce. This rice mixture is what makes kimchi less watery, more thick – I think this way the texture turns out to be more authentic.
Here it is, so far my favourite way to make kimchi.
If you can, always use Gochugaru – a special type of Korean hot pepper flakes used for kimchi. They're seedless and have a deep red (almost like red wine) colour. This is the real deal if you want to be as authentic as possible.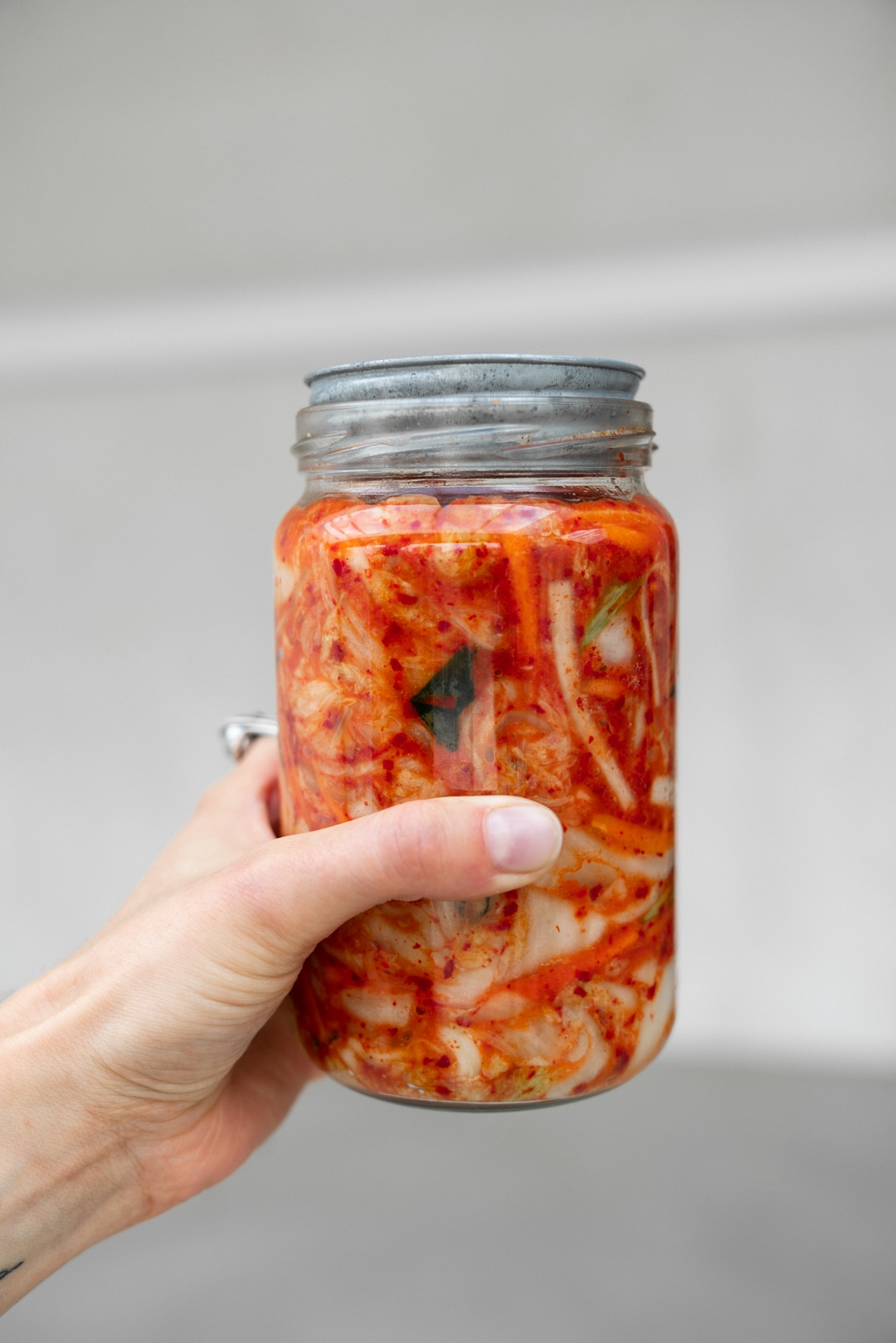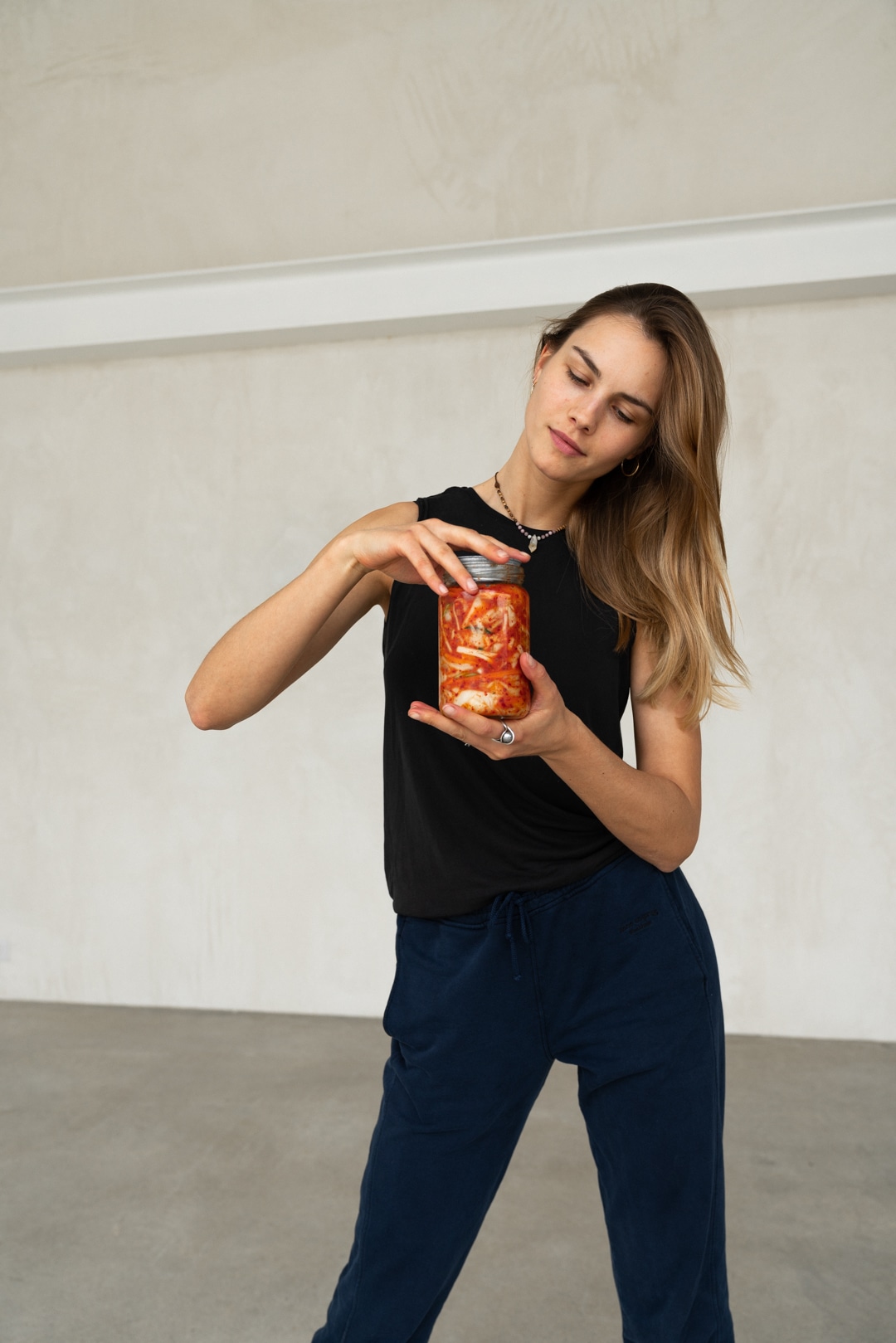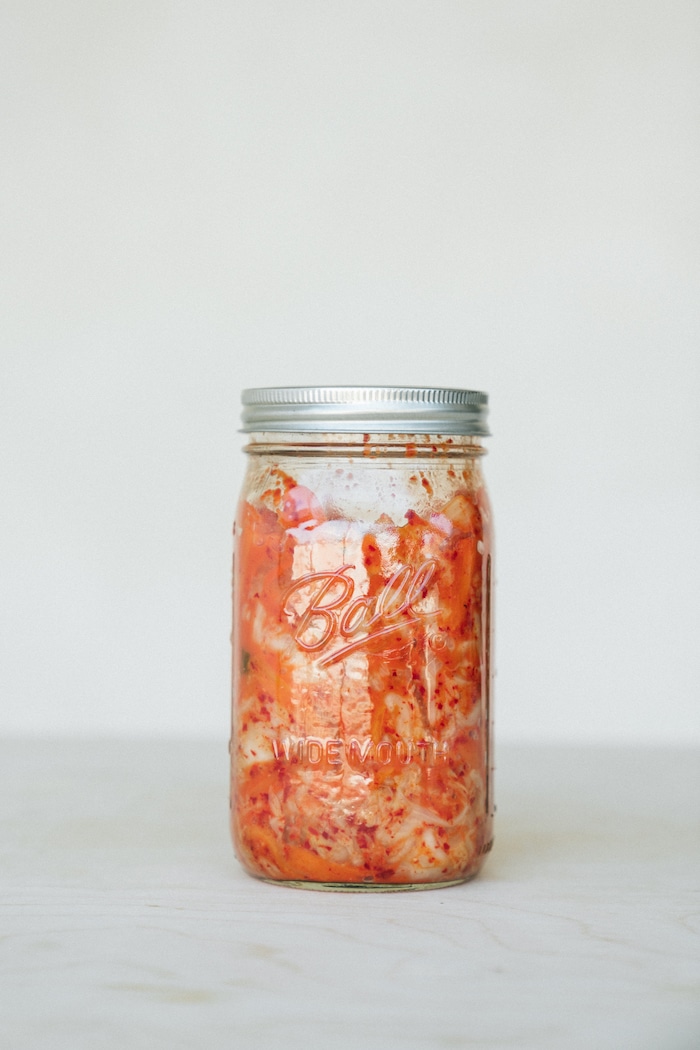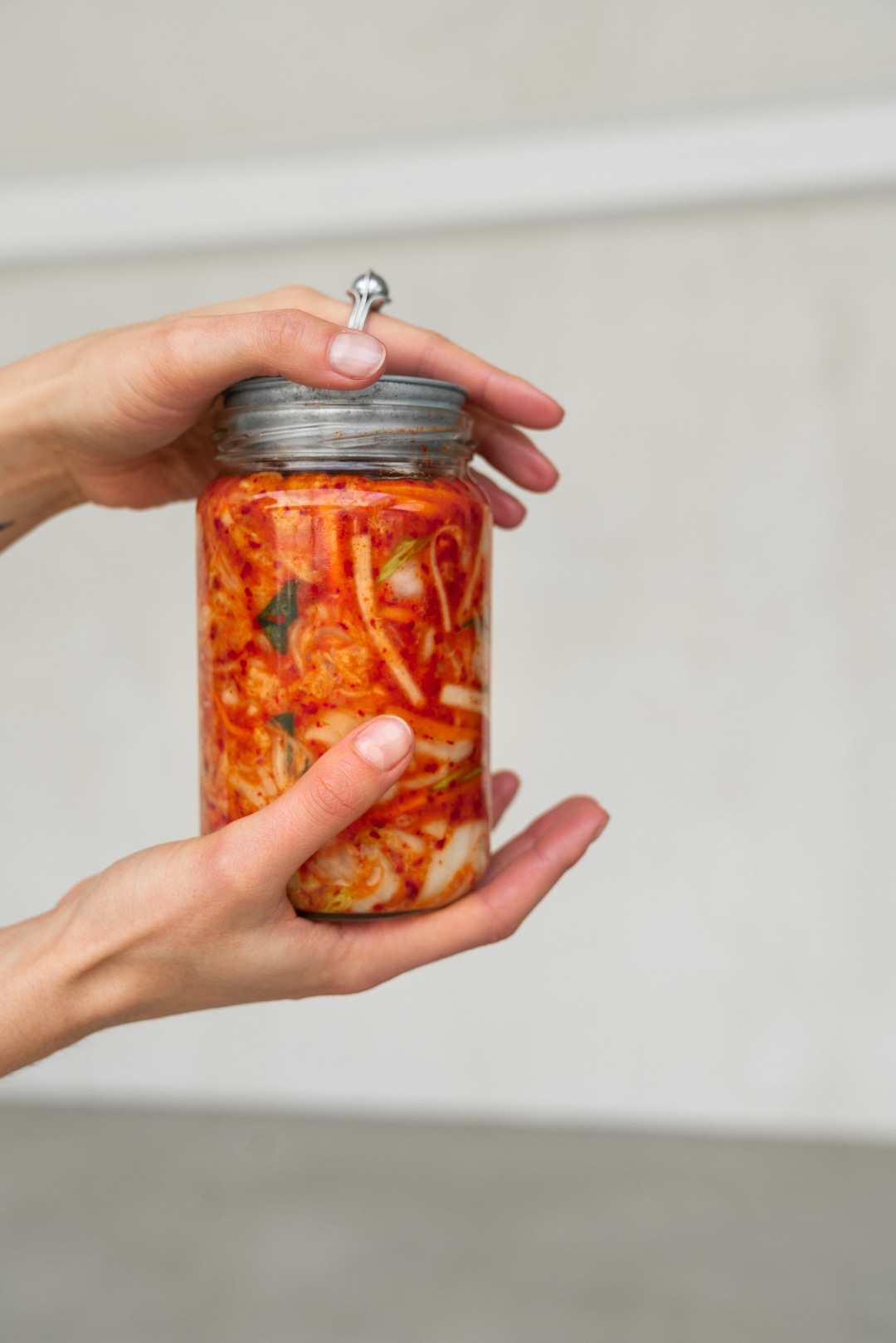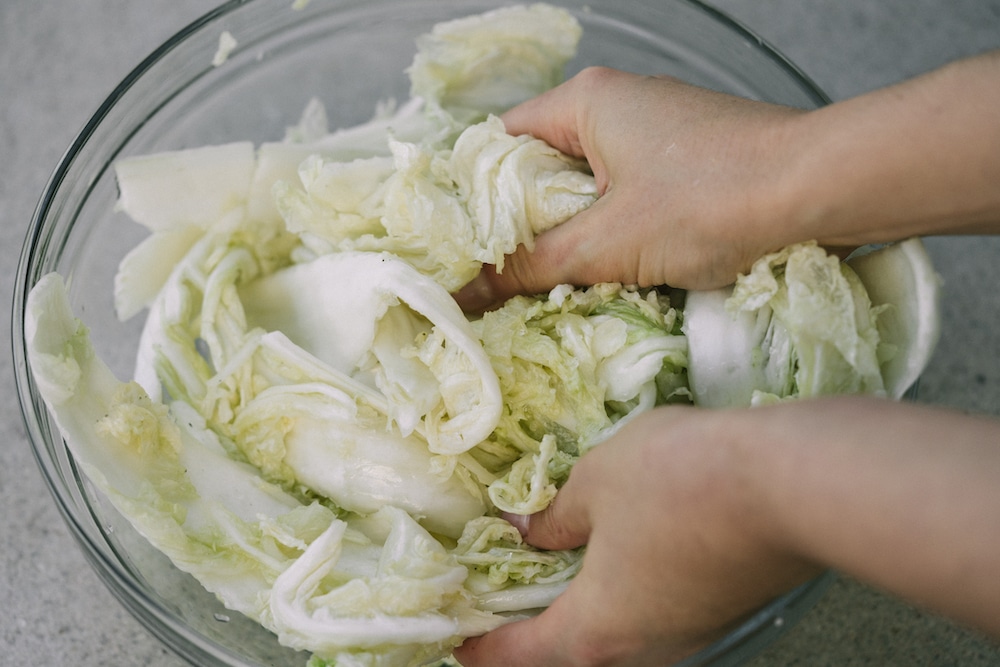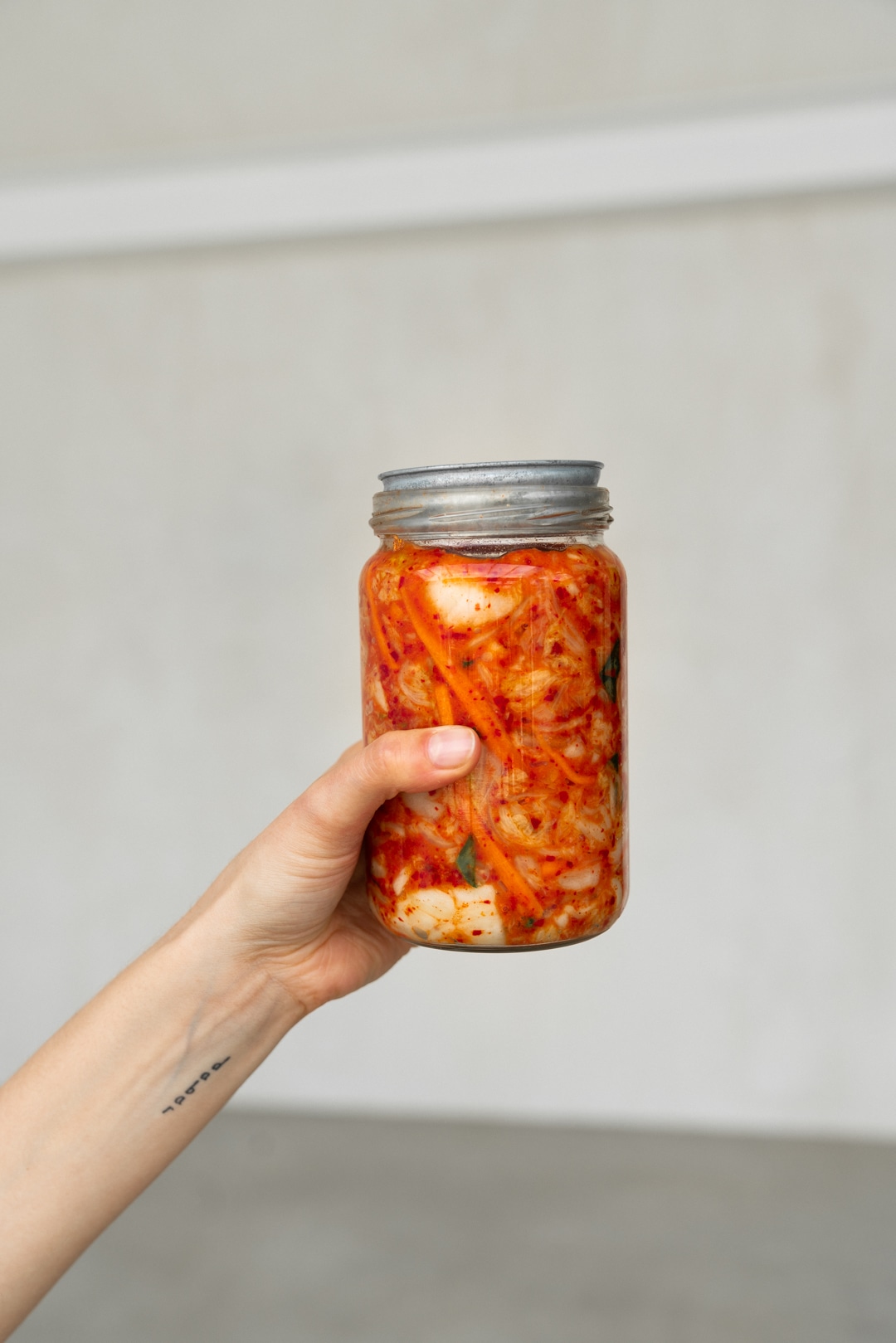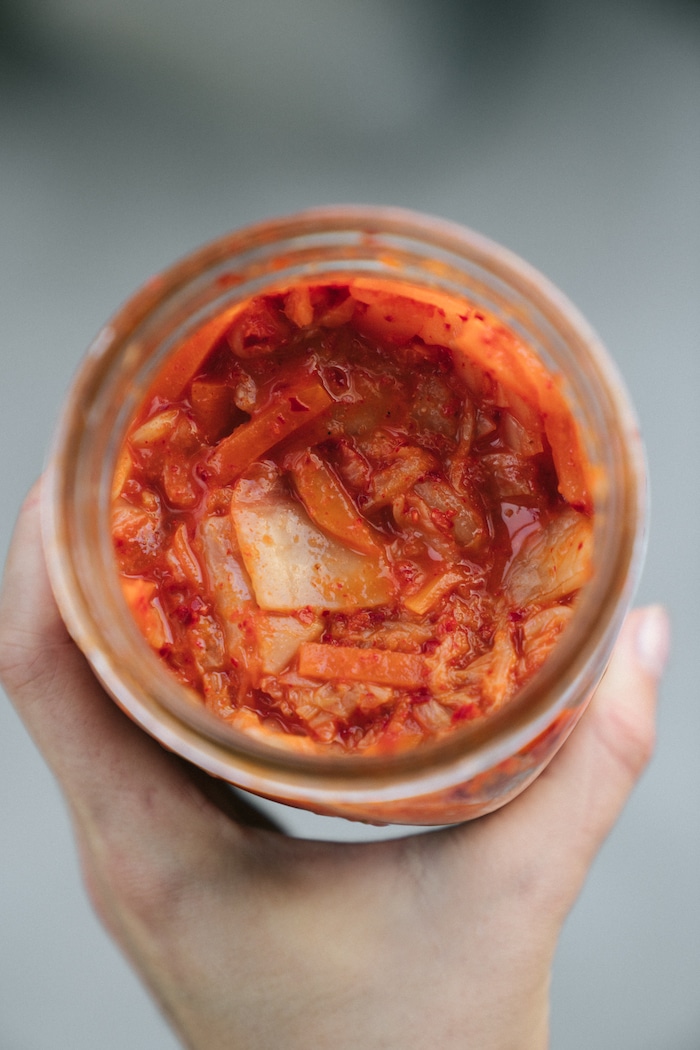 Instructions
1. First of all, cut the nappa cabbage in half lengthwise, cut out the woody bit at the bottom so that only leaves remain. Now cut both of those sides in half lengthwise again – you'll have quartered the cabbage.Place the cabbage into a bowl, sprinkling salt in between all of the leaves (whole 1/2 cup of sea salt). Massage salt into the leaves using your hands while gently twisting and rubbing them. You'll feel them starting to soften. Leave the cabbage for 30 minutes to soften even more. This process is necessary so to kill any harmful bacteria, pull out excess water from the leaves and help speed up fermentation.
2. Pour filtered cold water over the cabbage and place a plate on top to weigh it down. Water should cover all of the leaves. Leave to soak for 3 hours.
3. Drain the salty water and wash each leaf under cold running water until you get rid of any salt leftovers and wash off most of the saltiness. The cabbage will be lightly salted, but it shouldn't be too salty. Now squeeze the cabbage using a sieve or collander to remove excess water. Best if that's done in smaller batches.
4. Place cabbage into a large bowl. Peel carrot and daikon cabbage, cut into thin strips. Cut the scallions into thin strips diagonally, too. Place on top of the cabbage.
5. In a small saucepan, heat 1 cup of water with 1 tablespoon of rice flour. Simmer on low heat until it thickens. Add sweetener and stir to make sure it gets incorporated thoroughly. Set aside to cool.
6. Blend ginger, garlic, rice flour mixture and fish sauce until quite smooth. Stir in the gochugaru chilli flakes (2 tbsp for milder version or 4 tbsp for very spicy kimchi). Massage this paste into the cabbage leaves.
7. Place a couple of leaves on top of one another, cut into smaller pieces and pack tightly into a 1l glass jar or special fermenting dish using your hand. Squeeze it all down towards the bottom of the jar to make sure there are no (or very little) air bubbles remaining. Make sure that the juice covers all of the cabbage on top, otherwise you're risking it to turn moldy. Press it down using special glass weights or a small plate/glass/cup with something heavy on top. This is a crucial part – the weight will make sure that cabbage is always submerged in its liquid.
8. Ferment for 1-10 days or longer if you want even stronger tanginess. The longer the fermentation process, the stronger the taste will become. Press it down every day to help the gas bubbles escape and make sure there are no air pockets in the jar. I suggest tasting it after 6 days to check whether you wish to ferment it for longer. Once you reach the preferred taste, remove the weight, close it with a tight fitting lid and place in the fridge. It can stay refrigerated for at least two weeks, perhaps a month even. It should remain good for as long as it doesn't get mold.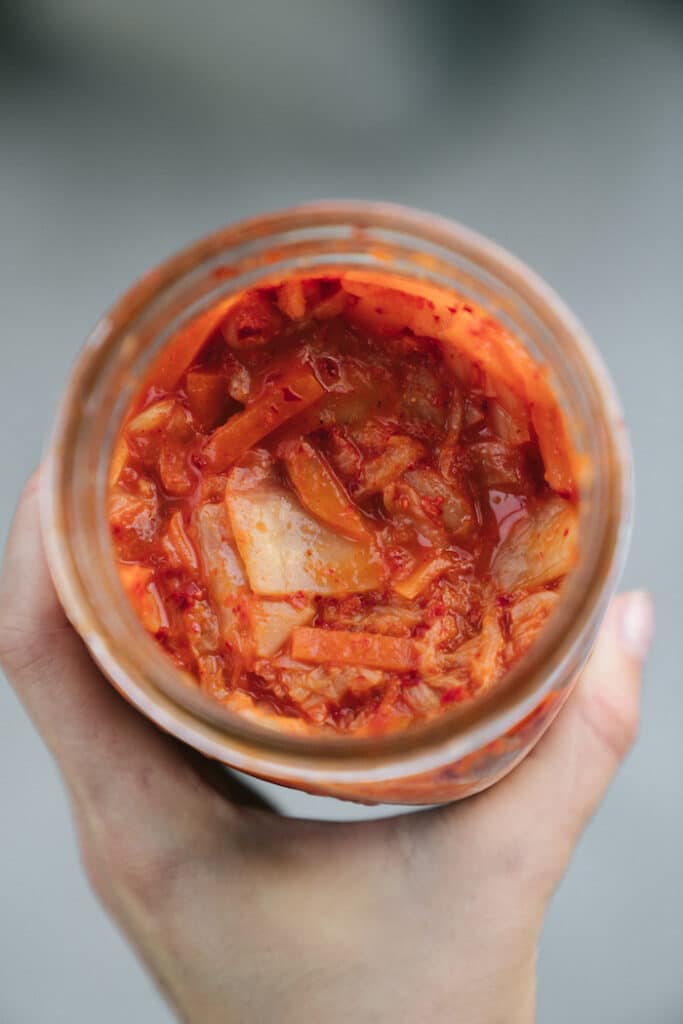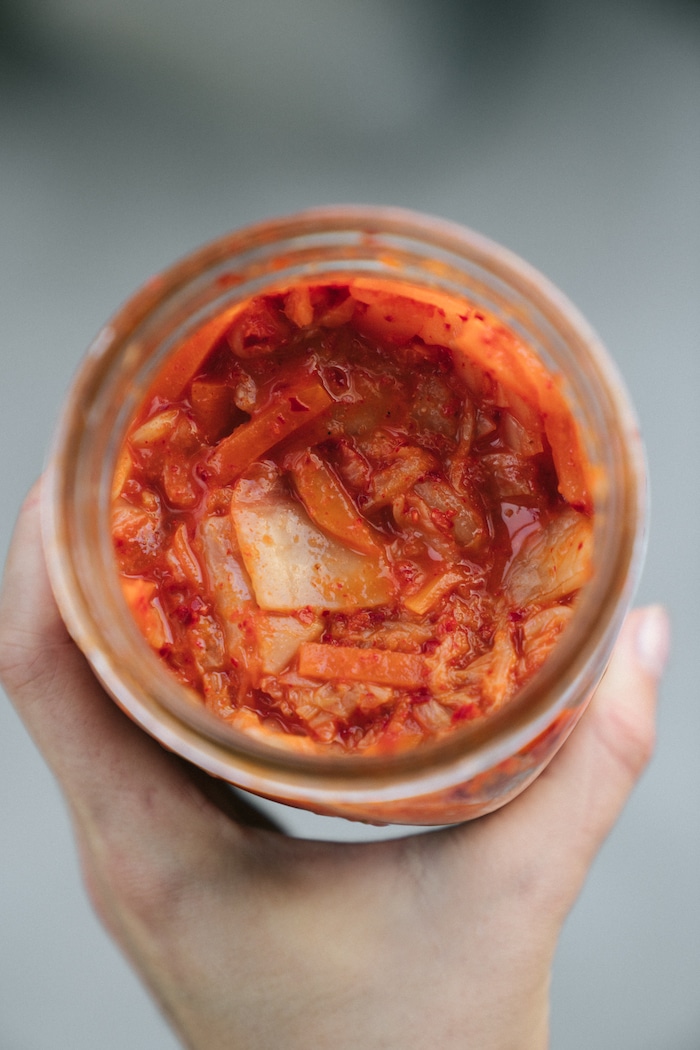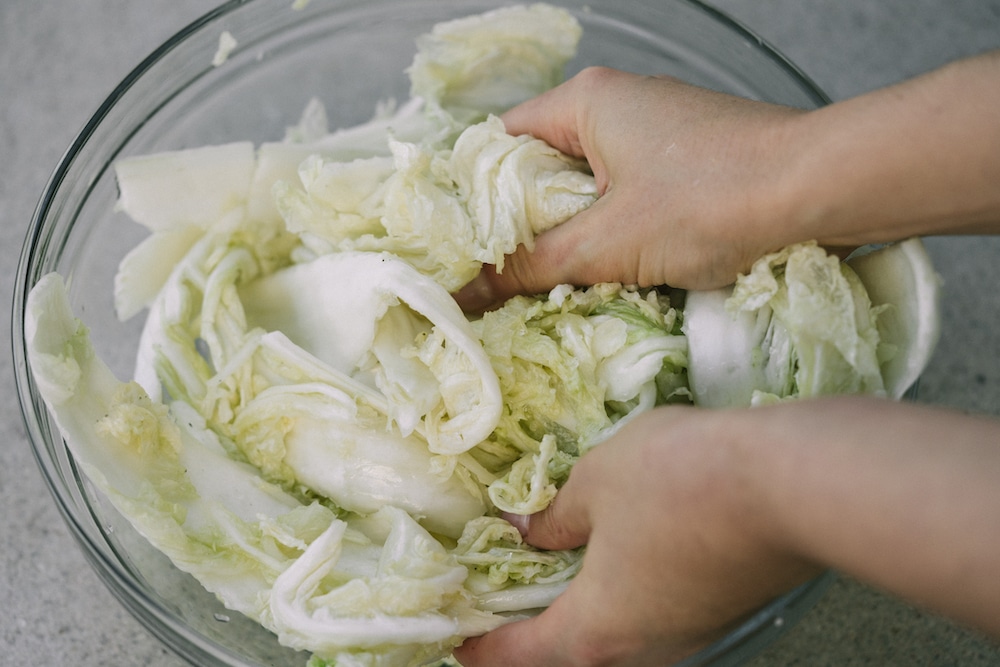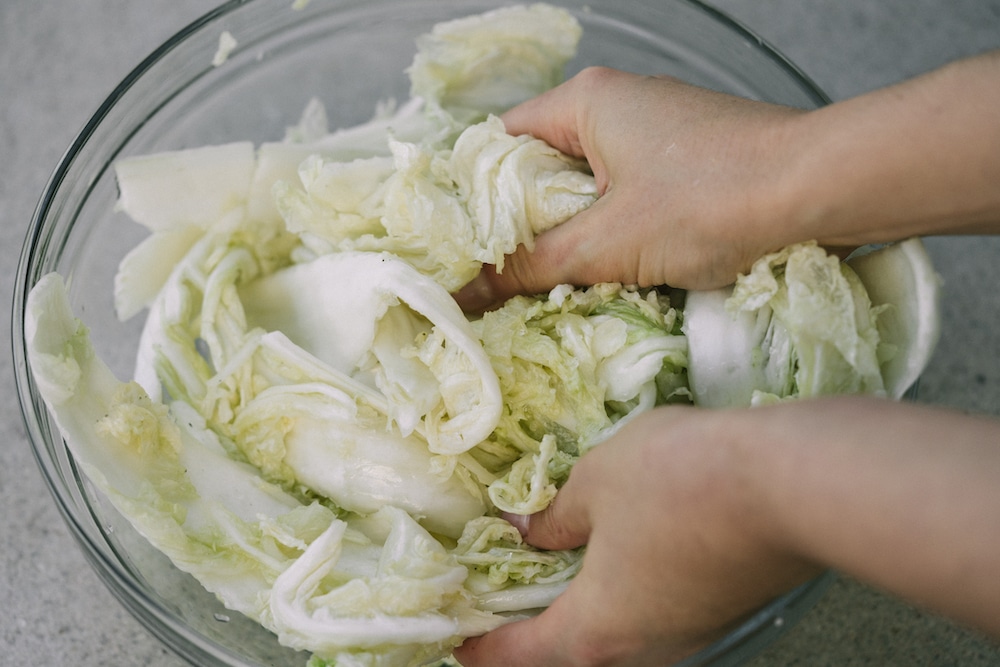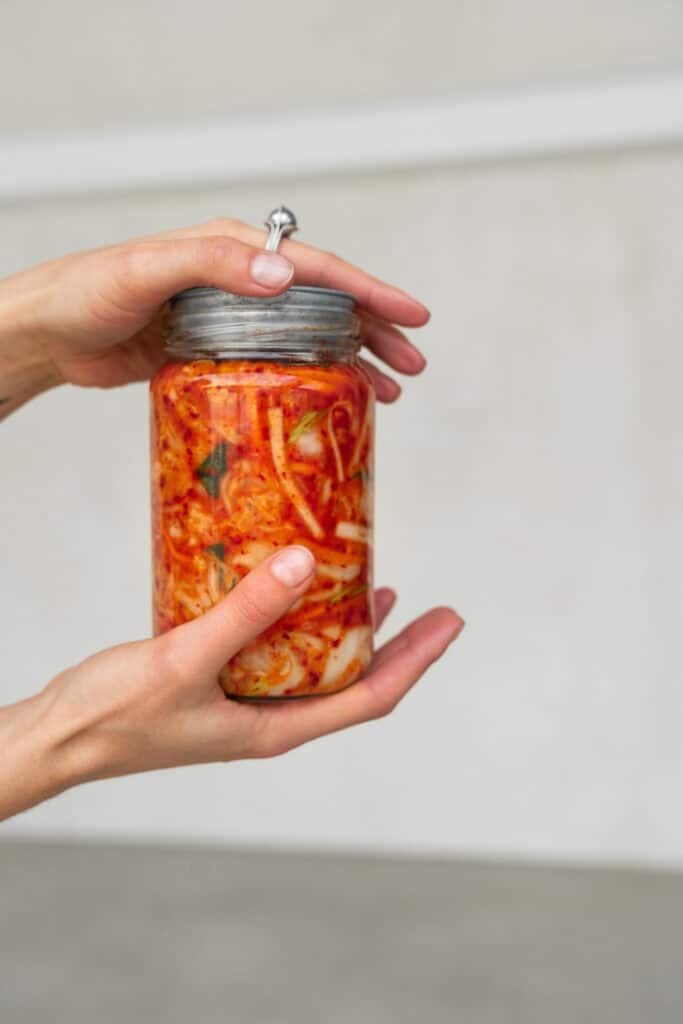 Ingredients
1 chinese (nappa) cabbage
½ cup of sea salt (non-iodised)
¼ cup of fish sauce or a 1:1 mixture of pineapple juice with soy sauce
1 small carrot
1/3 daikon radish
a small piece, around 2 tsp (10g) of ginger
4-5 medium sized garlic cloves
2-4 tbsp of Korean hot pepper flakes Gochugaru
a handful of scallions
1 tbsp of rice flour
1 tbsp of unrefined brown cane sugar or maple syrup