Pizza which represents autumn through flavours and colours. It is bold, it is delicious, perfectly moist and crunchy. It exceeded my expectations after the very first attempt, therefore I'm sure it is worth your time and effort. I do hope you'll try the recipe out.
Below you'll find a detailed recipe and some useful tips for baking pizza from scratch at home.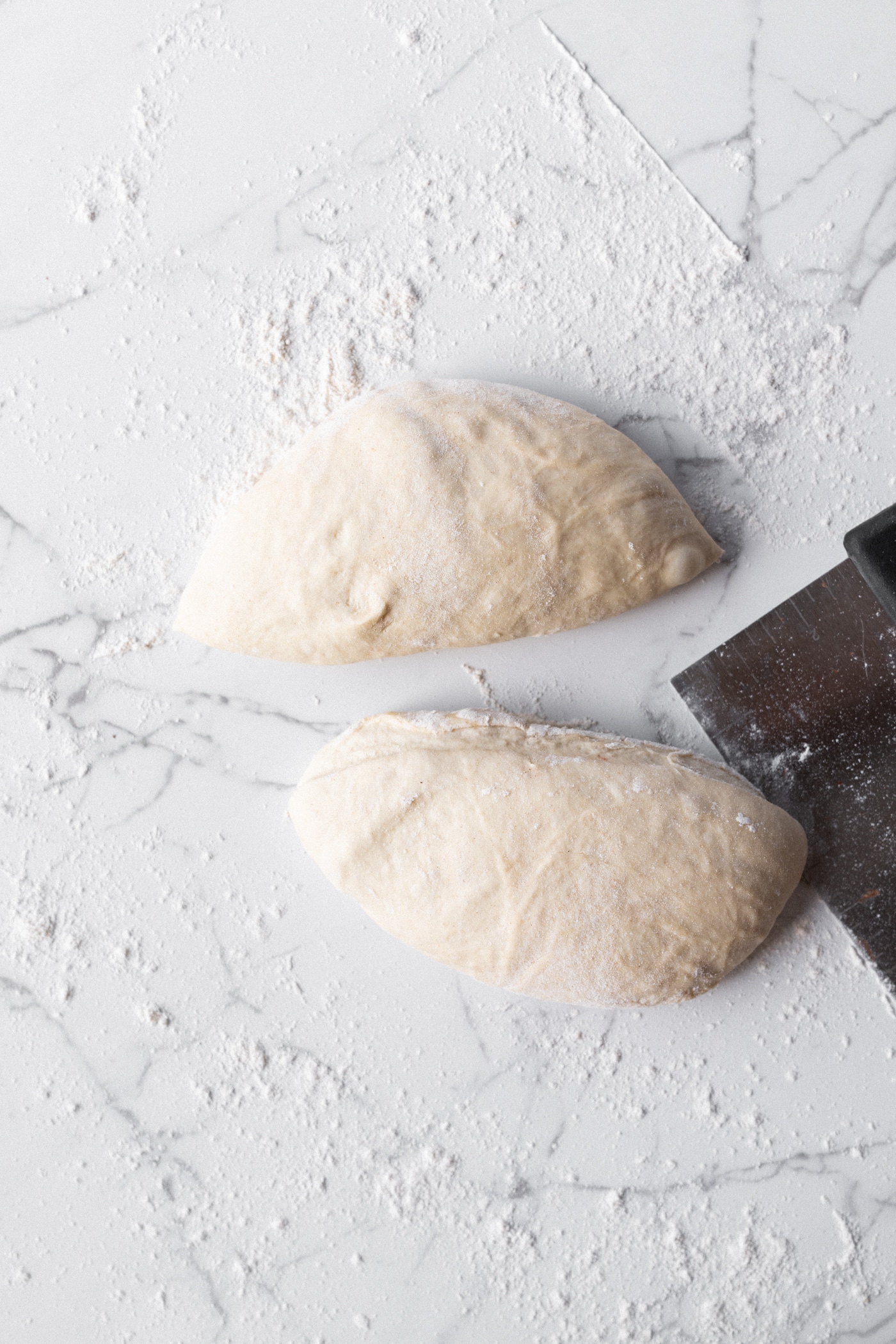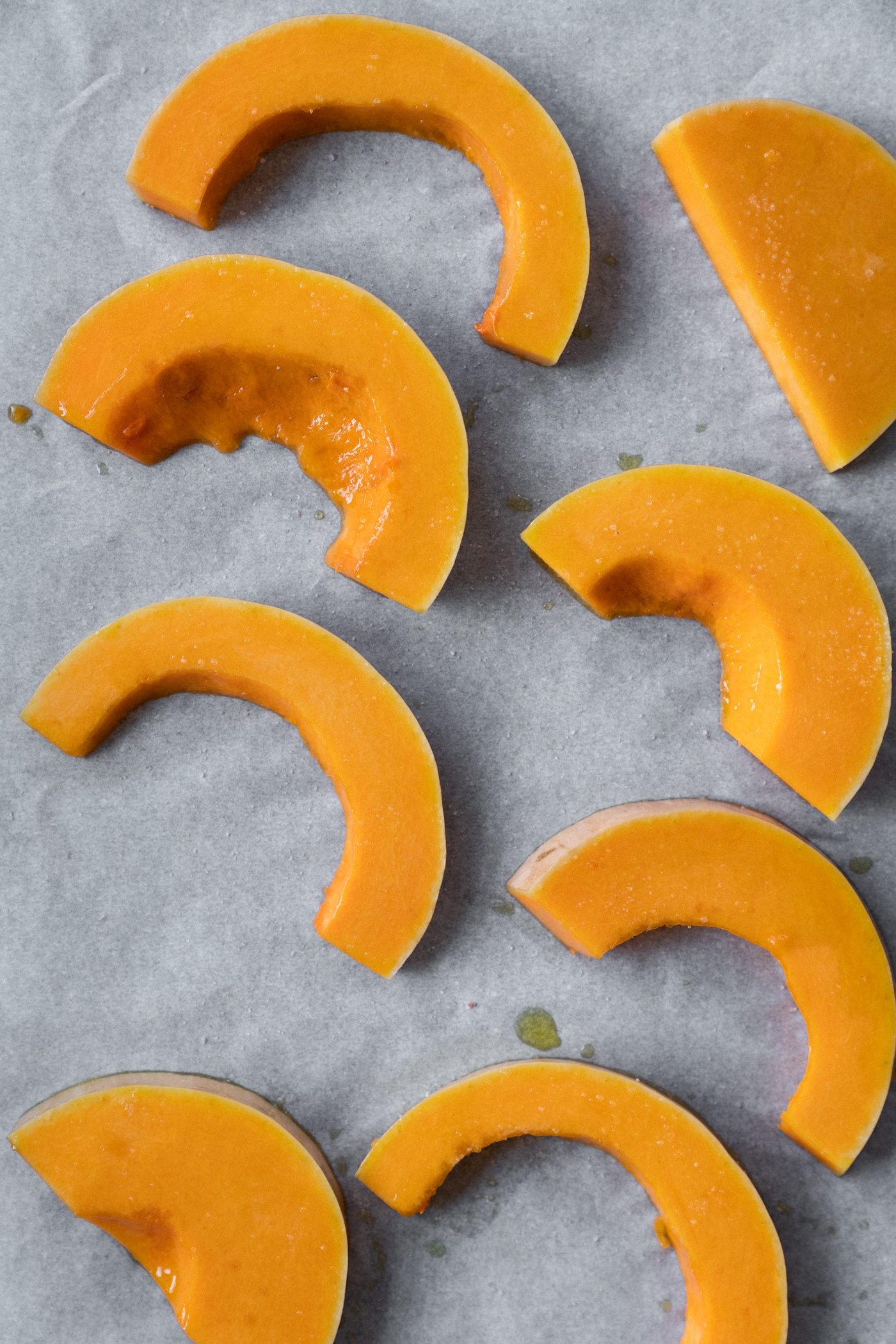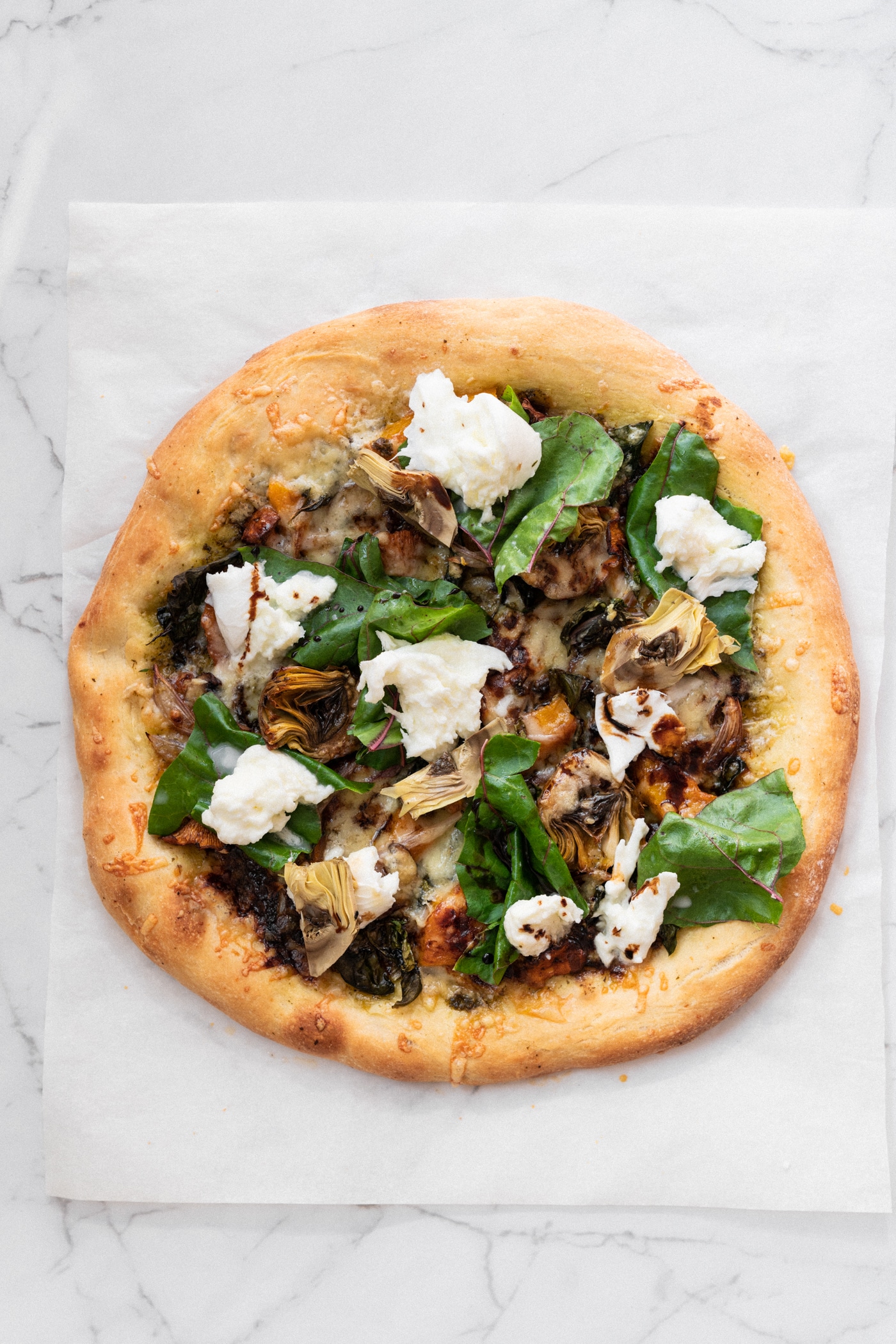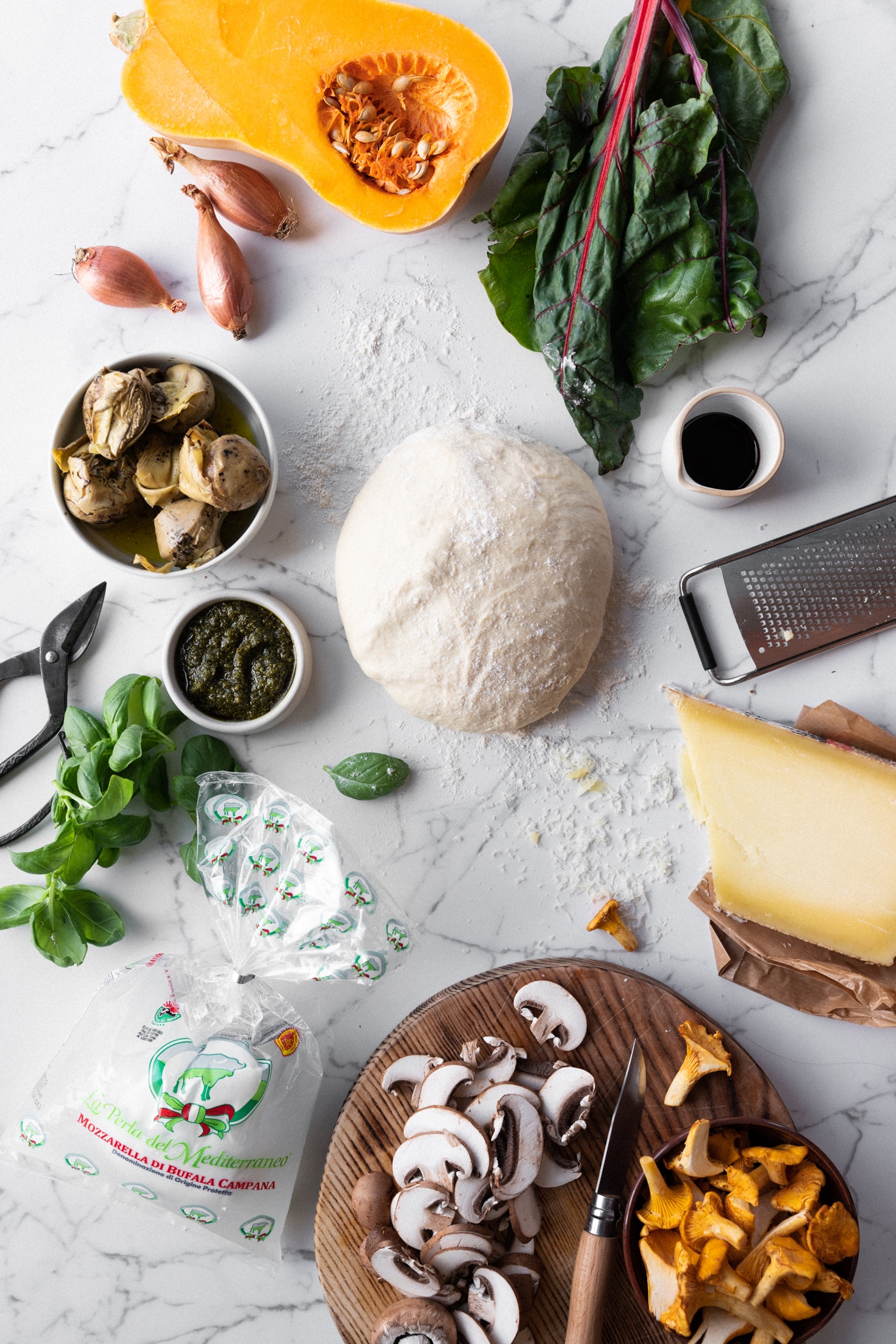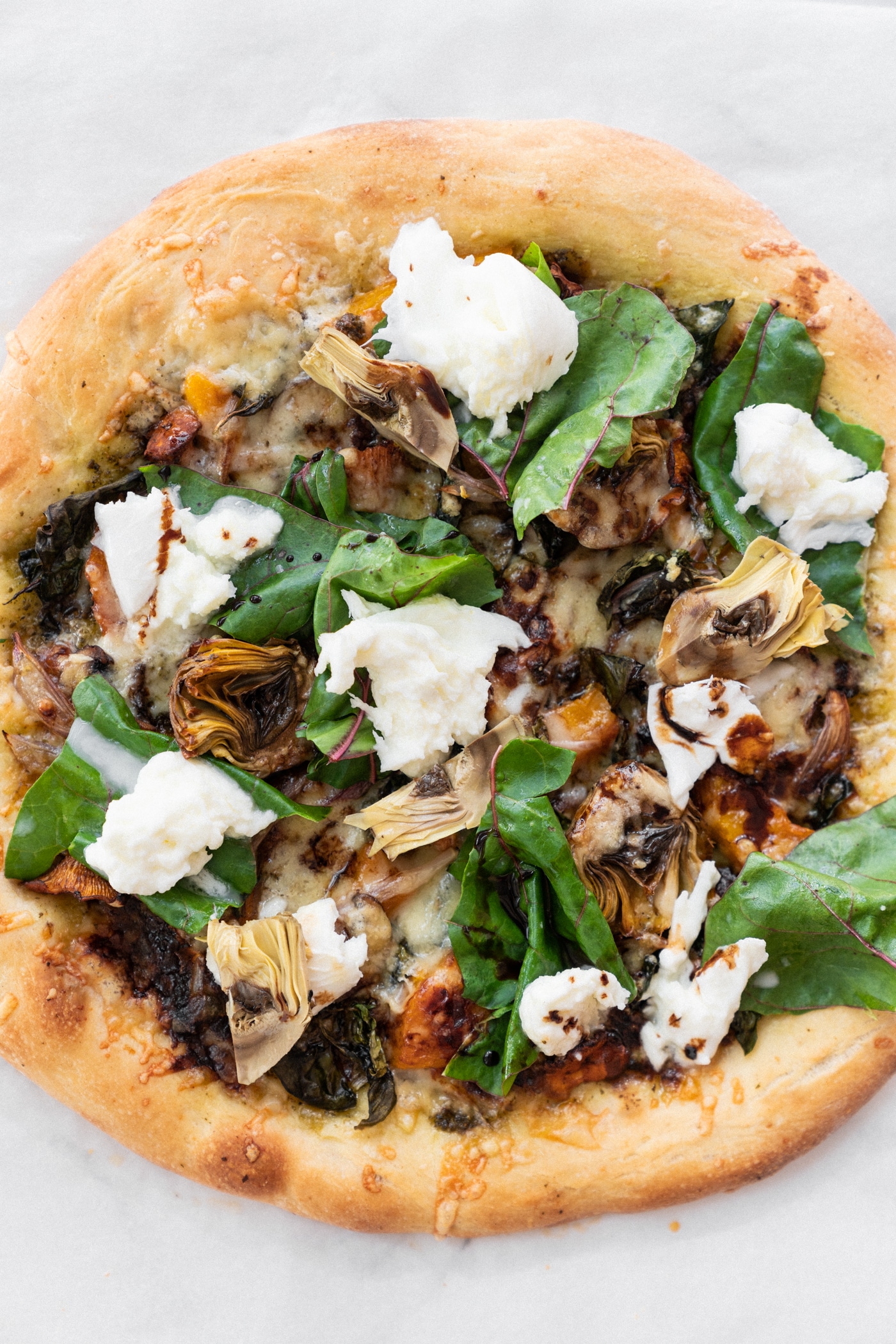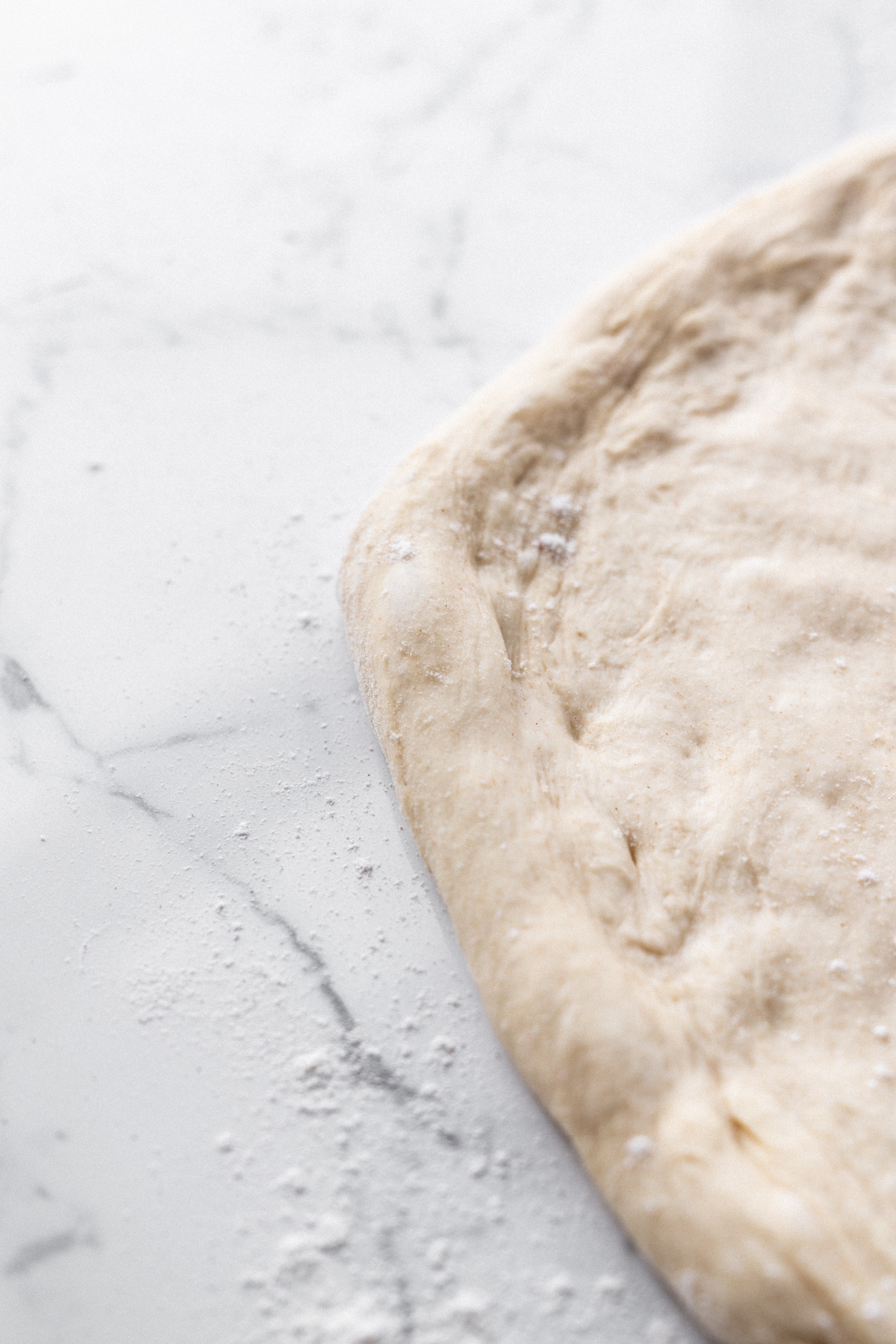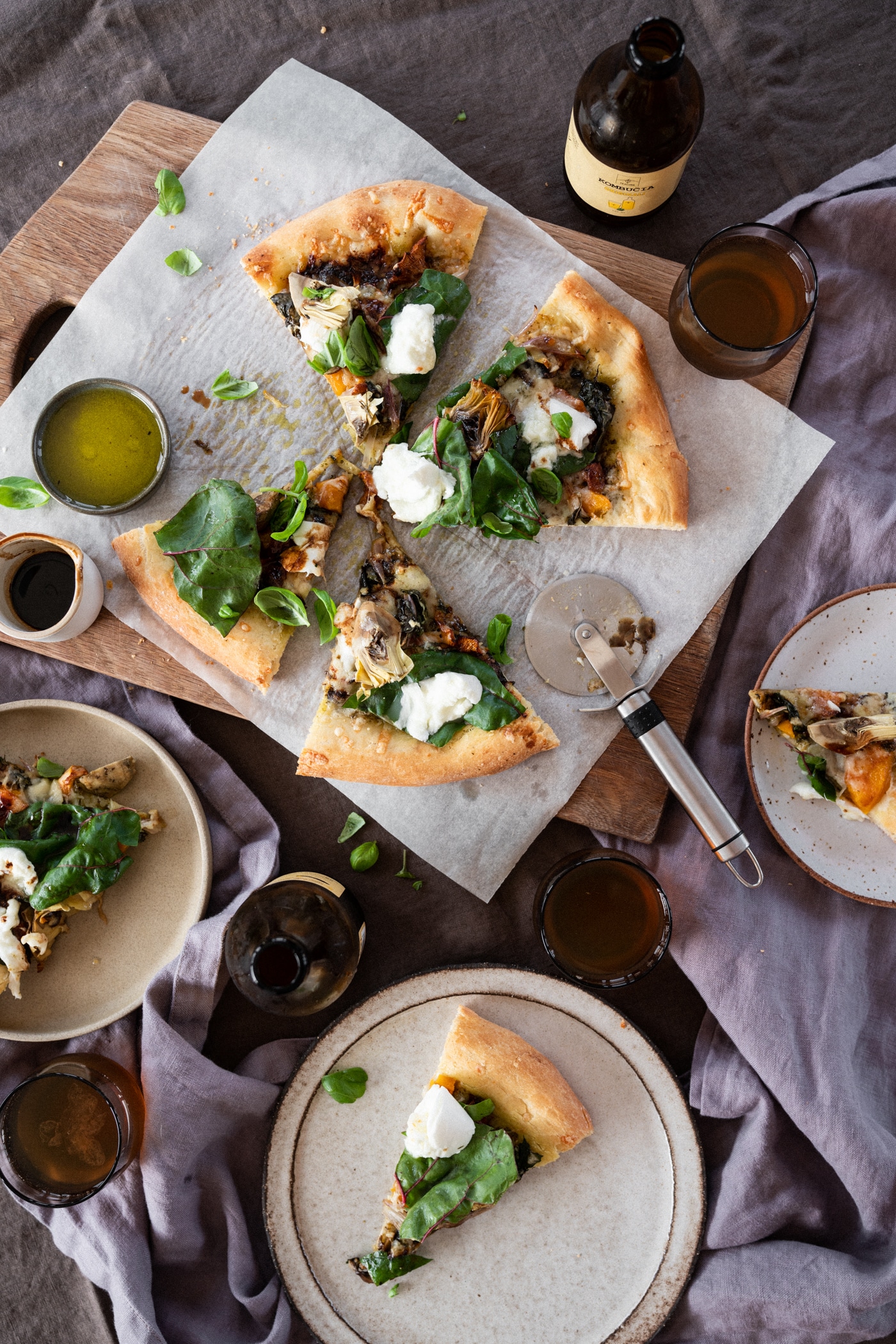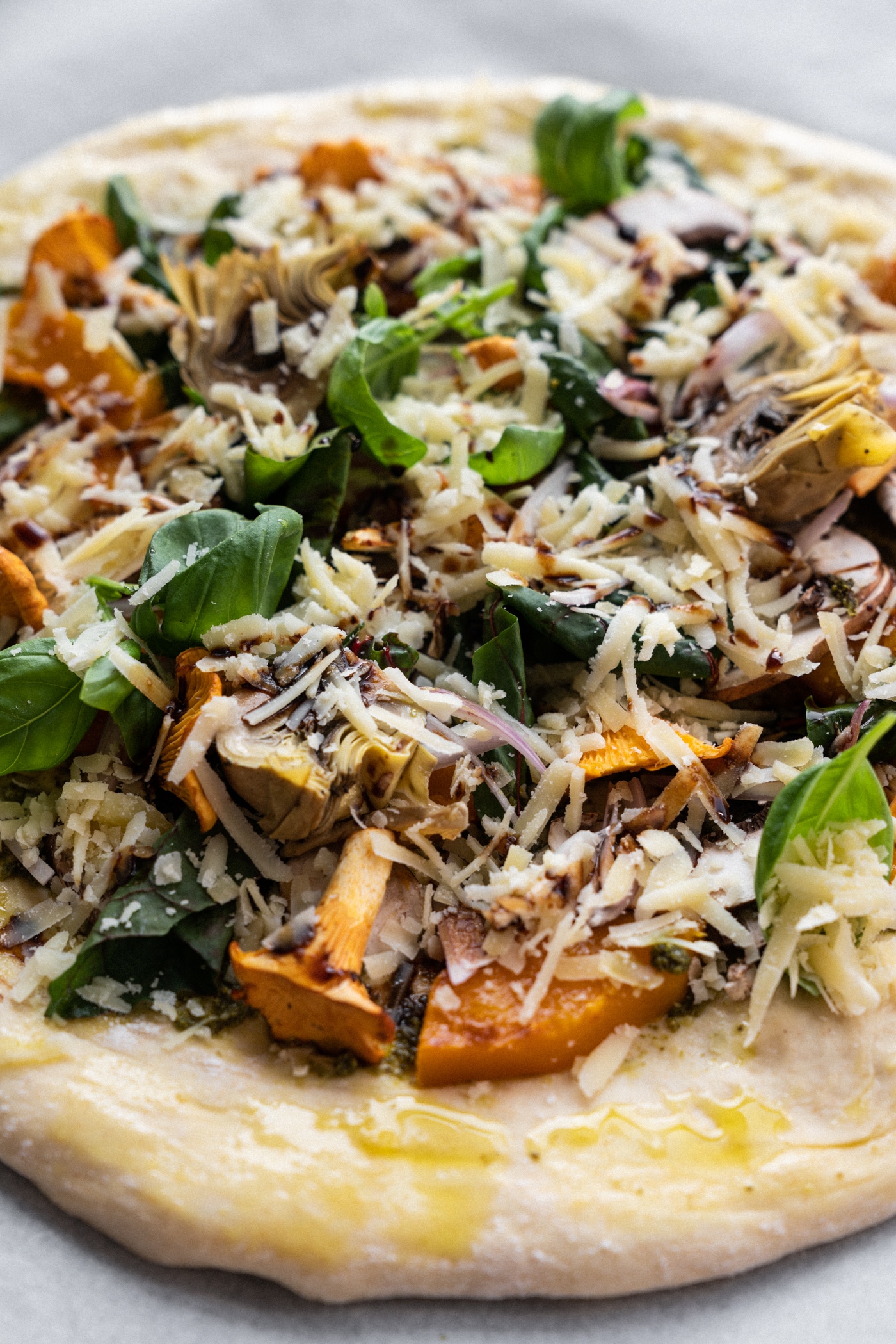 Instructions
Make the pizza dough
Mix yeast and sugar with water to dissolve. Mix flour with salt, add the yeast mixture, olive oil and knead it into a dough. Transfer the dough ball on a floured surface and knead for 5 minutes until soft and pliable. Place in a large bowl covered with a damp kitchen towel or a beeswax wrap and place in the fridge for 24 hours.
While you can skip the fridge part, I highly recommend you don't. Fridge time allows a slow fermentation of the dough which develops a better flavour and texture.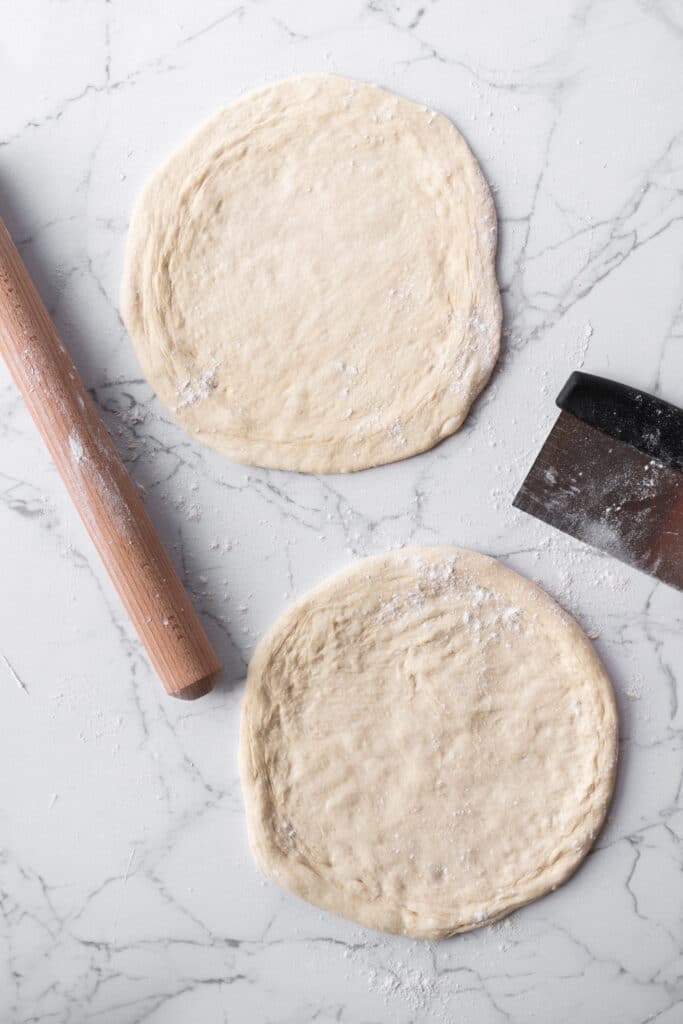 Remove from the fridge and let it rise at room temperature for 2 hours. Once doubled in size, transfer it onto a floured surface and gently knead for another minute to deflate slightly.
Julie's Tip
For best pizza dough results, use type "00" flour or strong white bread flour.  These types of flour have a higher protein content which gives the dough more elasticity and strength.
Divide in half. Roll each half on a baking paper sheet into a rough 26 cm circle. Stretch it into its final size using your hands – push with fingertips away from the centre towards the edges, but do not touch the edges (this will help them puff up while baking).
Prepare the toppings
Heat oven to 180°C (fan setting). Cut butternut into slices, rub with 1 tbsp of oil and a bit of salt. Arrange on a baking sheet lined with baking paper and roast for 15-20 min., until soft.
Julie's Tip
If you wish for the mushrooms to become firm, not soggy while baking, never wash them. Instead, remove dirt with a soft brush.
Clean mushrooms using a soft brush, but do not wash them. Cut button mushrooms into slices, cut larger chanterelles in half. Cut artichoke hearts in halves or quarters. Slice the shallots.
Assemble
Transfer each pizza base with baking paper to a baking tray. Spread 2 tbsp of basil pesto on each one. Add toppings: roasted butternut (without peel), mushrooms, artichokes, greens, shallots. Sprinkle with grated gruyere, drizzle with a bit of balsamic glaze and olive oil.
Brush the edges of the dough with a touch of olive oil. Do not use mozzarella yet – you will use it to add on top of the cooked pizza. Save some artichokes, greens and some basil to top the cooked pizza with, too. Bake one pizza in the oven at a time.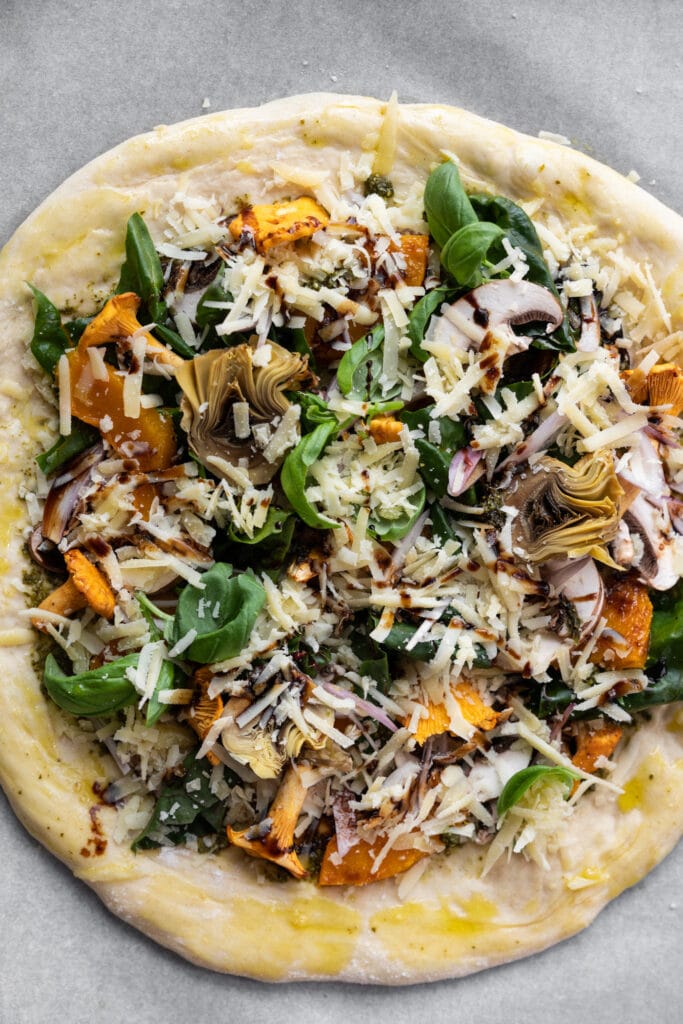 Bake
Cook in a 200°C oven (bottom heat + fan) for 15 minutes. Finish with torn mozzarella pieces, artichokes, greens and basil. Drizzle with remaining balsamic glaze. Serve immediately while the cheese is stretchy and all ingredients are warm.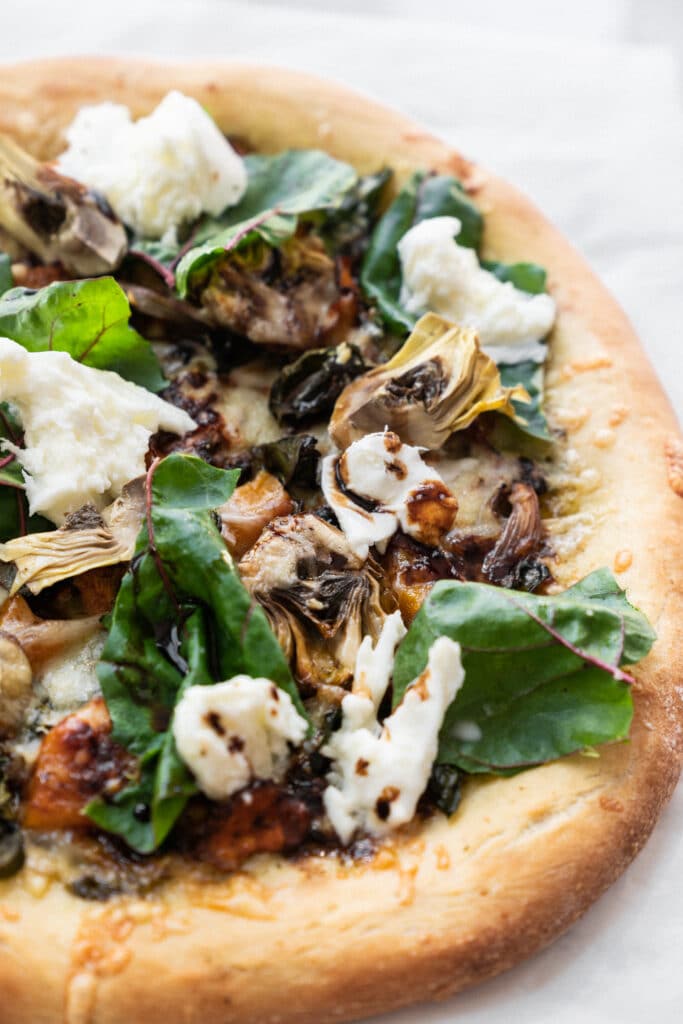 Ingredients
For the pizza base
450 g of strong wheat bread or type "00" flour (these types of flour add more elasticity and strength to the dough)
300 ml of lukewarm water
2 tsp (6-7 g) of active dry yeast
1 tbsp of sugar
1 tsp of sea salt
2 tbsp of extra virgin olive oil
Toppings
125 g of buffalo mozzarella
200 g of roasted artichoke hearts
100 g of gruyere
300 g of organic butternut squash
2 organic shallots
handful of rainbow chard (or beet greens, or spinach)
4 medium button mushrooms
180 g of chanterelles
4 tbsp of basil pesto
4 tbsp of balsamic glaze
4 tbsp of extra virgin olive oil
handful of fresh basil
pinch of sea salt