Easy Blender Hollandaise
There's quite some buzz happening around the simplified version of the classic hollandaise sauce online and there's a reason for it. Classic hollandaise technique requires more practice – the first attempt often goes wrong and that discourages people to try it again or try it at all. That was exactly the case with me. I had been postponing the hollandaise quest for months, but after trying it this way, I felt more confident to try the traditional version, too.
The two main ingredients for the sauce are egg yolk and butter. The tough part here is to blend the two together with the help of some heat in such way that the yolk doesn't curdle into small pieces. It is a tricky task, but definitely manageable. To make the classic hollandaise, you must heat a mixture of whisked egg yolk and lemon juice over a double boiler, then slowly pour in the melted butter, whisking vigorously. If it's too hot, the egg yolk might curdle and if you cook the sauce too long, it might break into pieces.
In this easy version we drop the double boiler and use a hand blender to mix melted butter together with the egg/lemon mixture so that each and every one of you can at least give it a try. This technique will help you feel more confident in the kitchen so you can then proceed to learn the classic version.
Tips for a successful blender Hollandaise
Melt the butter carefully on low heat just until all of the pieces dissolve, but don't let it cook
Make sure you whisk the egg yolk with lemon juice thoroughly
Pour butter in a slow and steady stream, blending as you go
Blend until everything is incorporated, not longer
Use a narrow dish for blending – it has to be only a little bit bigger than the head of your blender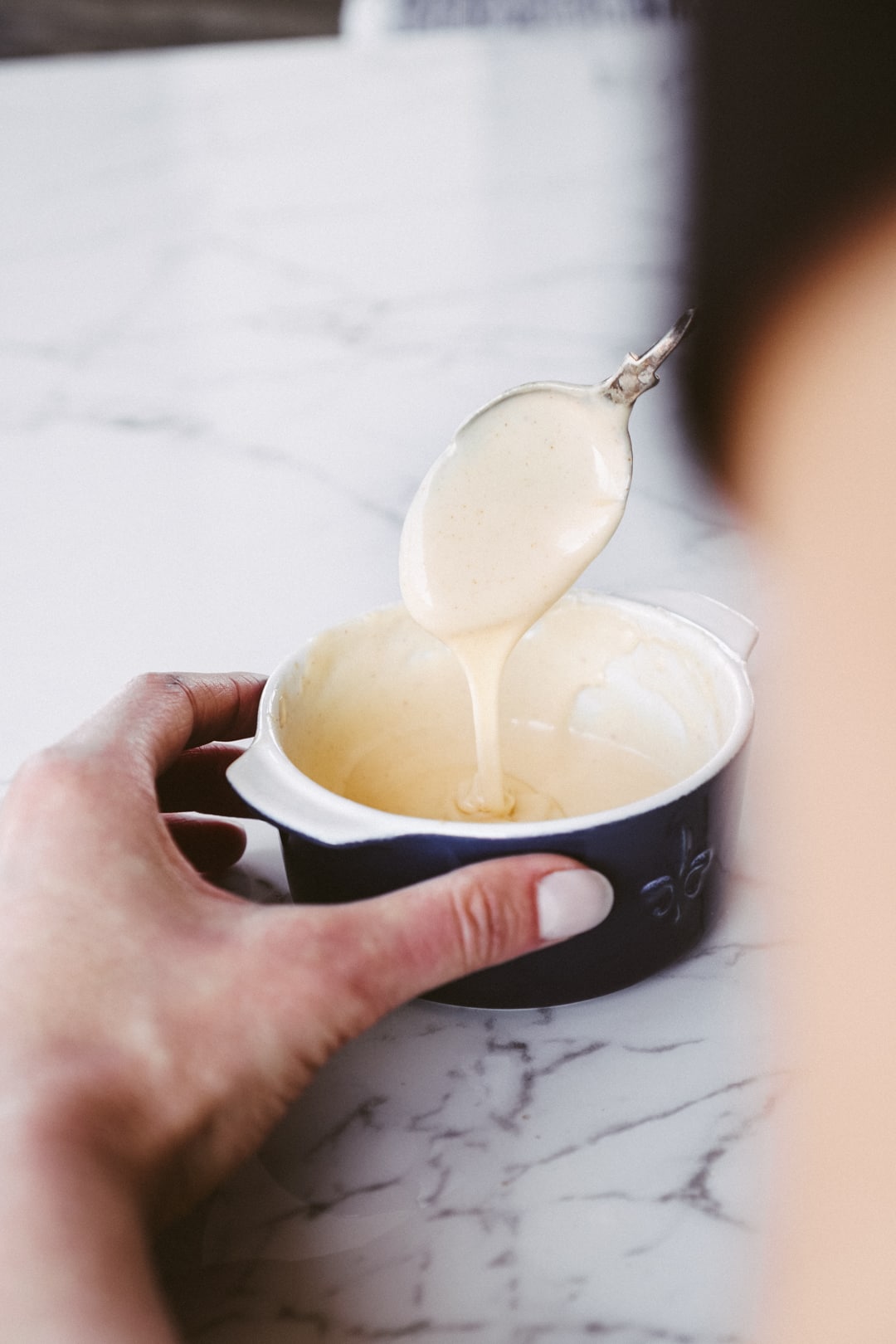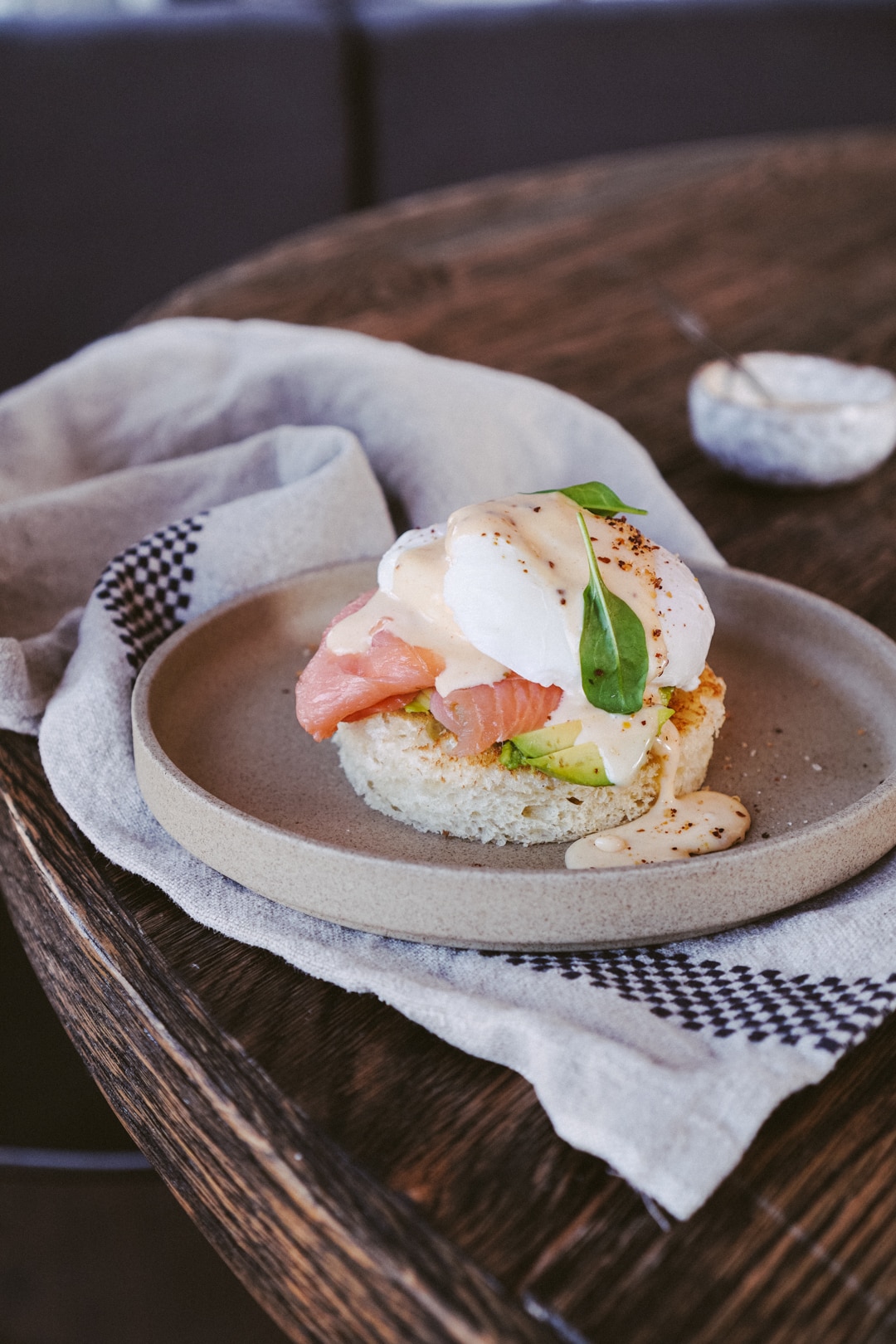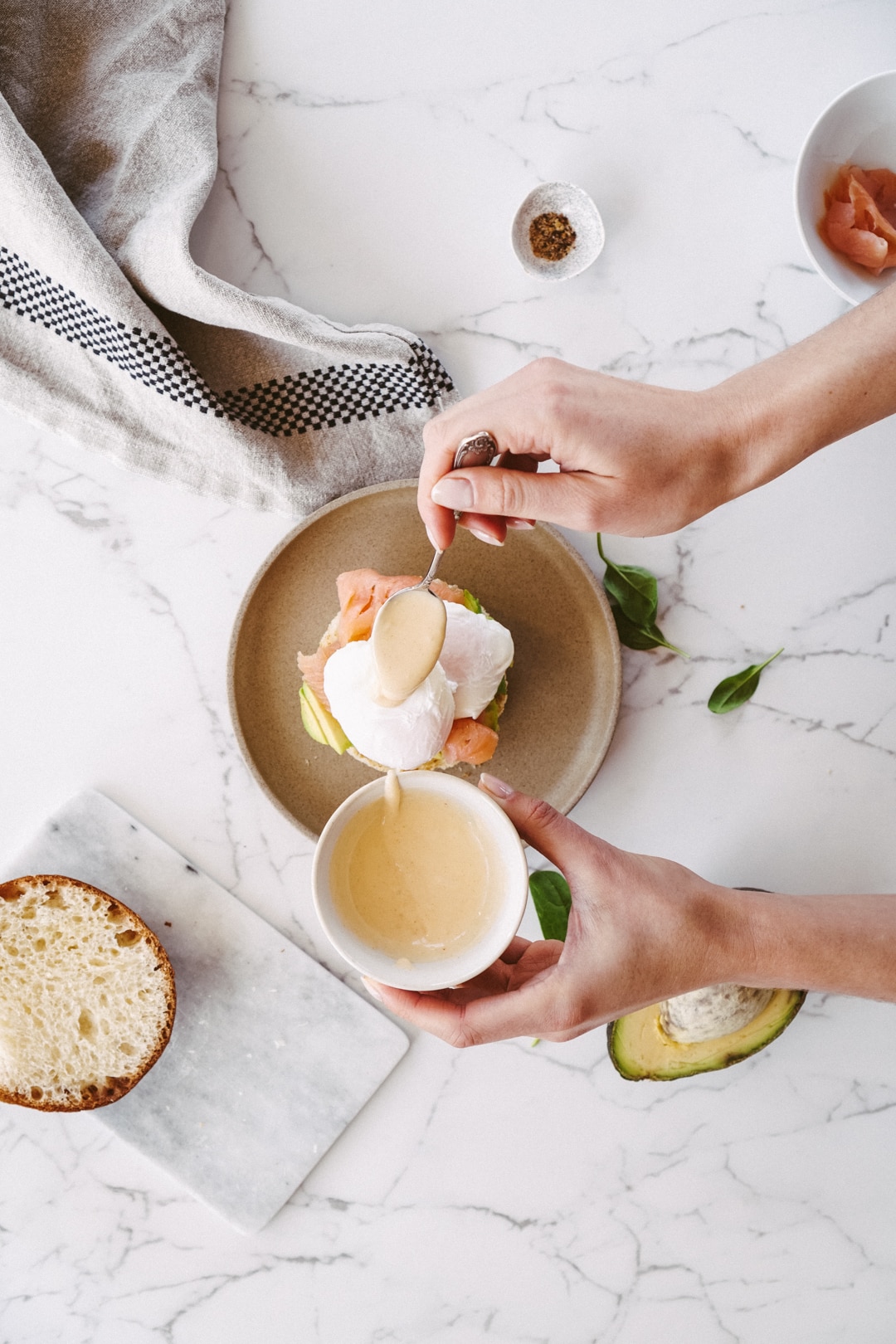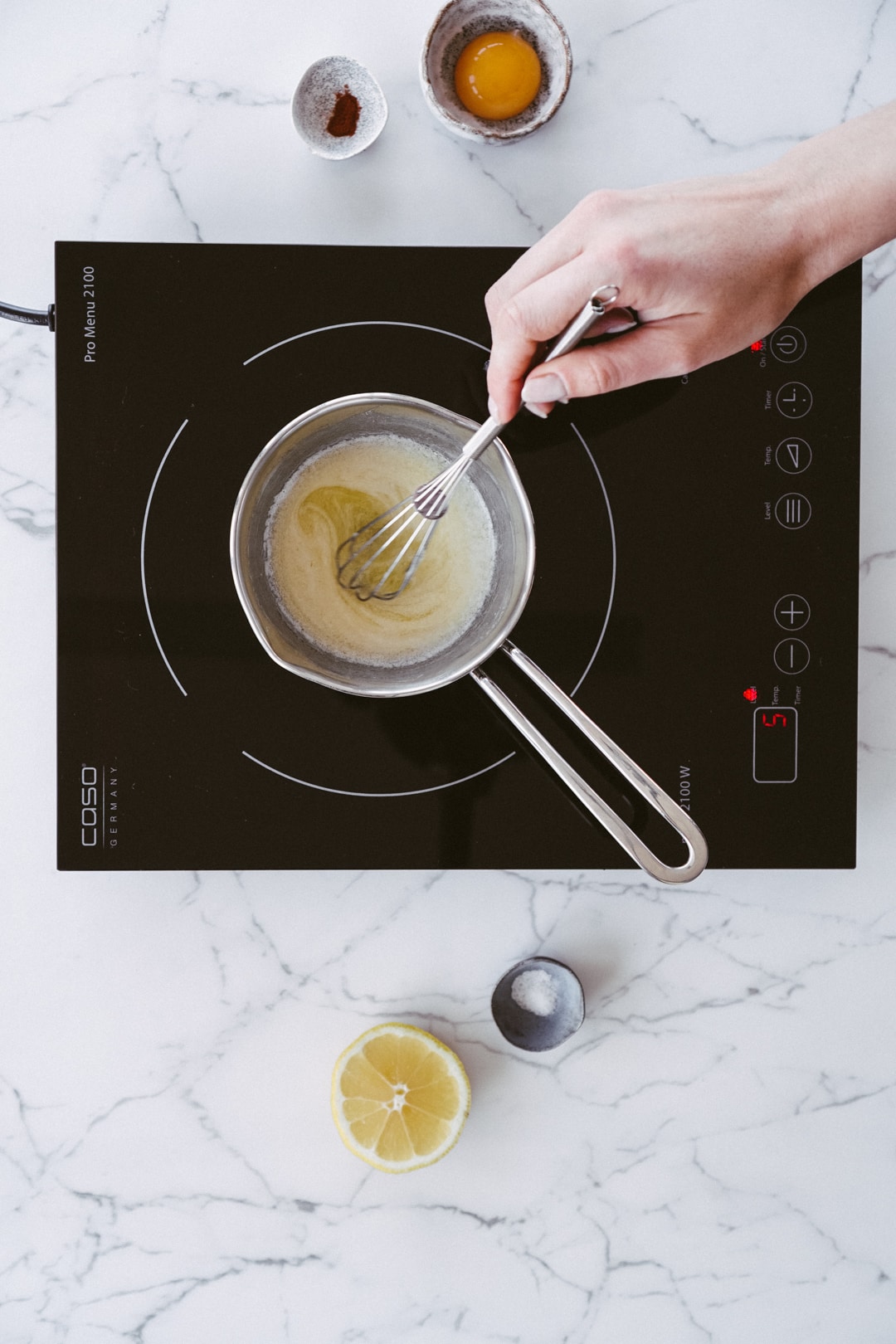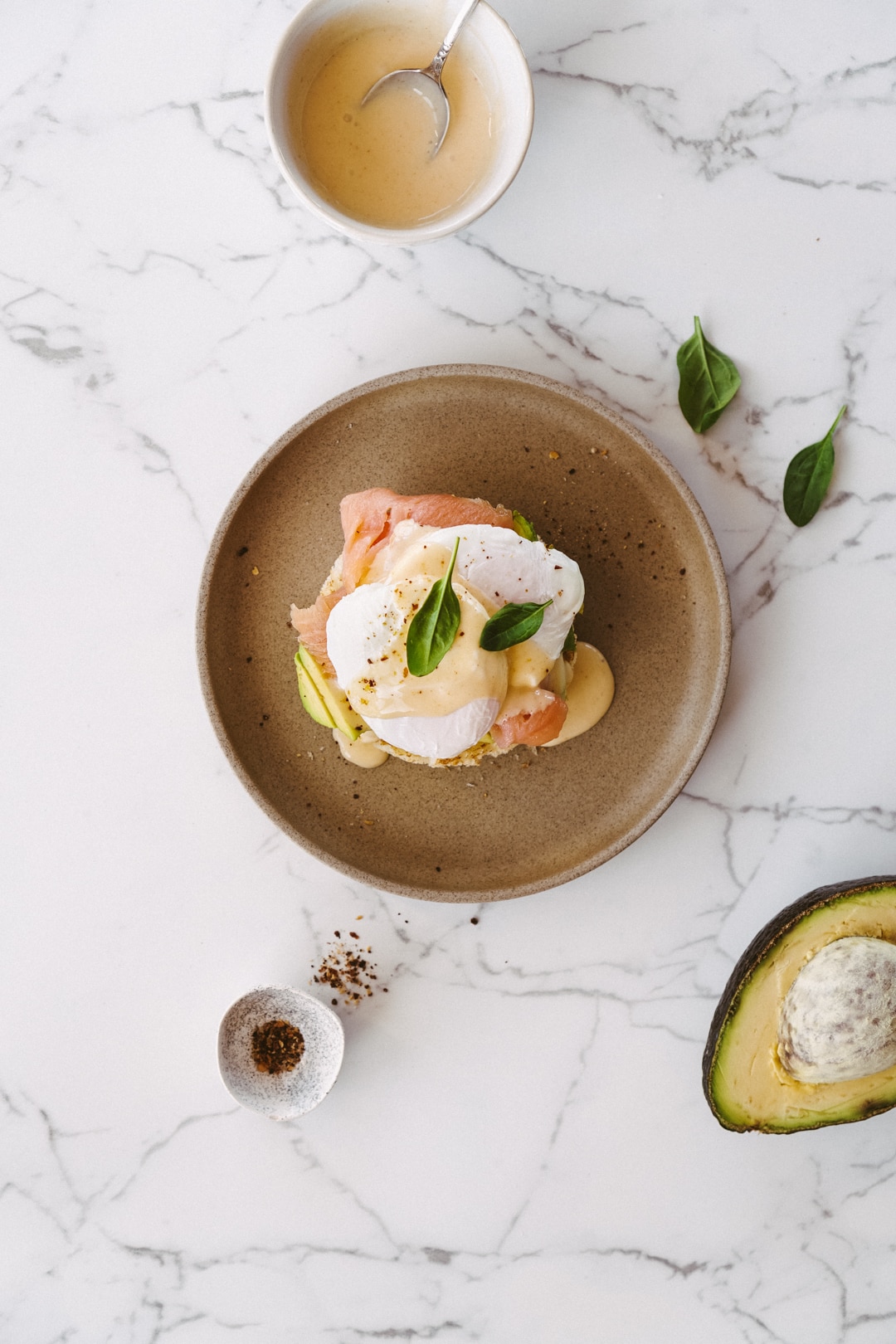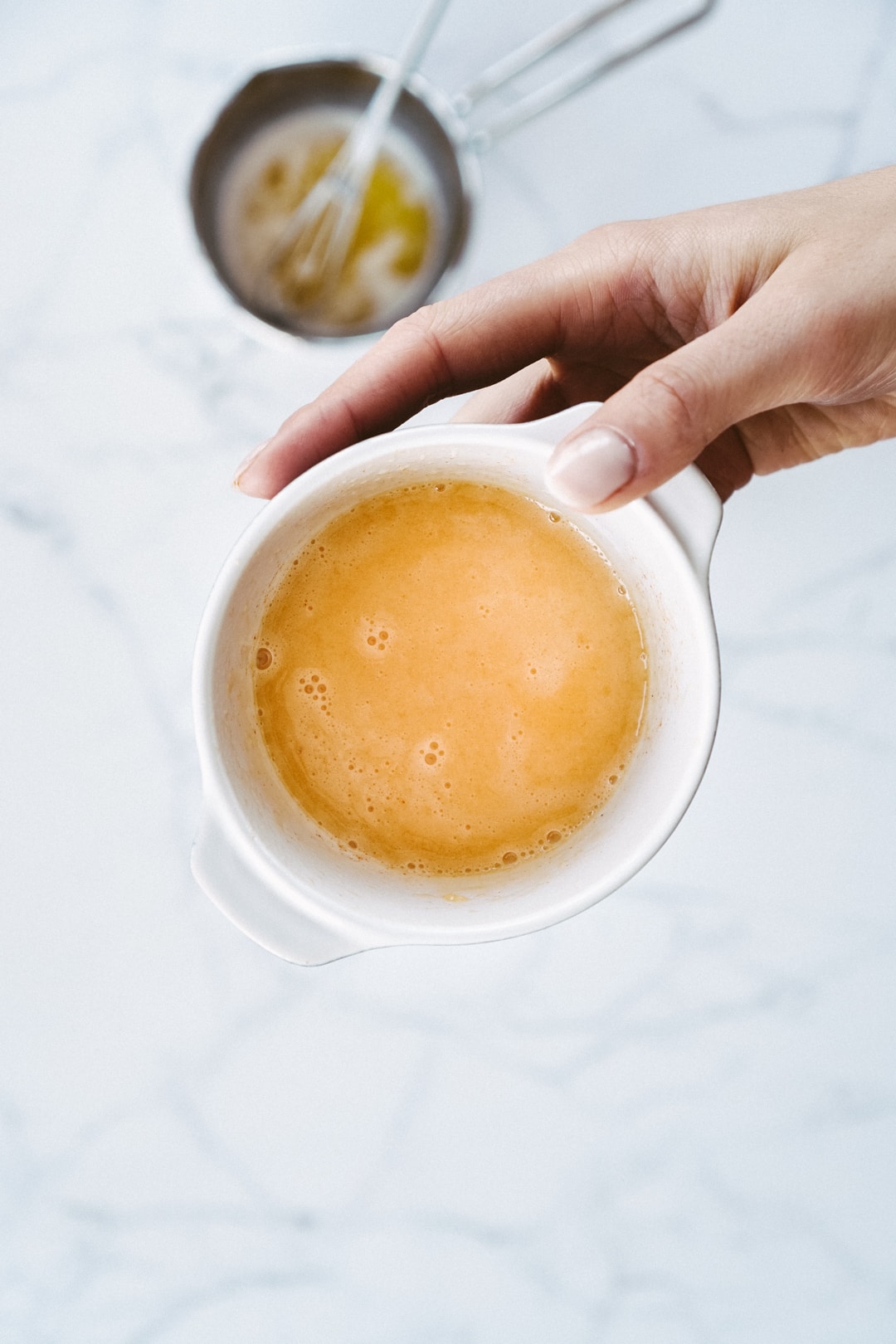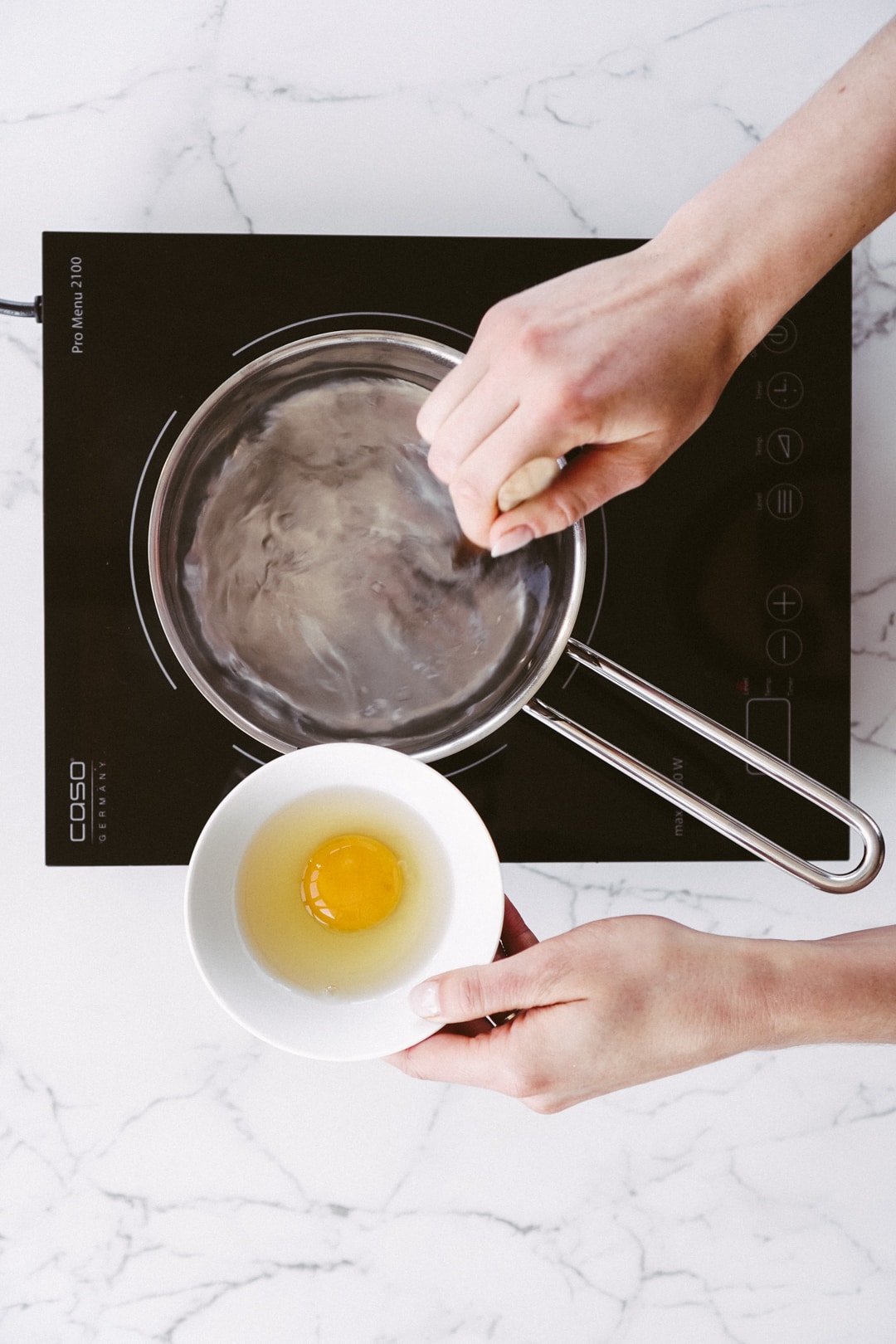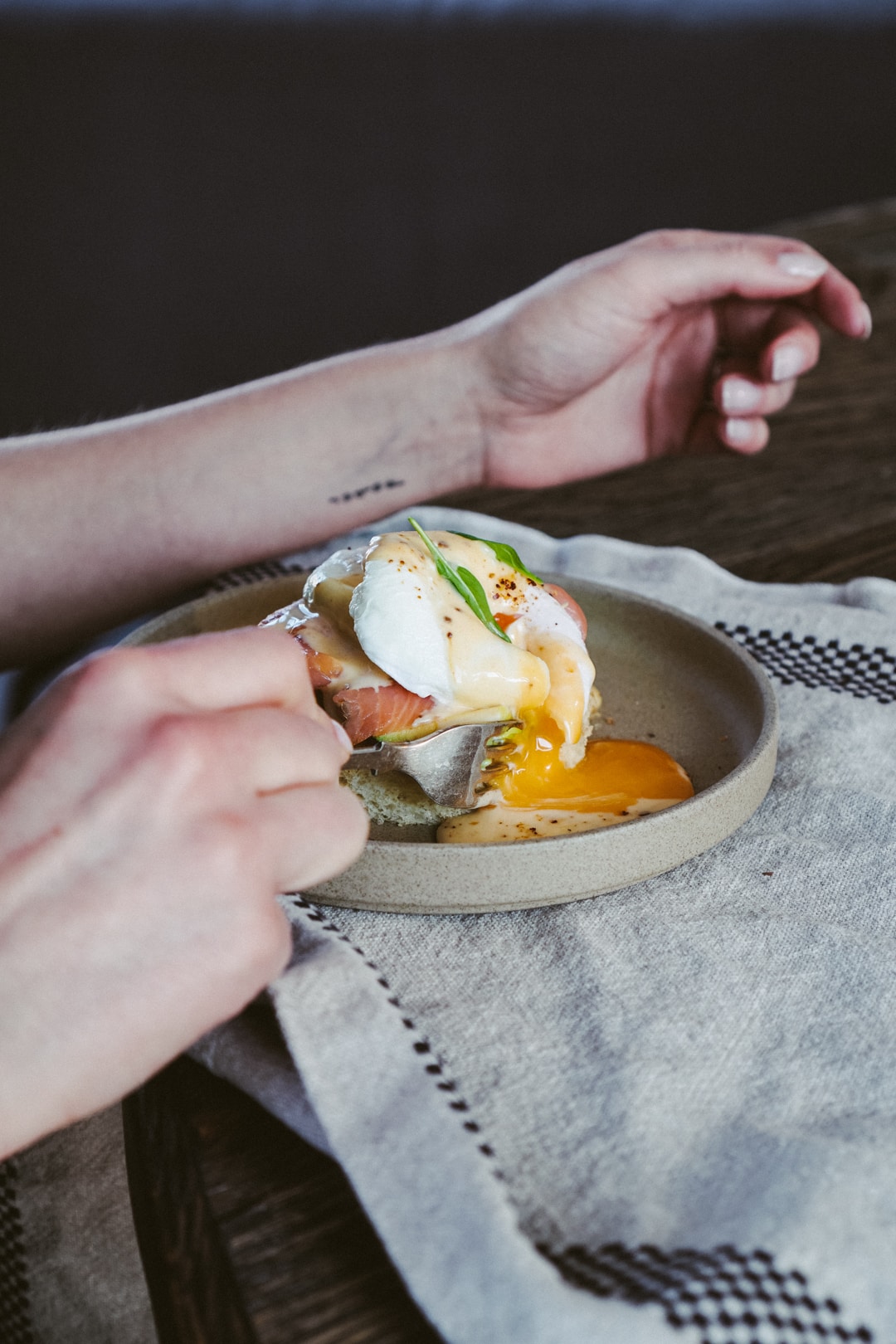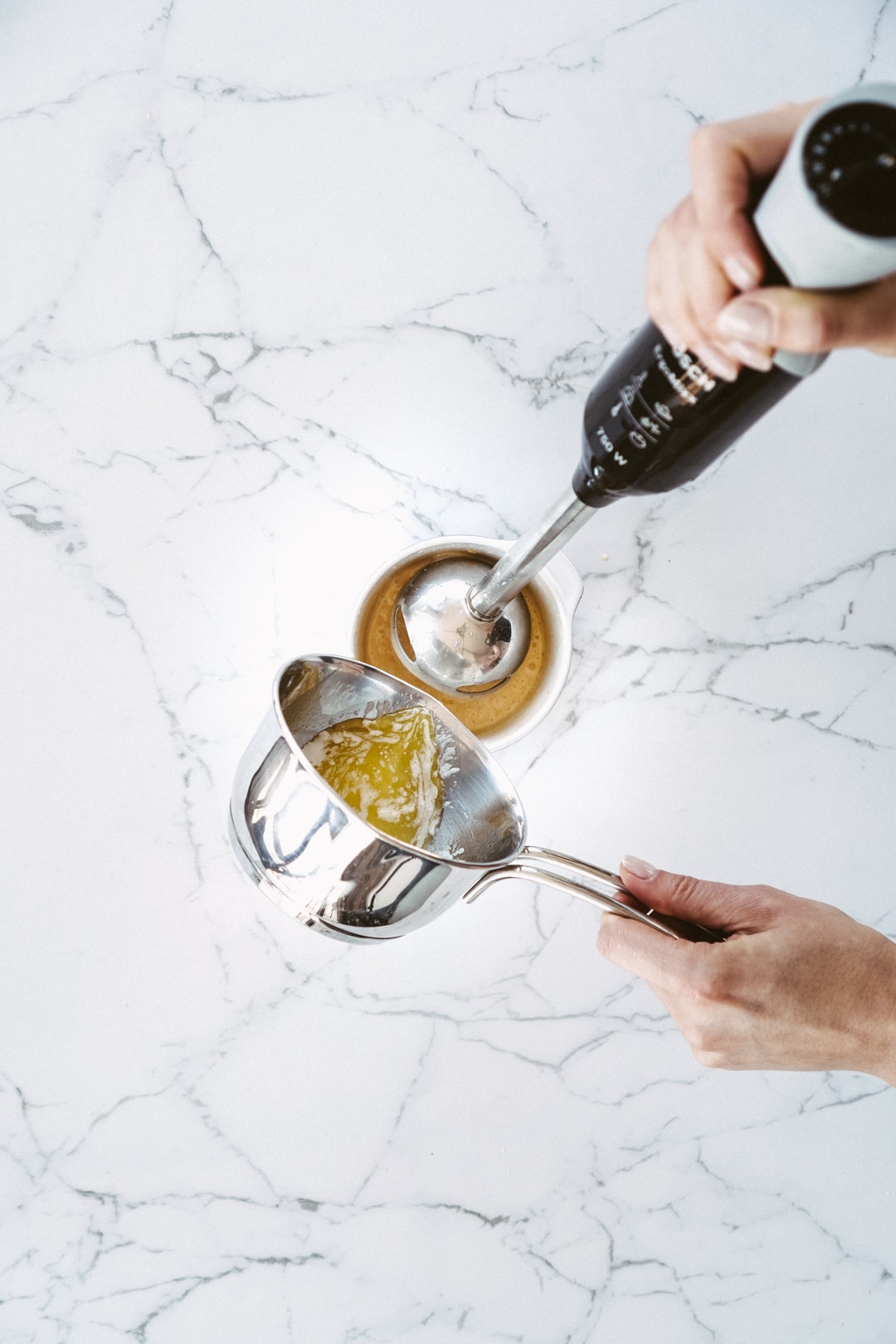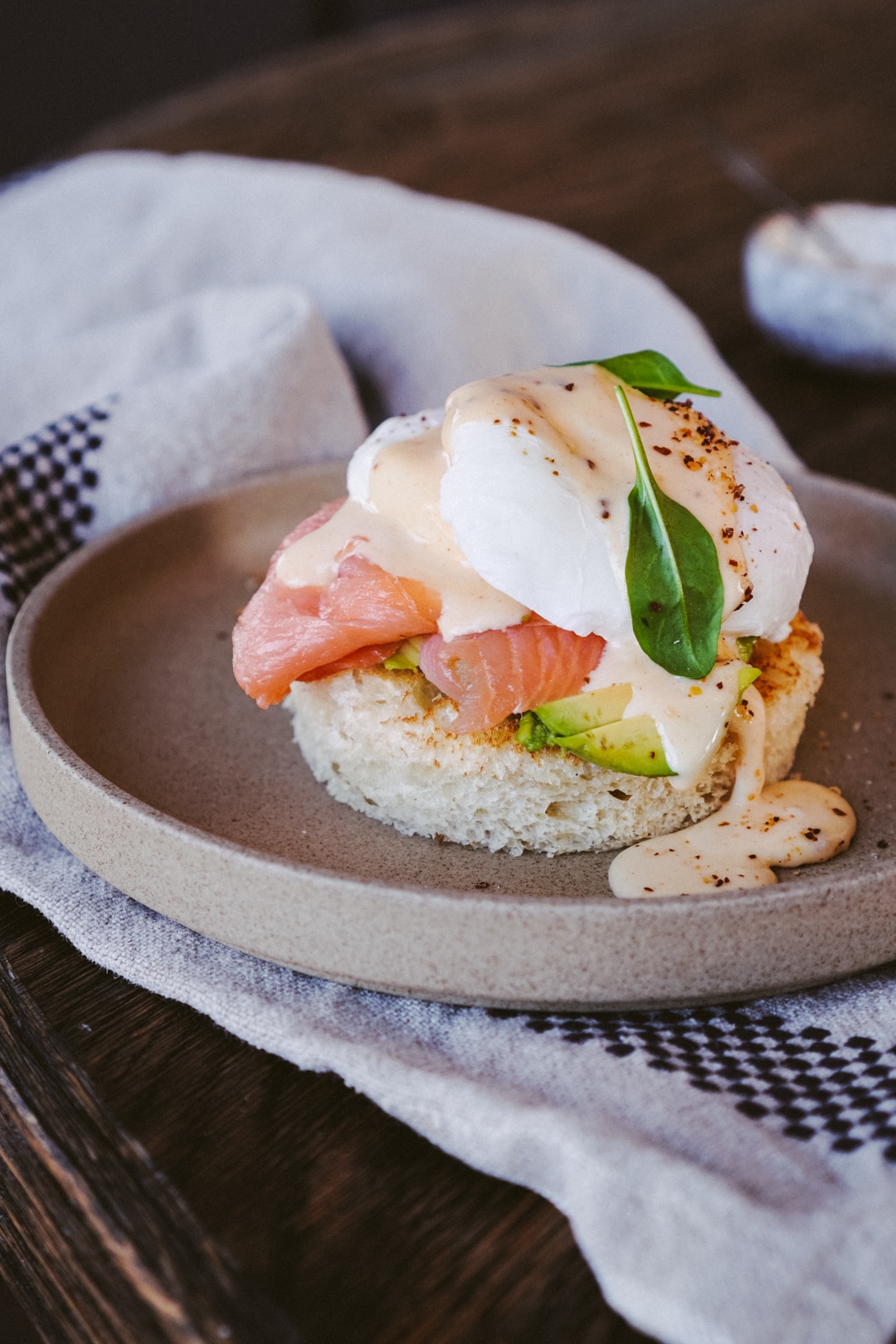 Instructions
Melt butter in a saucepan on low heat. Remove from heat once it has dissolved, do not heat any longer.
Either whisk the yolk with lemon juice and salt until evenly incorporated and foamy, or blend these three ingredients together using a hand blender. One thing here is crucial – you must to use a dish that fits the head of the blender just neatly, do not use any large or wide bowls.
With the blender running, pour in butter in a slow and steady stream. Continue until all of the butter is incorporated. Use the sauce immediately or reheat it: place it in a double-boiler on very low heat, heat the sauce whisking gently as it warms up again. If you notice it start to separate, add an ice cube and stir – it might save the sauce.
Break in one egg into a small bowl, without breaking its yolk. Heat some water in a small saucepan – just enough to cover one egg. you can now add a touch of acid (vinegar or lemon juice) to help the egg stay intact when boiling. Bring the water to a boil, then reduce heat so that the water only barely simmers (very small bubbles will be visible). Using the handle of a spatula or other utensil, swirl water so that it makes a well. Carefully pour the egg into a well and let it simmer for 2-3 minutes or until the egg white becomes firm, but the yolk stays liquid. Carefully remove the egg using a large slotted spoon and repeat with the remaining eggs.
Toast the brioche bun or bread of your choice – you can use cookie cutters to make a circle shaped toast. Top with avocado, smoked salmon, poached eggs and hollandaise sauce. Garnish with greens and chilli salt. Serve immediately.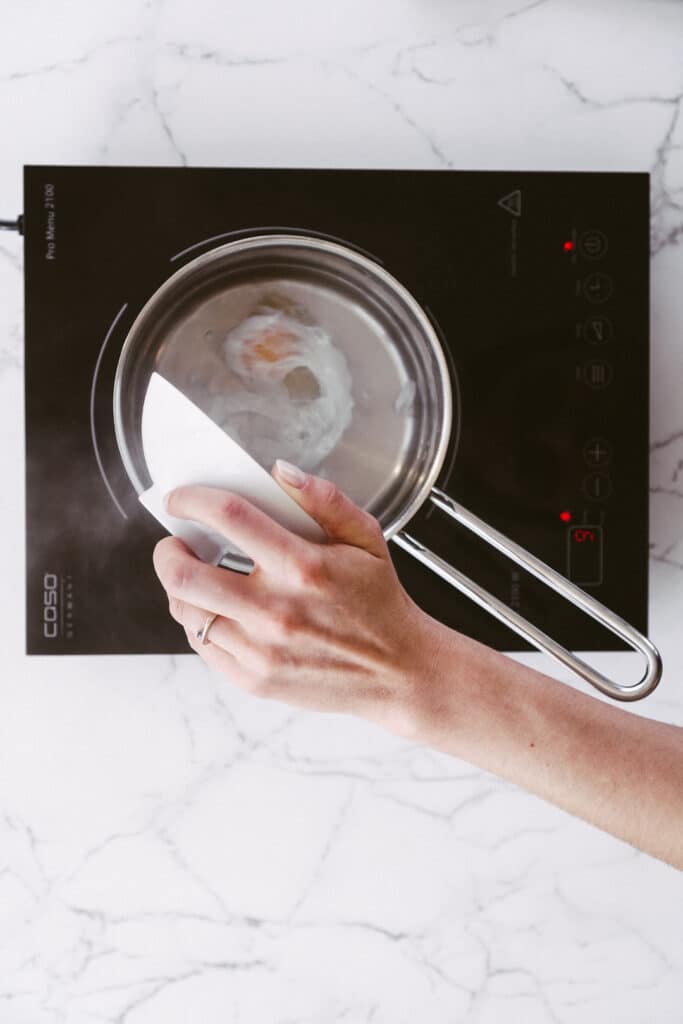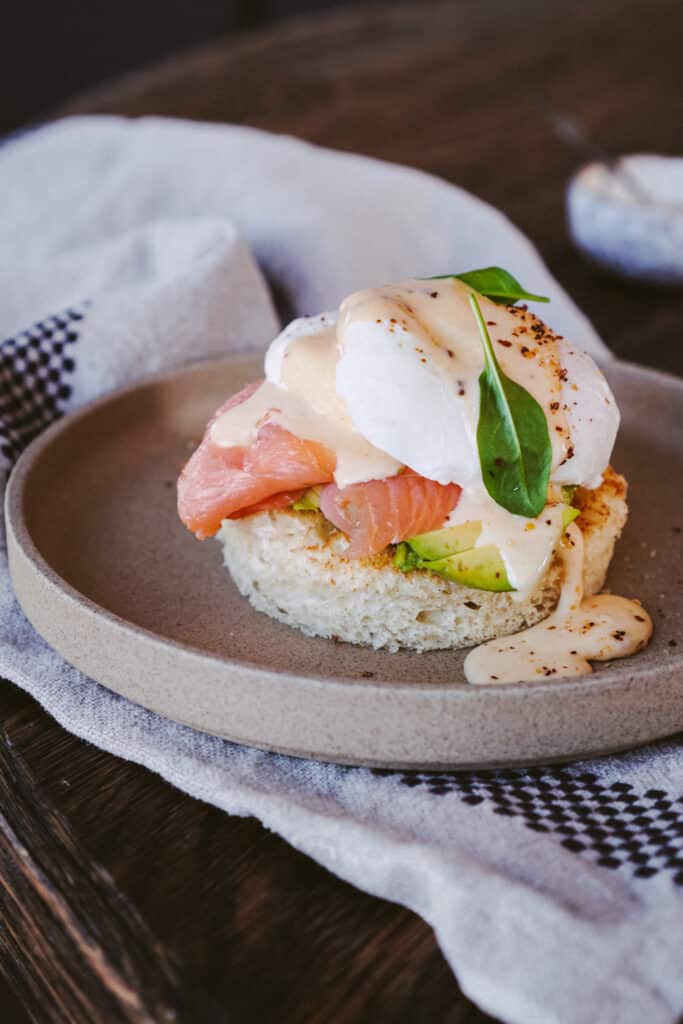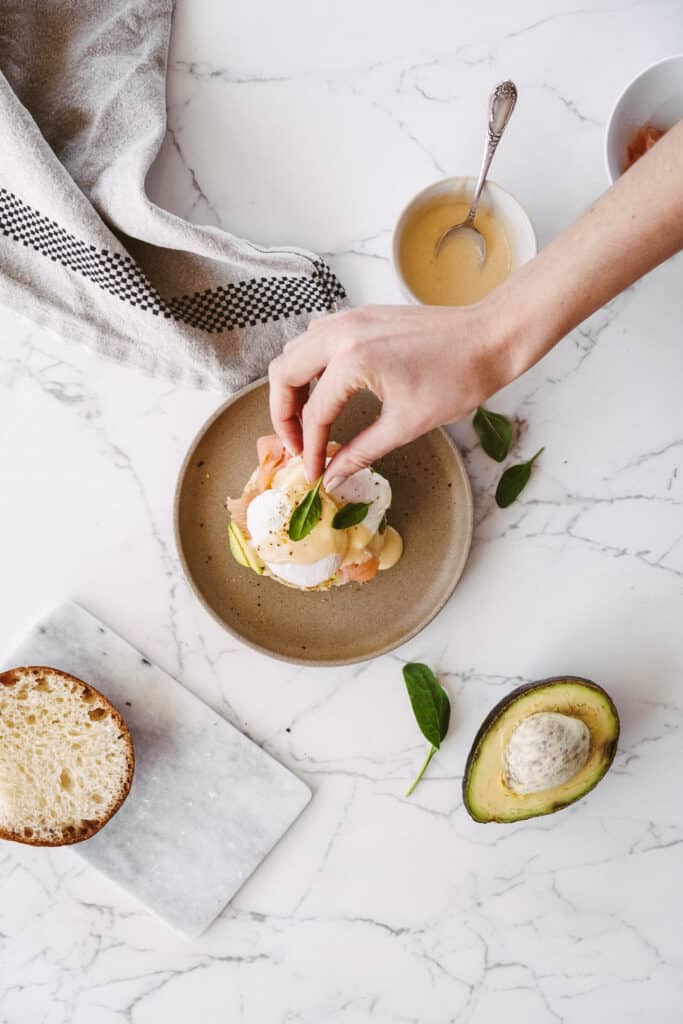 Ingredients
For the blender hollandaise
1 egg yolk
46 g of butter
1/4 tsp of sea salt
1 tsp of lemon juice
a pinch of cayenne (optional
1/2-1 tsp of maple syrup
For the eggs
4 medium eggs
1/2 tsp of apple cider vinegar
avocado
smoked salmon
brioche buns or croissants or bread of your choice
greens (spinach, rocket, micro greens) and herbs (spring onions, chives) to garnish
sea salt and chilli flakes to garnish