Asparagus And Romaine With Lemon Tahini
Beautiful green salad with a hint of depth and earthiness from toasted almonds and tahini dressing . Easy to make, perfect for sharing and packed with nutrients.
To make sure you get the best of all of the ingredients, follow these tips while preparing this asparagus and romaine salad. Cook asparagus for a short time only to keep it crunchy. Make sure the knife you use for chopping herbs is extra sharp – this way the herbs won't loose any of their precious juices because they will get sliced instead of bruised. To make chopping herbs easy, stack large herb leaves one on top of the other, roll into a cylinder shape and slice in a powerful motion.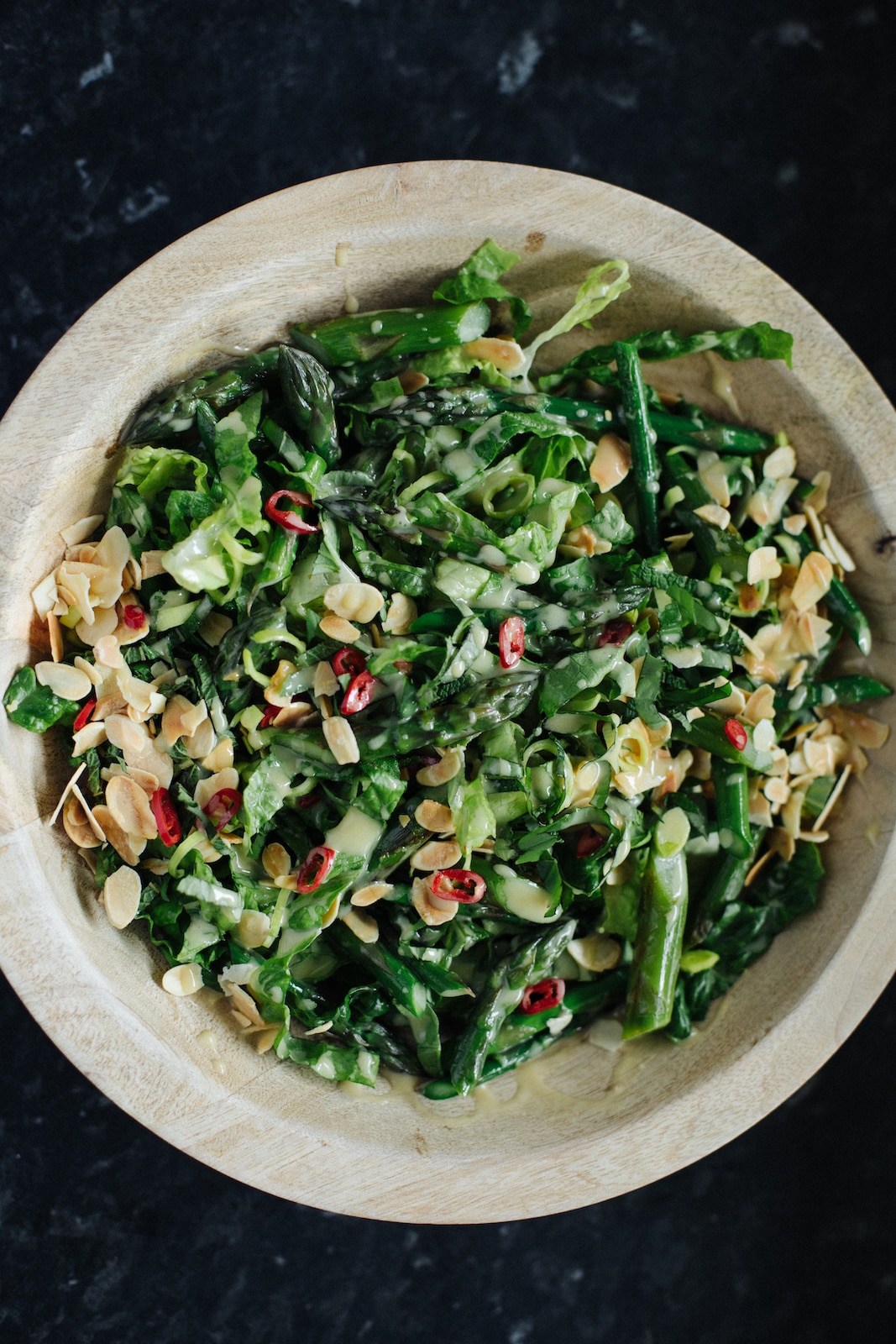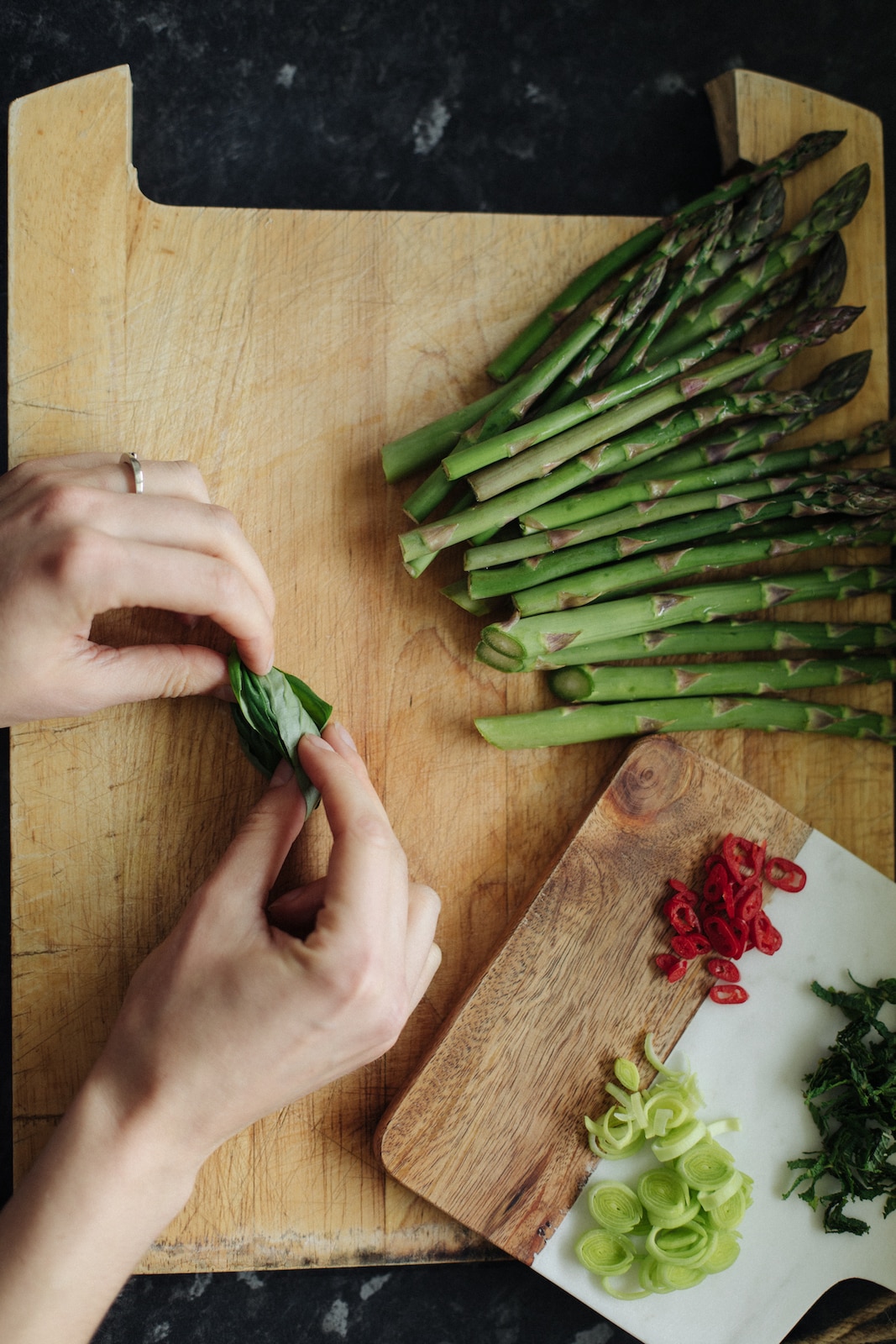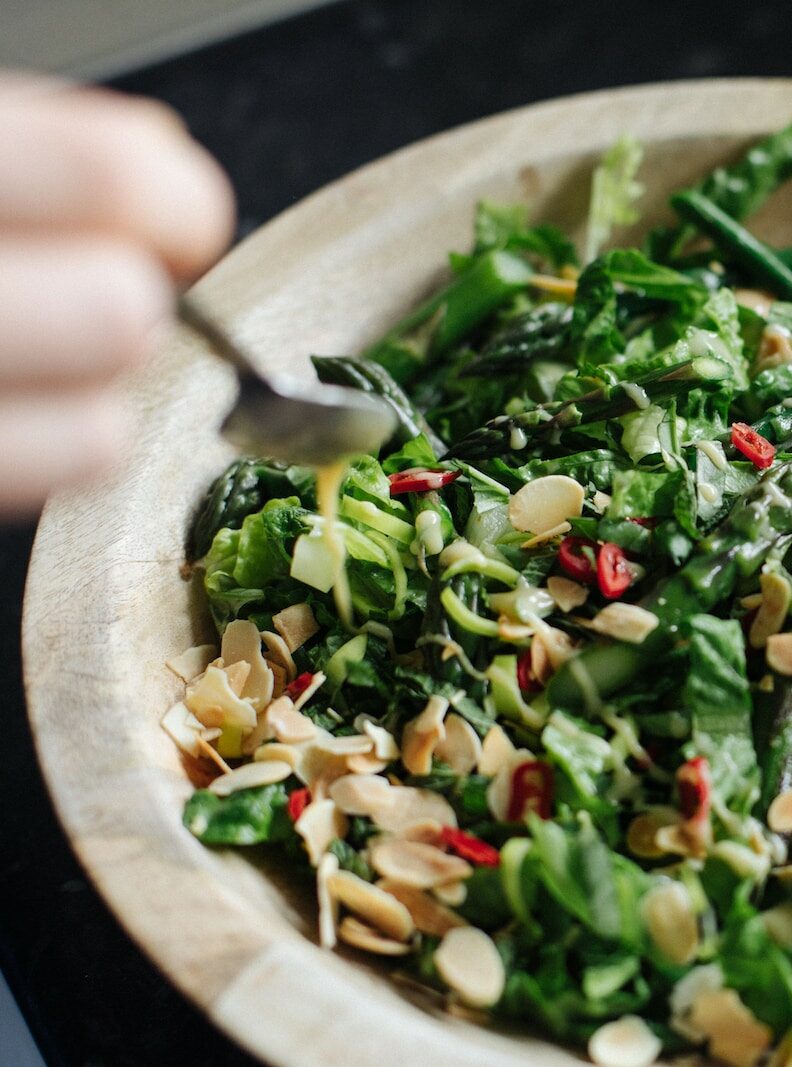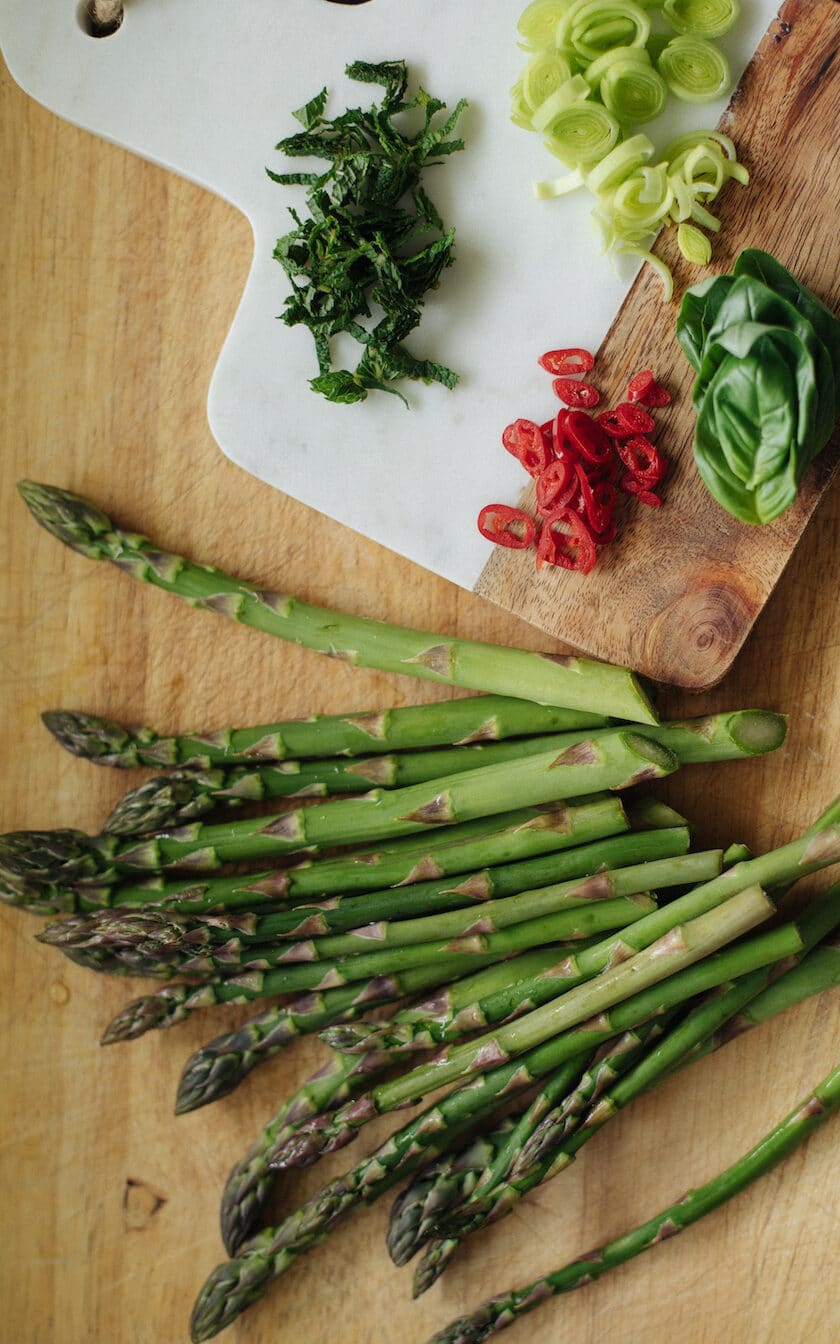 Instructions
Trim the woody ends of asparagus & place in a pot filled with boiling water for only 1-1,5 minutes. Remove from boiling water and place under very cold running water to cool. Cold water stops the asparagus from cooking further as well as preserves the bright green colour of the vegetable.
Heat a dash of olive oil in a pan, add asparagus and pan fry for a minute then remove from the pan, let cool and cut into smaller pieces.
Wash romaine leaves and dry thoroughly. Place the leaves one on top of the other, roll in a cylinder shape and cut into thin slices. Do the same thing with fresh basil and mint leaves. Slice leeks and hot pepper.
Mix all of the dressing ingredients in a glass till you reach a smooth consistency.
Place chopped romaine in a salad bowl or serving plate followed by asparagus, chopped herbs, leeks, hot pepper, toasted almonds and drizzle the tahini dressing on top.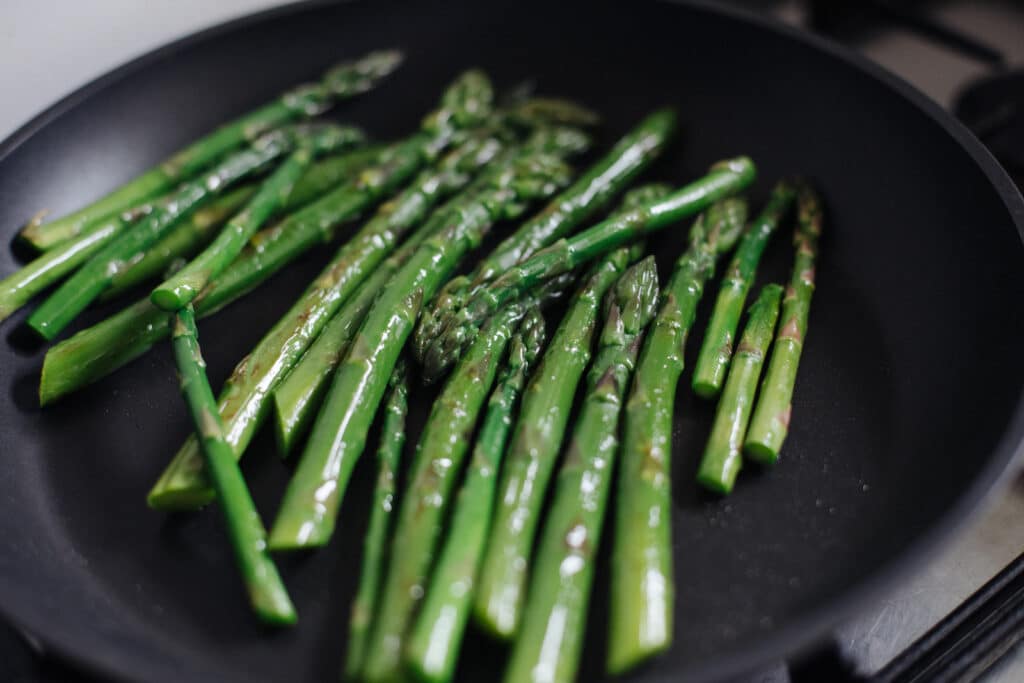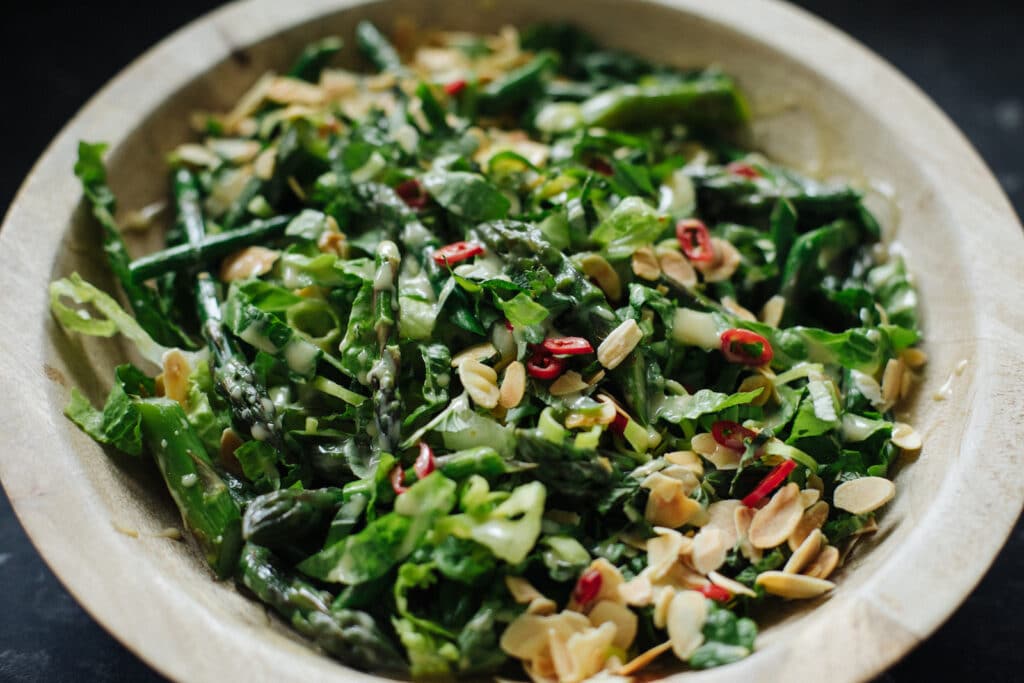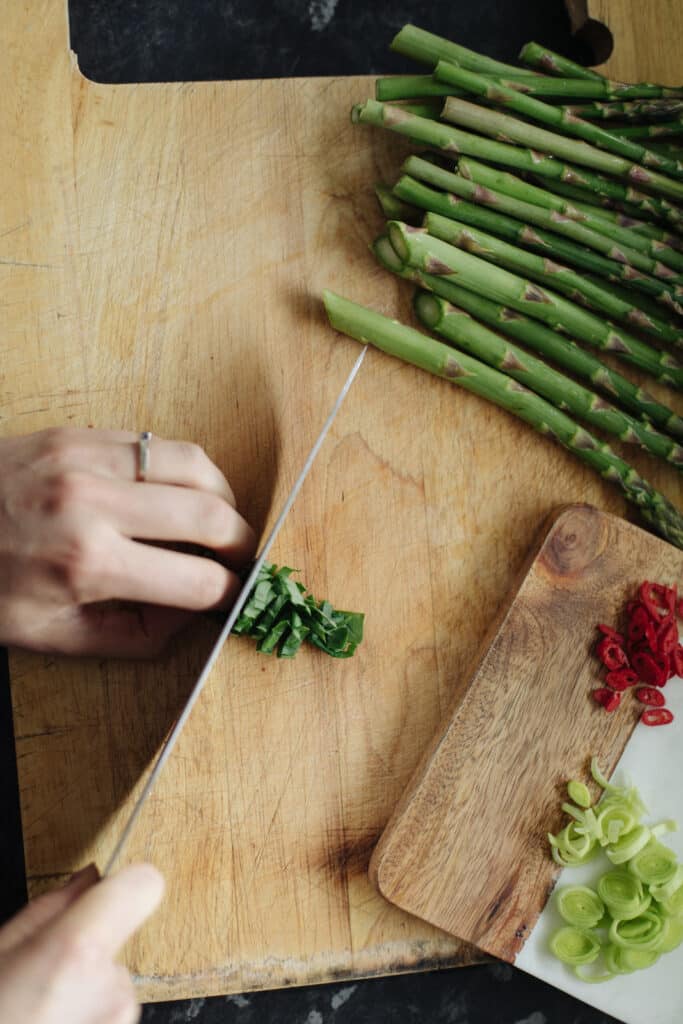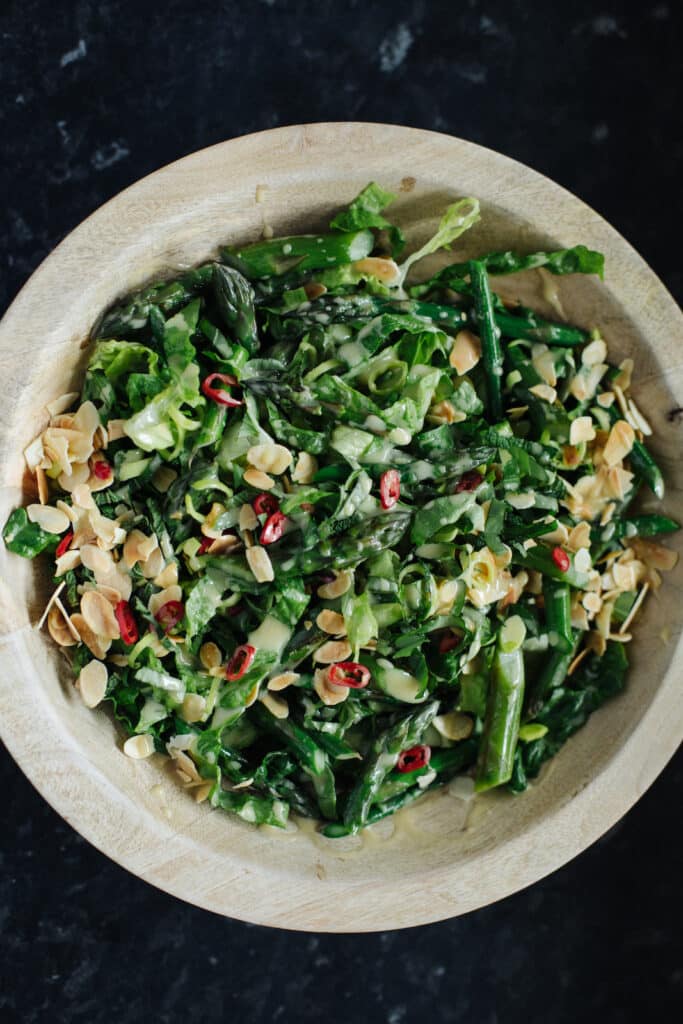 Ingredients
For the salad
20 fresh asparagus stalks
Romaine lettuce, about 8 large leaves
Fresh leeks, about 2 tablespoons chopped
10-12 large leaves of fresh mint
10-12 large leaves of fresh basil
2 tbsp of toasted almond flakes
Fresh chilli pepper (1-2 tsp thinly sliced)
For the tahini dressing
2 tsp of light tahini
1 ½ tsp of honey or maple syrup
2 tsp of lemon or lime juice
1 tsp of olive oil
1-2 tsp of water
salt to taste