Veggie Bean And Potato Chilli
Easy and quick veggie chilli recipe which can also be served vegan. I made it from what I found in the cupboards that day including canned goods like beans and other basic ingredients. I added bright flavoured spices to make it scrumptious and dressed it up with yoghurt and cheese that go so well with a spicy chilli. This recipe is great because you'll either have everything at home or easily find it in any store. But before you rush out shopping, check your kitchen cupboards for substitutions of similar ingredients. Black beans instead of black and kidney or vice versa. Use tomato purée or whole peeled tomatoes if you don't have the chopped kind at home. This chilli will taste wonderful in any case.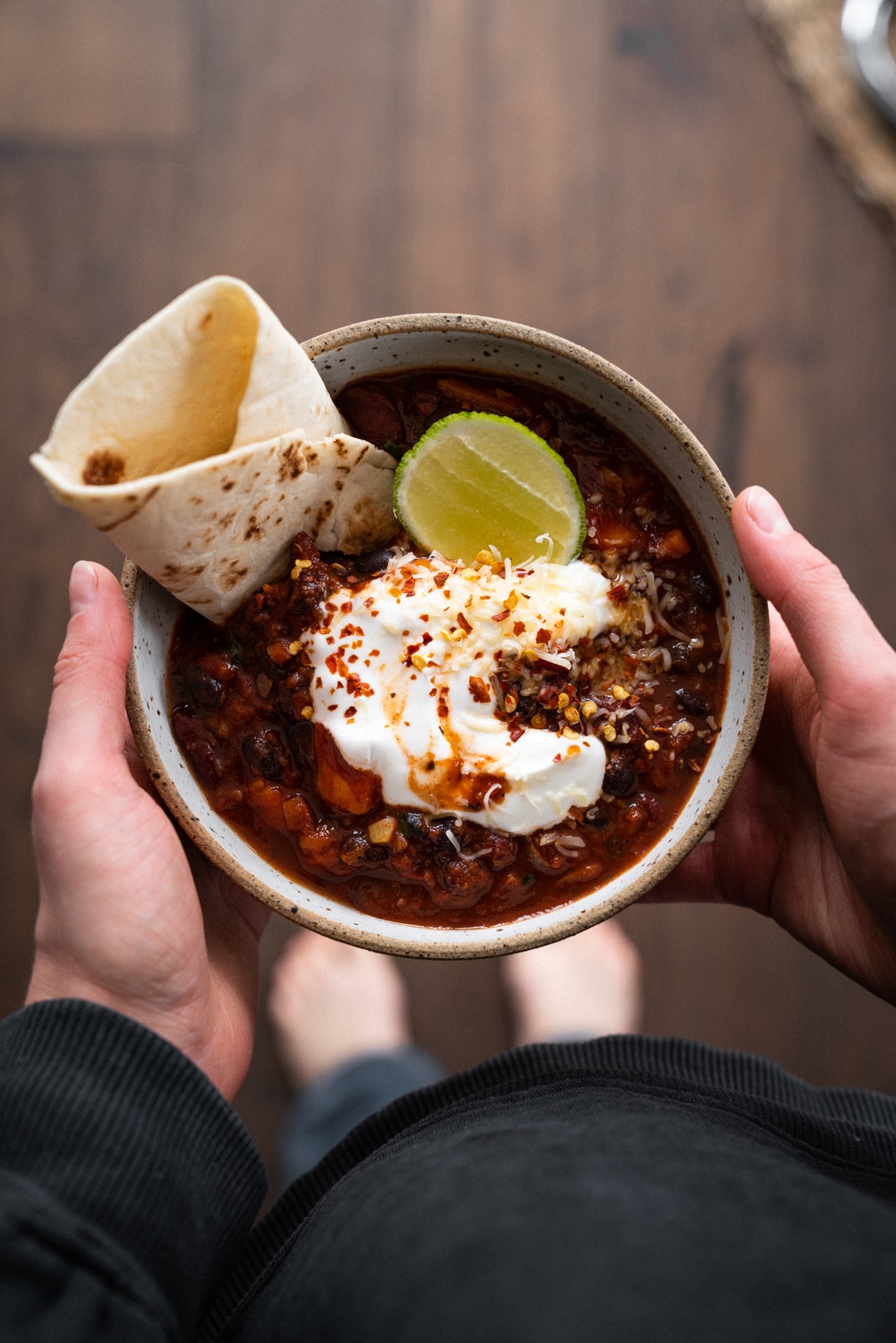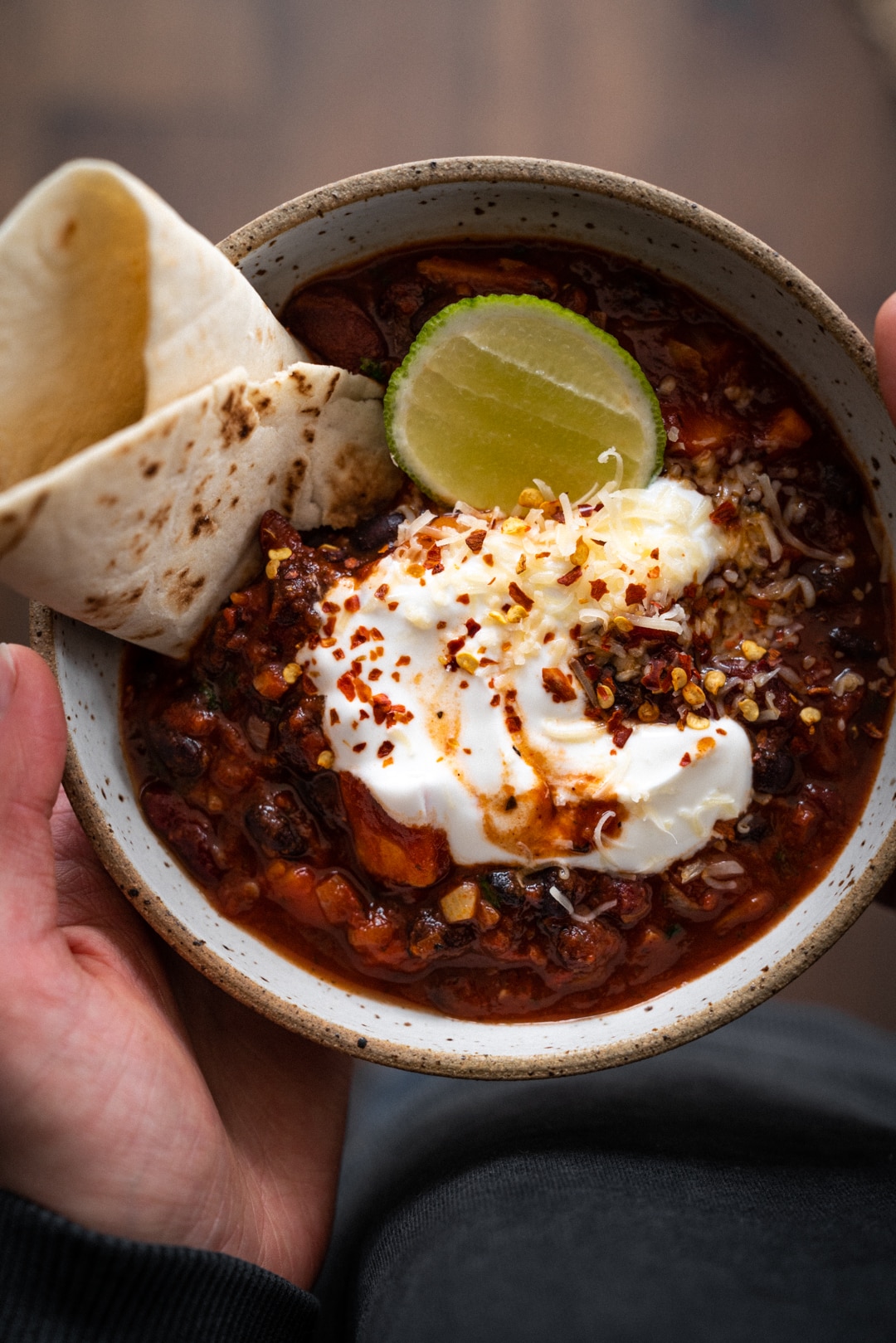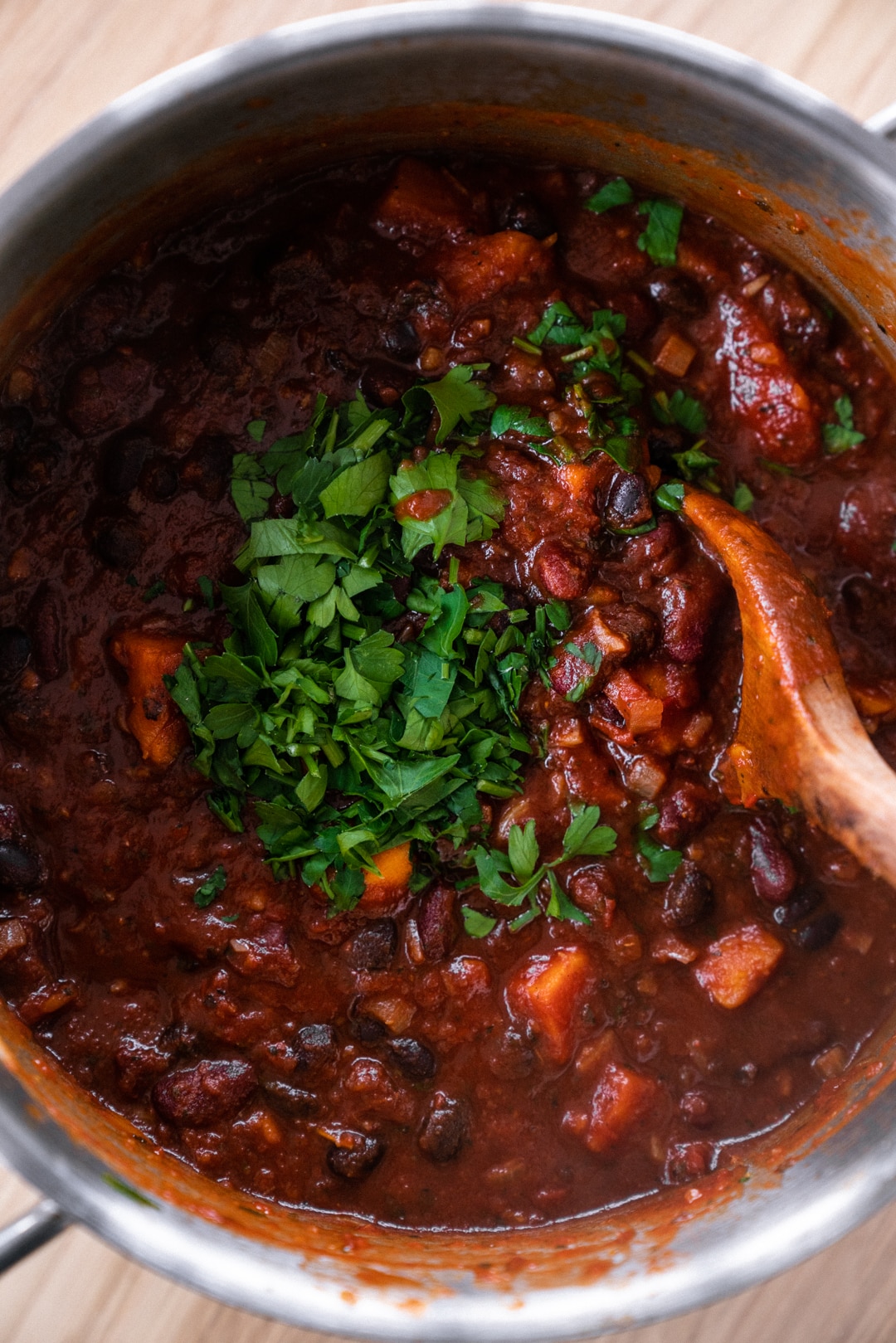 Instructions
Heat a medium pot. Add oil, chopped shallot and garlic. Sauté until translucent.
Add peeled and cubed sweet potatoes, sauté until slightly caramelised.
Add beans, chopped tomatoes, tomato paste, spices, a few pinches of salt. Mix well, cover.
Bring to a boil then reduce heat and simmer on low about 30 mins, stir occasionally.
Add water/broth to adjust consistency. If needed, add salt to taste. Mix in chopped parsley.
Julie's Tip
This veggie chilli can be frozen for nutritious ready-to-eat meals during busy days. Reheat on low heat in a pot covered with a lid.
Serve with a dollop of yoghurt or sour cream and cheese.
For vegan version substitute with plant based yoghurt and cheese or skip these altogether and use nutritional yeast with avocado instead.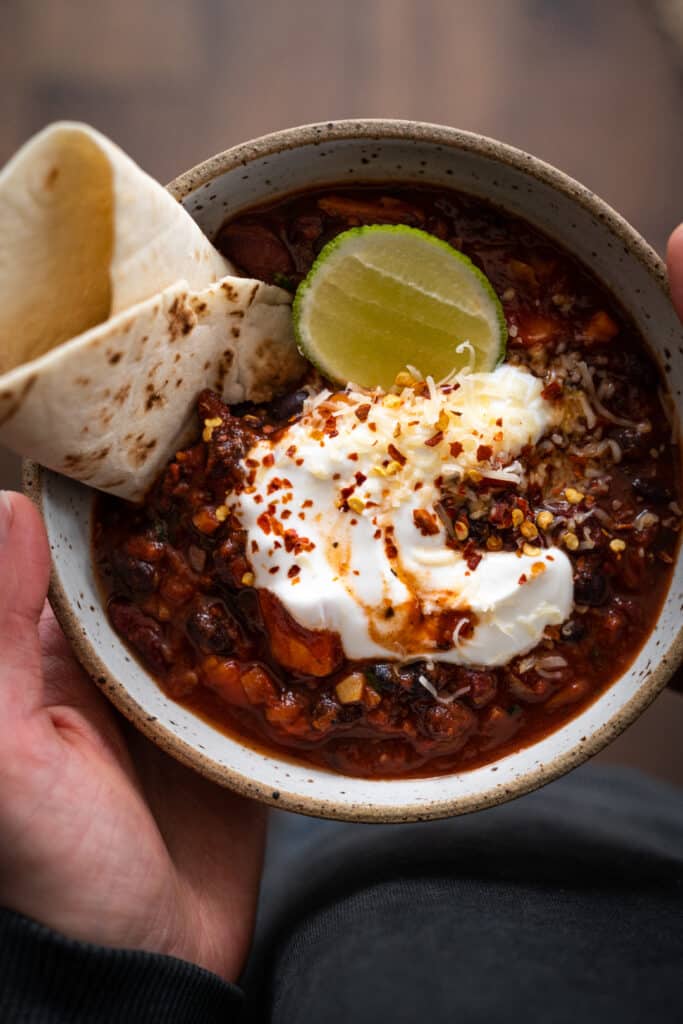 Ingredients
For the chilli⁠ ⁠
2 sweet potatoes⁠
1 can/pack or 230g boiled⁠ black beans
1 can/pack of red kidney chilli beans or simply kidney beans (in this case add +2 tbsp tomato paste, +1 tbsp of honey or maple syrup, increase the amount of chilli powder in the recipe)⁠
1 shallot or onion⁠
8 garlic cloves⁠
2 tbsp tomato paste⁠
1 can/pack of canned chopped tomatoes or purée
1,5 tsp smoked paprika⁠
1 tsp paprika⁠
0,25-0,5 tsp of chilli powder⁠
1 tsp of dried herbs of your choice⁠
sea salt to taste⁠
handful of fresh parsley⁠
3 tbsp of extra virgin olive oil⁠
1 cup of water or broth (in case you need to adjust the consistency)⁠
To serve
natural yoghurt⁠ or a plant based substitute
melty cheese (cheddar or similar)⁠ or a plant based substitute
lime⁠
fresh chilli or chilli flakes⁠
toasted wheat tortillas⁠ or flatbreads, optional