Homemade Lemonade
Every home should have a fun drink recipe just as they do with meals. This fizzy homemade lemonade is perfect all year round because of its flavour profile and the fact that you can serve it only slightly chilled during the cold months or ice-cold and ice-packed in the summer.
Homemade Lemonade Checklist
Quality ingredients. Better quality means better flavour and just as with food, the same rule applies to drinks. Sparkling water is just as important as any other ingredients.
Juice not from concentrate. This means you'll get more nutrients and vitamins. And better flavour.
Balance. Each juice has different taste and every lime is not equal in size, so instead of strictly following this recipe, trust your senses to adjust it. Taste as you go to make sure that the lemonade is sweet, tangy and spicy enough to your liking.
Ice cubes. Make sure you have enough in the freezer.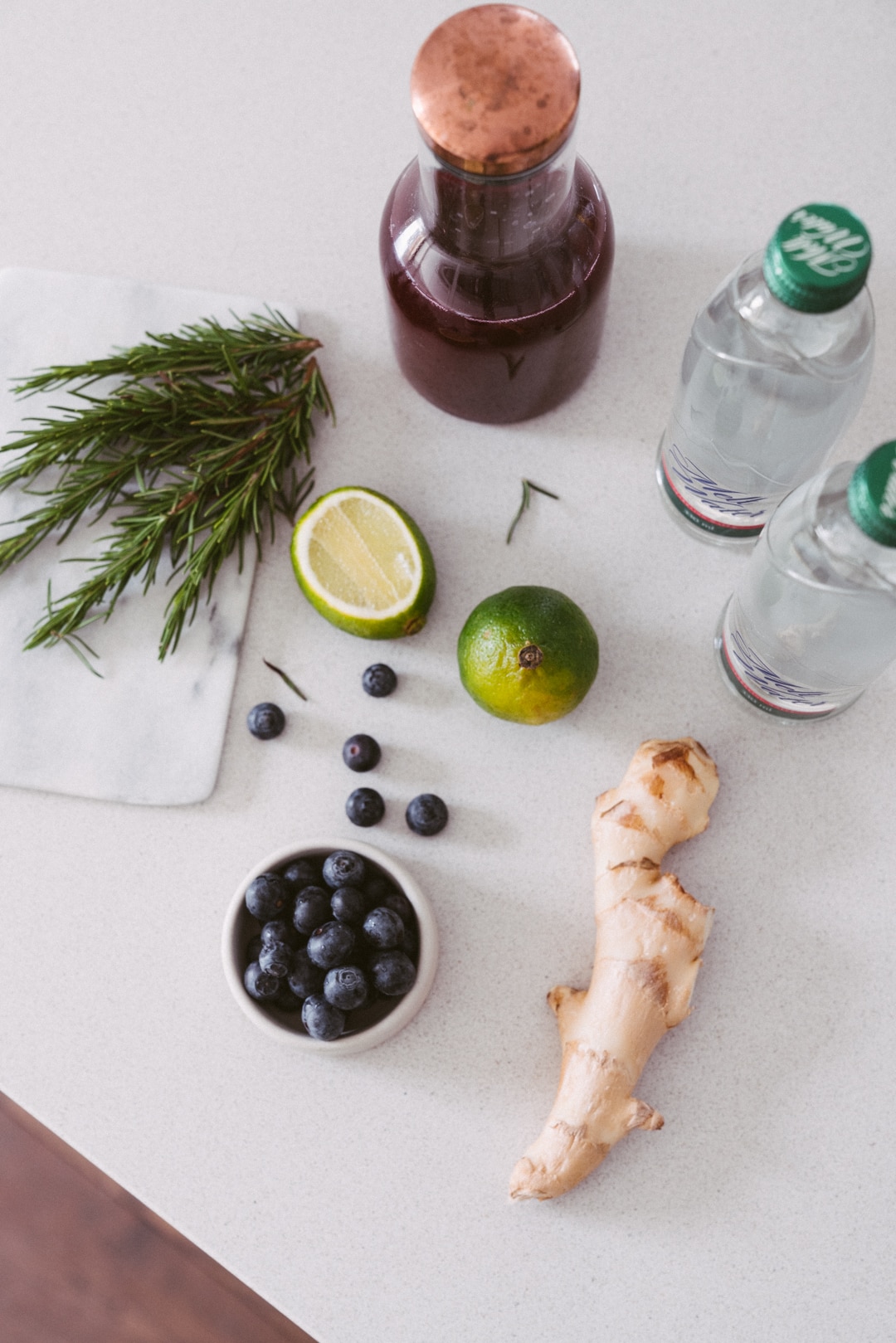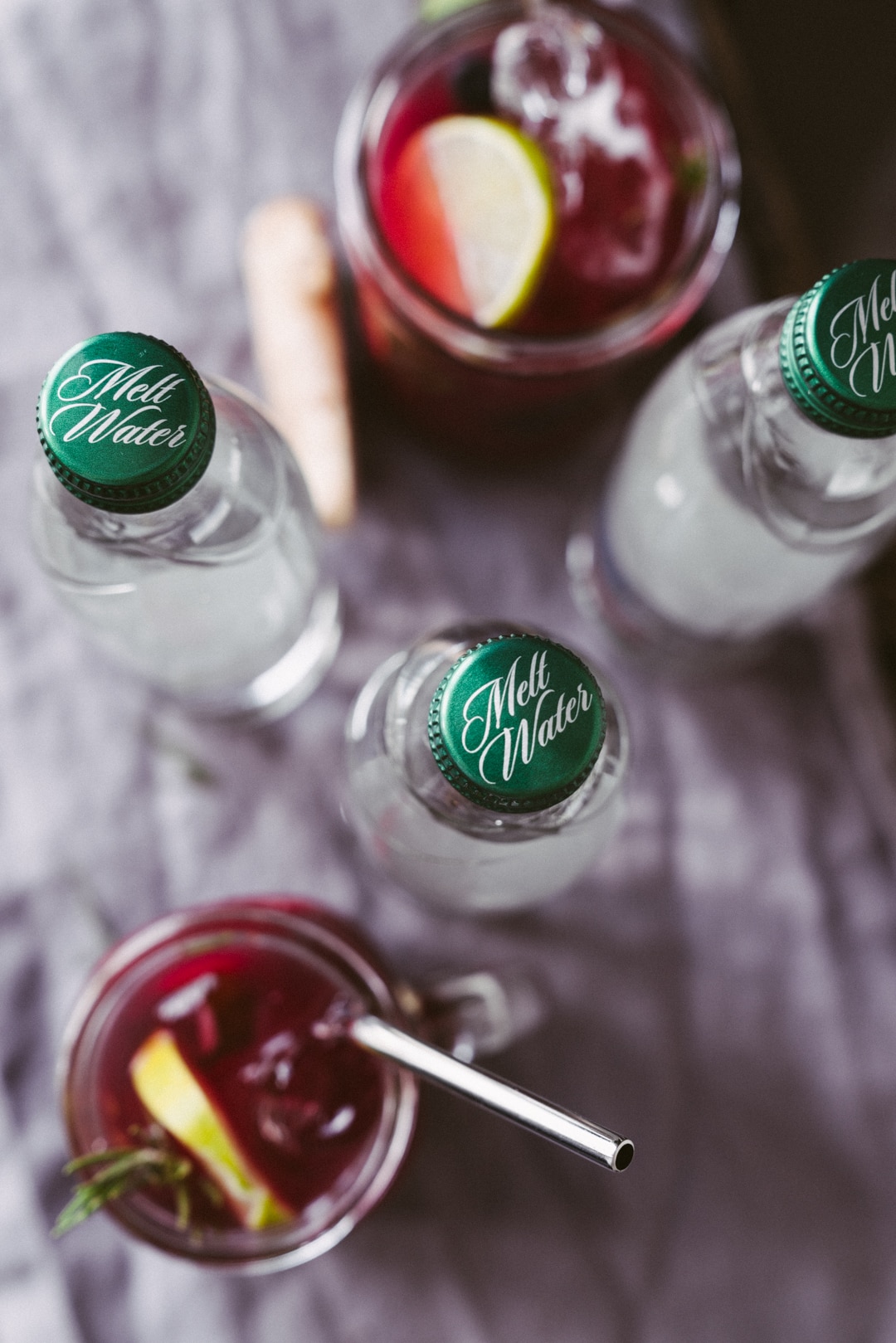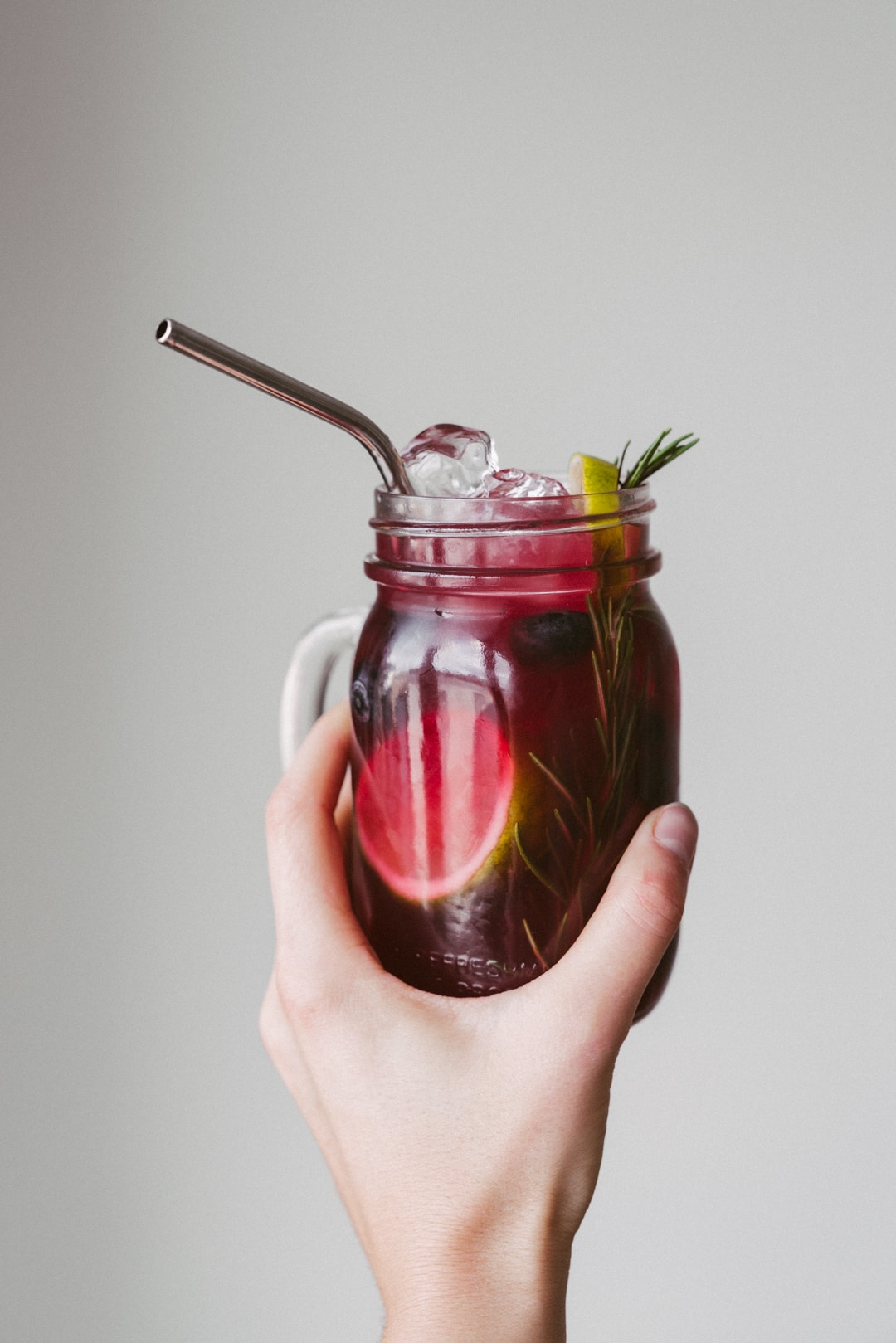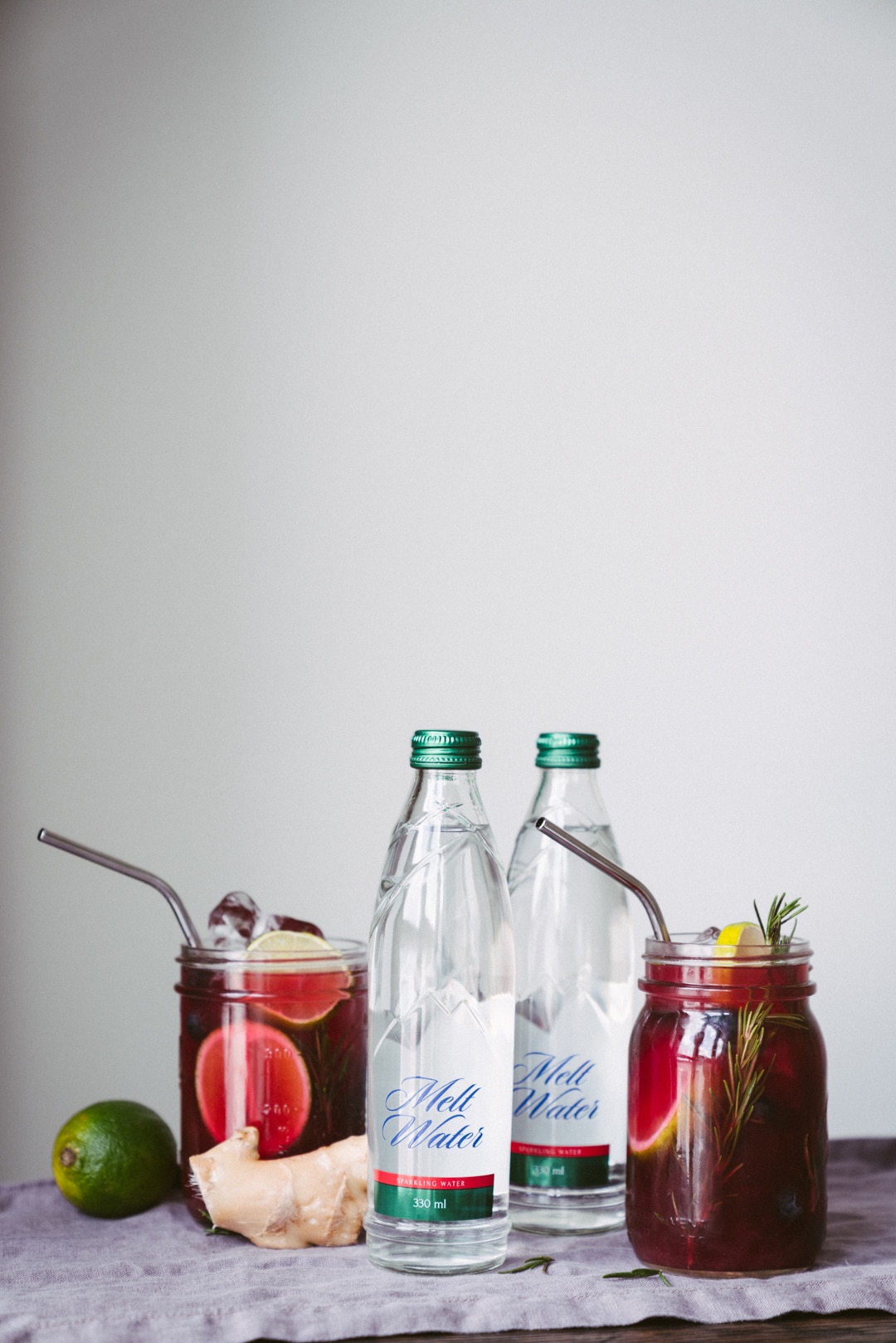 Instructions
Chill water and juice in the fridge for at least two hours. Wash blueberries, limes and rosemary. Juice 1/2 or 1 lime, depending on the sweetness of the berry/fruit juice you're using.
Julie's Tip
Make sure that all of the ingredients are chilled before mixing. This applies whether or not you're using ice for serving.
Mix the sparkling "Melt Water" with berry/fruit juice and lime juice in a large jug.
Press the fresh rosemary using your knife's handle or pestle and mortar to slightly break it and help it release its aroma then add to the jug.
Peel ginger and cut it into smaller pieces. Using a garlic press squeeze its juice into the lemonade jug (you can also use a fine grater to grate it and then squeeze it using your hands).
Lastly, stir in the sweetener. Start with 1 tablespoon, taste and work your way up if needed. Serve in large glasses over ice cubes (optional), garnish with fresh blueberries, rosemary sprigs and lime slices.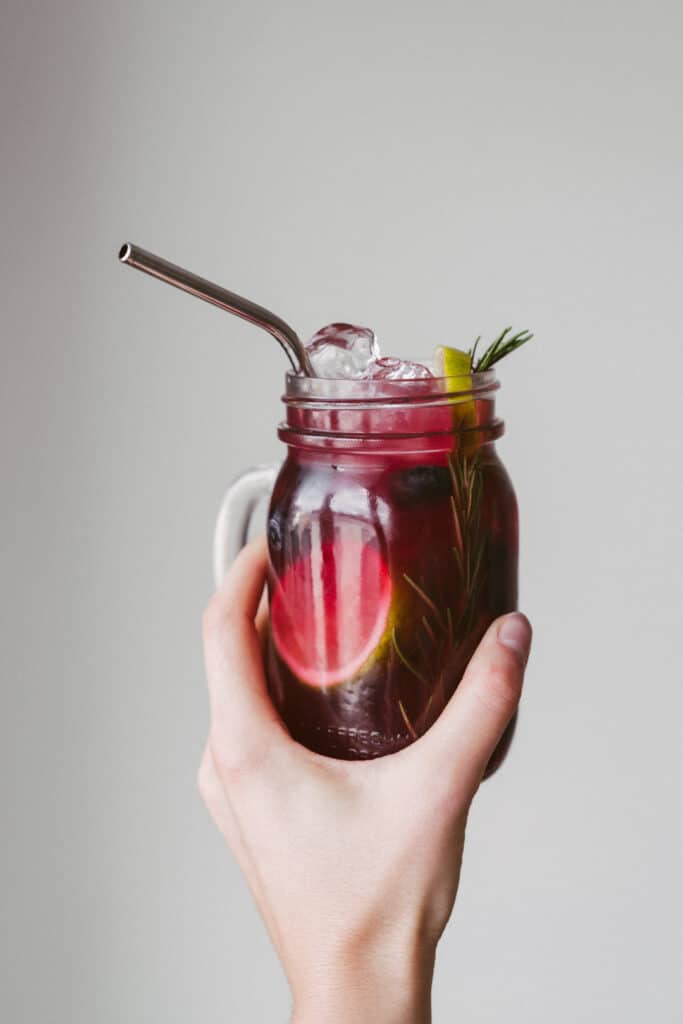 Julie's Tip
Adjust sweetness, tanginess and spiciness to your liking by adding more of either lime juice, sweetener or ginger.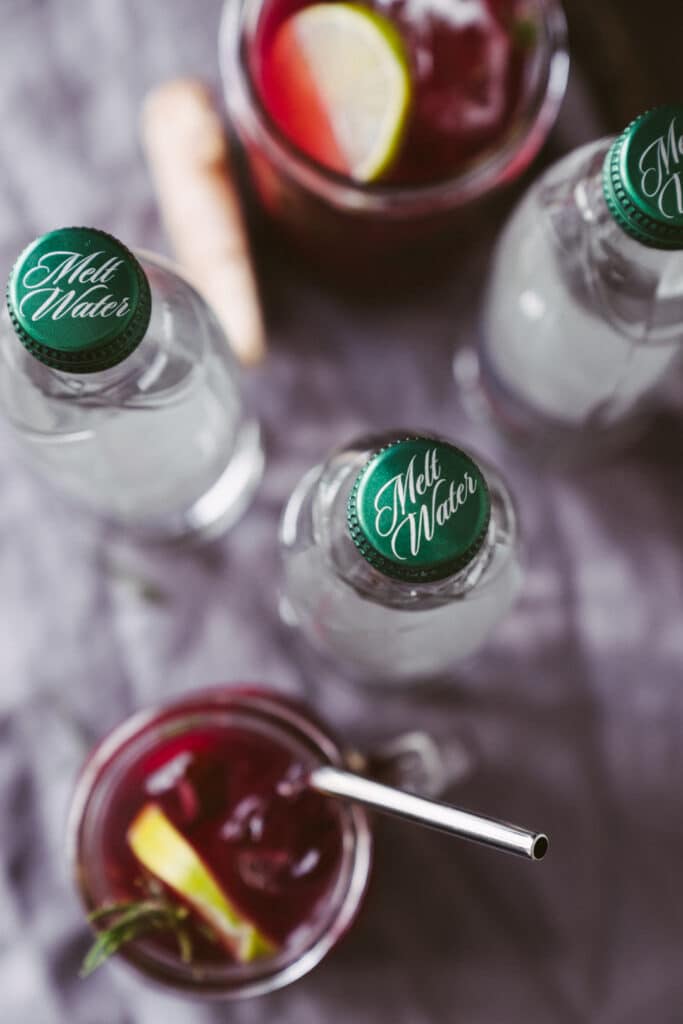 Ingredients
660 ml (2 bottles) of sparkling "Melt Water" mineral water
500 ml of dark berry or fruit juice of your choice (bilberry, blueberry, dark cherry, chokeberry, grape, pomegranate or a mixture of any of these)
2 limes
handful of fresh rosemary sprigs
handful of fresh blueberries
3cm x 3cm chunk of fresh ginger (or more if needed)
1-2 tbsp of honey or maple syrup
ice cubes to serve