I must say I cooked up a storm making this pasta bolognese. What was supposed to be a simple lunch prep turned into a full blown recipe photoshoot. I wanted to make sure I will be able to share it with you as soon as possible. If you asked me why I like it as much, I have a simple answer – this bolognese sauce has a bold flavour with the full sweet-salty-acidic-spicy palette. Silky smooth slow cooked beef that melts in your mouth. It all comes down to a very simple thing – cooking low and slow.
Number one rule for melt-in-your-mouth bolognese
Cooking low and slow is the key. What does that mean? Choosing low temperature and simmering meat sauce for a long enough time for the meat proteins to become completely tender.
Tips and tricks
By all means, do not avoid fat when making Bolognese. Lean meat is less flavourful, so choose a beef mince that is not less than 20% fat.
Sear. Pan or pot fry leeks, onions and minced meat until you see a good amount of browning. That is where a lot of flavour comes from. Be more gentle with garlic as it turns bitter if overcooked.
Use vinegar and/or wine, herbs and spices, salt and sweeteners to create a balanced flavour that is just the right amount of salty, sweet, tangy and spicy.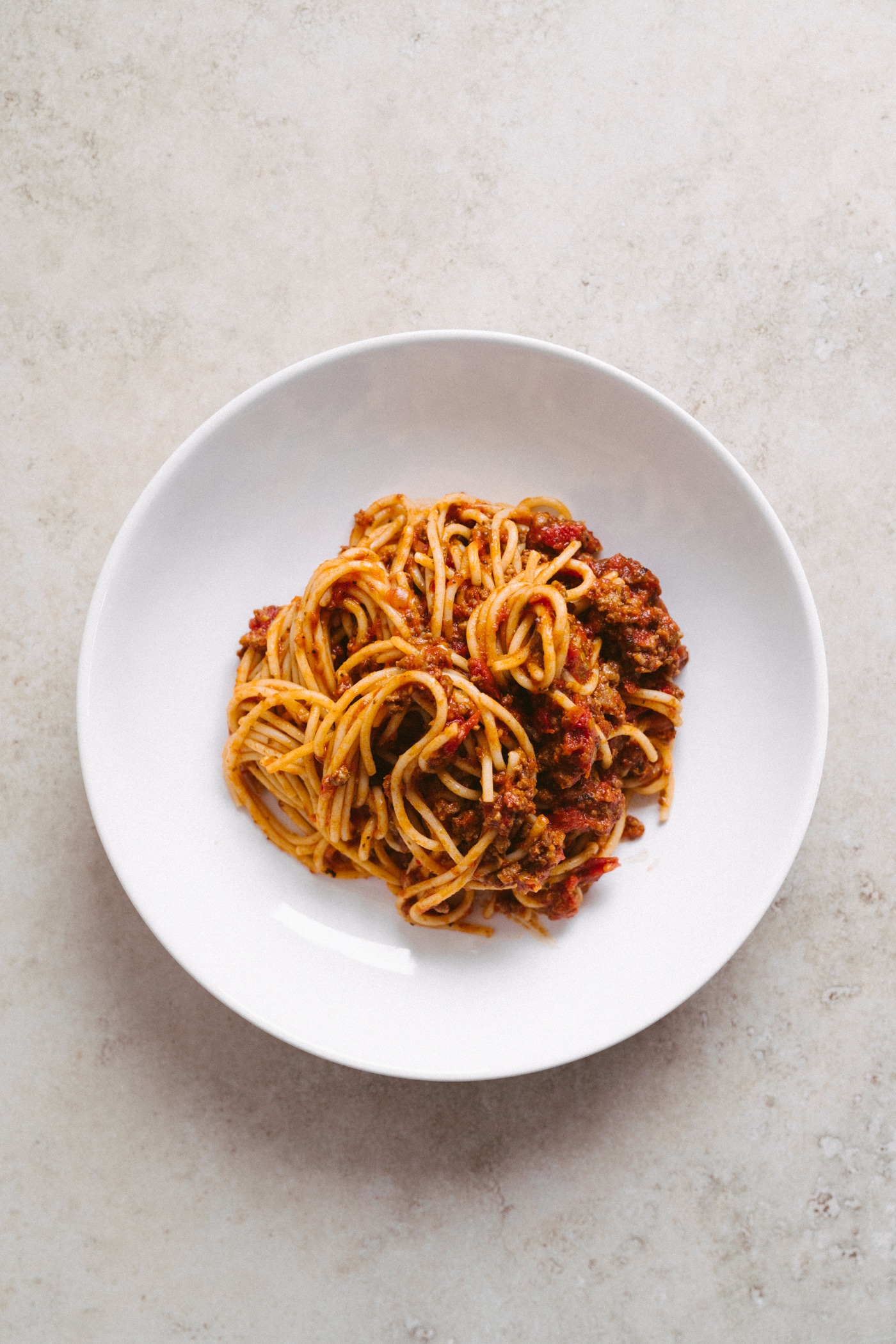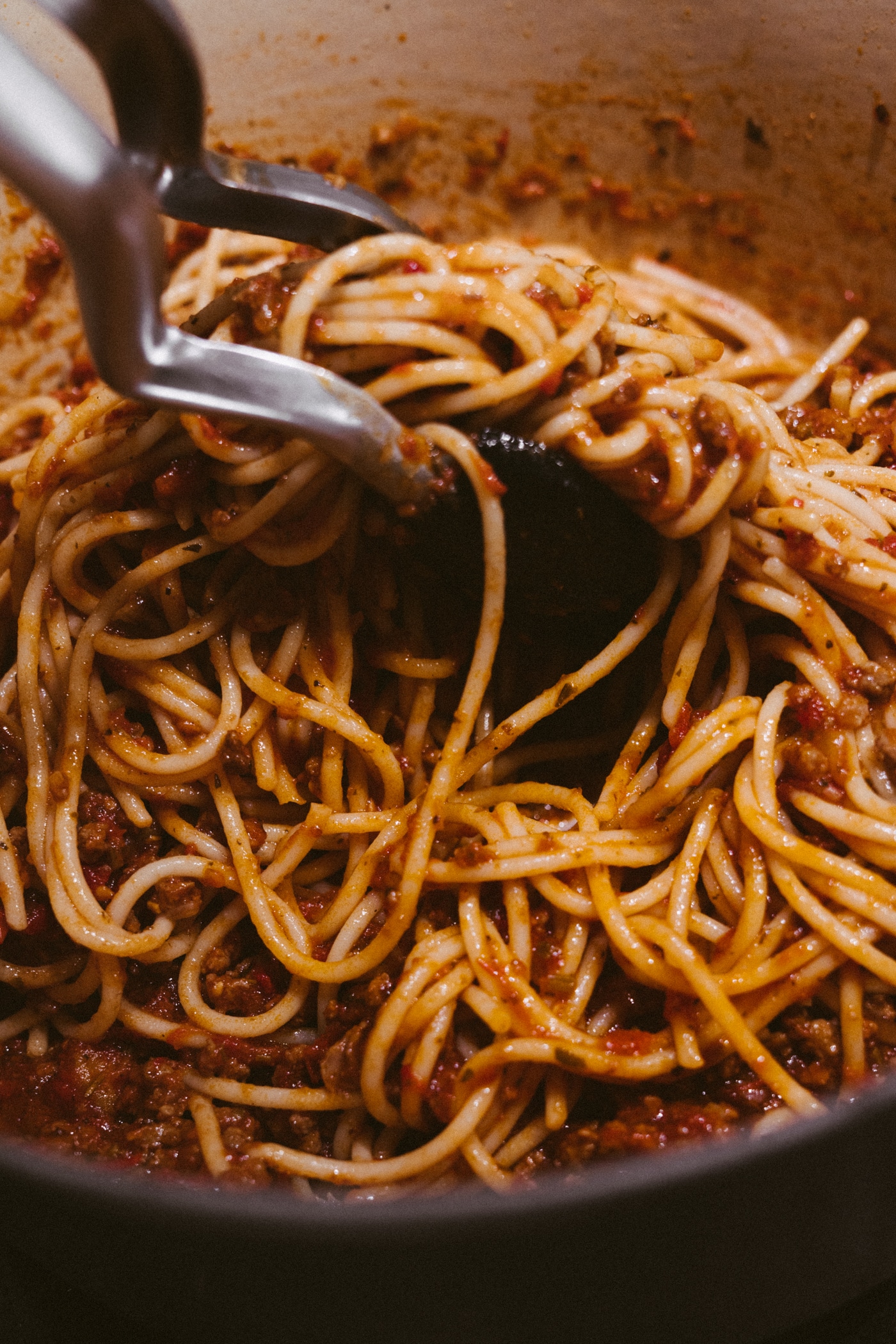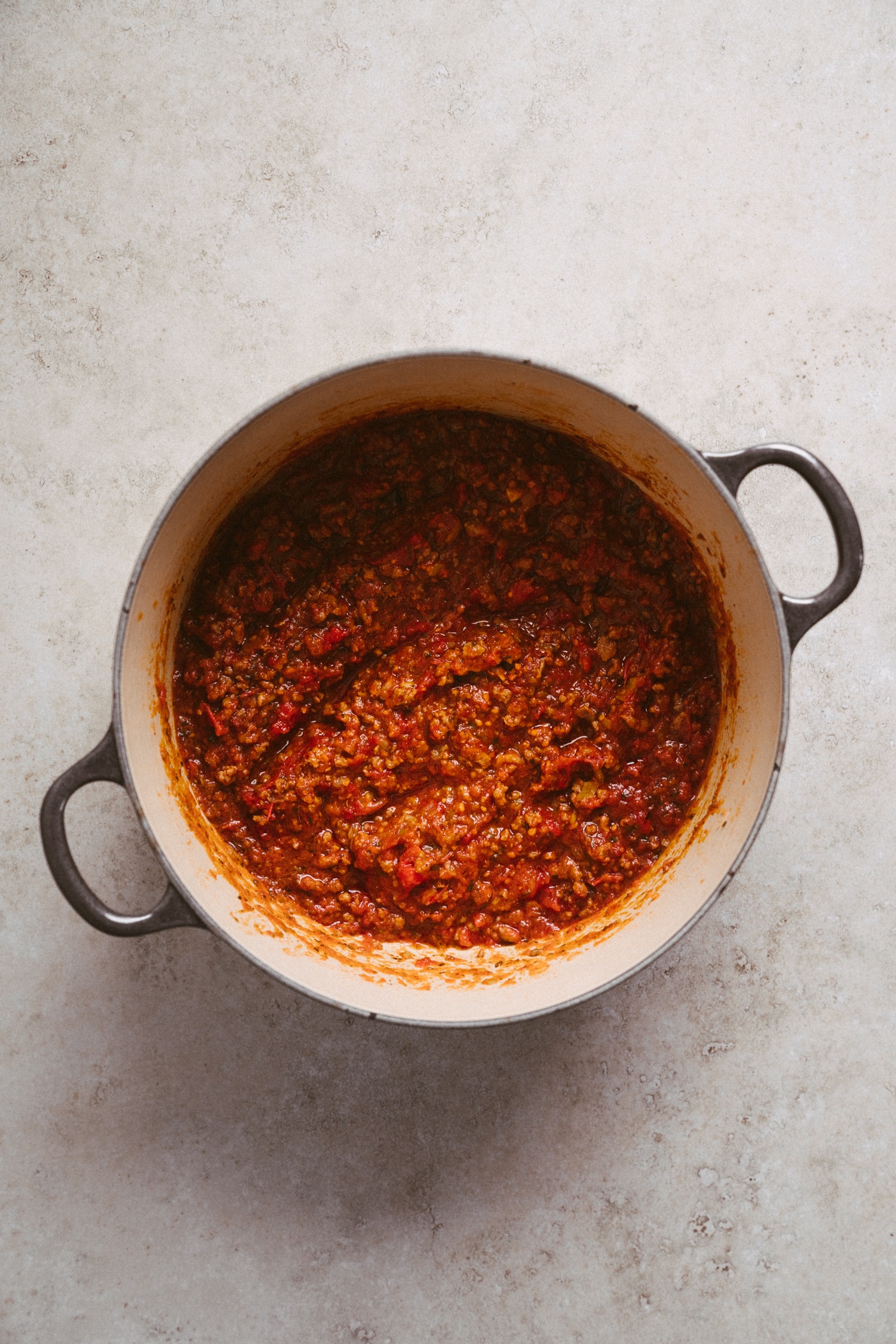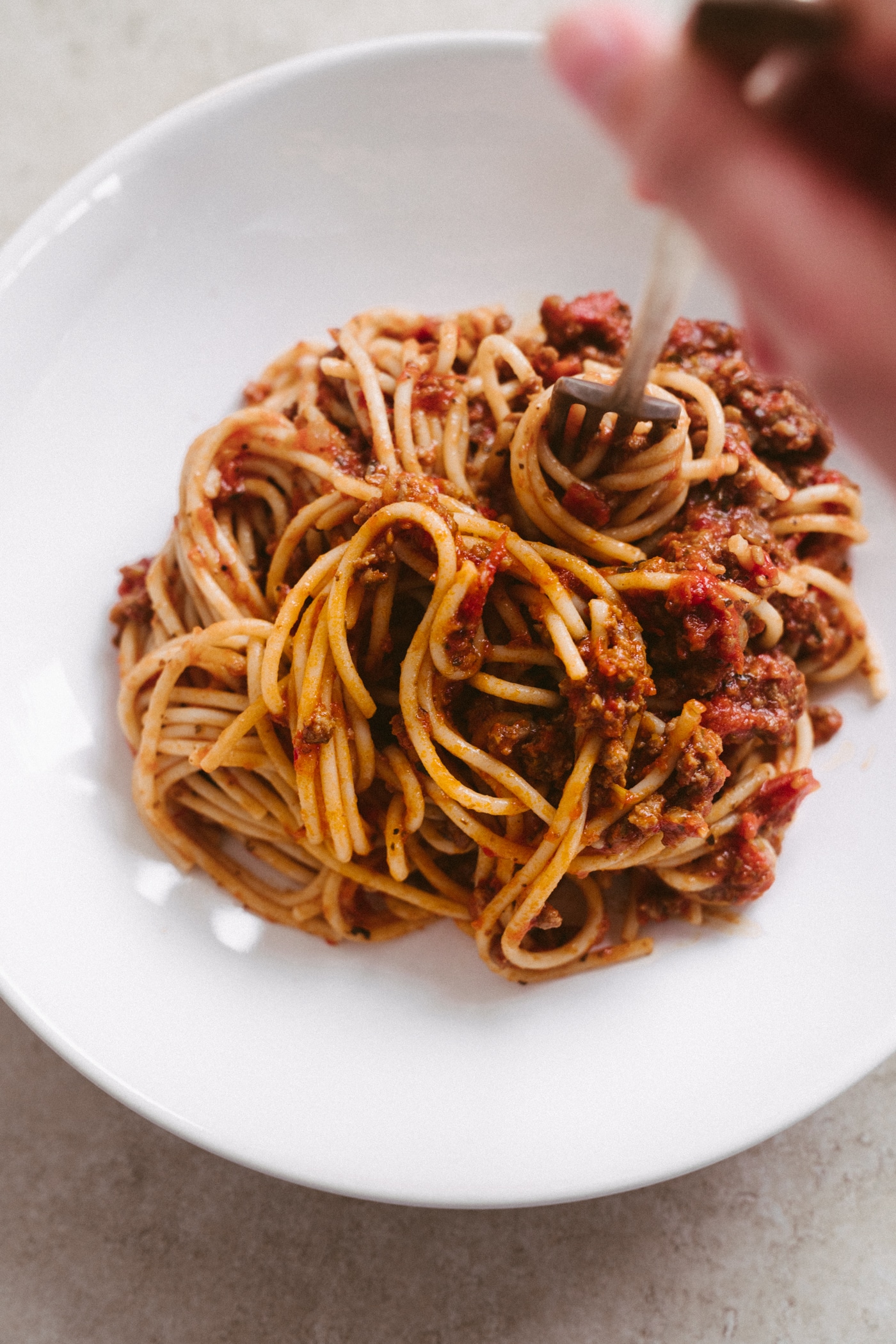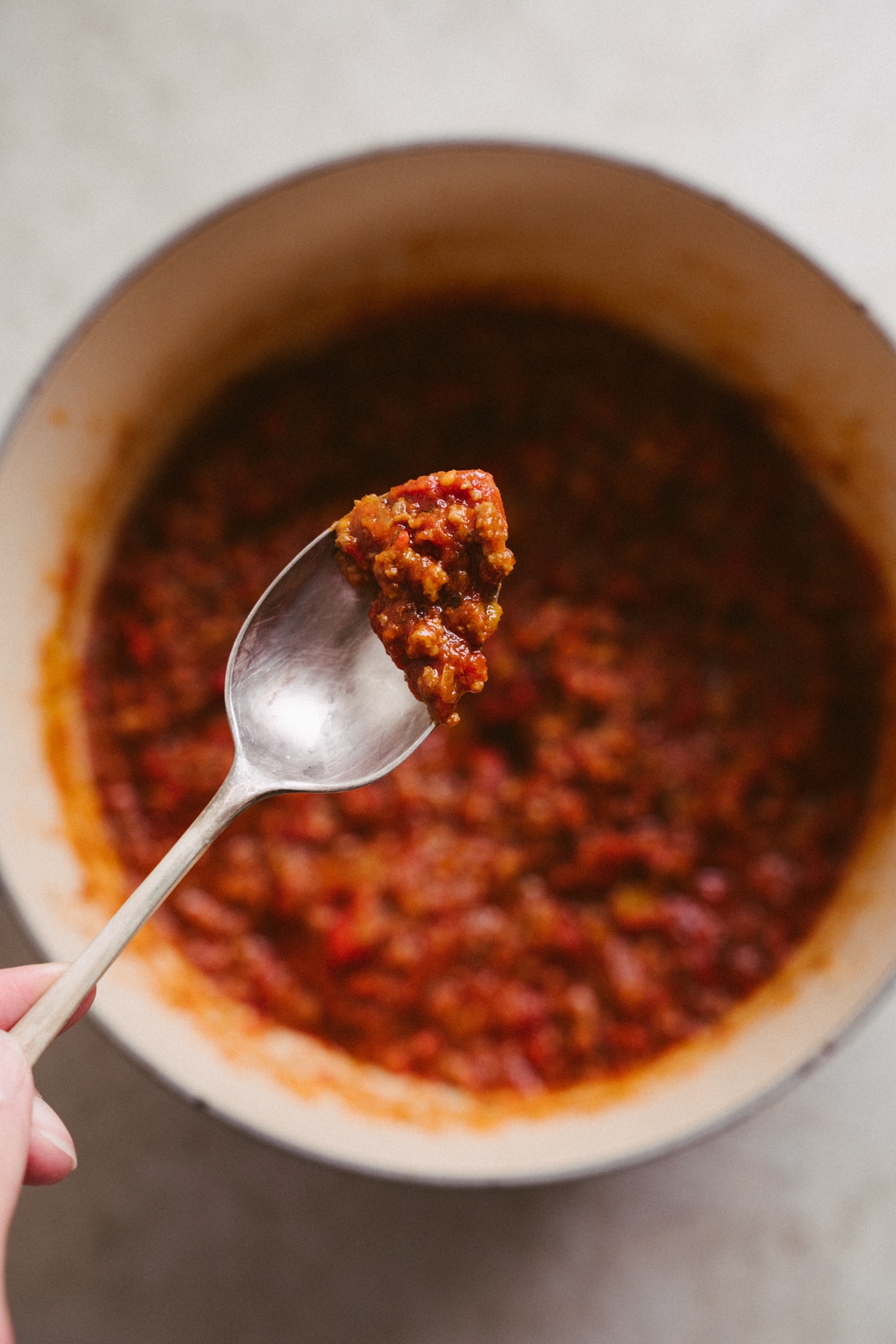 Instructions
Heat a heavy bottomed pot (cast iron works best) or deep skillet. Pour in olive oil and finely chopped shallots, leek and garlic. Sauté until translucent and caramelised. Add the beef mince. Sear on all sides then break it up using your spatula and let it cook for 10 minutes.
Add canned tomatoes, tomato paste, spices with bay leaves, 1 tbsp of sweetener of your choice and pour in white wine. Bring to a boil then reduce heat and simmer uncovered for 7-10 minutes for the alcohol to evaporate.
Julie's Tip
Cooking low and slow is the key to a great Bolognese. Choosing low temperature and simmering the sauce for a longer time enables meat proteins to become completely tender.
Cover with a lid and continue simmering for 1 hour or until beef mince becomes melt-in-your-mouth soft. This step is very important – longer cooking time results in rich flavour and soft meat. Season with salt to taste, discard of bay leaves. Add more sweetener if needed.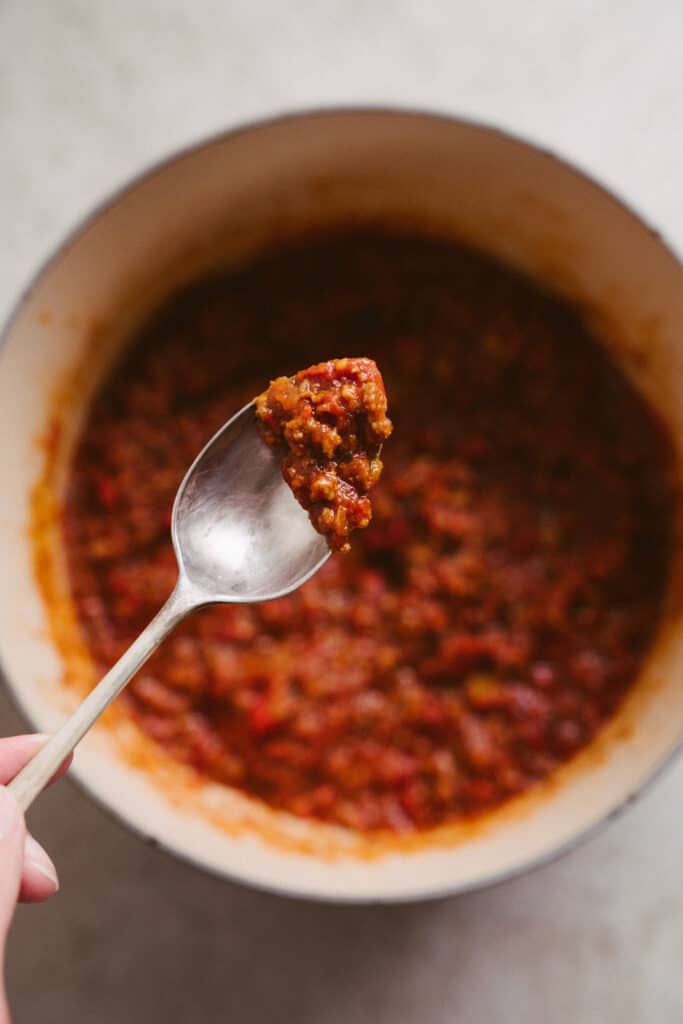 Stir in cooked spaghetti al-dente and serve immediately. Garnish with a thin layer of grated parmesan or other hard cheese, if you wish.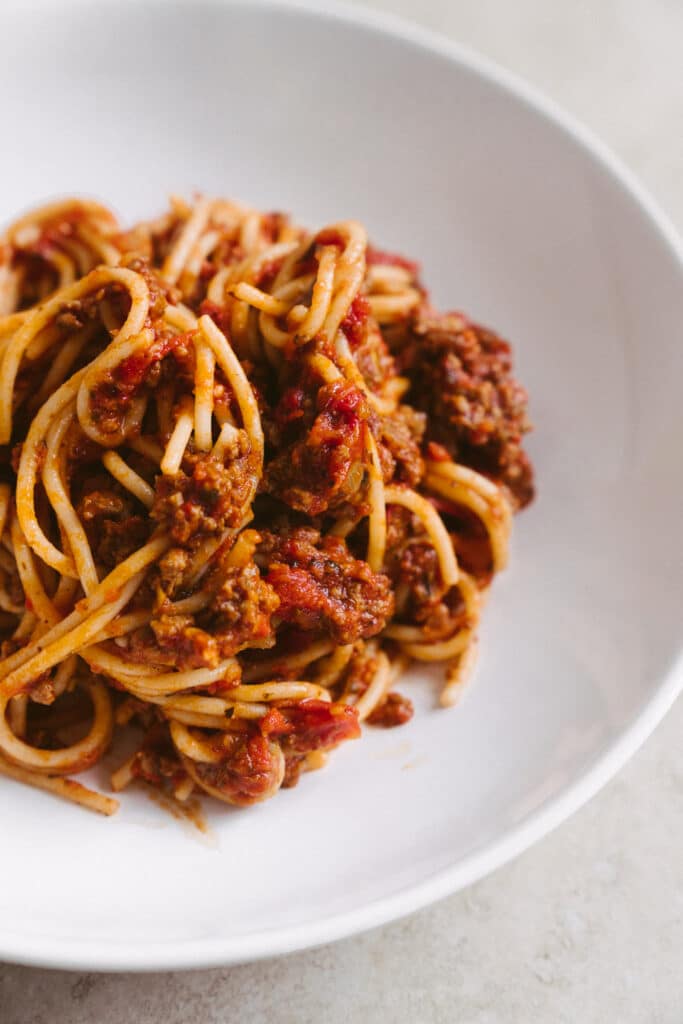 Ingredients
300 g of beef mince (I use organic)
180 g of spaghetti (dry)
2 shallots
1/4 of leek
3 garlic cloves
3 tbsp of extra virgin olive oil
1 can (400ml) of whole peeled plum tomatoes
2 tbsp of tomato paste
1/4 tsp of cayenne
2 tsp of sweet paprika
a handful of fresh or 1/2 tsp of dried basil
a handful of fresh or 1/4 tsp of dried oregano
a handful of fresh or 1/4 tsp of dried marjoram
a handful of fresh or 1/4 tsp of dried rosemary
4 bay leaves
1/4 cup of white wine
1-2 tbsp of unrefined brown sugar or maple syrup
sea salt, to taste