As I have recently returned home form a holiday trip to Bali, I want to share some insights and tips that you might find useful when planning your own trip to the Indonesian island. I will mainly share my favourite places to eat in three different areas, because this trip to me personally was a lot about getting inspiration for cooking and food styling. I used to get the same feeling in New York, but since it has been a few years I last visited The Big Apple, I felt the need for fresh ideas and Bali was simply the perfect place for that.
PLANNING
Plan the date of your holiday and try to book tickets in advance, that way you will have a better chance on finding good deals. Ask around, maybe some of your friends have already been there and have some valuable tips – every opinion counts as you can then paint a better picture of what to expect. Pack sensibly, only take things that are truly necessary and don't forget that Bali's climate is very hot as well as humid, therefore you need skimpy clothes that are breathable. It's +32 at daytime and +28 at nighttime (or similar) and if it rains, you will need a poncho (which you can buy cheaply at a local corner store) instead of a jacket/jumper. When it rains in Bali, it pours, so be prepared to get wet. Tropical rain is as exciting as intense. Because it is so humid, you basically do not need to use any cream, so, girls, take very little to save space and reduce the weight of your luggage. Buy a local SIM card upon arrival with unlimited data: I spent around 25 Eur and it was working perfectly throughout the whole trip.
Book accomodation for the first part of your trip and leave some time unplanned – as you get to know the country, you will learn what works for you and what doesn't. You don't want to be stuck in a place that doesn't exactly have the vibe that you're looking for. Uluwatu area is more quiet, there are some nice golden sand beaches around including Nyang Nyang. Bingin is a famous surfer spot: beaches there are tight, a bit crowded and full of rocks, but nice to watch people surf. Canggu is a hipster/surfer paradise while Ubud has a hippie yogi vibe. Seminyak is supposedly a party place (which we did not visit), so there are many different things you can find on the island.
FLIGHTS
Though some people swear by last minute steals, I suppose it wouldn't be the best idea for someone who has a strict holiday schedule. If you're a freelancer who's more flexible, you can, of course, try to look for cheap last minute flights to Bali. We booked ours only two weeks in advance and flew VILNIUS-MOSCOW-BALI with Aeroflot, which wasn't the best flight experience. The aircrafts were older, it was always too hot in the cabin and the flight attendants were unpleasant as well as unwilling to help if you were to call them. It was, however, the fastest route to Denpasar in Bali, so we decided to bite the bullet. Next time I'd rather do a longer layover perhaps in Dubai. On our way back we flew AirAsia from Bali to Singapore to spend a couple of days there and then hopped on a Finnair flight SINGAPORE-HELSINKI-VILNIUS. Finnair was pleasant as always, the cabin on a brand new AirBus was quiet, flight attendants helpful and kind. Scandinavians do it better.
HOW TO GET AROUND
Taxis are popular and cheap, but if you want the real Bali experience, rent a scooter and go exploring. It is fun and that way you're really independent. It was my first time on a scooter and if I managed, you will, too. Don't forget to always wear a helmet! Scooter costs roughly 5 euros a day, but if you want a more powerful one for two people, it will cost you around 8 Eur. Gas is cheap, it costs 10000 IDR (0.8 Eur) per litre and 2-3 euros will get you covered for one week. You can buy gas at any local store (more of a shabby hut along the road), and it's an attraction to see locals come to you with old glass liquor bottles that are now filled with benzine.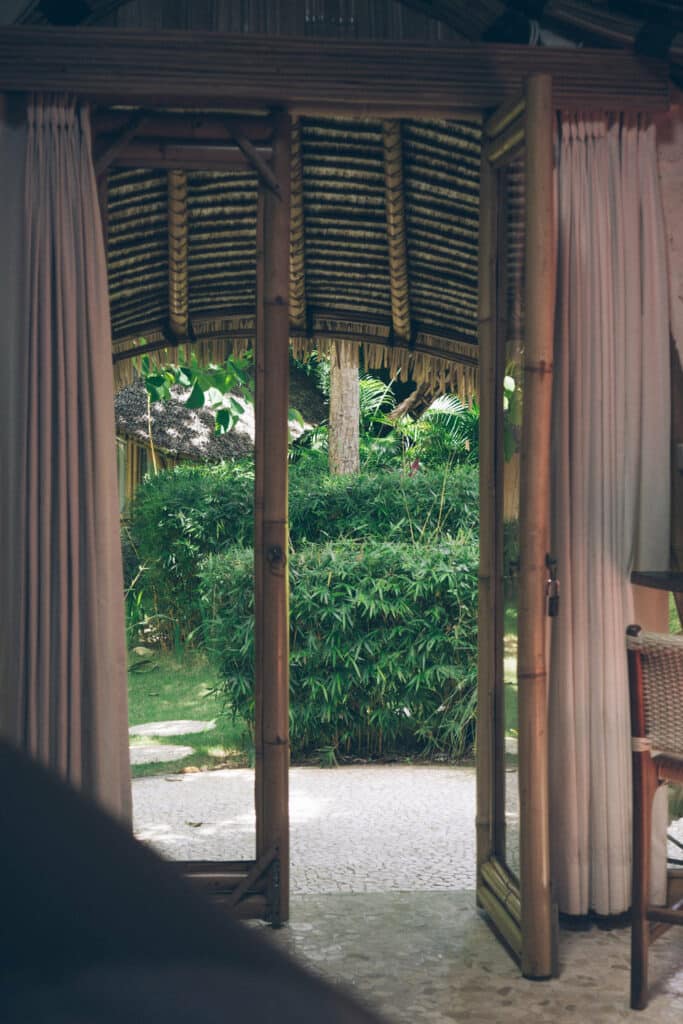 ULUWATU
We stayed at a lovely place called "Le Bamboo Bali" – it's green & each bungalow is built from bamboo making it very cozy. Everything from the staff to the environment made our stay there perfect.
Places to visit in Uluwatu:
"The Loft" Uluwatu
"Bukit Cafe"
"Ulu Thai Food"
"Ulu Cliffhouse" – beach club (it is slightly uptight, but many people recommended booking a lounge area right on the cliff, down the stairs, so that might be worth checking out)
"Single Fin Beach Club" – we didn't go, but I heard their food is quite nice
Nyang Nyang / Nunggalan beaches – have in mind that it is a 15 minute hike to get there
BINGIN BEACH
At first we had booked to stay right at the beach, but we didn't know that involved many stairs, so we had to search for a new place nearby due to heavy luggages (that is exactly why you must pack carefully.) I had unlimited WiFi on my Bali SIM card, so we got a reservation within 15 minutes and soon forgot this situation. When you're visiting Bingin, it's a must to try one of the local beach barbeques. Search for "Bingin Bagus Seafood BBQ" where you choose fresh catch of the day and watch it get grilled in an open fire while you enjoy the ocean views.
Places to visit in Bingin:
"Bingin Bagus Seafood BBQ" – prawns & red snapper
"Cashew Tree Collective" – we LOVED this place. Their smoothie bowls, their lunch bowls, their smoothies, coffee, coconut based ice cream etc.
"Bali Training Centre" – located right next to the Cashew Tree Collective, this place has some intense Muay Thai as well as HIIT workout classes. Perfect place to work your ass off.
UBUD
Ubud was my favourite place in Bali. I never thought that I would enjoy spending time somewhere without a beach while on holiday as much as I did enjoy time in Ubud. I think it has a strong feminine energy, sort of this free hippie vibe. You will probably hear some of the weirdest conversations in Ubud, too, no spoilers. There are LOTS of great vegan/raw places, best yoga studios in Bali and the best part is that the city is surrounded by lush jungle, so the air is fresher and slightly cooler here. Do not book a place to stay in the centre of Ubud, because it is crowded and the traffic is quite intense. Ubud is about serenity, so look for something more towards the suburbs (Sayan area for example), rent out a bungalow which would be hidden in the greenery and chill. The experience of jungle noise at night is something not to be missed.
Ubud is great also because there are many attractions around including water temples, rice fields and volcanos. Simply driving a scooter towards the mountains is a lovely experience.
Places to visit in Ubud:
"Moksa plant based" – THE BEST vegan cafe I had visited in Bali. Their laksa and green curry is to die for. They use vegetables from their own Permaculture garden and they host a farmer's market on Saturdays.
"La Pacha Mama" – great Mexican food: prawn tacos, guacamole & dips were delicious.
"Sayuri Healing Food" – this is the place where I took the "Raw Dessert Chef Training Level 1" course with Sayuri and spent a whole week learning about the techniques I had never understood before. Their cafe serves the most delicious raw and some vegan meals. Order Gravlax sandwich, Reuben sandwich, pumpkin or miso soup and their matcha rum raisin cake. They also make smoothies with irish moss!
"Mudra cafe" – smoothie bowls, iced matcha latte, cocoa, curry plate.
"Locavore to go'" – they sell really good quality european style breads (sourdough, rye etc.)
"Revive Cafe" – great coffee, delicious egg dishes and waffles.
"Zest Ubud" – try their pizza!
"Hujan Locale" – EVERYTHING about this place. For a glass of wine and to have the top experience of Indonesian cuisine. Octopus rendang and pork belly starter is a must.
"The Sayan House" – visit at sunset for spectacular views.
YOGA: "Radiantly Alive", "The Yoga Barn", "Ubud Yoga Centre"
"Campuhan ridge walk" – for an evening stroll
"Akasha" – they host full moon, ecstatic dance, chanting and cocoa ceremony events. Definitely worth a visit!
"Pyramids of Chi" – if you like gongs, visit one of their gong sessions for meditation.
"Pura Tirta Empul" – Holy water temple
Rice terraces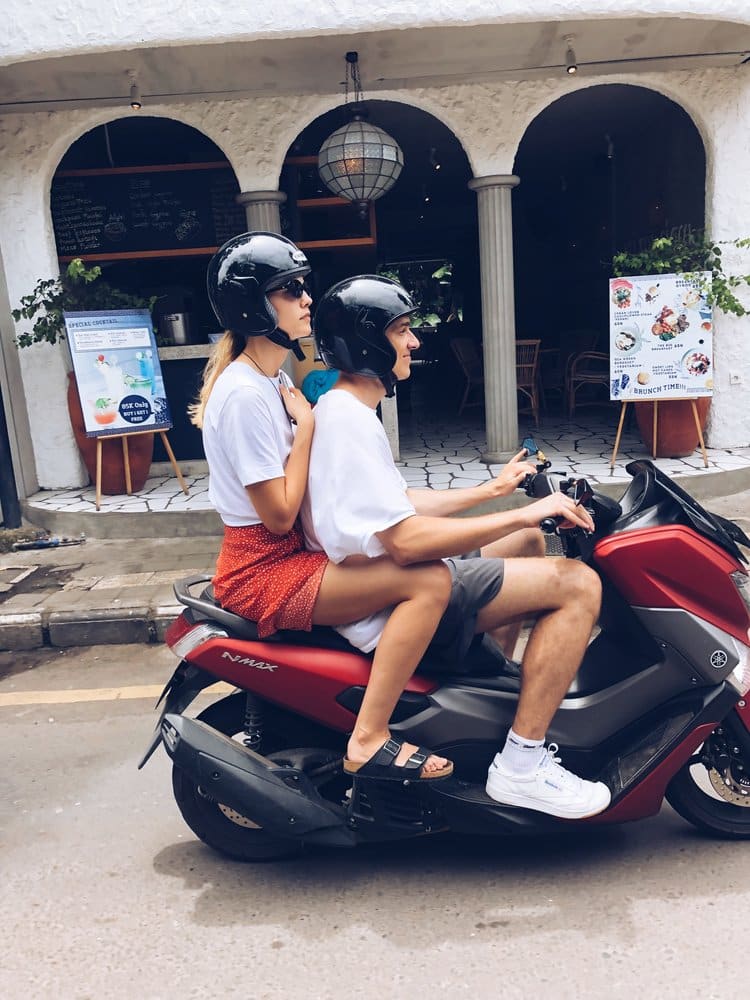 CANGGU
We ended our trip in Canggu and it was quite a change from namaste to buzzing surfer spot. Canggu is a great place to learn surfing, but the beaches are quite dirty and sand is grey, so if you're not into water sports, it will probably be nicer to relax by the pool. Canggu has some nice boutiques and many awesome breakfast/brunch places as well as some sophisticated restaurants.
Places to visit in Canggu:
"The Shady Shack" – everything! busy at lunch time, so better book a table in advance.
"Nude" – avocado toast & pancakes
"La Baracca" – delicious burrata pizza
"Crate Cafe" – buzzing brunch spot with crazy looking frozen smoothies
"Moana Fish Eatery" – their poke bowls and fish is nice
"The Slow" – sophisticated food
"Fishbone Local" – dinner: black cod, asian slaw
"Pretty Poison" – once a spot that connected locals with foreigners through skating, it is now a big tourist attraction, but the place is still worth seeing. Think cold Bintangs and live music.
Muay thai: "Bali MMA"
To finalise my thoughts, no matter where you choose to travel, don't forget to actually rest. Stop for a moment and look around, savour each and every minute. Sometimes it IS better to stay in a hammock reading your favourite book than head somewhere only because that place is supposed to be amazing. What's most important is your own well being therefore choose the path that suits you best.

Happy Holiday !