NOT ONLY FOR SANDWICHES
I believe that most of us at some point deal with the question on how to use up bread leftovers once we spot not the freshest loaf in our kitchen. Many of you have probably heard about or are already using the trick of freezing sliced bread. It's a very convenient option, indeed, as you can make a crunchy toast even when if you've run out of fresh baked goods. Perfect for when those PB & J cravings kick in. But, there's a BUT – in such case we're back to toasts and sandwiches (which I absolutely love), yet even the best sandwich recipes become boring in time. Of course, classical pairings like bread and butter will probably always remain popular, though I choose to widen my cooking skills and search for new ways to cook with one of the most widely used products. There are so many cool recipes which deserve to be seen and my goal is to show them to you. I hope they will be helpful in learning useful tips and reducing the amount of food waste we should all work on.
10 BREAD RECIPES
I created 10 recipes collaborating with one of the biggest bakeries here – Fazer Group Lithuania and their brand "Gardėsis". For this task I chose three different types of bread to show that every loaf can find its spotlight in cooking: dark rye bread, buttery brioche and wheat sourdough. I split these recipes in two parts, so sharing the first five today and publishing the rest next week.
For each blog post I prepared:
two ways/tips on how to use up bread leftovers
three main recipes: recipes that will take longer to make than snacks, yet they won't be difficult to make and the shopping list will be short. In fact, you'll probably have most of the products in your kitchen pantry already.
1. BREAD SALAD
Italian born recipe called Panzanella made with lots of fresh tomatoes and cucumbers, fragrant basil and extra virgin olive oil. And BREAD. Bread is the main star here. It's toasted and then mixed into salad to soak up some of the delicious vegetable juices and bright flavour of a freshly ground garlic. A beautiful dance of contrasting textures. Simple, easy and quick to make, but full of flavour.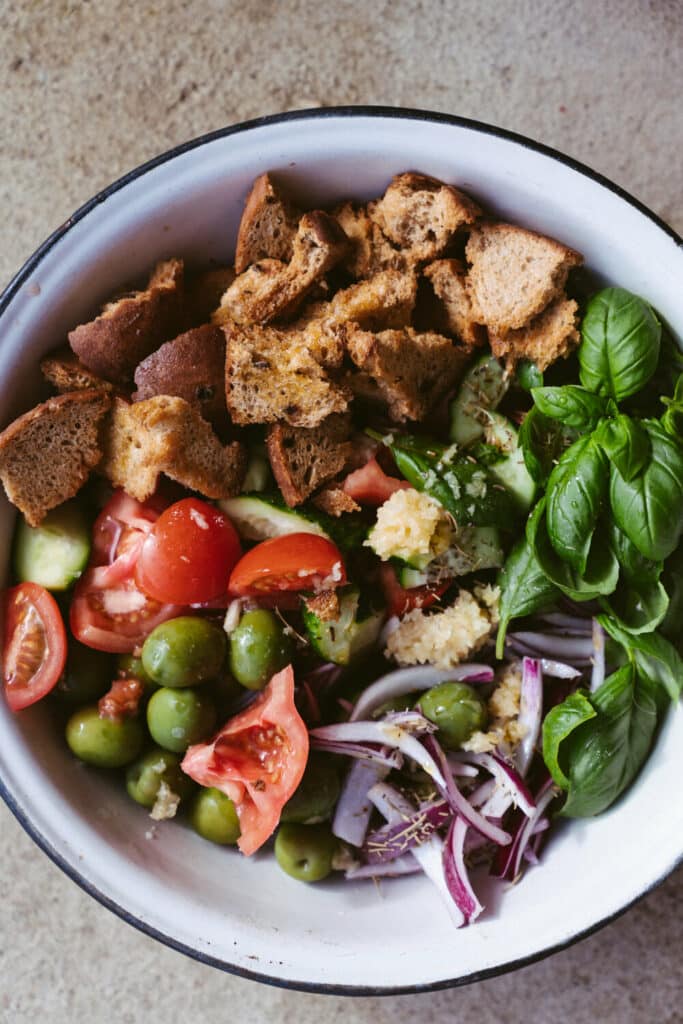 2. CROUTONS
One of the easiest ways to use of bread leftovers and it's up to you what kind of bread to use. I made mine with dark rye bread, but you could use any white bread as well. Simply cut bread into evenly sized mini squares, rub them with a bit of oil and bake at 180°C until crunchy – for 20 minutes. These are perfect with soups, salads and stews.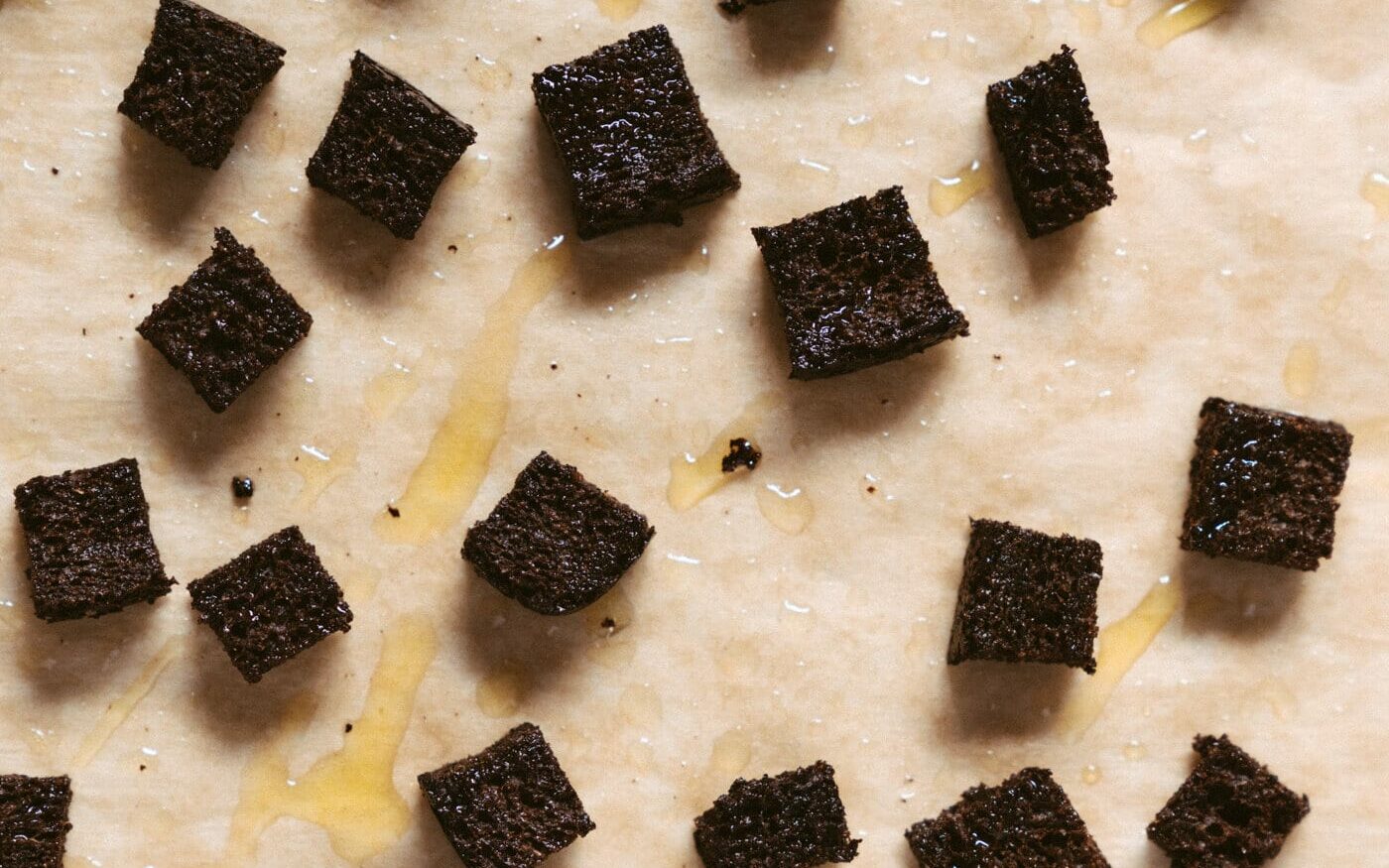 3. FRENCH TOAST
Star of the sweet breakfast or brunch table – French Toast. The main ingredient here is bread and it should be chosen wisely. What suits this recipe? Buttery, sweeter white breads and so brioche is the perfect choice here. Great thing about this recipe is that it's so easily made. Bread slices are toasted slightly then dipped in an egg mixture and cooked until golden brown. Once you learn how to make it, you can then experiment with different flavours and I'm sure that every kitchen will benefit from this new recipe.
It's up to you how to build up your French Toast: you can serve it with mascarpone and some caramelised bananas, a scoop of vanilla ice cream or add chocolate between two cooked french toast slices to create pools of warm chocolate sauce. I think this recipe is a good place to start.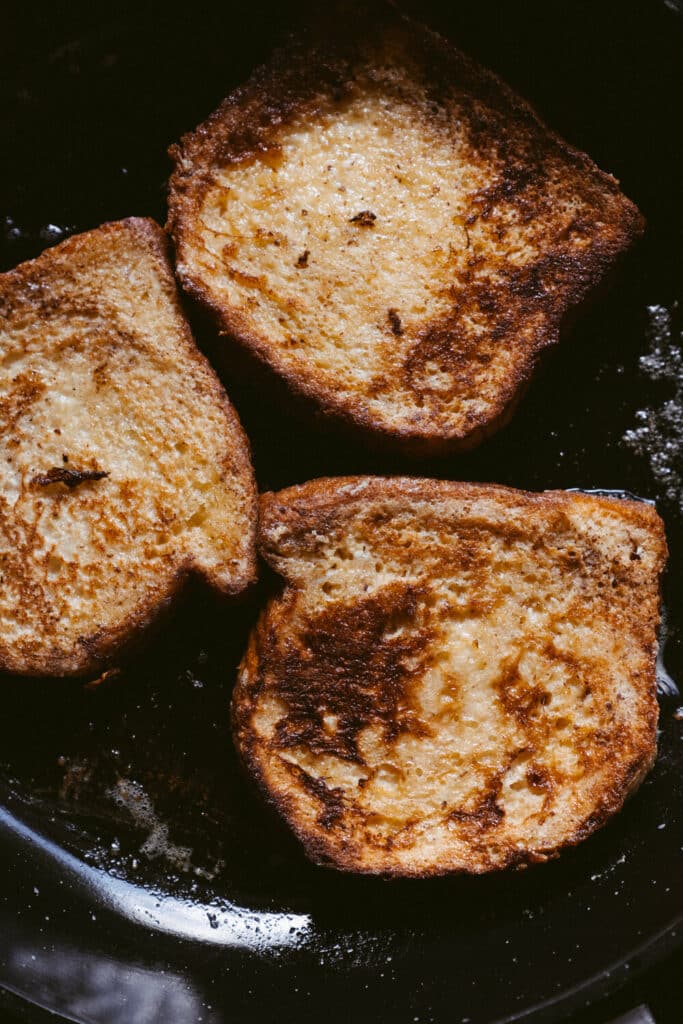 4. CRUNCHY BREAD STICKS
Lithuanian staple dish. This version takes a modern twist and instead of frying bread sticks are baked here. Served with a fresh cottage cheese dipping sauce with lots of fresh herbs. To make these, simply cut bread (preferably dark rye) into thin slices, rub lightly with olive oil and bake at 180°C until crunchy, about 15 minutes. Blend cottage cheese with a handful of fresh herbs like dill and scallions, mix in some natural yoghurt or kefir to make it thinner, add ground cumin and salt to taste. Serve with a drizzling of olive oil and paprika or cayenne.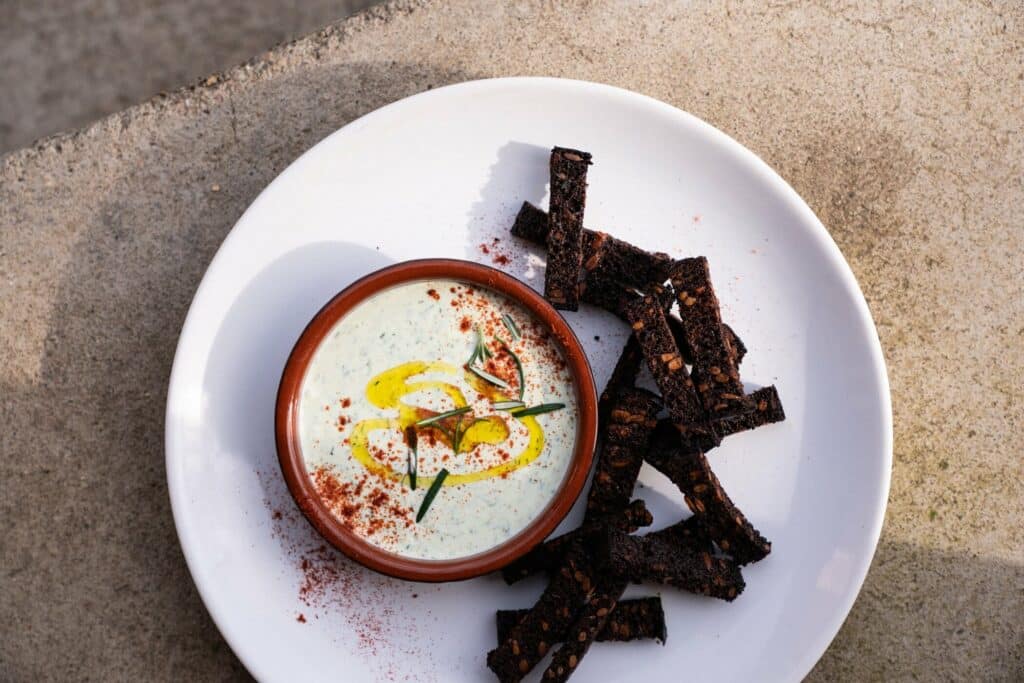 5. RIBOLITA – ITALIAN BREAD AND BEAN SOUP
This soup is the definition of comfort food. Thick, tomato-based, bright flavoured and filling: beans are a must. Served with large chunks of crunchy bread and lots of parmesan. Bread is another main ingredient here. It soaks up some of the soup liquid and softens slightly, yet most of it remains crunchy, so there's a bit of everything in every bite: creamy parm, bread crunchiness and aromatic broth.